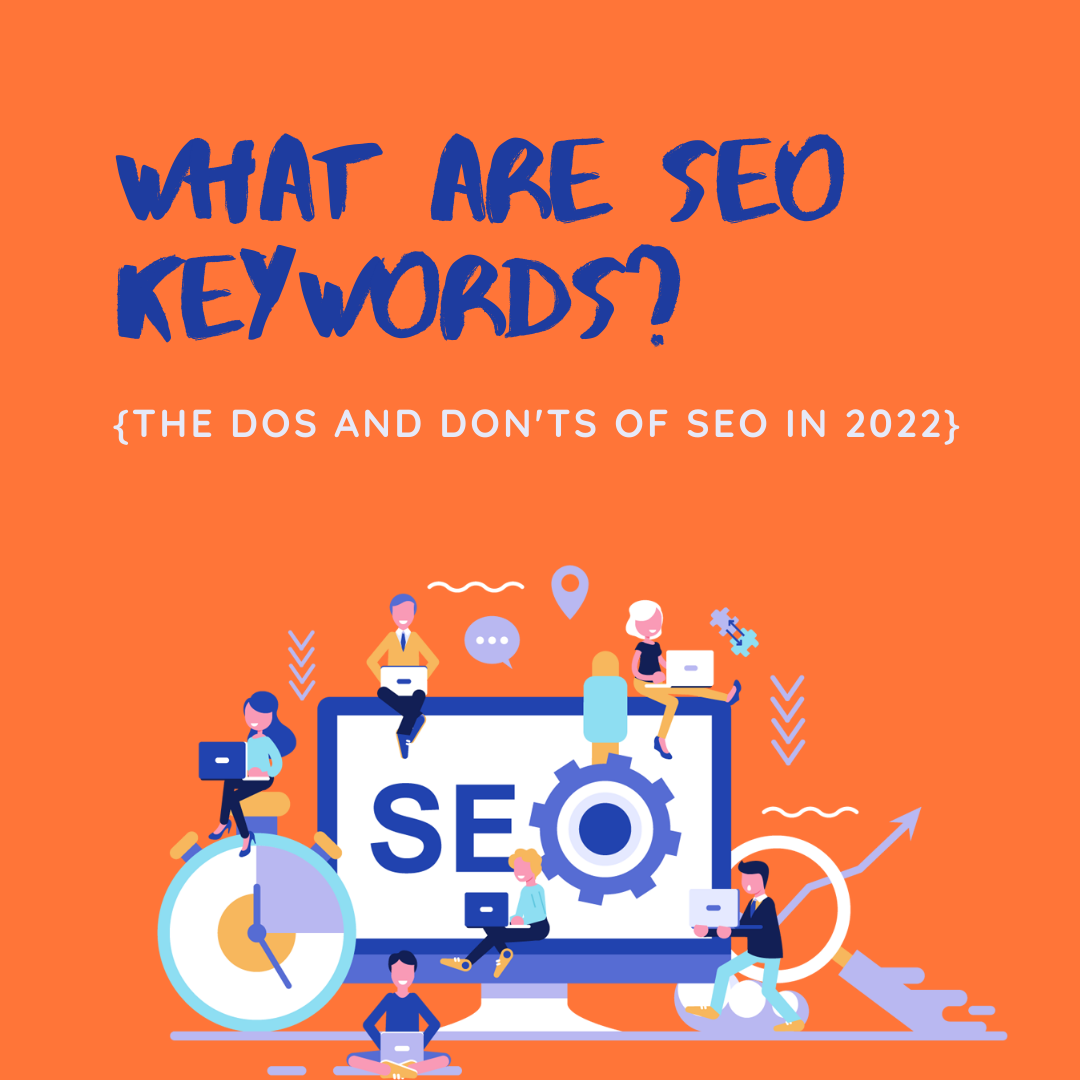 What Are SEO Keywords: An Introduction to SEO and Keywords
SEO and keywords are two terms that are used in the same context. And there is a good reason behind it! eCommerce SEO is all about keyword marketing to drive organic traffic to a website. As paid marketing activities can easily drain companys' budgets, SEO rose as a great (and free!) source of healthy and sustainable user traffic.
Now that you've learned the link between SEO and keywords, it's time to display  AI powered related products, upsell items and frequently bought together products on your Shopify store to boost your revenues.
To get all of these and more, install Perzonalization for Shopify now and start your 14 day free trial.
SEO or Search Engine Optimization is a term first coined in 1997. Bruce Clay was one of the first people to popularize the term. Today, millions of webstores around the world rely on SEO to grow their eCommerce businesses.
So Why Is Keywords Usage In SEO So Important for eCommerce?
Search engines are structured in such a way that they rely on text data to understand search intent. Being robots, Google, Bing, Yahoo and other popular search engines process every bit of text data on the www to show results on their SERPs (search engine results page). As website owners, we need to be presenting the objects on our properties (images, text, videos, animations etc.) in a way that will make search engines' job easier. So in this context, keywords are business related text information that are placed in several parts of a website's html. If a digital marketer or a website owner is not able to use the relevant keywords in a structured way, it will not be possible to attract a decent amount of organic traffic to that website. So for SEO, keywords are the most critical weapons.
How To Shape Up Your Business' SEO Keyword Strategy?
If you're asking "What are SEO keywords?", the answer is not that simple. Firstly, keywords for SEO are not just words present on your eCommerce website. They are the words that you choose to define your business/products with or keywords you use on your blog to drive content to your website. So in that sense, SEO keywords need to be chosen with care and should be in line with your content or SEO strategy.
Being able to apply a proper SEO for keywords utiliztoolation is a capability that good content marketers and SEO experts have. If you'd like to be one of those experts, you should start with building an SEO keyword strategy for your business. Here is a small list that will give you an idea about the things you should do before you create your SEO strategy:
Think about your business audience and target segment.
Search for the trends in your business using Google Trends or similar tools to understand what kind of searches in your industry are popular among the internet users.
Perform a competitive research in order to discover the SEO keywords your competition is using and gain an understanding of the content marketing activities these companies are executing.
After you are done, be honest with yourself. Ask yourself a few questions;
Is there a dedicated person in your team who will be responsible for SEO?
How much time can you realistically spend on SEO?
If you or someone in your team will not be able to work on SEO, do you have enough budget to hire someone for your SEO practices?
If you feel like you will not be able to spend time and budget on SEO practices, then it may not be a good idea to even start with search engine optimization. Even though SEO is a great marketing tool, it takes time to build an online presence and start ranking by the search engines. This is the reason it may not be wise to focus on SEO if enough resources are not present.
Only when the timing is right, you will be ready to work on your SEO keyword strategy.
What Is A Good SEO Keyword Strategy?
A good SEO strategy is the one that brings quantifiable results for your business in a reasonable amount of time. And that differs for each business and for every competitive niche. From a general standpoint, a long-tail keyword strategy is usually good for small businesses where as big brands may need to bid on mass SEO keywords.
Is Blogging Required To Be Successful With SEO?
Search engines love dynamic content and prioritize webpages on which content is updated reqularly. If you have an eCommerce website, there are certain ways to keep your content updated:
Adding new product/category pages
Adding new text, images and videos to existing pages
Regularly blogging i.e. adding new blog pages
However, just adding new content does not help you drive organic traffic. The keywords that are to be used inside this new content – whether it be product names, product descriptions or blog posts – should be picked up with care and used in a natural way that would avoid keyword stuffing.
An eCommerce website is able to gain organic traffic via successful use of keywords inside the product pages. That being said, an eCommerce blog is much more powerful when it comes to driving sustainable and organic traffic. If your website is not hosting thousands of products, chances are your organic traffic will stay stable a few months after your launch. A well-written eCommerce blog can both help you attract search engine interest and lead your visitors to product pages which are critical in terms of sales conversions.
How To Find SEO Keywords?
If you are asking yourself "What are SEO keywords?", then you'll need to learn how to search for those keywords. Using tools i.e. Ubersuggest, Similar Web, Ahrefs can help you discover great SEO keywords.
That being said, SEO tools are only tools. Still, your own intellect is required to nail it with SEO! When you first sit on the table to search for SEO keywords, chances are you'll end up with frustration. There are millions of keywords being used online and you will not be sure which ones will fit your business. No worries! We've all been there.
There are great SEO tools that will make your live easier. It is even possible to use some SEO keyword tools for free. For instance, SEO keywords tool Google Ads Keyword Planner is a great tool to discover both SEO keywords and keywords to use in paid advertising campaigns.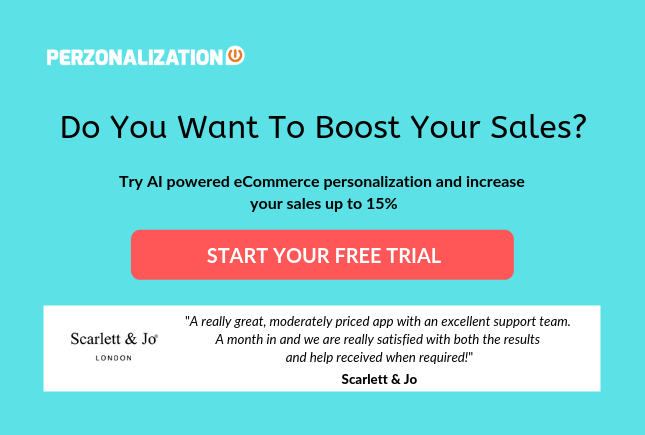 SEO Keywords Research
If you'd like to nail it with SEO, keywords research should be an on-going practice rather than a one-time activity. A good SEO expert should be able to apply smart research in several categories i.e. fashion, sports, education, consumer electronics, kids&baby, hobbies, furniture.
What Are SEO Keywords: The Real-life Example #1
Multiple tools should be used together during SEO keywords research. If you'd like to discover eCommerce SEO keywords in the sportswear category, first you may need to review Google Trends.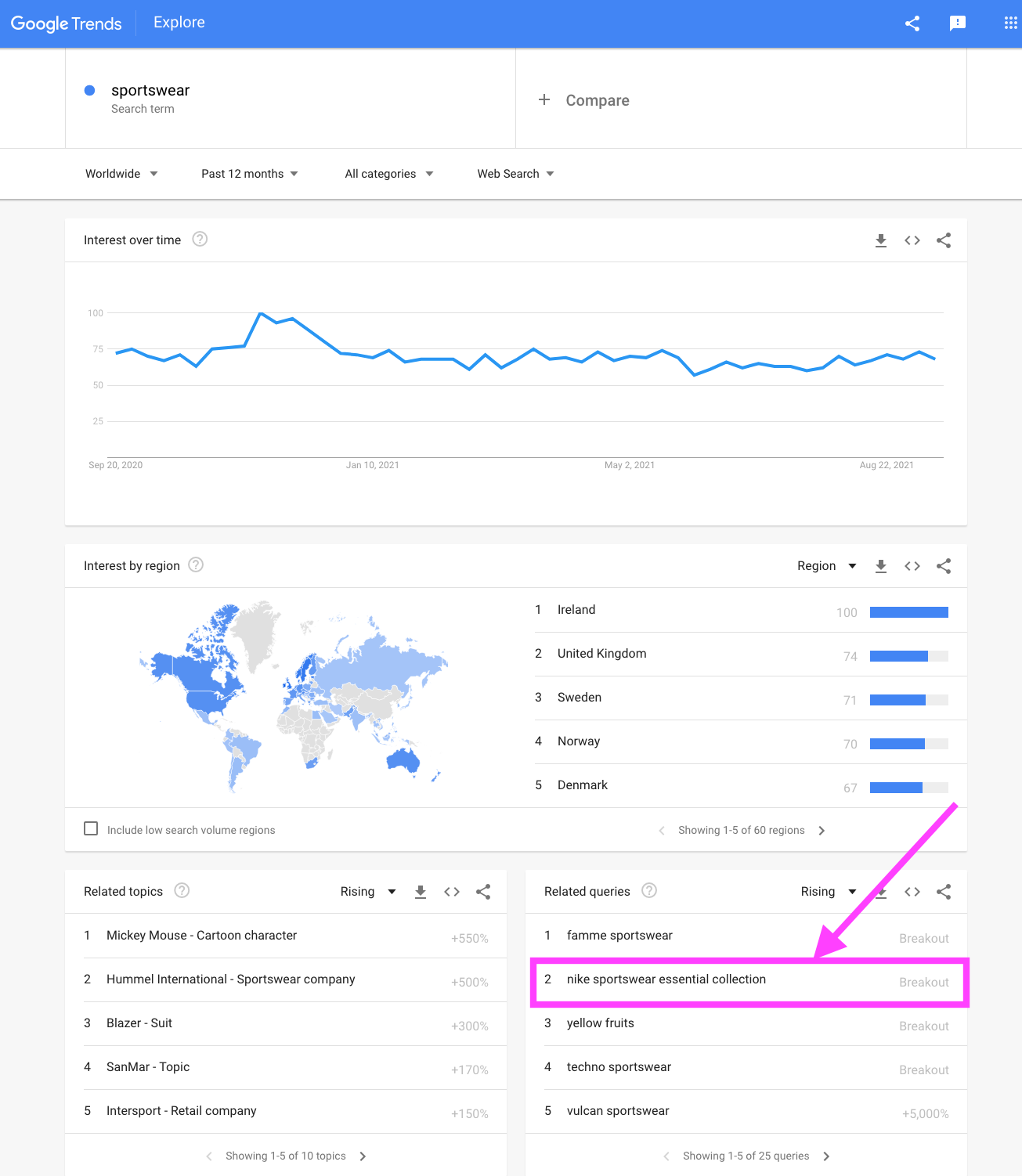 Google Trends will help you spot the breakthrough search terms; in this example Nike sportswear essential collection. The volume around this search query seems to have increased in Sept 2021.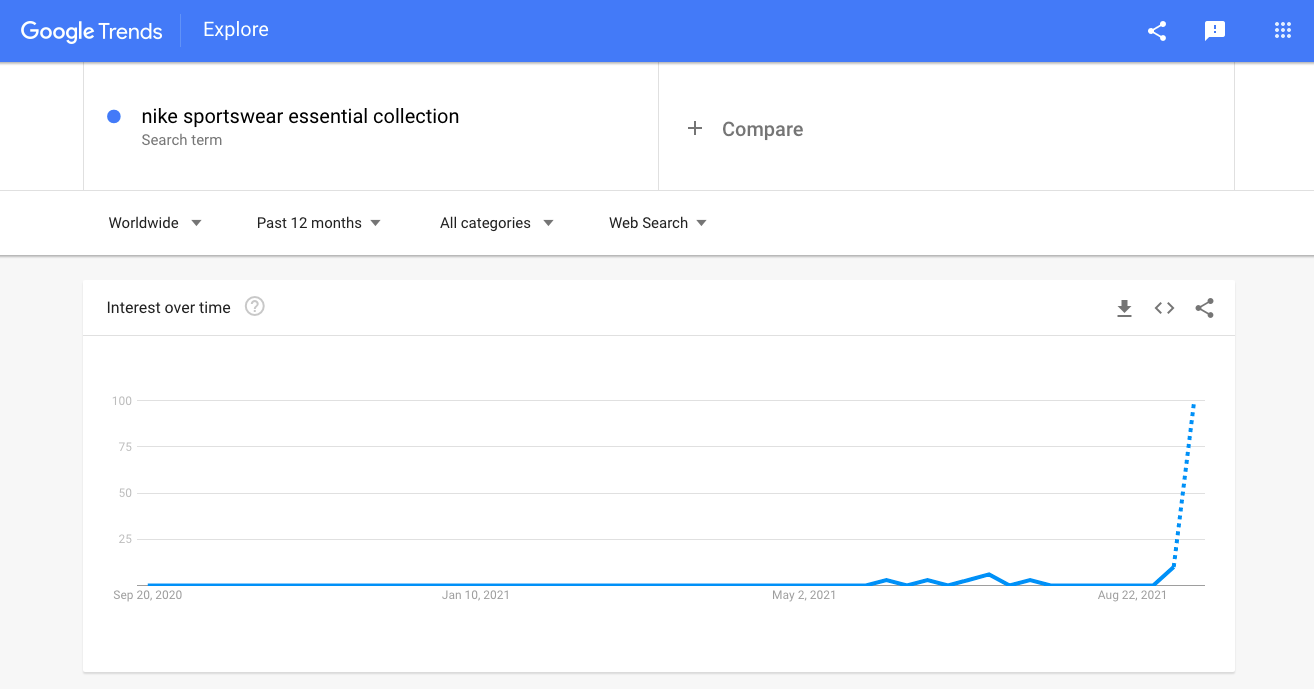 Then, you may need to look up for the same query and understand the search volume and search difficulty in UberSuggest.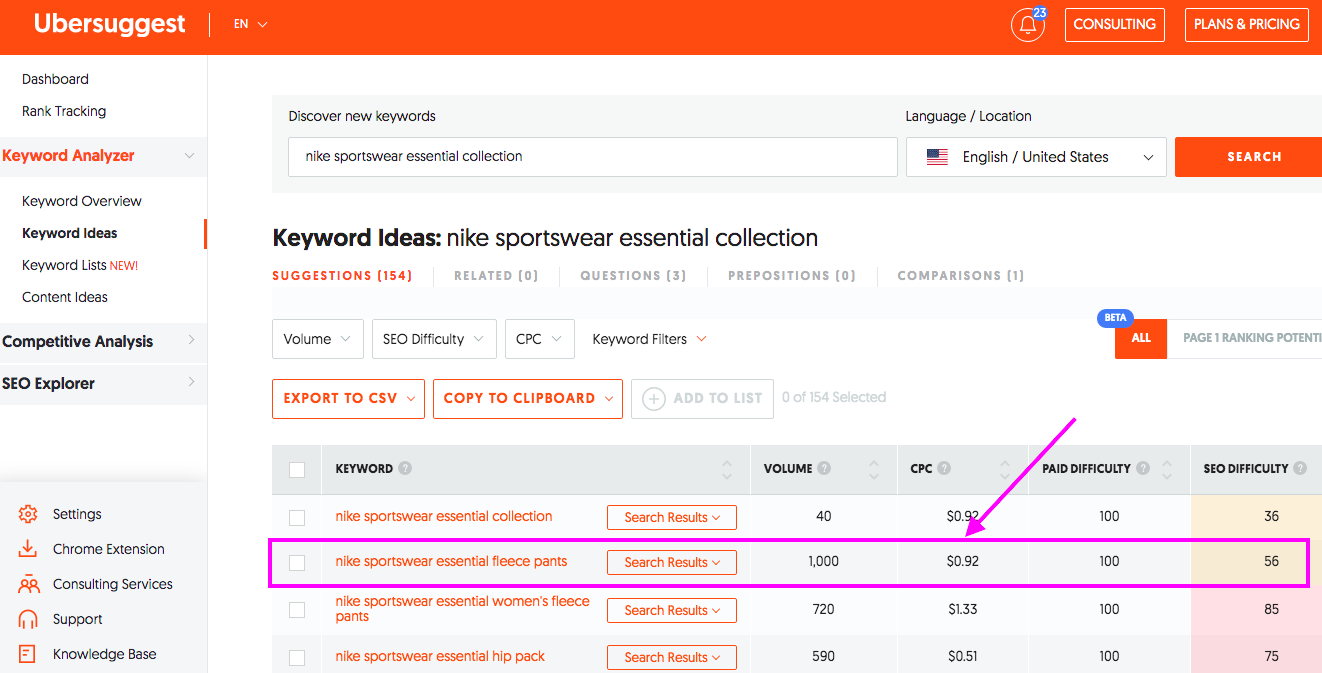 This SEO keyword tool will give you very useful information about the SEO keyword "Nike sportswear essential collection" and the keyword ideas around this search query. For instance, "Nike sportswear essential fleece pants" seems to be a healthy keyword with 1000 volume/month and 56/100 SEO difficulty.
Now that you've discovered how to find the best SEO keywords, it's time to focus on conversions! Display AI powered related products, upsell items and frequently bought together products on your Shopify store to boost your revenues. To get all of these and more, install Perzonalization for Shopify now and start your 14 day free trial.
If you are selling sportswear in your webstore or blogging about fashion, sports and sports apparel, it might be a good idea to write about "Nike sportswear essential fleece pants" or use this keyword on your website i.e. in your product pages.
What Are SEO Keywords: The Real-life Example #2
If you are a dropshipping supplier, you should know by then that phone cases are great items to dropship. Additionally, another essential piece of information is; Ali Express is a giant when it comes to outsourcing products from China. When we combine these two pieces of information, we end up on AliExpress' homepage. Even the search bar on the homepage is filled with "iphone cases". When this post is published, iPhone 12 was the newly introduced model.

So, let's use iPhone 12 cases for our search query. iPhone 12 case seems to have a decent amount of volume worldwide however we need to have a look at the country split. Australia seems to be the top country in terms of search volume, so let's dig deeper!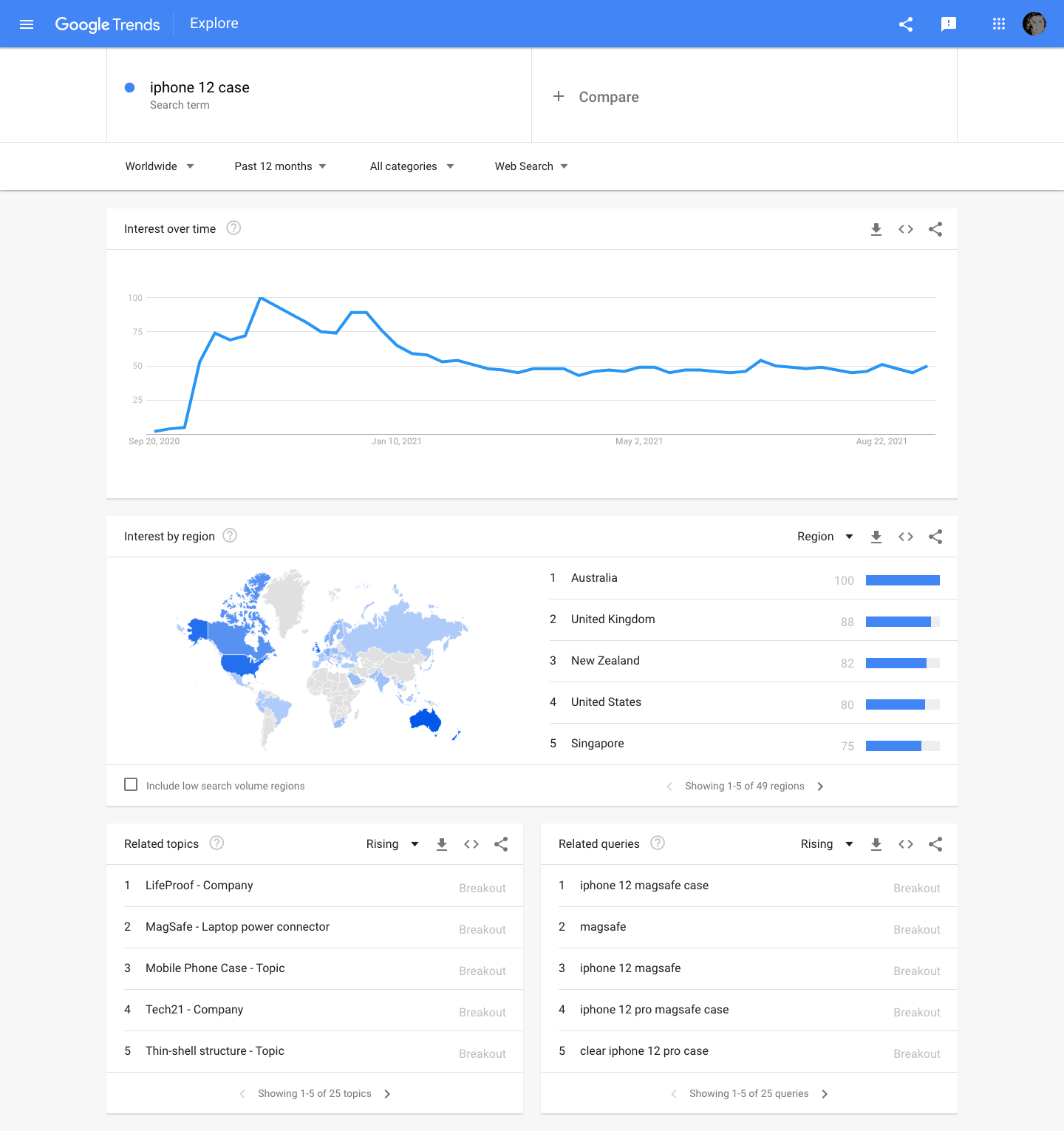 The Australian search query breakdown reveals some interesting SEO keywords, iPhone 12 mini case being one of those.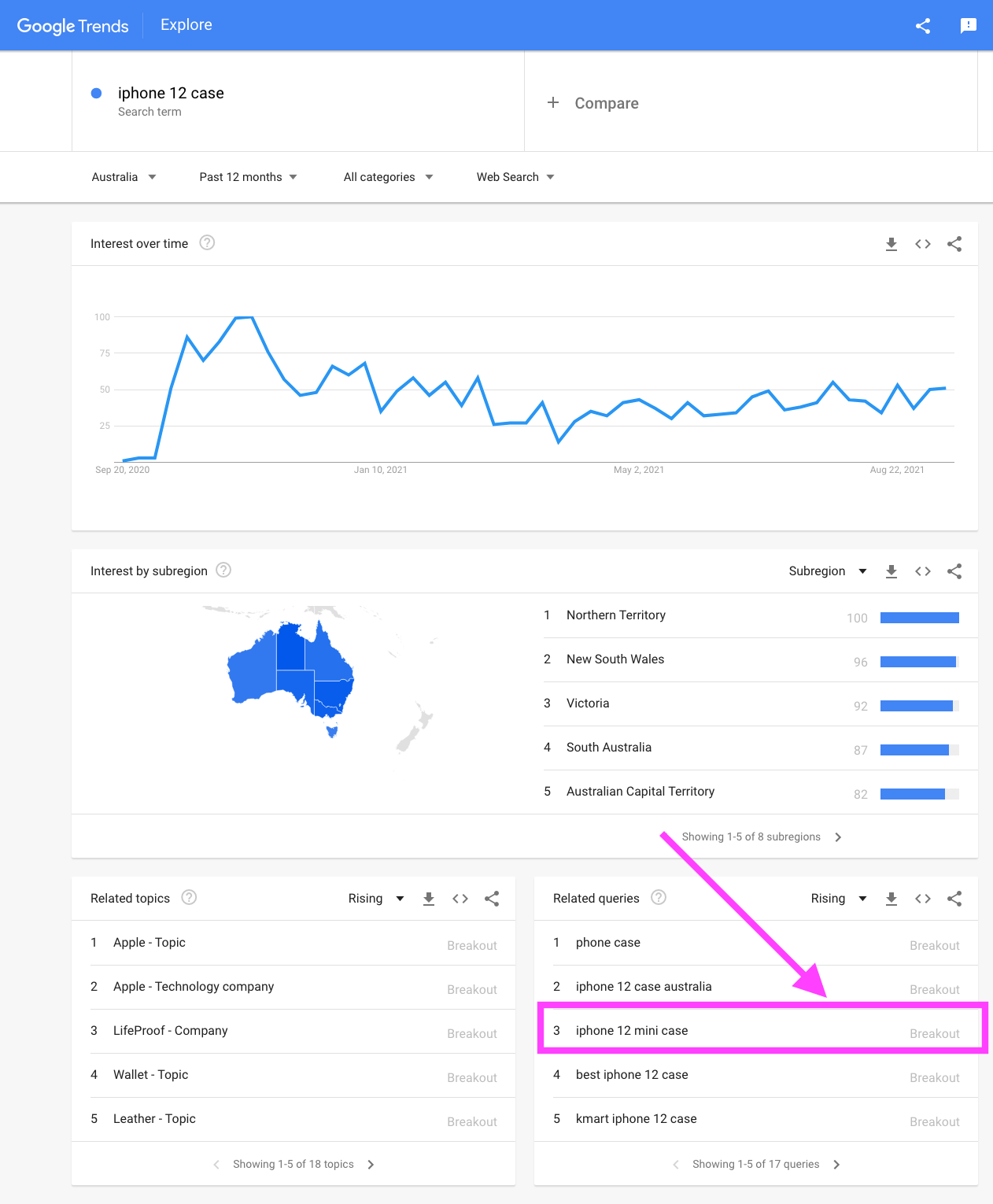 This information takes us to the search queries in Australia for iPhone mini case where we find our SEO keyword! If we are a dropshipping supplier targeting the Australian market, "iPhone 12 mini case" would both be a good dropshipping item and a candidate for becoming an SEO star while used on product pages and blog posts.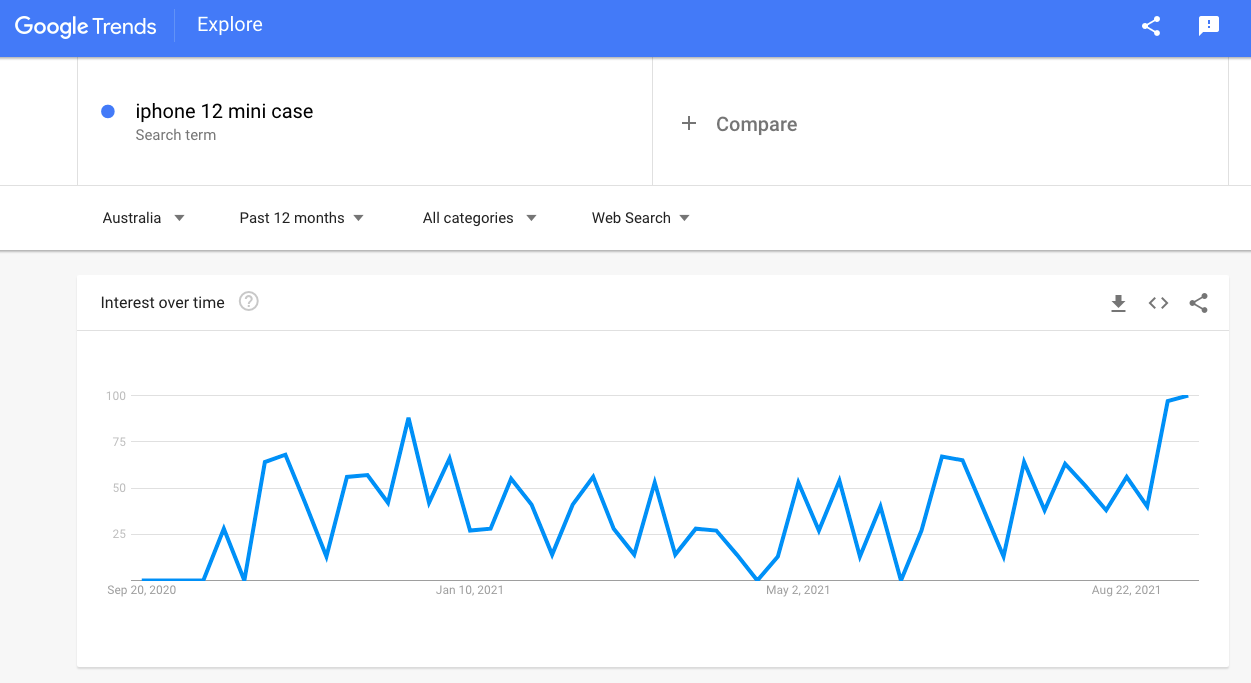 What Are SEO Keywords: The Real-life Example #3
Being the eCommerce giant, Amazon.com hosts millions of products creating both a competition and an opportunity for content marketers and smallbiz owners. You can always use Amazon as a massive product catalog from which you can get inspiration.
Let's imagine that you are selling children's toys for ages 3-5. If you search for "children's toys for ages 3-5" on Amazon.com, you end up with thousands of search results. Sorting those results according to the highest customer rating gives you the top products. The items with the highest number of reviews must be the ones that are currently popular.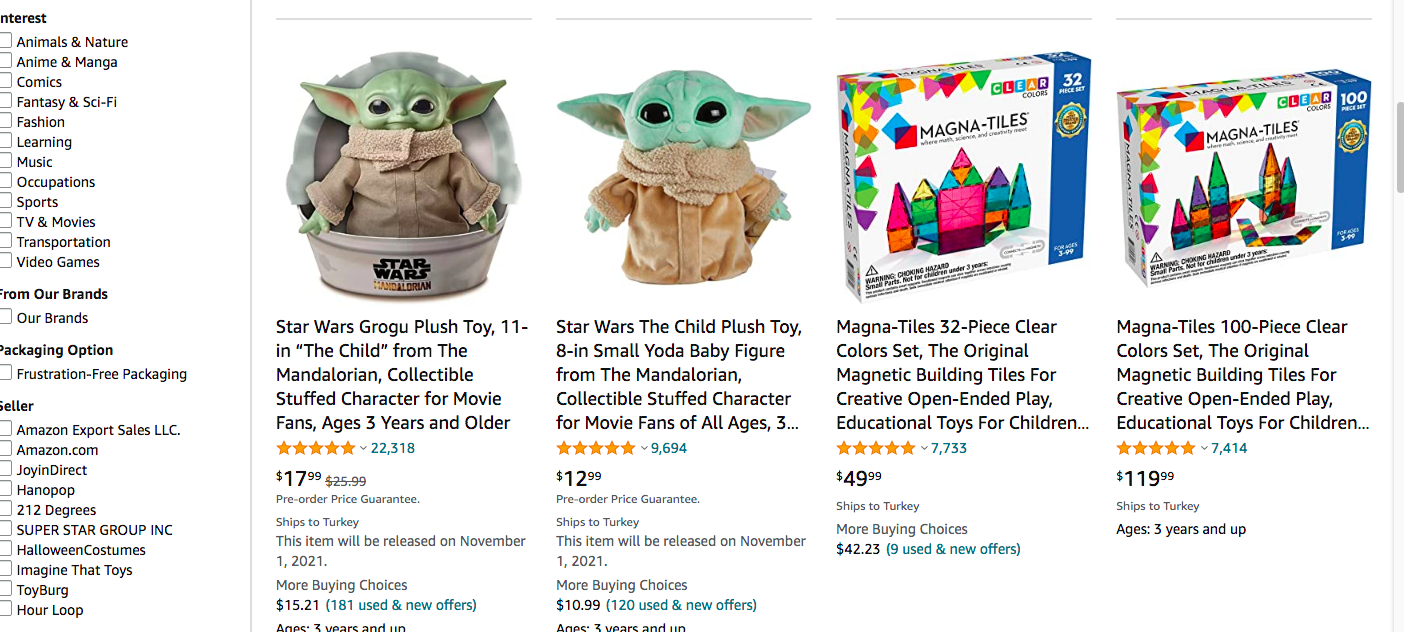 On this page, Star Wars Grogu Plush Toy seems to be the top item. It has over 22K ratings and a score of 4.9 out of 5.
Let's also try to understand if this product is really popular. Google Trends will be our saver! When we search for "Star Wars Grogu Plush Toy", we see no results.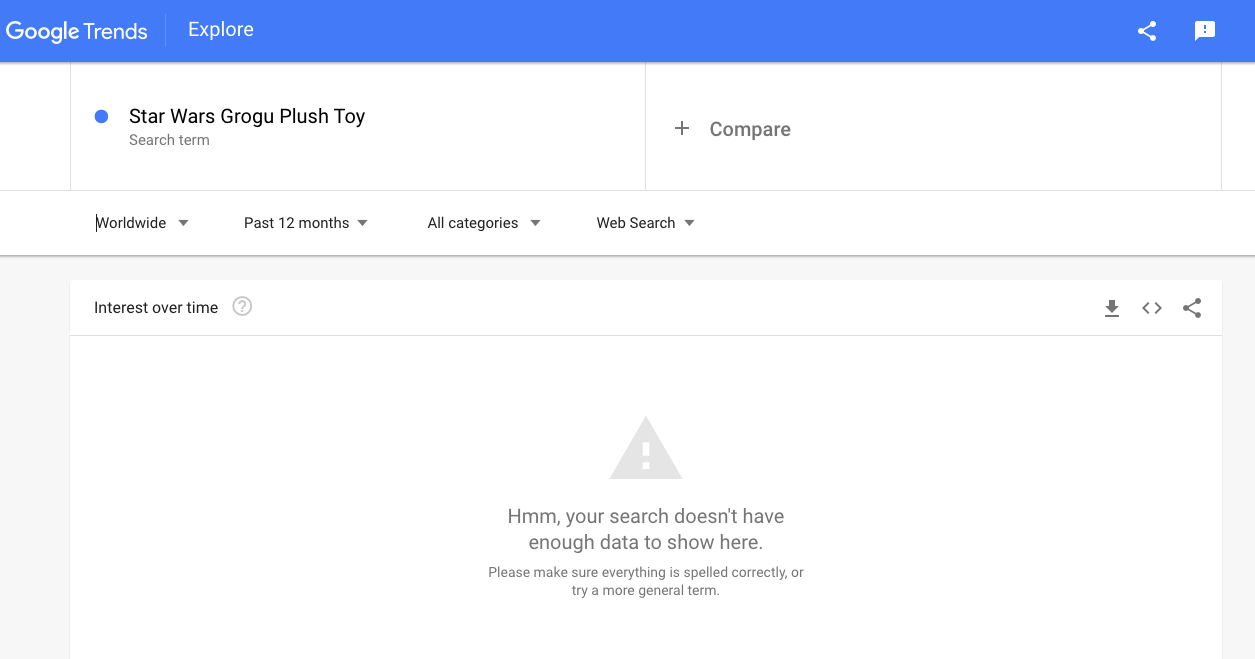 No worries! Let's try one more time by omitting the "Grogu" word from our search. Voila!
"Star Wars Plush Toy" search returned many results, worldwide, United Kingdom being the top country in terms of the volume of searches.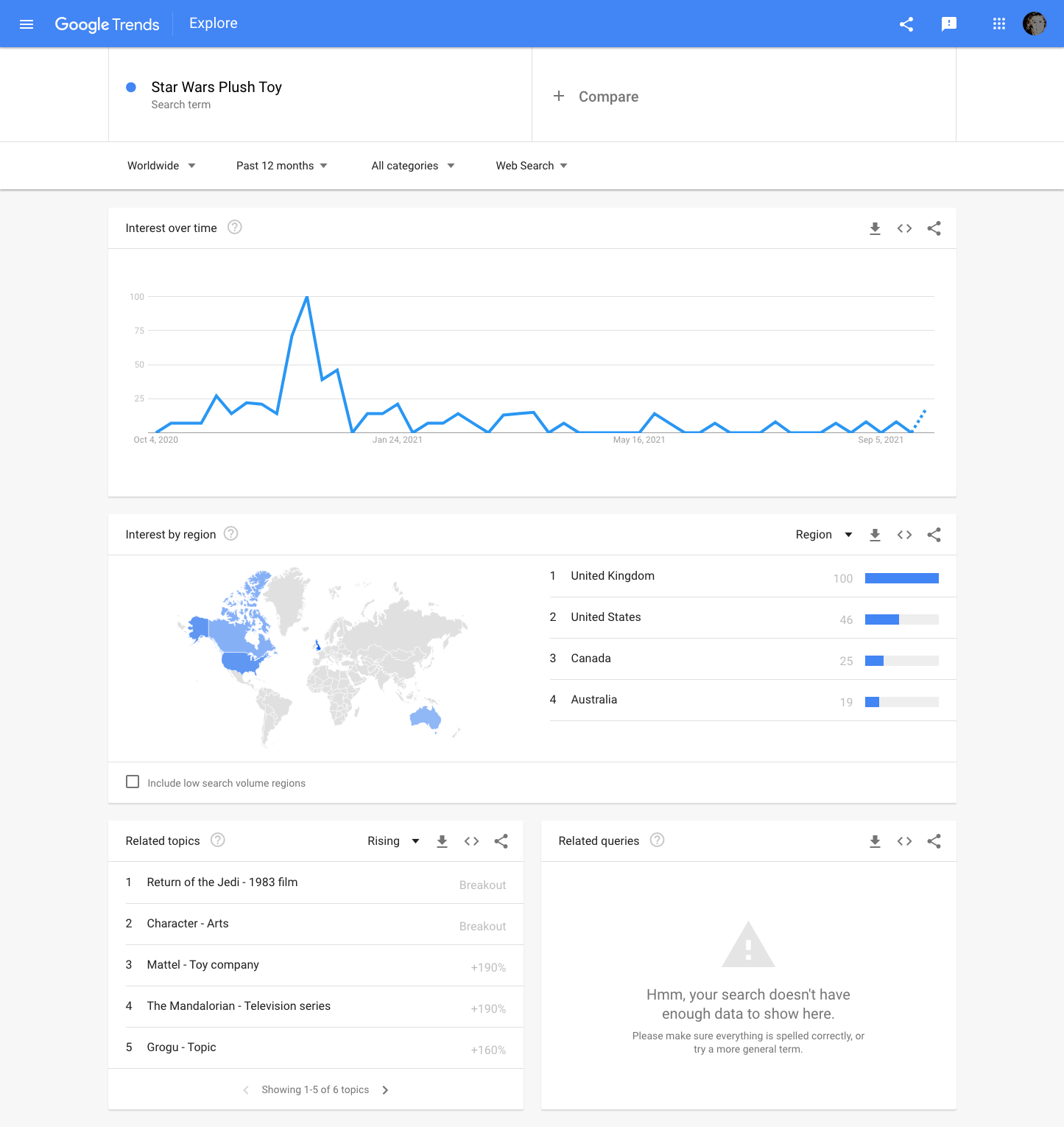 Let's deep time into the UK searches, then. Google Trends shows us that this toy has been quite popular in the last 12 months especially in the fall fo 2020, winter of 2021 and gaining popularity in the fall of 2021. So it seems like we have a catch! It's worth talking about Star Wars Plush Toy on our website by selling by featuring this item on our product pages and adding it as an SEO keyword in our blog posts.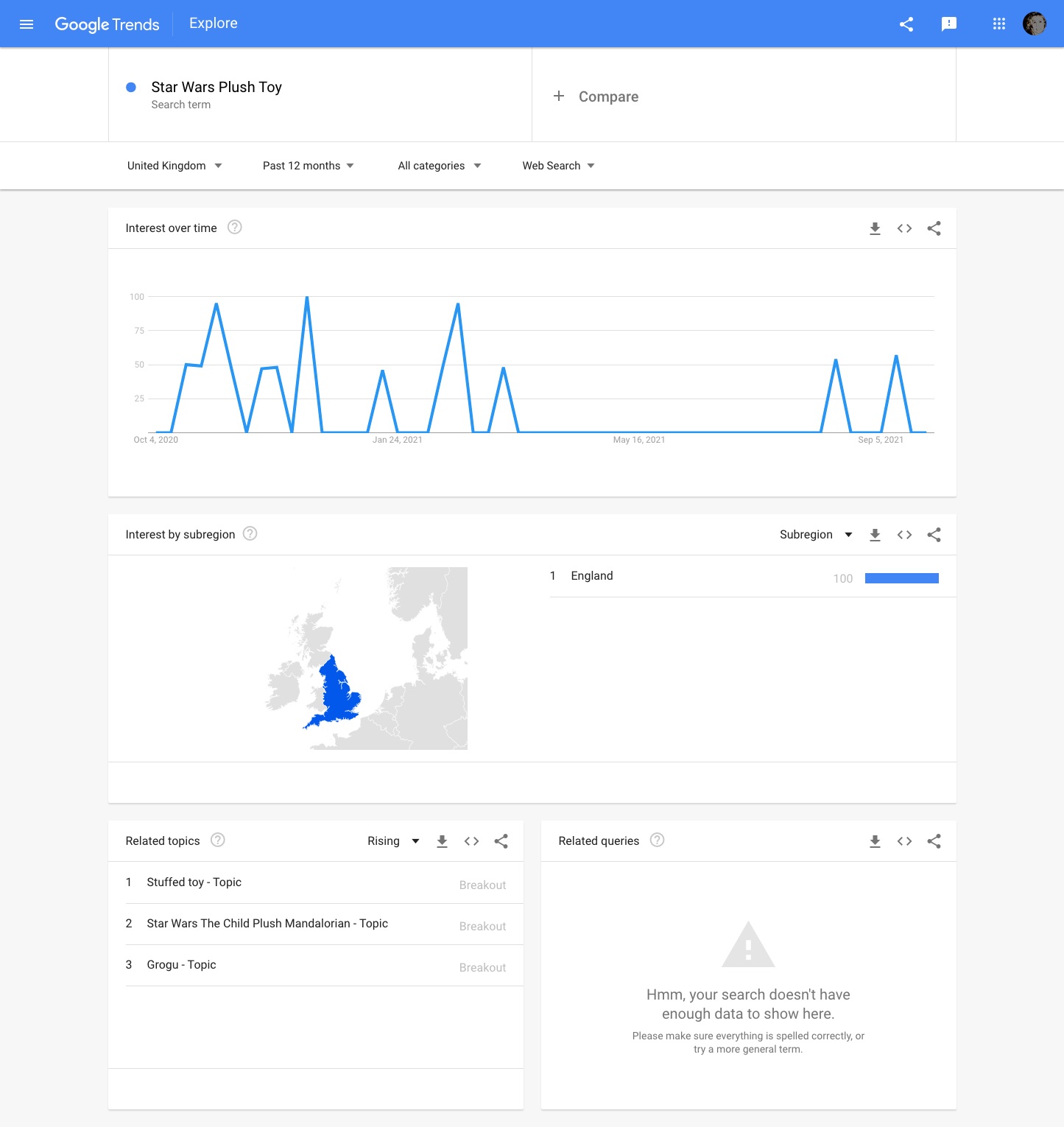 SEO Keywords Tools: Free Methods To Exploit
The examples above reveal how important it is to use Google Trends as a free SEO keywords tool. Luckily, Google Trends is not the only free tool, here. Let's list a few of the other free SEO keywords tools, here.
SEO Keywords Tools #1: Dropshipping suppliers' databases
Dropshipping suppliers are great to make business with but this is not the only way these companies can add value to your business. Most of the suppliers showcase their product portfolios online. Therefore their websites can act like great libraries to discover products for eCommerce thus SEO keywords for eCommerce businesses.
SEO Keywords Tools #2: Dropshipping apps
Dropshipping apps like Oberlo and Spocket can also act like SEO keyword directories for eCommerce owners. Thousands of items are listed in those apps along with their names and definitions.
Now that you've discovered how to find the best SEO keywords, it's time to focus on conversions! Display AI powered related products, upsell items and frequently bought together products on your Shopify store to boost your revenues. To get all of these and more, install Perzonalization for Shopify now and start your 14 day free trial.
SEO Keywords Tools #3: eCommerce Websites and Marketplaces
Aliexpress, Alibaba, Amazon.com, Macy's, Etsy and other popular eCommerce websites are hosting millions of product pages that include product names, brands and product descriptions. eCommerce owners and SEO marketers can as well use those websites as SEO keyword libraries.
SEO Keywords Tools #4: Google Adwords
Google Adwords is originally a paid advertising tool that comes along with a detailed dashboard. Luckily, this dashboard can also serve as an SEO library. So in that sense, we may call Google Adwords an SEO keywords tool.
The keyword planner inside Google Adwords customer panel helps marketers discover keywords for their campaigns and plan their ads. An SEO marketer or a smallbiz eCommerce owner can use this interface to discover new keywords and learn about their search volumes. Thus, SEO Keywords tool Google Adwords is a great free resource for the ones trying to make a difference with their SEO efforts.
Let's try to understand the search volume for Star Wars toys in the UK. Star Wars plush toy seems to get 140 searches per month where as Lego Star Wars is hitting it by 135K searches/month. One of the advantages of SEO Keywords tool Google Adwords is its ability to showcase keywords that are similar to the one you are searching for. By this, you are able to discover new SEO keywords for your business and maybe decide to abandon the ones you originally chose.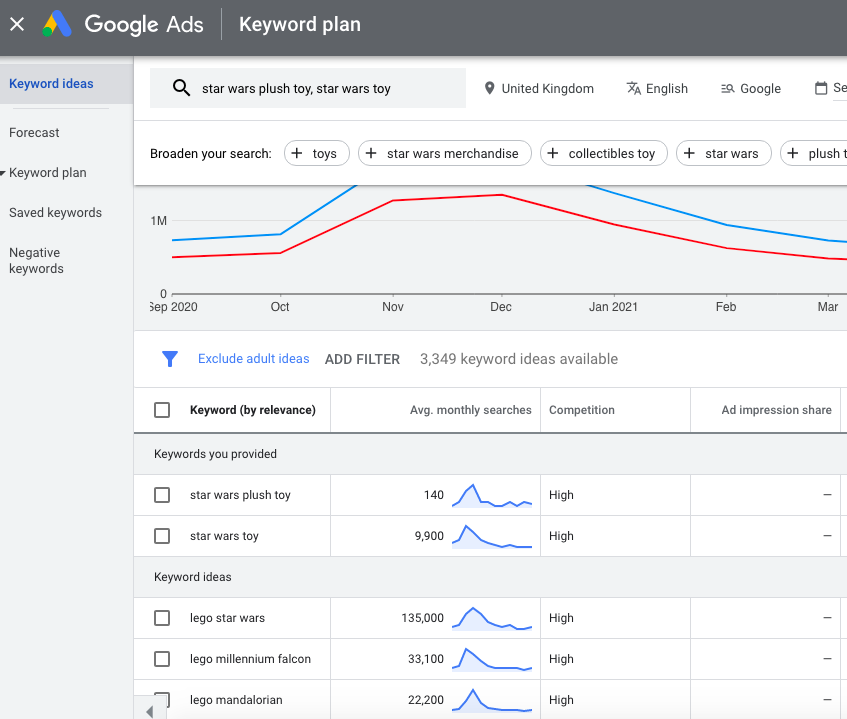 How To Choose SEO Keywords?
We are advocates of using long-tail keywords in SEO and will suggest the same for the eCommerce bloggers whose websites have a domain authority less than 50.
For a long-tail SEO keyword to help you attract a decent amount of traffic, a few criteria should be met.
The monthly traffic should be high enough. When we mean high, we mean at least 500 searches/month in a particular language/country.
The SEO keyword's SEO difficulty score should be less than 45. If you choose more difficult keywords, chances are your blog posts or product pages will get lost in the over-crowded search engine results page (SERP).
Remember to both choose a main SEO keyword and some supporting SEO keywords that are popular in the same context. Additionally try to use the main eCommerce SEO keywords and supporting keywords together inside your content.
How To Use Keywords for SEO?
To benefit from SEO, your eCommerce SEO keywords should be ranking well. So what is this "SEO keywords ranking" everyone is talking about? For every user query, a search engine displays search engine results pages (SERP). If your website appears in the 1st page of the search engine results, this instance means "ranking well". Choosing SEO keywords that will help a website rank well is every SEO marketers ultimate dream.
However, ranking is not only related with a single keyword. Your website's domain authority and the number of high quality backlinks leading to that piece of content also have importance in the way rankings are defined.
What Are SEO Keywords: The Conclusion
For an online retailer, it may be hard to learn how to play with the SEO keywords. When you step into the world of SEO, the first question that will come up will be "What are SEO keywords?". However, things are more complicated than discovering the SEO keywords. You will also need to have a solid SEO strategy along with a good and SEO friendly website structure.
We hope that the tips and tricks we shared in this post will help you build a good SEO practice to help your eCommerce business grow organically. Additionally, remember to work on the other marketing methods as you cannot expect your SEO practices to bring you all the traffic you need.
Curious to learn more? Take a look at related posts!