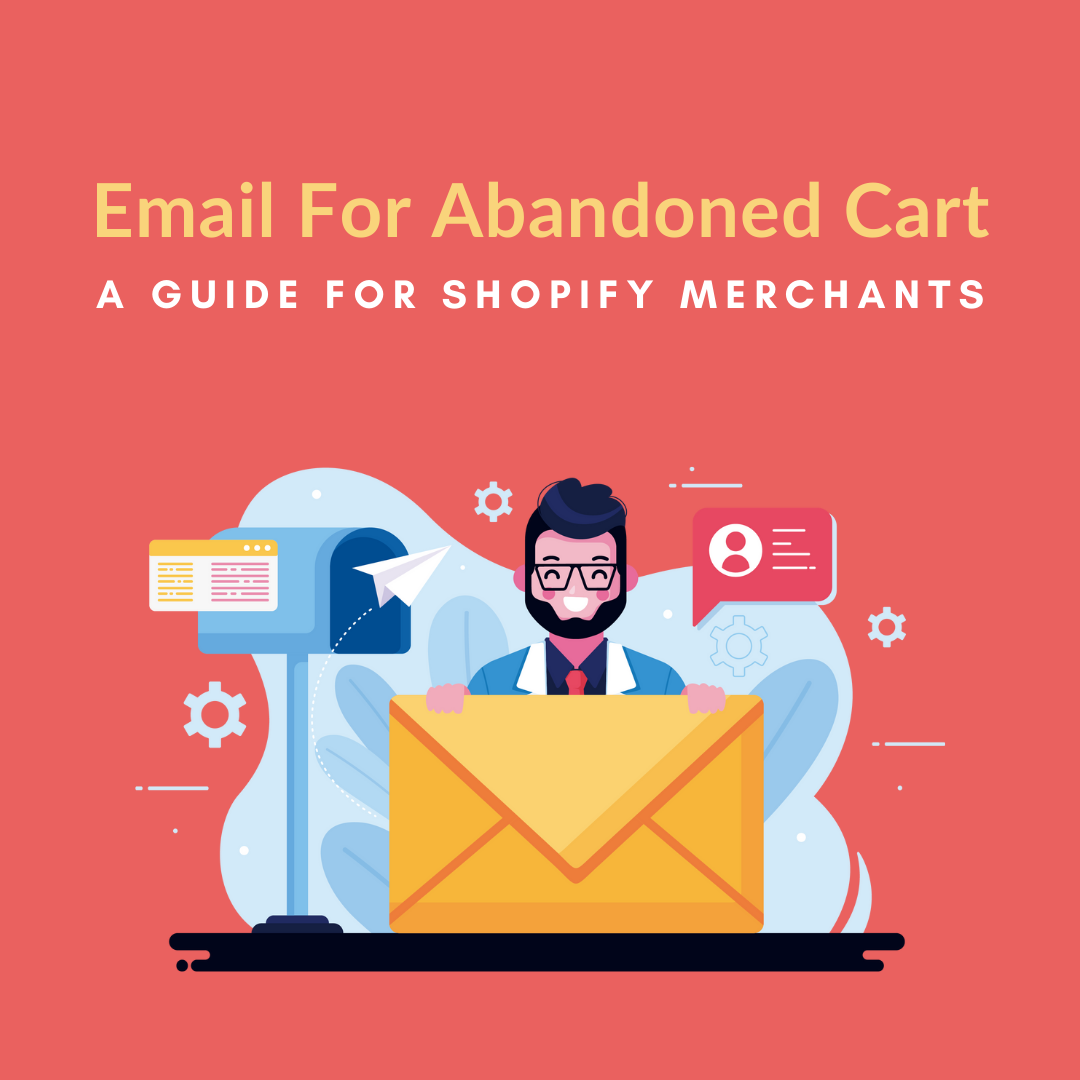 If you are an eCommerce store owner, you would know that not all customers who add an item to their carts, complete the purchase. Most online businesses, whether big or small, face the problem of abandoned carts and chances are you too are faced with the same challenge every now and then. Luckily, tools like email for abandoned cart can help merchants recover Shopify abandoned carts.
Are you able to showcase AI powered related products, upsell items and frequently bought together products on your Shopify store? To get all of these and more, install Perzonalization for Shopify now and start your 14 day free trial.
With my experience as an eCommerce solutions provider, I can assure you that there are several tools that can successfully address the Shopify cart recovery problem. If executed properly, these Shopify abandoned cart apps and marketing automation tools are capable of reducing your cart abandonment with a proper strategy to empower the email for abandoned cart. Besides, these apps can increase your sales and optimize conversions.
A marketing automation system is a good starting point because if we look at the global abandoned cart analytics, the number is a staggering 75.6% – the retail sector being at the highest at 75.6%.
The Dynamics of Shopify Cart Abandonment
Cart abandonment works in mysterious ways. And trust me, when I say that not everything is your fault. It has to do a lot with how customers browse eCommerce sites. There are customers who could be visiting your site for any or all of the following reasons:
Window Shopping
Saving items for later
Price comparison
Exploring gifting options for a later date
Initial research
Using the cart as a wishlist, and so on
The list is endless, really. And to be honest, there is nothing you can do about any of these. So, it's important not to assume about the reason your customer has abandoned his/her cart. Some other factors could also be:
Your technology is different from the rest
The checkout set-up process, payment methods etc. are unfamiliar to the customers
Type of product you sell may influence the psychological purchase process etc.
While you may be breathing a sigh of relief, let me tell you that the primary reasons why customers abandon carts are different from all of the above. You might take a look at the following graph derived from a recent study for a better idea on the reasons for Shopify cart abandonment.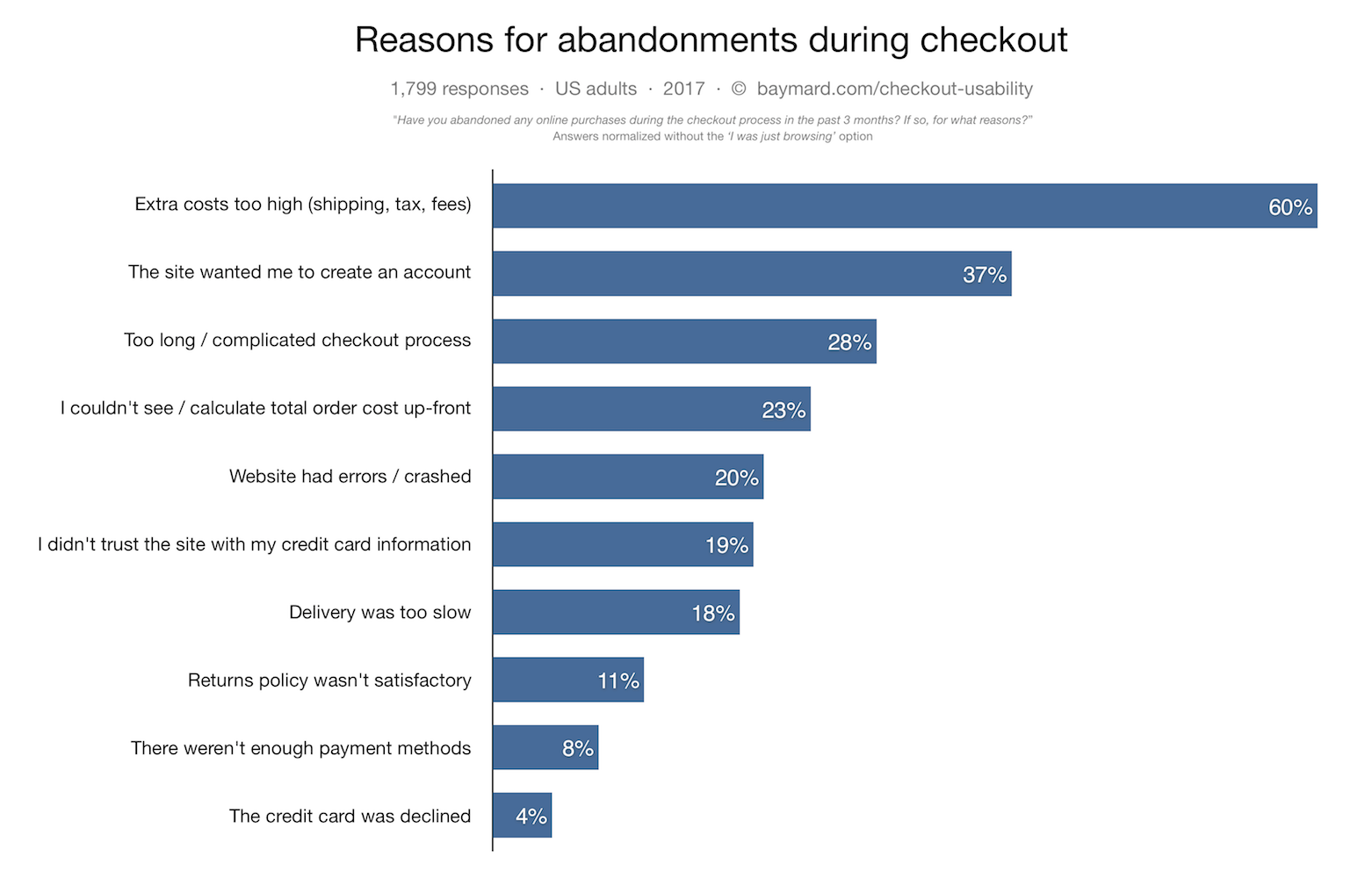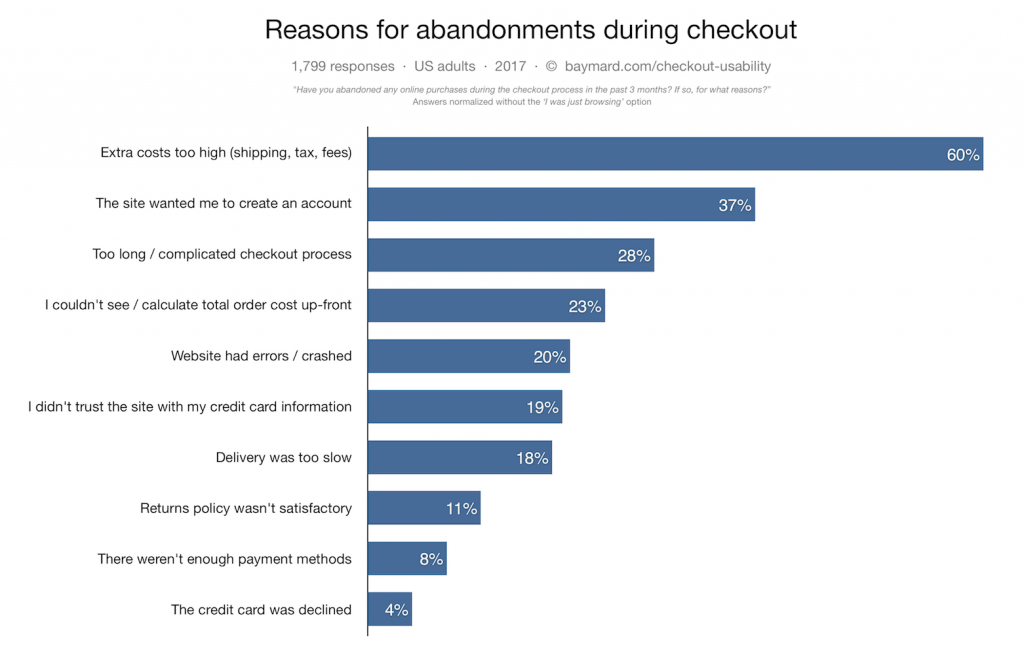 So, let's dig a little deeper and understand the reasons and how we can address these issues.
Reasons for Shopify Abandoned Carts
Impact #1: High Shipping Costs
High shipping costs is the primary reason your customers leave without completing the purchase process, ranking the topmost in impact. 60% of customers specifically cited shipping costs as the primary reason driving them away from your store.
However, you should not ignore other hidden costs, such as taxes or necessary complementary items which have a similar effect on your Shopify cart abandonment. These are costs which immediately annoy the customer, and results in their feeling a certain remorse for purchasing.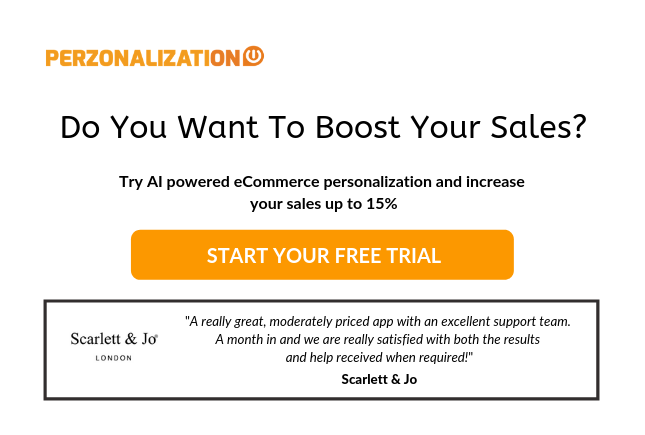 What you can do?
Transparency
If you do intend to charge your Shopify customers for delivery, some kind of taxes, or anything else, tell them early on in the checkout process, so they are informed. This piece of information can also spare them the pain of going all the way to the checkout process, only to be stung by unexpected costs. Hence, transparency is key to abandoned cart recovery on Shopify.
Multiple Options
Offer multiple delivery options – charging your customers more for urgent/ premium deliveries or offering free deliveries for purchases more than a certain amount of the total cart value can be helpful tactics to try.
Include shipping in the price of the product
You can also bundle the extra cost of shipping into the price of the product and keep the shipping free to reduce cart abandonment on Shopify.
If your Shopify abandoned cart email is not working, it may be time to get an expert app!  Install Perzonalization for Shopify now, start your 14 day free trial and see how we help you recover your Shopify abandoned carts!
Click and Collect Service
You could also incorporate a free click and collect feature, if you have a brick and mortar store alongside your online store.
Impact #2: Compulsion To Create An Account
It is needless to say that your customers shop online for convenience. They do not have the time, and want to do things quickly and easily.
If you make them spend more time and effort in creating an account, it immediately creates a friction. 37% of customers do not complete their purchases when they are required to create a new user account. That's a huge number if you look at it. As a customer, this will be an immediate red flag for me, knowing that I can find these products in any other online store without creating an account. I understand that it is important to collect customer information and encourage them to sign up for your newsletter, but making them fill out elaborate forms is a strict NO-NO.
What can you do?
Guest Check-out options
Offer guest check-out options, if you do not want to let the opportunity to collect email ids of your customers. The easier you make it for your online visitors to buy from you, the more sales you'll make. This also may make your returning customers want to create accounts later to avail of exciting offers and loyalty programs.
Impact #3: Complex Check-out Process
An optimum check-out process is key to reducing Shopify cart abandonment. If your checkout process requires the user to open multiple pages in a row, you're likely to lose most of your customers.
What can you do?
Shorten the checkout process
Use progress indicators on your checkout page
Clearly indicate the basket summary
Include a clear CTA in the checkout process
Display contact details clearly
Remove any kind of distractions from your checkout page
Display order value clearly
Offer multiple and widely known payment options
Make saving carts effortless
Impact #4: Website Errors
According to a study, ecommerce shopping cart conversion rates drop 7% for every one-second delay in your page loading. This is a technical issue and one that could impact all pages of your site. If your online visitors have to wait too long for the next page to load, frustration seeps in and they abandon their basket. Similarly, long pauses after pressing the 'buy' button is a bad sign.
What can you do?
Optimize your images to maintain a balance of quality and speed.
Restrict the use of ad network trackers, poor tags etc.
Host your store on a trusted platform like Shopify.
Impact #5: Concerns About Security
Apprehension about the security on your ecommerce site accounts for 19% of all cart abandonment reasons. And it makes sense. When a customer is concerned if their bank and credit card details are being handled safely, it does have a dramatic effect. Some of these concerns may rise from missing SSL information, design flaws, outdated layouts and credible payment options.
What you can do?
Include multiple payment options
Make sure your payment modes are recognized
Incorporate SSL certificates in the checkout process
Use customer testimonials and product reviews
Include Bio and faces of your team
Give reasons for collecting personal information
Show trust symbols such as well-known security logos (Verisign, PayPal Verified)
Are you able to showcase AI powered related products, upsell items and frequently bought together products on your Shopify store? To get all of these and more, install Perzonalization for Shopify now and start your 14 day free trial.
Email For Abandoned Cart
As stated earlier in the article, there are a host of companies who support Shopify stores with a range of abandoned cart email templates, Shopify abandoned cart recovery options, eCommerce marketing automation tools to facilitate eCommerce owners to substantially bring down their cart abandonment rates.
eCommerce email marketing automation is one such a strong marketing channel to bring down cart abandonment. This strategy follows an abandoned cart email sequence wherein multiple emails are sent to the customers over a period of time. The different kind of emails sent under this plan are as follows:
Email For Abandoned Cart #1: Urgency Emails
The purpose of these emails is to close the sale by communicating urgency. This can be sent after 4 hours of abandoning the cart.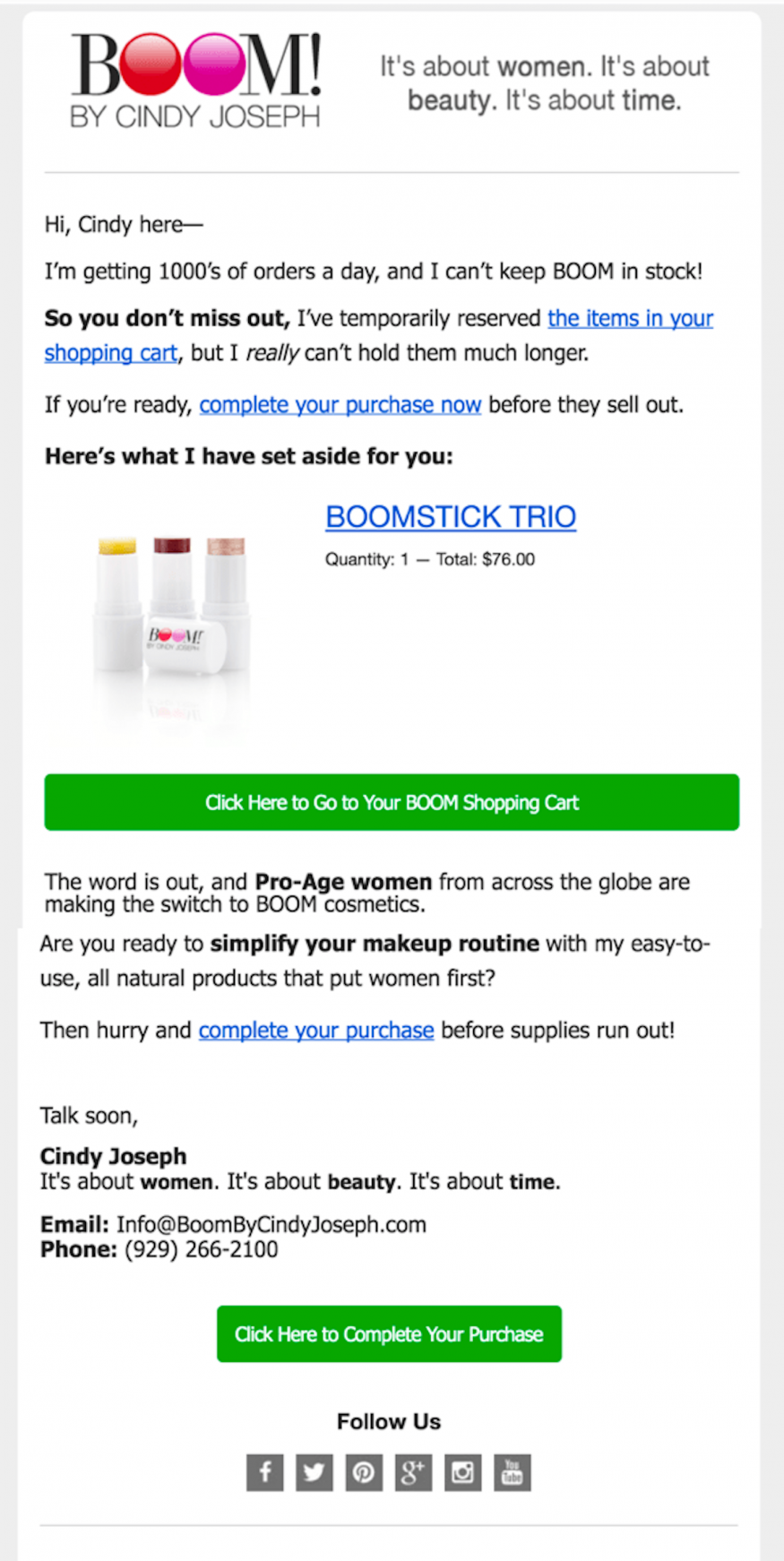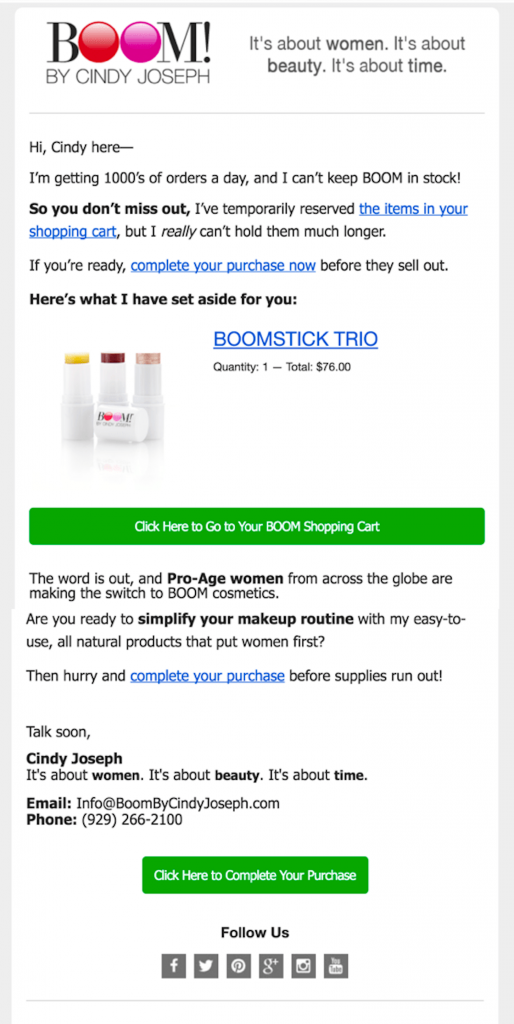 You can also create a cart expiry urgency with these emails.
Email For Abandoned Cart #2: Scarcity Email
This shopping cart abandonment email can be sent after 24 hours of abandoning the cart, urging the customer to buy the product that is about to get sold out or motivating them not to lose an amazing deal.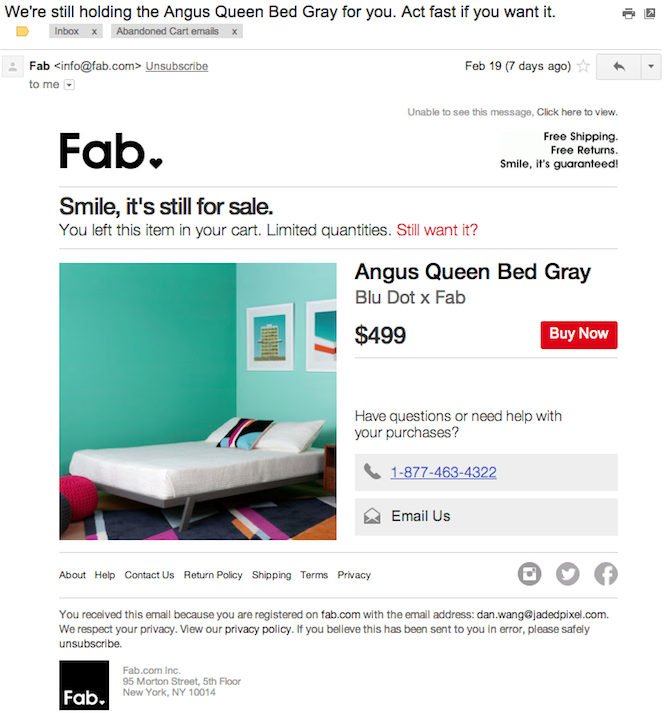 Email For Abandoned Cart #3: Product Ownership Benefit Email
These kind of emails can be ideally sent within the first 48 hours of cart abandonment. Ideally these mails carry an incentive or reward for completing the order.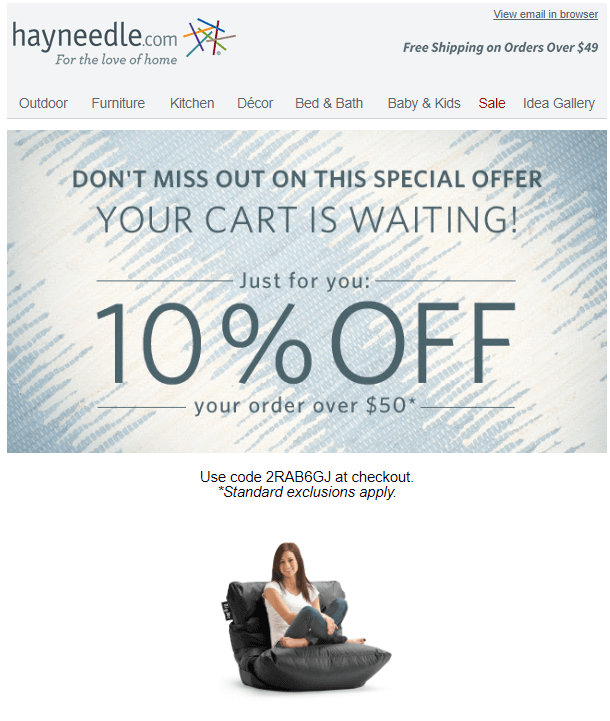 Email For Abandoned Cart #4: Abandoned Checkout Shopify App
Recommending similar products to those customers who have previously looked for a similar product is a good way to ensure repeat visits. It helps entice people back to your store. Our own Shopify abandoned cart app allows you to send not only Shopify recovery emails but also inactive customer and browse reminders, all of which go a long way in reducing cart abandonment. The set up is quick and easy and boosts your sales by 15%. The app can keep you an extra edge, making them more relevant to the customer.
It is important to remember that email for abandoned cart – as a tool – is a big part of behavioral marketing, thus should be treated with a lot of care and tact. With the help of the data collected on cart abandonment, you can also tailor your email content based on different kinds of customers. Also, your task doesn't end with sending just one cart abandonment email. The key is to send two or three carefully timed emails to optimize conversions. Each email will have a different tactic to drive sales.
How To Send Abandoned Cart Emails On Shopify?
You may set up and use Shopify's own abandoned cart reminders or get expert help from our Perzonalization for Shopify app. If you install Perzonalization, the app will let you setup your automated reminder emails in only a few minutes and even add personalized recommendations on top of those emails. Take a look here for our app tutorials.
Other Tools For Shopify Abandoned Cart Recovery
Identifying Sales Funnel Leaks with Analytics
Capturing abandoned cart analytics with the help of Google Analytics is a great way to gain insight into the behavior and buying pattern of your customers. The visitor flow and conversion pathways in Google Analytics will look something like this.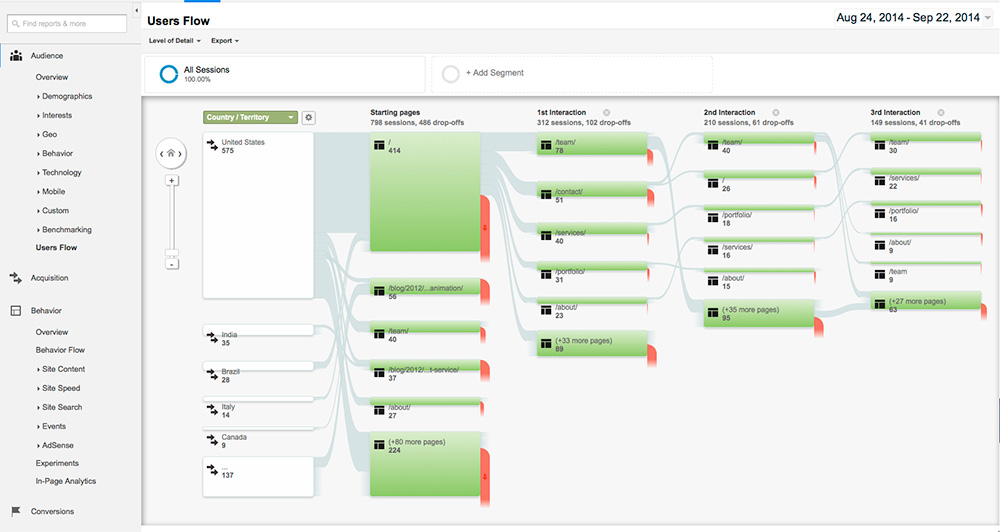 Google Analytics – if analysed with care – will work like a Shopify abandoned cart analytics app and will display the various bottlenecks on your product pages and other places where your traffic seems to be dropping off.
If your Shopify abandoned cart email is not working, it may be time to get an expert app!  Install Perzonalization for Shopify now, start your 14 day free trial and see how we help you recover your Shopify abandoned carts!
On-Site Remarketing
On-site remarketing is a process wherein certain tools enable you to identify in real time when exactly your website visitors disengage and are about to abandon their cart or leave the site. Once this intent is detected, you can re-engage with them with automated browse reminders based on several elements – like their browsing history, search keyword and the items left in their cart. You may also choose to offer an incentive like free shipping, discount coupon etc. to bring them back to your store and ensure Shopify abandoned cart recovery. Perzonalization for Shopify can help you implement several automated email scenarios. They are simple and don't need any alterations to your site's html.
Email For Abandoned Cart: The Conclusion
Irrespective of how optimized your checkout process is and how thoroughly you use your marketing automation system for your Shopify store, a business, whether big or small is bound to lose some customers throughout its journey. Email for abandoned cart is a great tool in the sense that it reduces your customers' fears and apprehensions, increases their trust and ensures that their buying journey is a convenient and comfortable one.
Curious to learn more? Take a look at related posts!