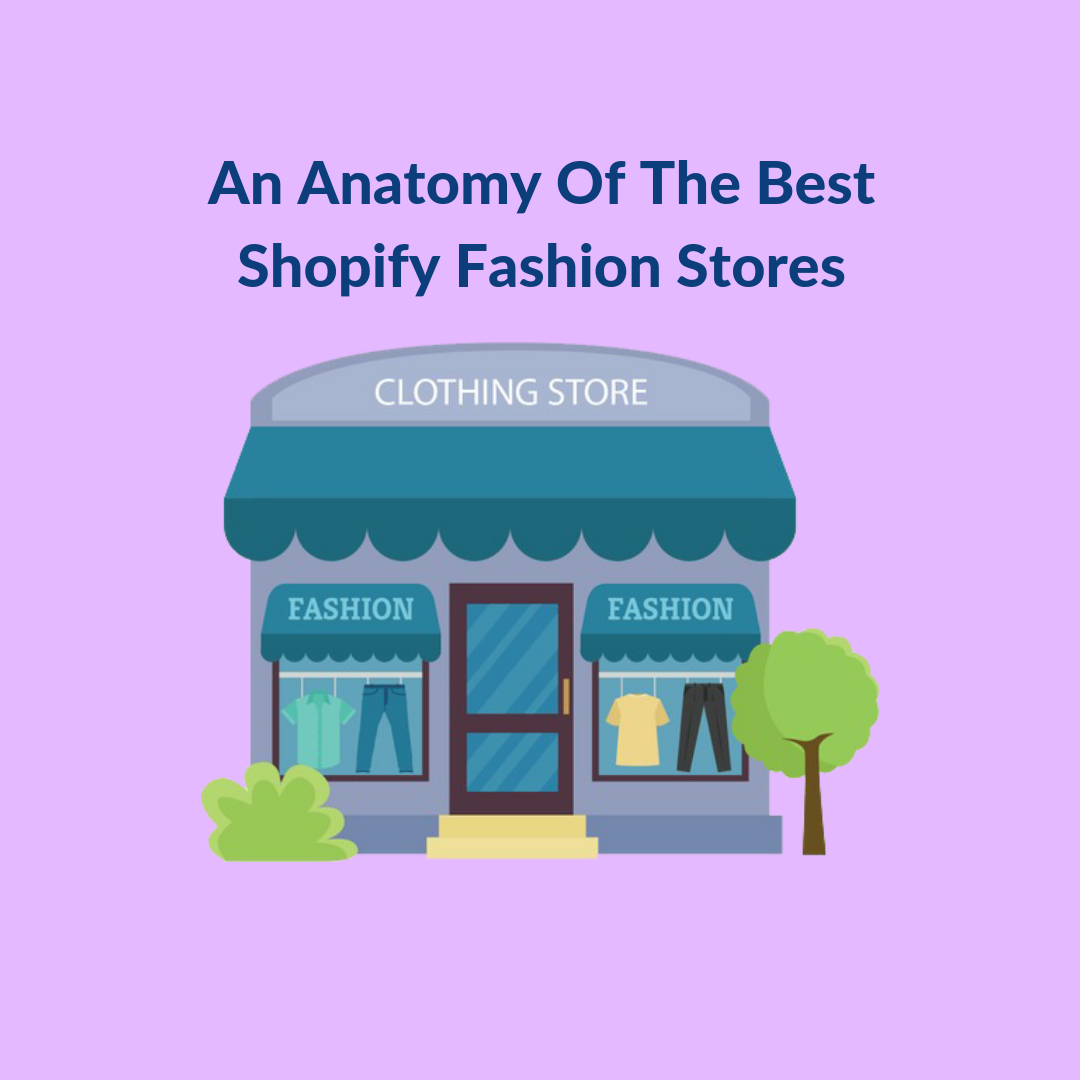 The fashion industry is volatile and running and sustaining a fashion eCommerce store can be elusive. The best Shopify fashion stores are defined by their aesthetics, customer experience and mobility. Irrespective of the size of business, the best Shopify clothing websites have some common attributes which sets them apart from their competition, and help them gather the much-required traction.
Some important attributes of the best Shopify fashion stores
The leading Shopify fashion stores –
Have strong product descriptions that complement their product
Have visually appealing product photography
Consistently introduce new products
Have their website aligned to their brand
Engage with their customers through different marketing channels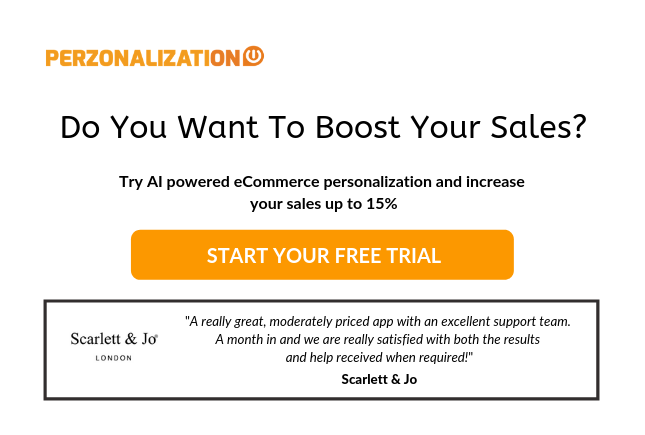 Encourage and include user-generated content as a part of their marketing effort
Understand their customer and what they need
Have a smooth checkout process
Have a minimalist and uncluttered design
Have social media integration on their page
The Best Shopify Fashion Stores: Amazing Examples
Read through this list of some exemplary fashion eCommerce websites and Shopify clothing stores to understand what they did right.
ASOS: One of the best fashion eCommerce sites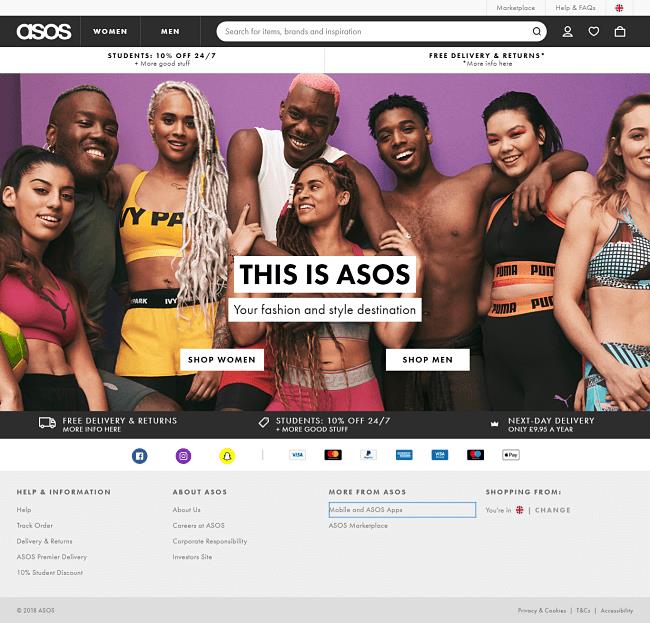 For ASOS, their primary target audience is the student community, which they beautifully depict on their Shopify apparel store, and that's the first thing that grabs your attention. The store is also integrated with social media buttons, placed at the bottom of the page.
Are you able to showcase AI powered related products, upsell items and frequently bought together products on your Shopify store? To get all of these and more, install Perzonalization for Shopify now and start your 14 day free trial.
Rebecca Minkoff: A true winner in the best fashion websites list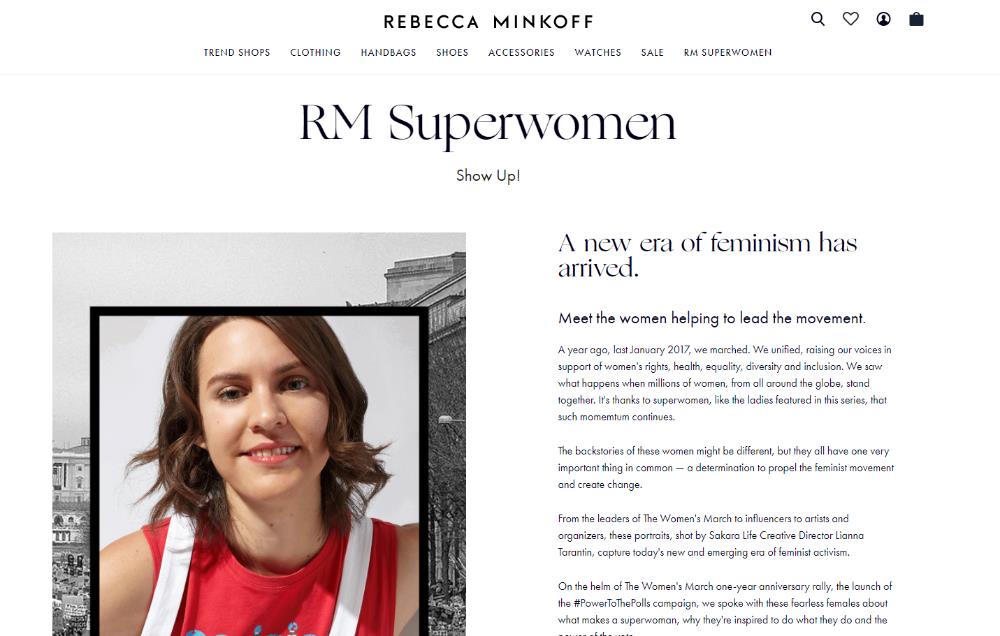 Speaking of creating communities and engaging with target audiences, Rebecca Minkoff has done a commendable job. The company created a community of like-minded people centered around strengthening and empowering their customers. The website is minimalist with a lot of white space and it has a certain charm to it. The company also uses a lot of user-generated content.
FashionNova: One of the best Shopify clothing stores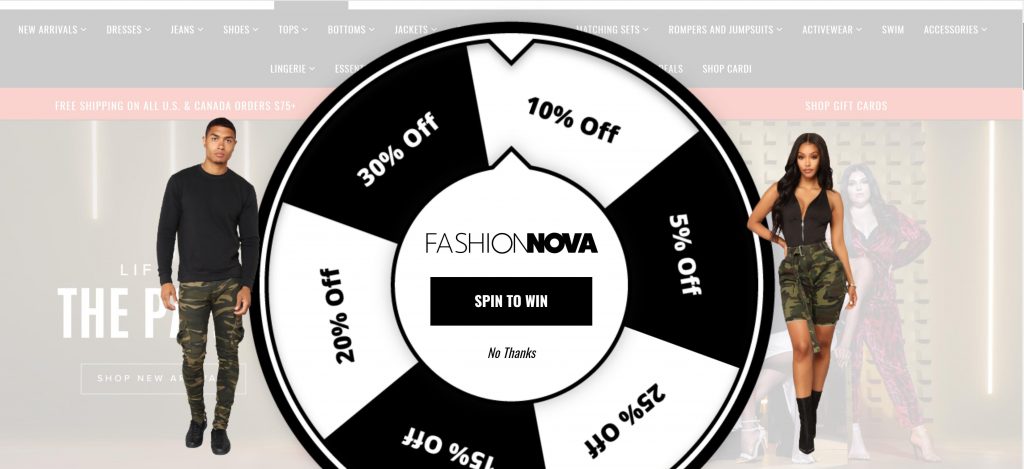 Apart from introducing 500 new styles consistently every week, Fashionova has this unique way of luring their customers  by offering them a discount. The control lies totally on the shoppers. Customers can avail up to 30% discounts on their purchases every time they spin the wheel. Not only does this increase purchase likelihood, it also increases the lifetime value of customers. The Shopify fashion eCommerce platform on which FashionNova is built allows the store to directly sell on Instagram, which proved to be one of the crucial success factors for this Shopify apparel store. Through social media, FashionNova is able to establish long- lasting relationships with their target audience.
Chubbies: One of the most well-known Shopify clothing stores

Chubbies, the shorts and swimwear Shopify fashion store, has always been a brand conscious apparel eCommerce store. Everything, starting from their brilliantly chosen words, to the images on their website aligns directly with what they do. On the other hand, their patriotic spirit has garnered the attention of the military community who are seen wearing 'Chubbies 'MERICAS shorts.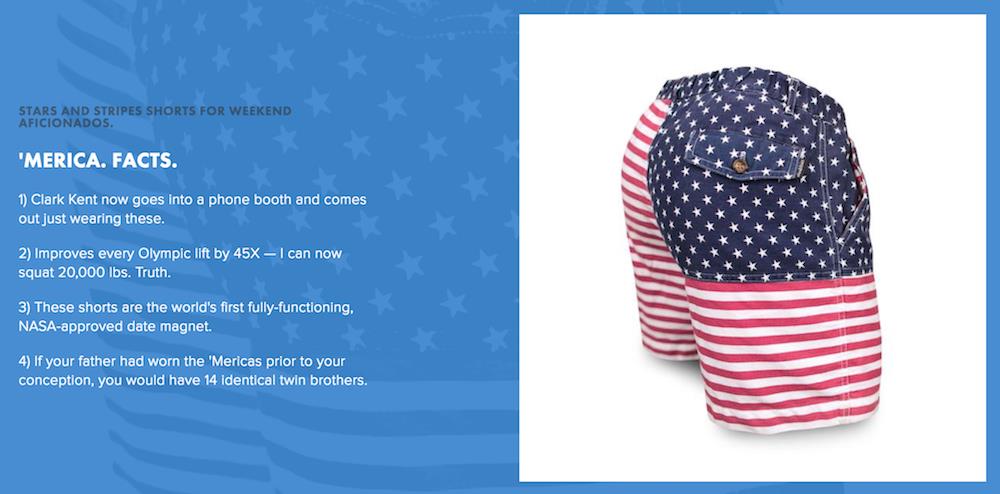 Sir: One of the best Shopify clothing stores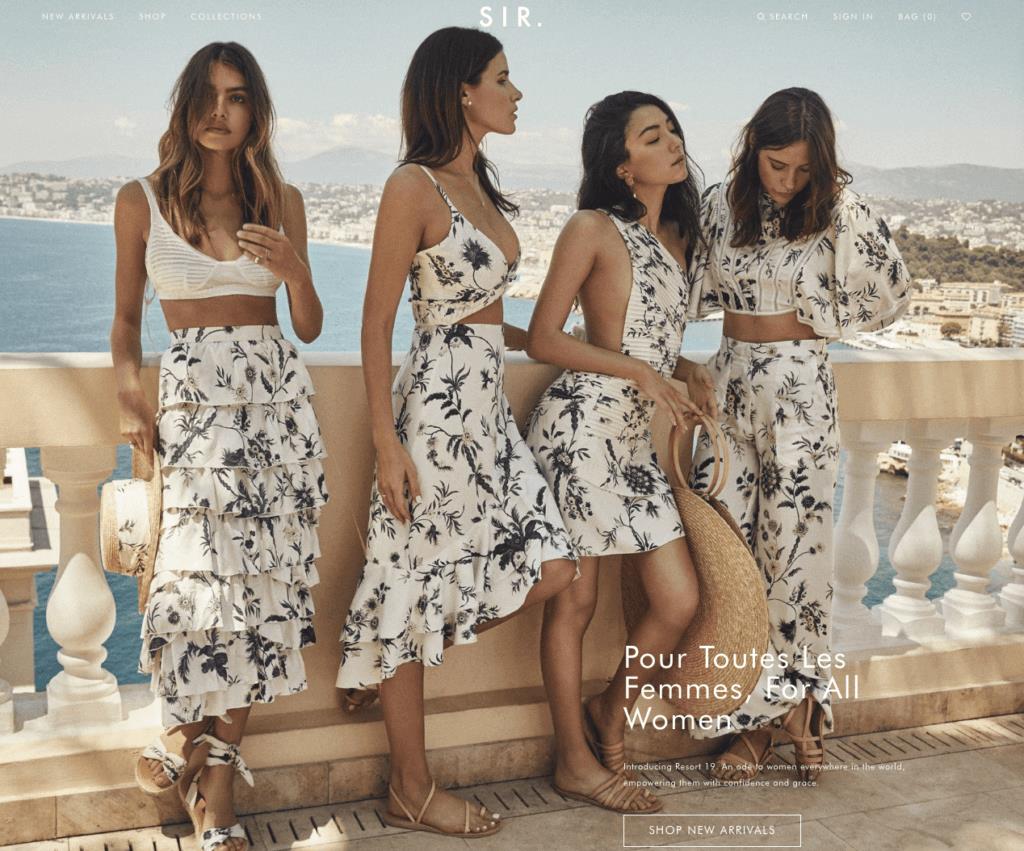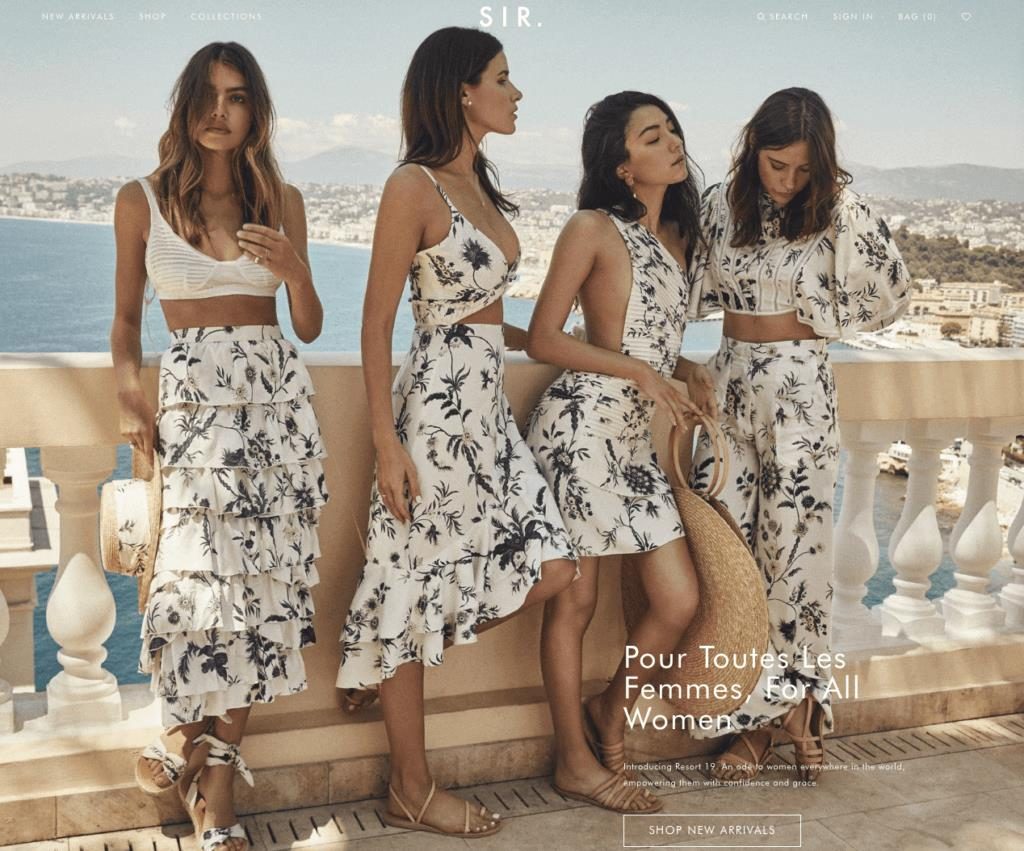 This Shopify clothing website landing page is big, bold and eye-catching. Their photography is nothing short of serene, and yet minimalist. The primary focus of the homepage is amazing photography showcasing their products, with a link to the Instagram shop as you scroll down. The company tells a story through their photography, which allows the customers to imagine owning these products. No wonder why we listed this as one of the best Shopify fashion stores.
Upselling is a trend among fashion stores. Install Perzonalization for Shopify to start displaying automated upsells on all of your page types. Start your 14 day free trial, now!
Rothys: An example of minimalist Shopify clothing stores


Rothys is another of the best Shopify fashion stores which, with the help of its mere website design eliminates every conversion optimization bottleneck. You will instantly fall in love with the minimalist and uncluttered homepage and they have an entire page dedicated to Shipping and returns policy, taking away any ambiguity that might arise in the shoppers' mind. They have also proudly showcased the fact that they craft their shoes from recycled plastic bottles. Customers will instantly be impressed with this environmentally conscious side of a fashion house.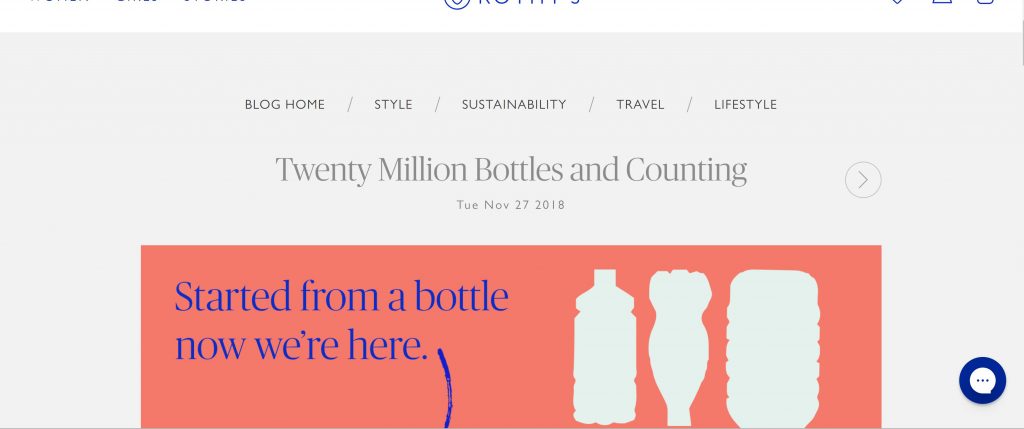 Taylor Stitch: One of the best Shopify clothing stores for menswear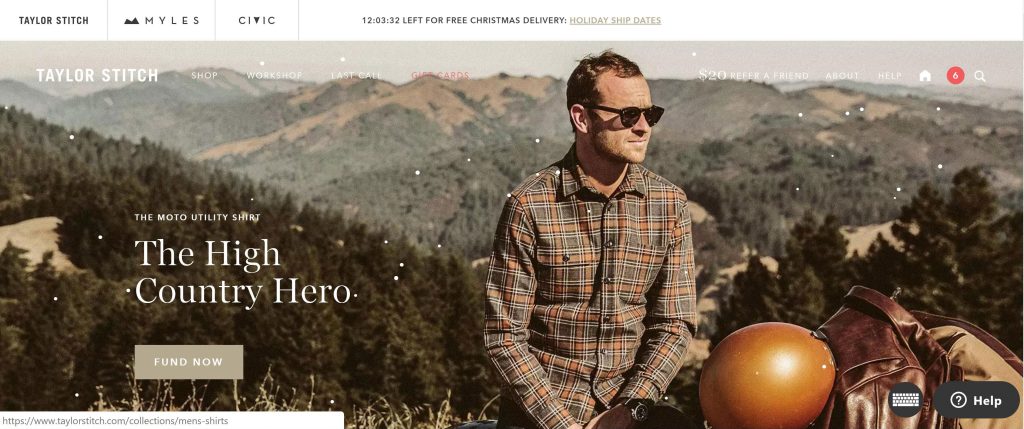 Taylor Stitch launched its Shopify fashion store in 2010 and sells custom and tailored menswear. Their goal is to make the common man afford sophisticated dressing. This Shopify store is high on user-generated content, encouraging their customers to share their individual stories. The amazing stories shared by their customers are featured on their website, and within 3 years of their inception the company made an estimated $1.5 million in sales. Overall, Taylor Stitch has proved itself to be one of the best Shopify clothing stores in the menswear category.
Helm Boots: A great example to the top Shopify fashion stores in footwear category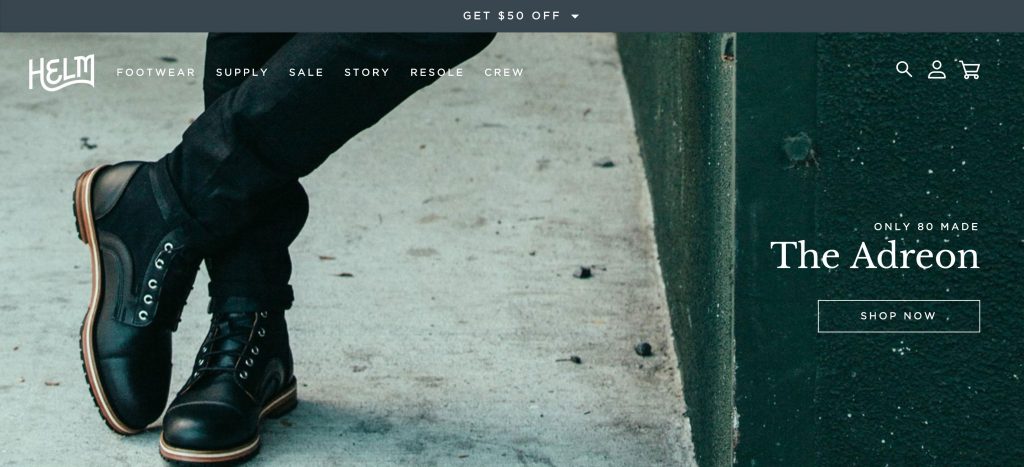 Look at how this Shopify fashion website creates an urgency by being loud and clear that they have just made 80 of this particular shoe called "The Adreon". This is an amazing way to stay in the customers' mind, because they know they need to hurry if they want to get their hands on these pairs of shoes. There is also a "Get 50% off" at the top of the page, which when you drag down says something like this.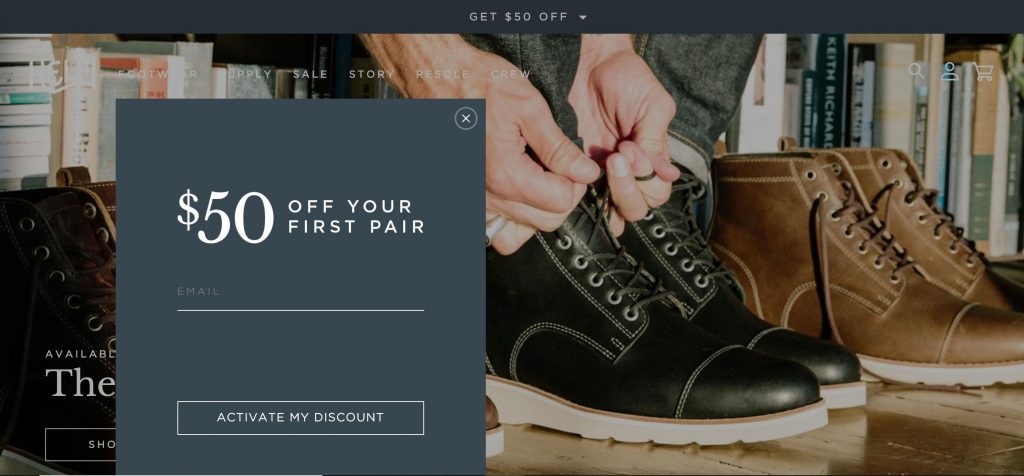 So, the lucky customer not only gets to wear a pair of limited edition shoes, but also signs up for a 50% discount. Everyone is happy.
Marc Wenn: A great example of the top Shopify fashion stores in the luxury biker denim and boots category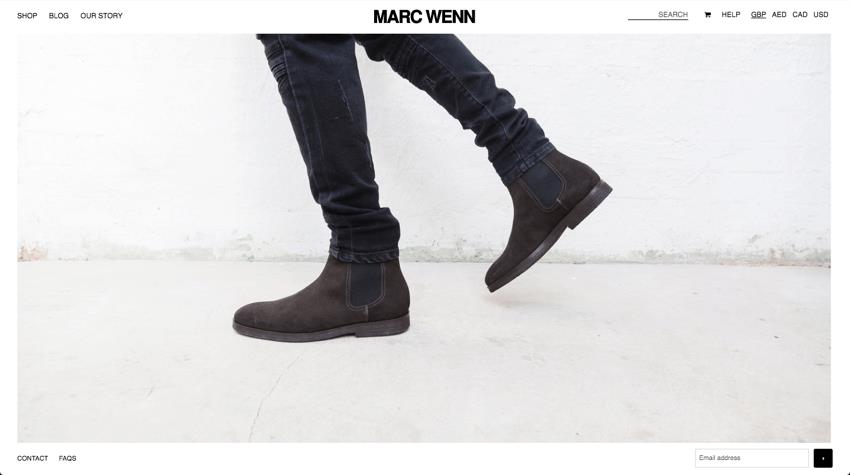 We all know to what lengths an efficient email marketing campaign can go to establish an eCommerce store as a trusted brand. For this best Shopify fashion stores, it was no different. All products for this store are designed by Marc Wenn. So when he personally emailed the first 100 customers to say "thank you", it did wonders for this e-shop.
Upselling is a trend among fashion stores. Install Perzonalization for Shopify to start displaying automated upsells on all of your page types. Start your 14 day free trial, now!
Khara Kapas: An example of handmade Shopify clothing stores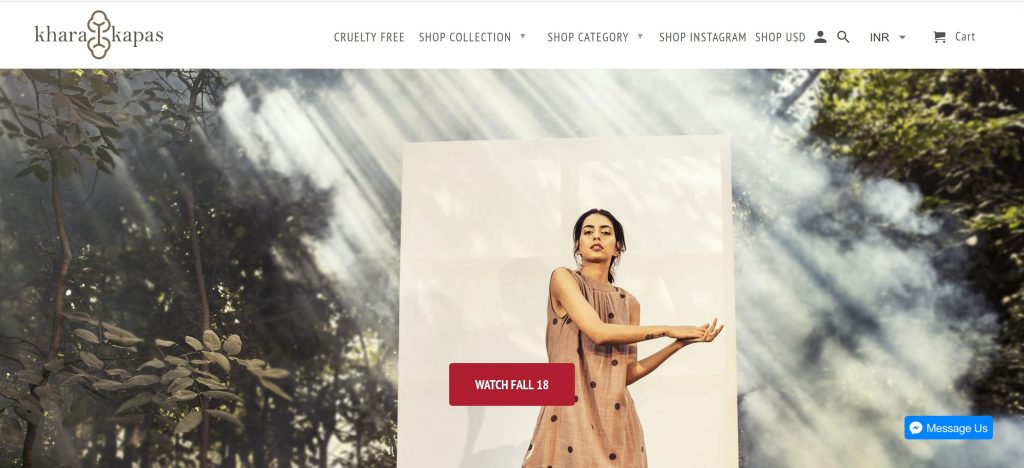 Khara Kapas means "pure cotton". This Shopify clothing store sells cotton hand-made boutique clothing. Earthy patters, pastel shades are exquisite prints are some of the characteristic features of Khara Kapas products – and these are reflected beautifully on their homepage. Nature is a big part of the imagery for this site and they proudly demonstrate that throughout their website.
Pura Vida Bracelets: Socially conscious Shopify clothing store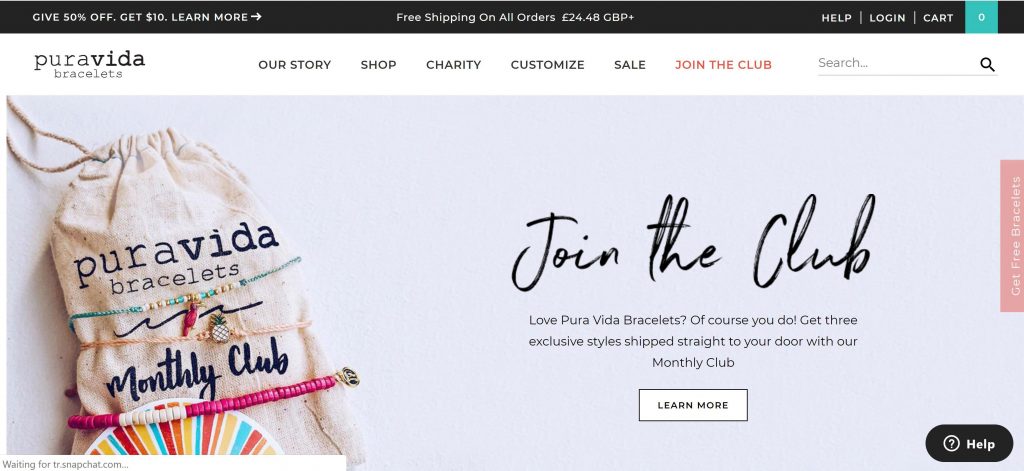 Pura Vida is an eCommerce store which is not just about selling. The brand likes to support different charities, and that is what resonates with their target audience. A report states that 90% of Americans trust brands which support greater causes than pure selling. Pura Vida has made a name for itself by associating itself with some mission-backed goals centered around charity, as you can clearly see in one of their product collections, which is called the "Charity Collection"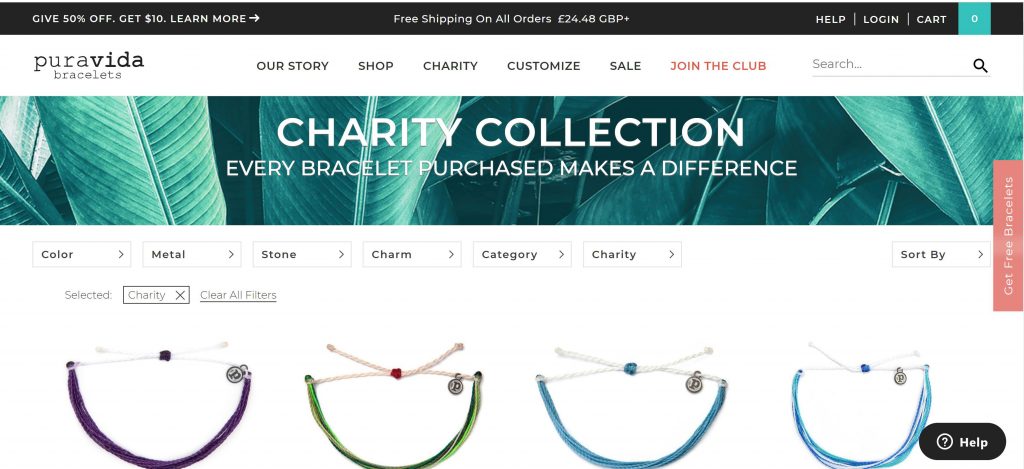 They also tell an amazing story about their constant endeavor to uplift and encourage local artisans and supports causes such as Cancer and Environmental awareness foundations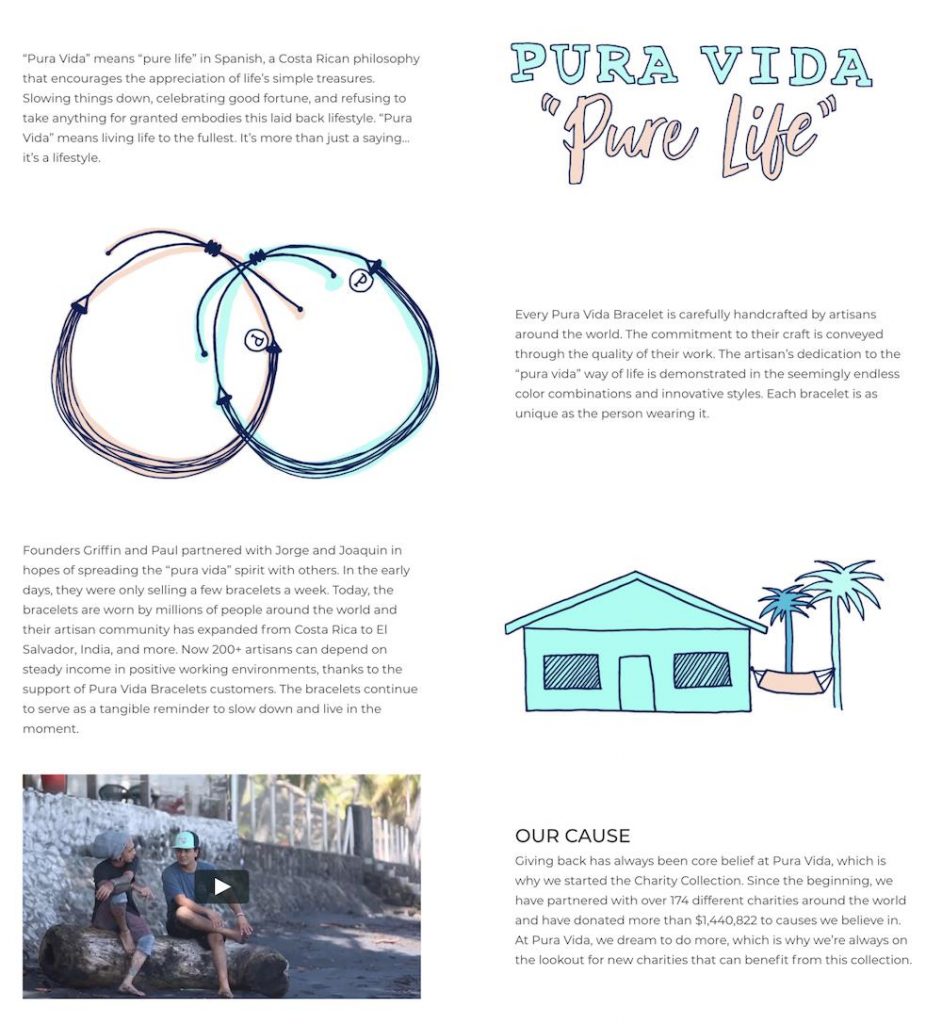 Vrai and Oro: A great example of Shopify fashion stores in the  jewelry category
Vrai & Oro very tactfully takes away the pain of paying a lumpsum amount for expensive products. Luxury products often entail spending huge sums of money, which make it nearly impossible to always shop for these products. Keeping this mind Vrai & Oro have incorporated their own payment plans to increase sales and allow any customer to buy the product of their choice without hesitation. This strategy has led them to earn $2 million in annual recurring revenue.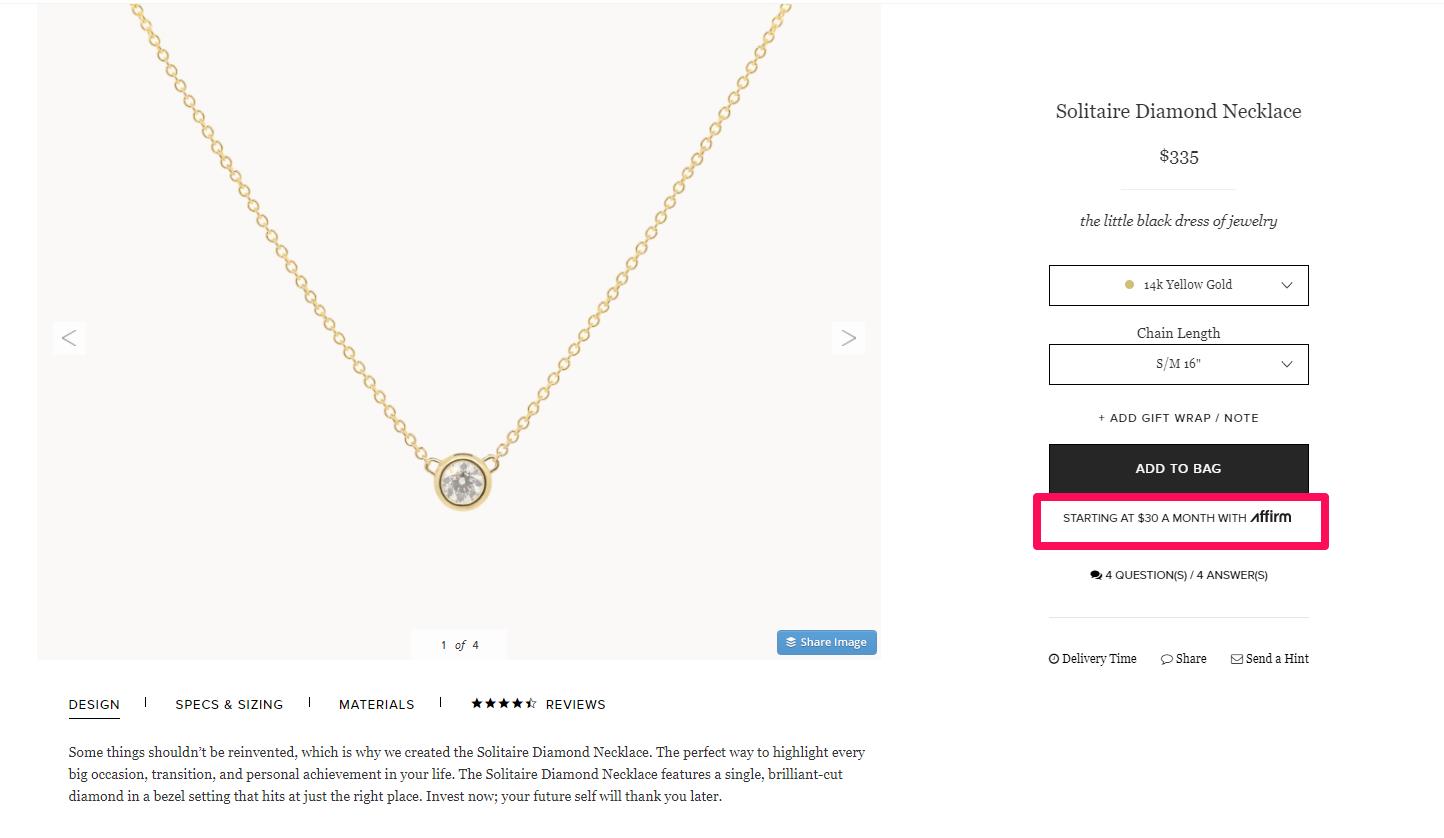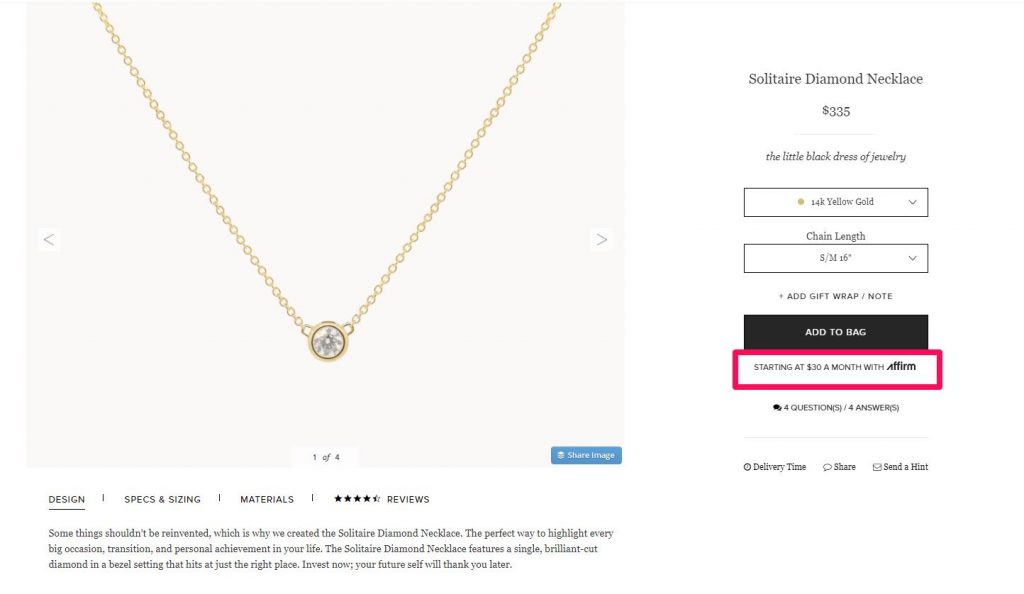 This kind of a thing becomes all the more easy with a Shopify eCommerce platform as the latter allows you to use some of the best financing and payment plan providers like Affirm or Partial.ly. Each of these can be easily integrated directly with your online store, and automatically made to generate different payment plans for customers to choose from.
BlackMilk: Created its cult and became one of the best Shopify clothing stores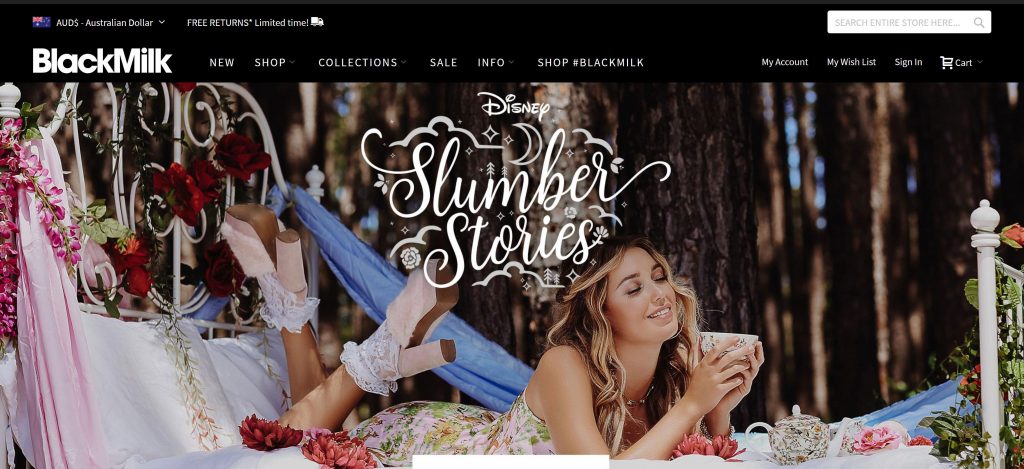 BlackMilk is a classic example of a website which can be colorful and yet appealing. Every thing about this website speaks adventure, fun and happiness which instantly clicks with their customers. Their collections are sometimes focused on exciting prints inspired by Disney heroes which will immediately resonate with a certain section of people.
Upselling is a trend among fashion stores. Install Perzonalization for Shopify to start displaying automated upsells on all of your page types. Start your 14 day free trial, now!
GymShark: Stands out as one of the top Shopify clothing stores for gymwear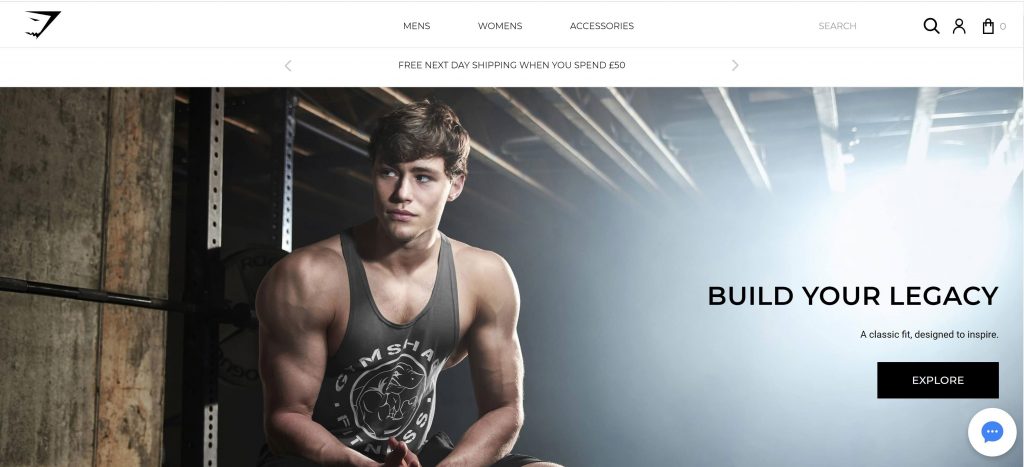 GymShark is a UK based and one of the fastest growing and brands in fitness. They manufacture fitness apparel and accessories. GymShark really has its social media game plan in place with 3 million highly engaged social media followers and customers in 131 countries. The brand is barely only 6 years old and the website clearly says that it is here to stay. Their free return policy (within the UK) and free next day shipping for purchases over £50 runs as a ticker at the top of the page and it's difficult to miss it.
Herschel: A global brand that also serves as one of the best Shopify clothing store examples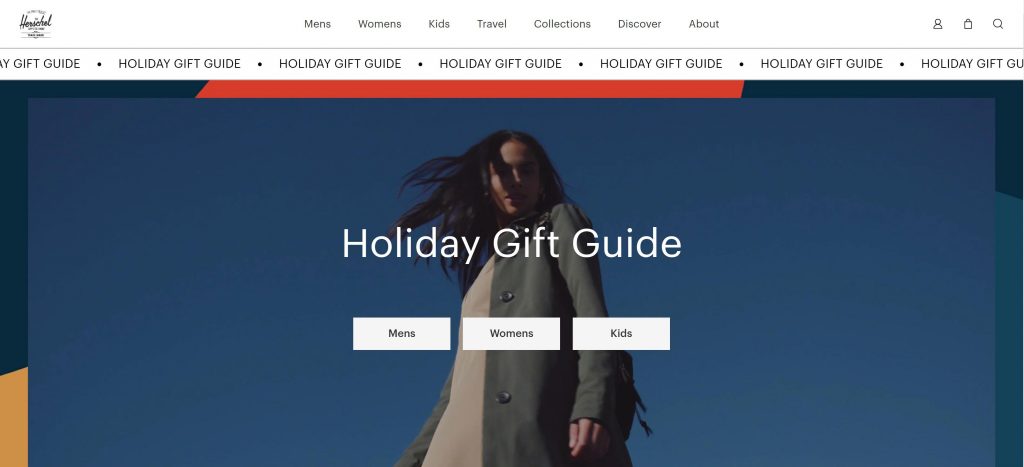 This Shopify clothing website was started in 2009 and has now grown to gain international recognition for its accessories which are produced locally with a focus on attention to detail. When you open their website, the video on their banner features Holiday Gift guide ready for you to click. There's no way you can ignore this. When you click on one of the three options, it takes you to a page full of amazing gift ideas across different categories like travel, essentials, outdoor and much more. It makes the buying journey of the customer easy and quick and thats why its in our list of the best Shopify fashion stores.
WP Standard: An example to the best Shopify fashion stores in the leather goods category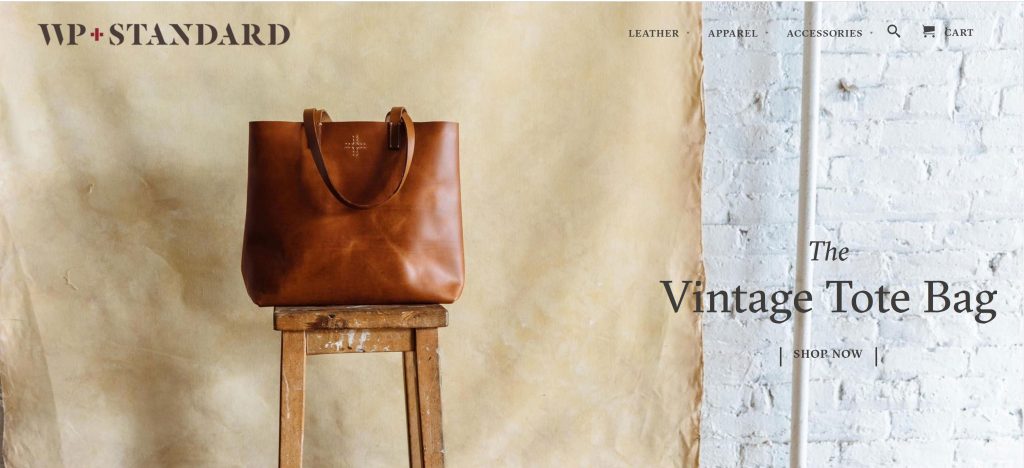 WP standard is a classic example of how a minimalist design can go a long way in establishing your brand as a trusted one. Beautiful product photography against a mundane background is what makes this website stand out. This kind of a design immediately appeals to the tech crowd which also happens to be a major target audience for this best Shopify fashion stores.
Biko: The 'modern nostalgic' jewelry brand that has built a great example to the top Shopify fashion stores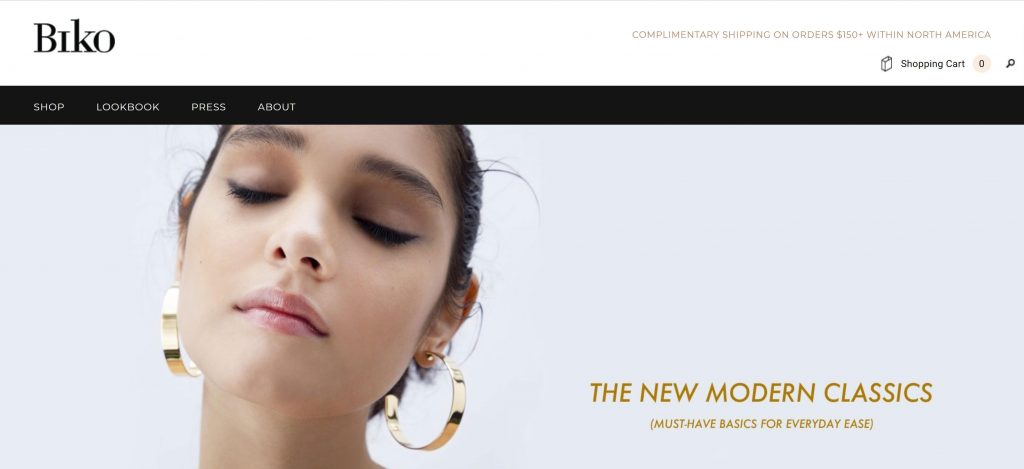 You'll just find four navigation options on Biko's best Shopify fashion stores. Coupled with them are tons of product photography, making it a minimal website. Products are highlighted clearly which drive users to the purchase path.
Hardgraft : Luxury lifestyle accessories brand that also stand out as one of the best Shopify fashion stores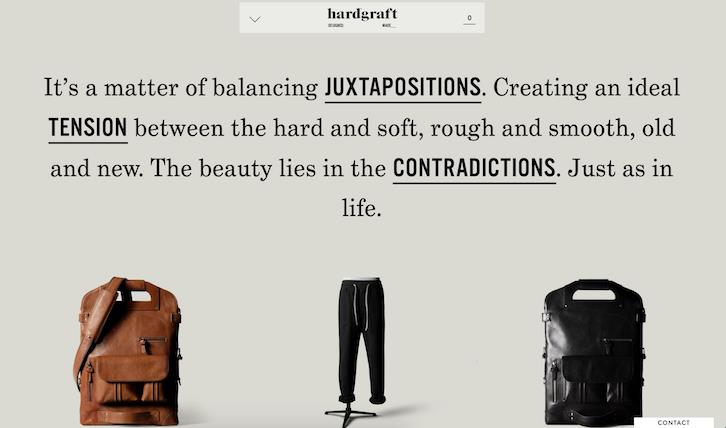 Set against a grey background, Hardgraft's website is sophisticated, elegant and sleek. The background is what sets it apart from its competition. The main menu drops down on the center of the page which gives you the product categories. The product Quick View is smart, giving an approximate price across colours and dimensions of a particular product, which is convenient for the shopper because he knows what to expect.
William Abraham: How a business of luxury socks for men became one of the best Shopify fashion stores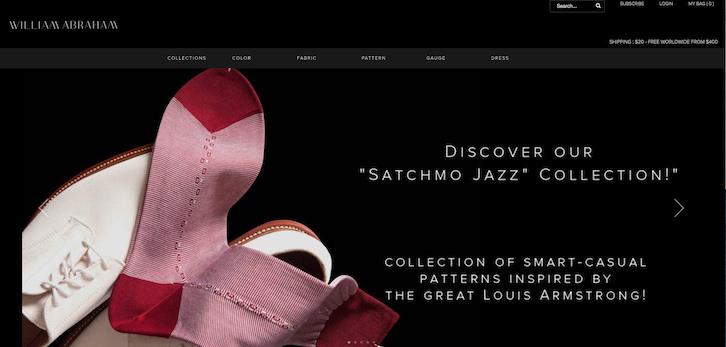 The William Abraham website uses black as a background which helps it to showcase its products prominently, while taking a giant leap at using black as a vantage point for them.
LIBAS: Turkish luxury fashion store now serving as a great example of the top Shopify clothing stores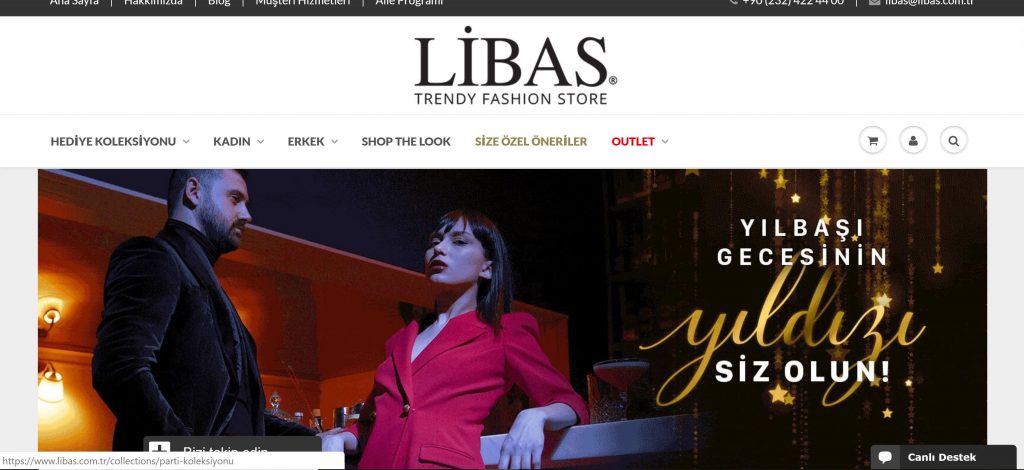 Libas has been providing trend-led fashion and has grown into this hugely popular fashion eCommerce store in the recent years. This brand doesn't shy away from the spotlight with its colourful banners and photography. With several products dropping on their website regularly, they have been able to organize their product page pretty well, which is uncluttered and clean.
The Best Shopify Fashion Stores: The Conclusion
The eCommerce industry has opened up the floors for fashion start-ups to make a name for themselves in this ambitious space, making the competition fierce but rewarding. With a platform like Shopify, you not only sell products but also sell an art form, style, design, and atmosphere. The best Shopify fashion stores require not only a sense of design and aesthetics, but also an intelligent copy, easy navigation, anticipation and resolution of user pain-points, and not to mention the knowledge of how it can be optimized for conversion.  The above-mentioned examples of Shopify fashion stores are steamrolling the competition and can prove to be your inspiration for your next fashion eCommerce store.
Curious to learn more? Take a look at related posts!