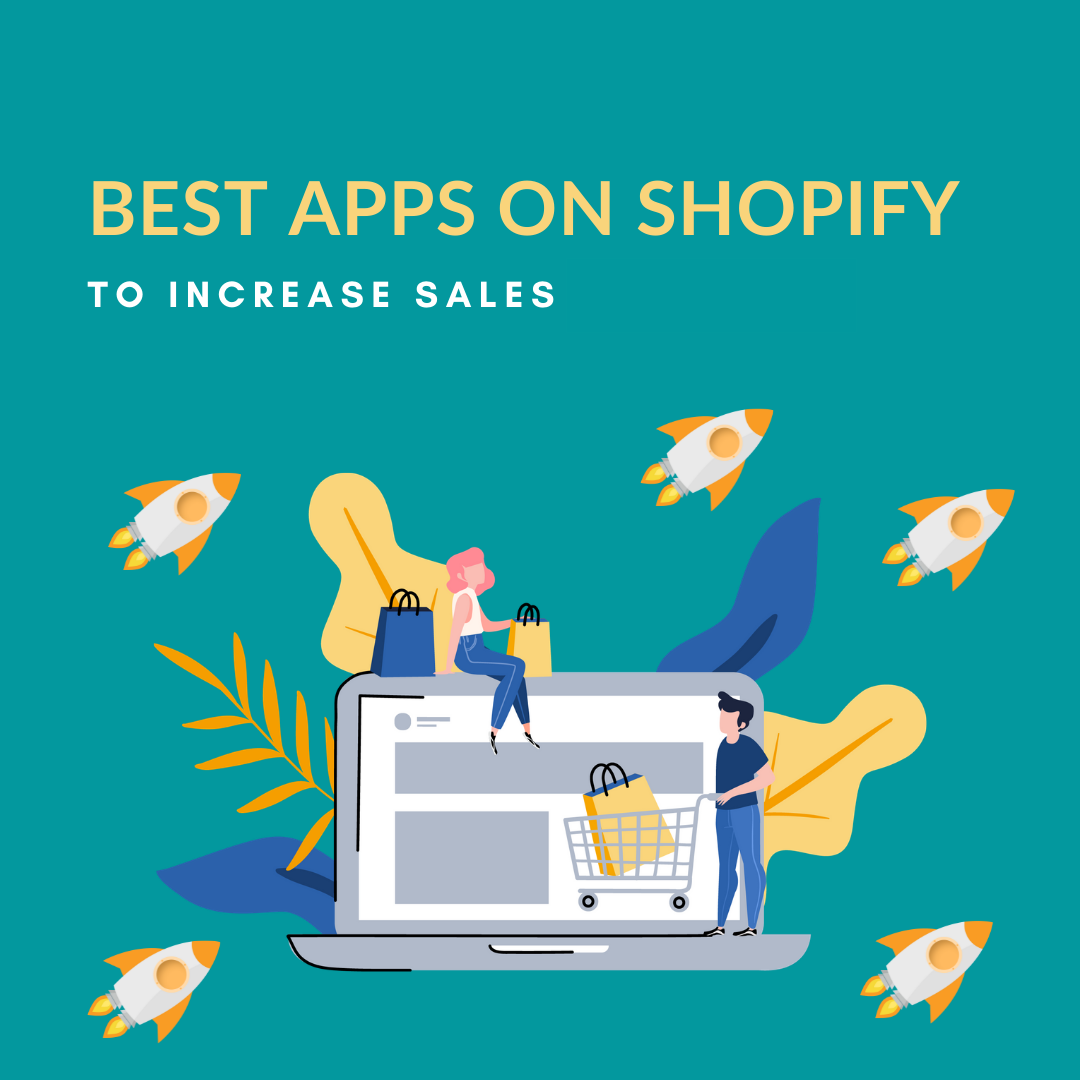 Over 500,000 merchants use Shopify tools to run their eCommerce businesses. It is needless to say that Shopify indeed makes it pretty simple for eCommerce websites to operate efficiently. Then, whether you want to add product reviews, improve your email marketing campaigns, publish your products on social media platforms or are looking for an in-depth analysis, there's always an Shopify app for it. Luckily, the best apps on Shopify to increase sales in 2022 are not always the most expensive ones.
Are you able to showcase AI powered related products, upsell items and frequently bought together products on your Shopify store? To get all of these and more, install Perzonalization for Shopify now and start your 14 day free trial.
Best Apps On Shopify To Increase Sales In 2022
There are a wide range of Shopify apps in the market, which often makes it a tough choice for entrepreneurs to choose what works best for their online stores. In this post, we tried to include the top Shopify apps from different categories.
Running an online business can be tricky, with huge amounts of data to track and analyze every day. BeProfit was built to help online store owners stay on top of their business, anytime, anywhere. It is Shopify's #1 profit calculator app which lets you track and analyze all your business expenses, including production, marketing, shipping, taxes, processing fees and much more, all in one place. A one-time, quick integration with your ad platforms makes tracking your ad spend easier than ever, and even gives you valuable insights on your best-performing ad channels and ad sets. Discovering your true profits just got a lot easier!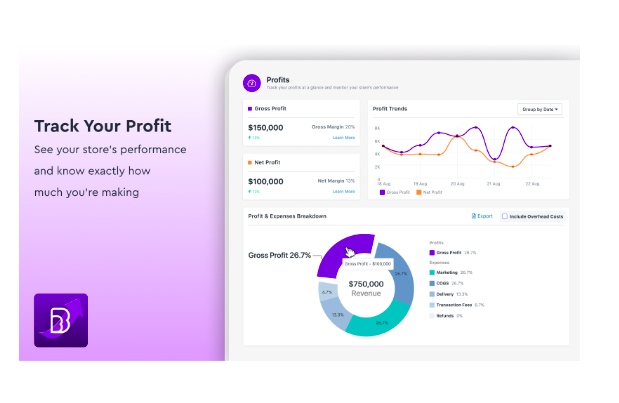 The BeProfit Shopify profit calculator provides an intuitive and easy-to-use dashboard that turns complex data into easy-to-understand charts and graphs, all to help you increase your profits and grow your business.
Best Shopify SEO Apps: Plug-in SEO
By now we all know that Good SEO Rankings = More Sales.
With more than 90,000 Shopify store owners as users, this Shopify app or plugin is your personal SEO assistant. It checks all the required places on your website to verify if they are search engine optimized – including page titles, meta descriptions, post structure, content, headings and much more. The plugin doesn't just stop at this; it also alerts you when it finds an issue which needs to be fixed. These features make it one of the best apps on Shopify to increase sales in 2022.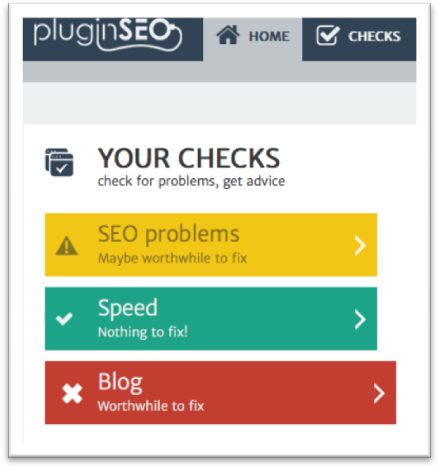 The Free Shipping Bar Shopify app allows eCommerce store owners to add a customizable bar at the top of the site displaying a Free Shipping option. If boosting sales and increasing conversions is your primary objective, then this is the app for you. The plugin also auto-detects your customer's local currency and converts the shipping amount with the help of real time exchange rates. The free shipping offer enabled by this plugin increases the chances that your website visitors will convert to paying customers. After all, who doesn't want their products to be delivered free?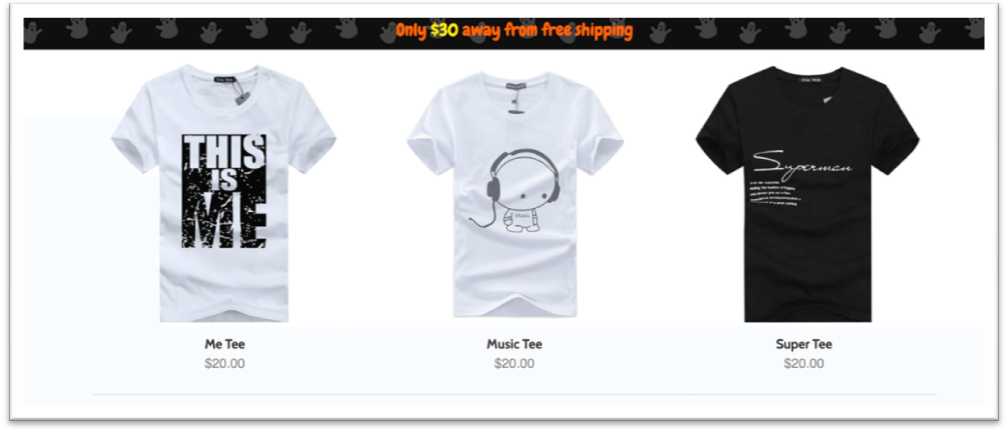 Personalization is one of the key areas where you need to focus in order to boost sales and drive conversions. Unless you personalize your webshop according to the preferences of your customers, they will not see you as a trusted brand. With our Perzonalization for Shopify app, you can create real-time and personalized product recommendations. Besides, you can showcase automated upsells, cross-sells and related products on your website. Perzonalization will help in increasing customer loyalty and will boost your sales by 15%. With a one-click set up and 14-day free trial, Perzonalization is offering many opportunities for Shopify merchants. These features make Perzonalization one of the best apps on Shopify to increase sales in 2022.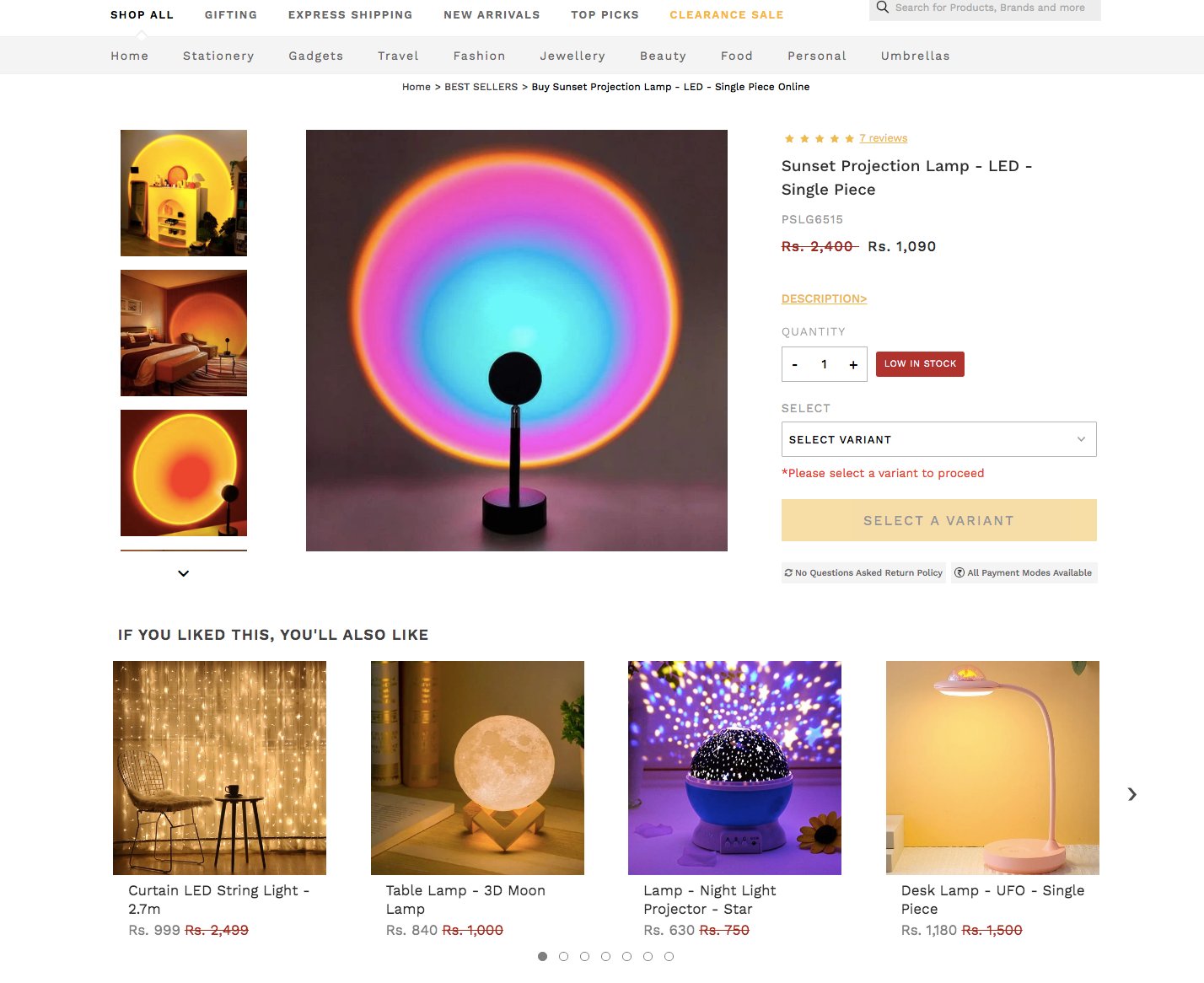 Best Shopify Apps For Conversions: Wishlist Plus
Adding a wish list to an e-commerce site boosts sale by 19.3%. With an easy installation feature and fully customizable, the app dashboard provides you with metrics and reports your Wishlist activity. These reports can then be used to improve your site and increase sales. The Wishlist integrates with your eCommerce store seamlessly and gives you in-depth insights on your customers' site engagement. With this app, you can also enable add to Wishlist button on other site pages such as 'Sold out' products and bring customers back to your Shopify site with Wishlist engagement emails.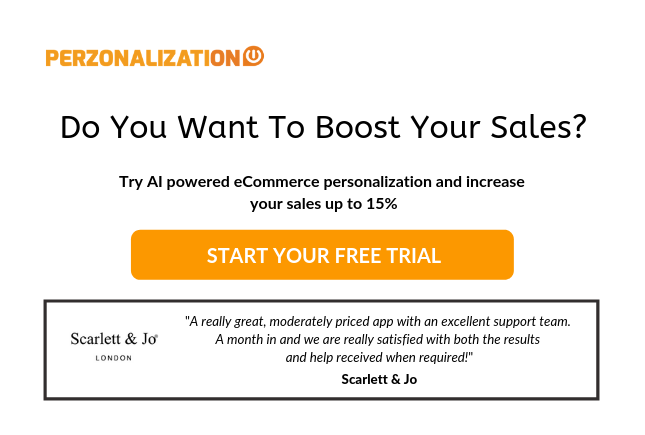 Best Shopify Apps For Customer Retention: Reveal
If you want to increase your number of loyal customers, improve Customer Lifetime Value, reduce Customer Acquisition Costs and maximize your profits, this is the app for you. Reveal helps you analyze your customer's behavior on different channels, monitor their buying habits, and segment them automatically based on their buying behavior. It makes complex data easy to understand and visualize, reveals insights, and helps you treat customer segments according to different marketing channels.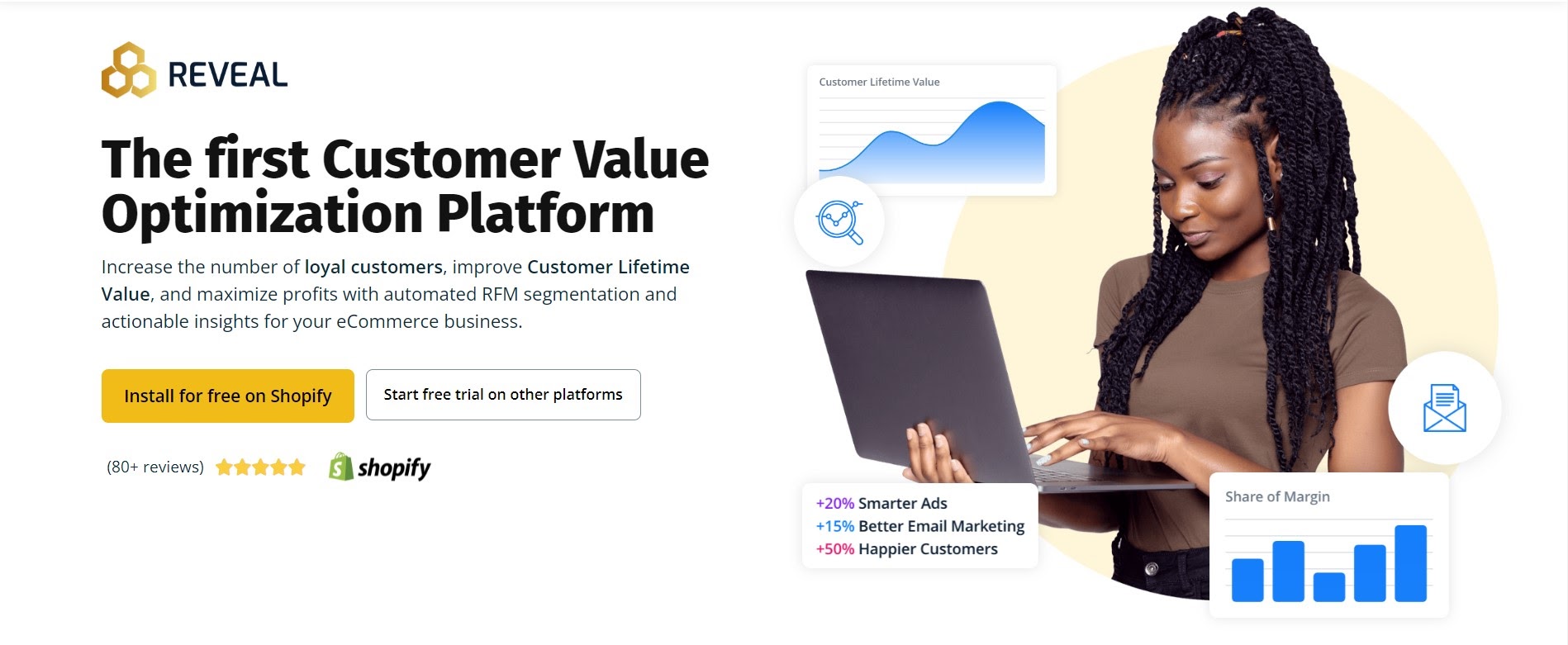 With the help of Reveal, you can easily create personalized email flows and campaigns with your email service provider with the segmented list. Also, with the customer data, you'll generate with Reveal, you can create better-retargeting campaigns to bring back your High Order Value Customers and create acquisition campaigns that will attract new audiences like your Power customers.
Best Shopify Referral Apps: Referralcandy
If you want to automate your referral program and incentivize your customers to refer your products to their friends and family, this is the app for you. Whether it is cash or coupons, you will freedom to design your referral program just the way you want with the Referral candy app. You don't need any coding skills to use this app and you can even opt for a 30-day risk free trial before you buy it. Big brands like Reebok, Uniqlo, BlueSmart and Greats use Referralcandy. This is why we can proudly say that Referralcandy is one of the best apps on Shopify to increase sales in 2022.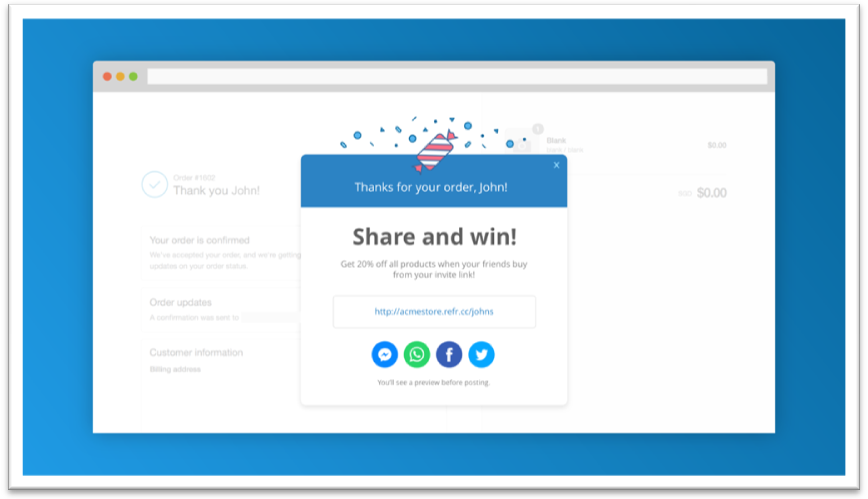 Now that you've discovered the best Shopify apps, it's time for you to concentrate on getting more conversions! Install Perzonalization for Shopify now, start your 14 day free trial and watch how we help you grow your business!
Best Shopify Apps For Conversions: Sumo
Cart abandonment, reduced AOV and unfruitful email marketing are some of the challenges Shopify business owners face on a day to day basis. As a Shopify business owner, you're already wearing multiple hats from sourcing and logistics to sales — and all this while managing your team. That's why Sumo recently Sumo Shortcuts. Sumo Shortcuts allows you to set up proven sales and marketing strategies on your store in three minutes or less. More than 37,000 eCommerce sites are using Sumo every day to reduce cart abandonment, grow their email list, and increase conversions. Overall, Sumo is one of the best apps on Shopify to increase sales in 2022.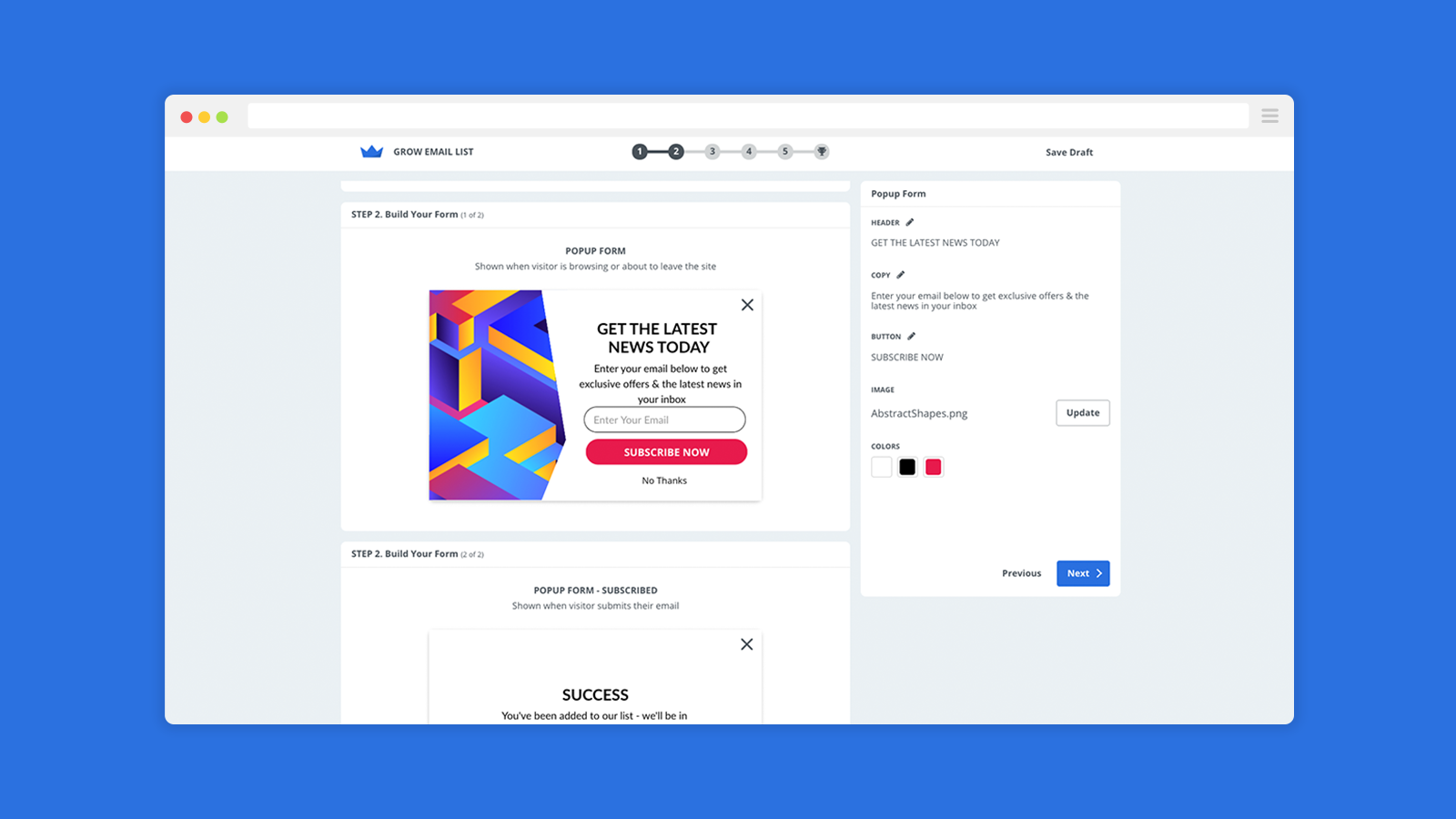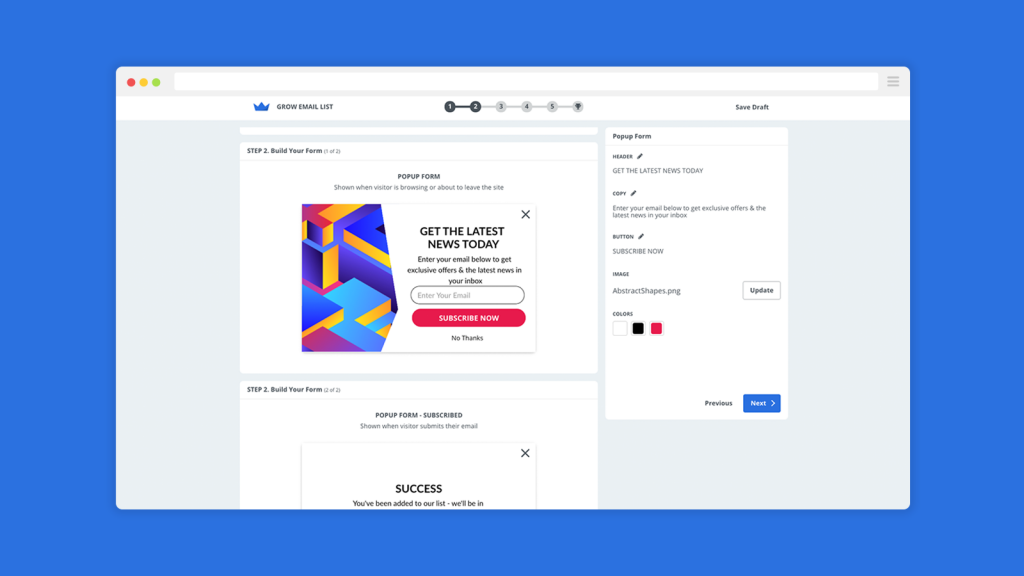 Track and manage all your returns in one place with the AfterShip Returns Center app. Your customers can start a return with just a few clicks from your branded Returns Center and be notified of approvals/rejections/refund. By automating your returns process with this app, you can ensure that your customers have the best post-purchase experience. You can also update your returns policy and instructions with this app. Go ahead and improve your brand image and customer experience on return and refund – all at once.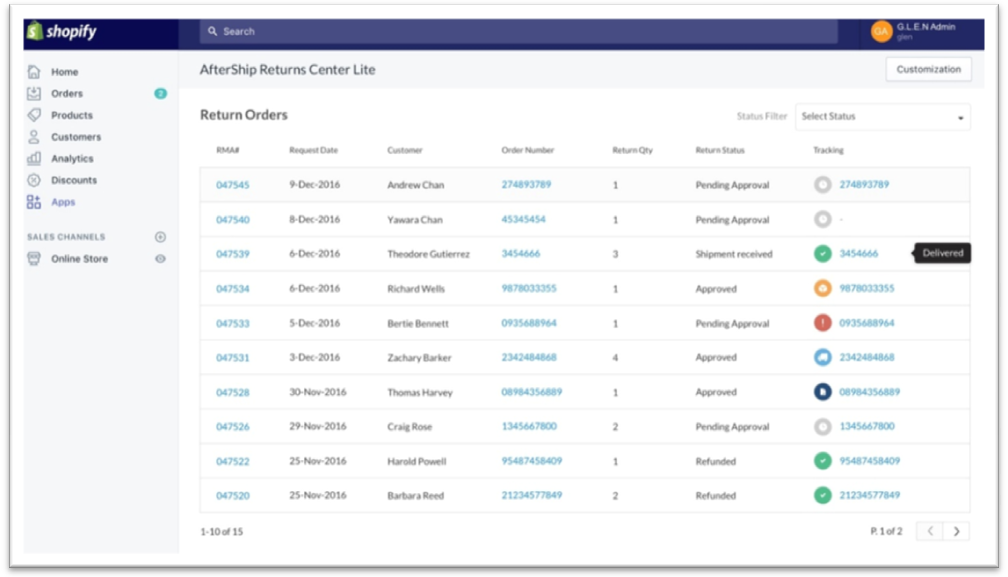 Best Shopify Fulfillment Apps: Back In Stock
The Back In Stock app helps Shopify store owners to take control and stop missing out when the inventory gets low. Back in Stock makes it easy for customers to sign up for a back-in-stock email alert, and as soon as the product(s) are restocked, the waiting customers are notified by an email automatically. This email then brings those customers back to your store and completes the purchase. This way, not only are you ending up retaining more customers, you are also able to see which products are more in demand. The installation of this app just takes 30 seconds and upon installation, the app immediately connects to a Back In Stock pop-up form where one can fill in their email address and the choose a product variant.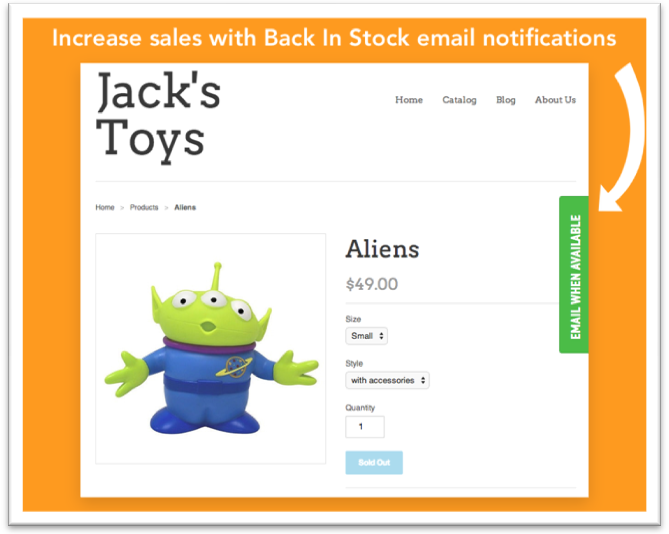 Best Shopify Marketing Apps: Snapppt
Instagram has evolved into an eCommerce haven recently, especially for the fashion industry. The social network giant reports of a whopping 96% of fashion brands in the US already on it. You can use this tool for your eCommerce business to help maximize your sales and conversions. But the only catch is that Instagram allows the user to add only a single link in their bio and with Snapppt, eCommerce shops can now get the most out of that link. When a customer clicks on that link they'll be redirected to an interactive shoppable feed where they can view and purchase all of the products featured in the Instagram images.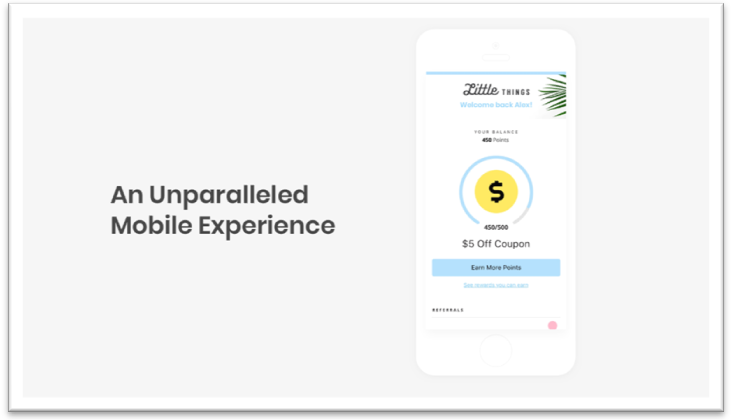 The best apps on Shopify are the ones that help you grow your business. Install Perzonalization for Shopify now, start your 14 day free trial and see how we grow your revenues via personalized recommendations.
Google Image is one of the most prospective channels for attracting new customers and converting them into sales. Hence, improving your eCommerce product images and managing SEO for these images becomes one of the most effective and long-lasting traffic source for your website. SEO Image Optimizer simplifies this task for you in a couple of clicks. It takes less than 1 minute to set it up, and once done, the app will automatically adjust the Alt tag of products for you, which is the number one priority when it comes to image optimization.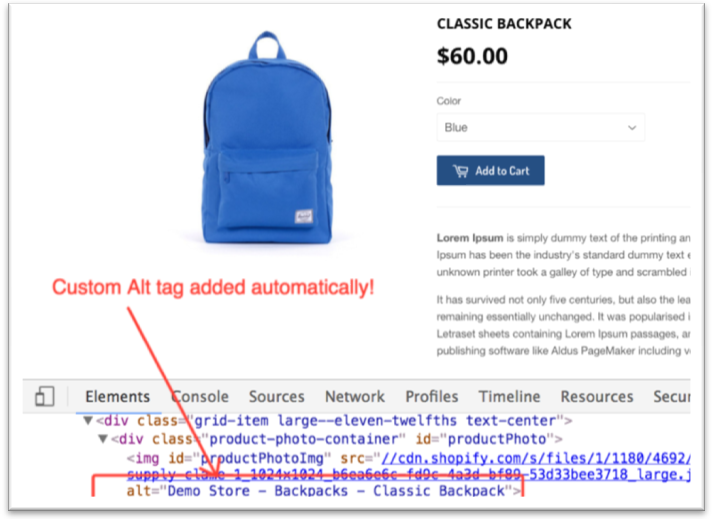 Best Shopify Marketing Apps: Outfy
Outfy is the Shopify app for you if you wish to share a wide range of products and make them go viral on all the social media platforms (15 to be precise). These platforms include Facebook, Instagram, Twitter, Pinterest, Polyvore, Wanelo and many more. It is a great tool to increase the social reach of your products and attract more traffic to your website. This eventually increases your sales over the long run. Online retailers can plan their social media sharing for a whole day, week or even months with this app and leave the rest of the social media management to the app, themselves focusing on more important tasks.
Best Shopify Loyalty Apps: Smile.io
With this Shopify app on your eCommerce store, you can have access to more than 10 ways to engage your customers, all available on the free plan. You can combine loyalty points, referral programs and VIP programs with this app. Smile.io allows you to quickly set up and run your own rewards program and turn website visitors into loyal customers.  When you reward your customers they are more loyal, that are more likely to return, and more likely to make repeat purchases. As more than 15,000 merchants are boosting their revenues with this app, we can easily comment that it's one of the best apps on Shopify to increase sales in 2022.
The more comfortable you make it for customers to register on your store, the sooner you can offer them the right products and make sales. One Click Social Login makes this convenient for you by letting your customers create accounts on your Shopify store by logging in with their existing social media credentials. Accounts supported include Facebook, Twitter, LinkedIn, Pinterest, Amazon, and many more. The user-friendly admin panel also makes it a favorite among eCommerce owners.
Are you able to showcase AI powered related products, upsell items and frequently bought together products on your Shopify store? To get all of these and more, install Perzonalization for Shopify now and start your 14 day free trial.
Best Shopify Apps For Dropshipping: Oberlo
If you are running a dropshipping business, then Oberlo is a must-have. Oberlo allows you to add hundreds of products to your Shopify store easily and never worry about packaging or shipping again. Since its inception in 2015, Oberlo merchants have sold over 85 million products around the world. After you find the product you were looking to import, just click the Oberlo icon and the product is ready to be published on your store. In order to ship a product to your customer, you need to just click "Order Product" and confirm the order. Everything else is automatically done by Oberlo. Product customization offers are also available. Oberlo is not only one of the best apps on Shopify to increase sales, but also has a crucial role in defining your dropship business' future success.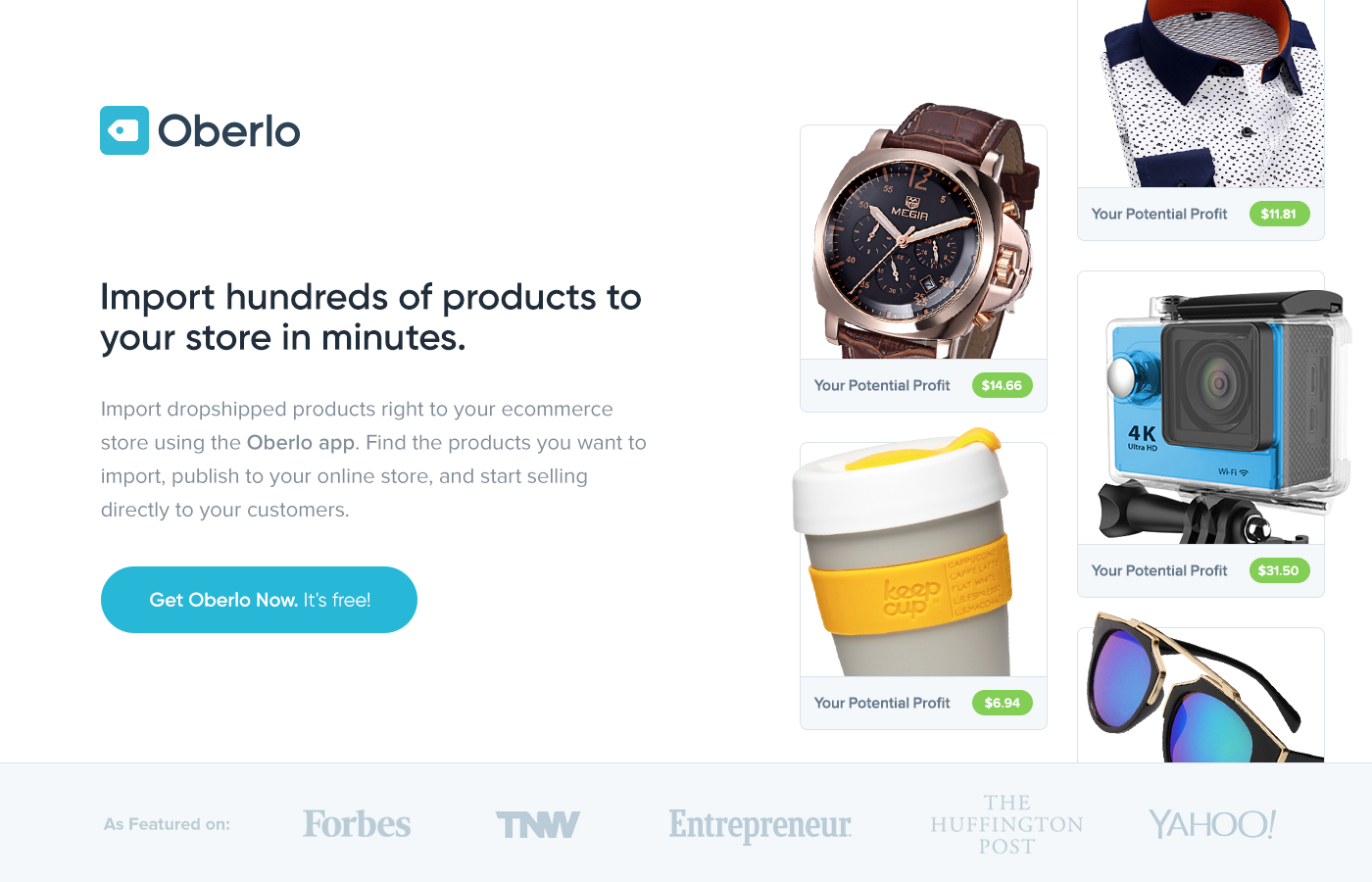 Catalog Maker Shopify app allows you to quickly create professional looking catalogs from Shopify collections, and you can use the drag and drop feature to create a catalog with one of the app's templates. Additionally, this app also enables you to create receipts, invoices, thank you notes and product recommendations. You can try out the app for free while publishing your catalog can cost you anywhere between $9.99 to $49.99 per month – depending on the features you want.
Best Shopify Apps For Merchandising: Pre-Order Manager
It always gives your store an edge if you are able to generate a buzz with your seasonal or holiday email marketing by allowing your customers to pre-order on your eCommerce store. It also is a great way to figure out which products are most likely to be successful. Pre-Order Manager allows you to take advance orders from your customers with a pre-order button for out of stock items. You can edit the button text, change location settings, and even turn pre-orders on and off. What else would you ask from an order management? These features surely make it one of the best apps on Shopify to increase sales in 2022.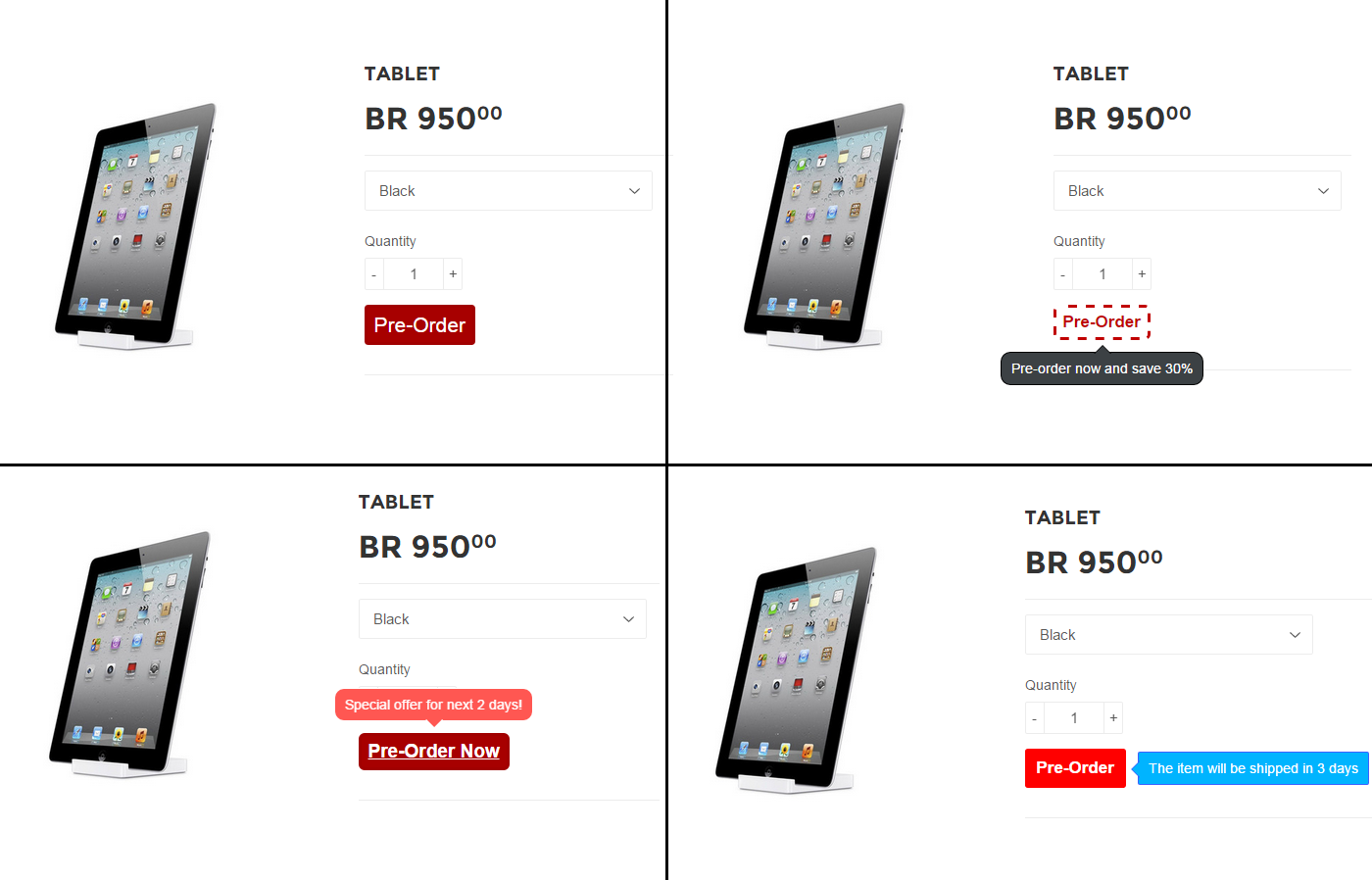 Best Apps On Shopify To Increase Sales In 2022: The Wrap-Up
If you have found this article useful, do not hesitate to share it with fellow entrepreneurs like yourself so that they can get the most out of these best apps on Shopify to increase sales in 2022.
Curious to learn more? Take a look at related posts!