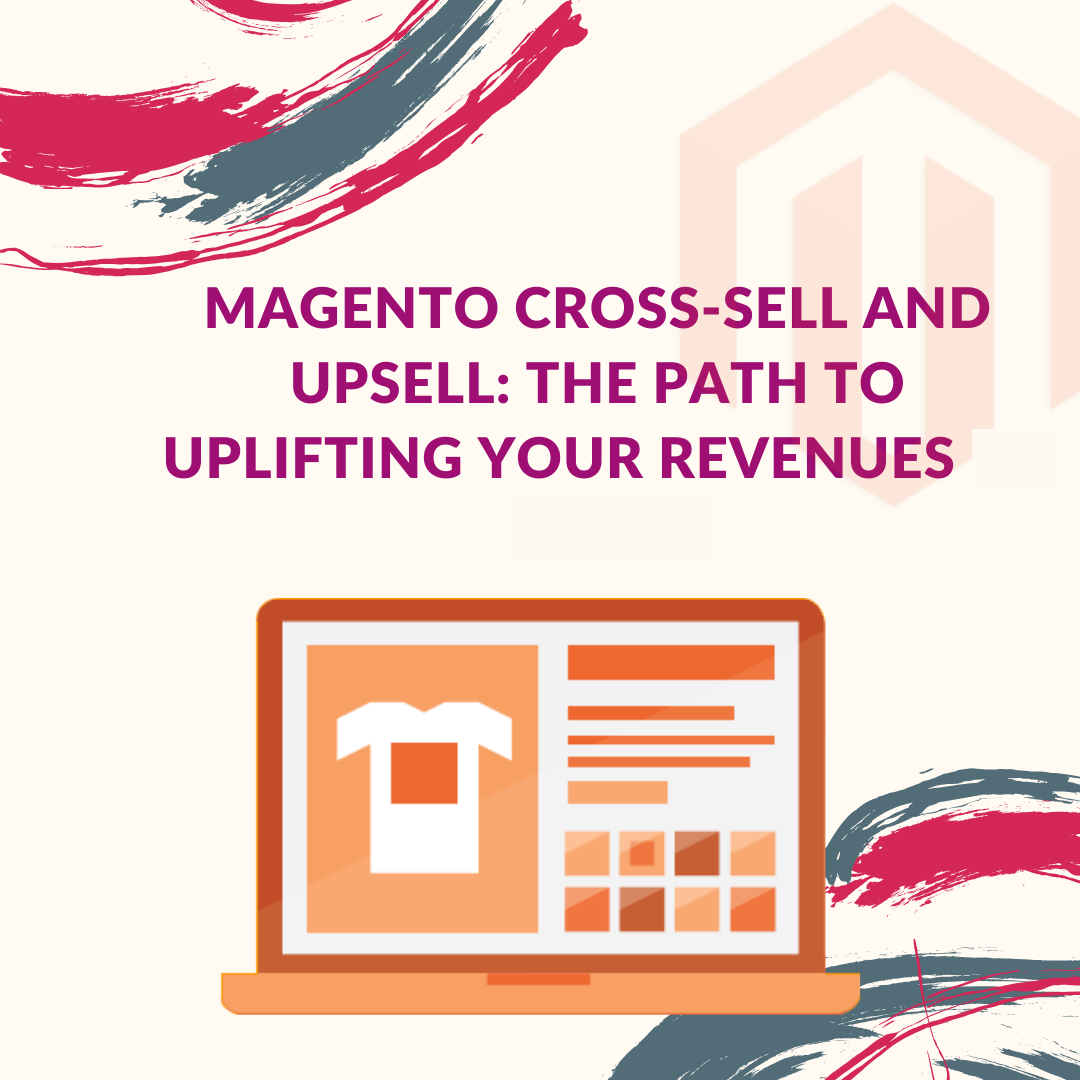 One of the best ways to personalize and give your customers a wonderful experience on your Magento store is by offering Magento up-sell and Magento cross-sell product recommendations. – Tweet This!
"Do you want a regular fries to go with your cheeseburger?"
How many times have you heard this line at a Burger King? That's cross-selling for you. What more and more businesses (both online and offline) are now realizing is that their success doesn't anymore solely mean more sales. Providing a higher value to your customers by increasing their trust is what drives online businesses today.  And in order to do that, businesses use a host of techniques such as personalization, price anchoring, cross-selling and upselling. Today in this article however, we are going to focus on Magento cross-sell and Magento upsell.
Are you able to showcase AI powered related products, upsell items and frequently bought together products on your Magento store? To get all of these and more, install Perzonalization for Magento now and start your 14 day free trial.
While cross-selling and upselling is a regular feature with eCommerce giants such as Amazon, it has often been observed that it is the smaller online stores that don't quite use these tactics. The reasons can be few. Either they think that by cross-selling they will end up being forceful or obtrusive, or they don't know the right way to do it.
Either way, that's a lot of money they are letting go of.
Product recommendations drive 26% of the sales, apart from simplifying navigation, and personalizing experiences.
Product recommendations drive 26% of the sales, apart from simplifying navigation, and personalizing experiences. – Tweet This!
Upsell and Cross-Sell in Magento
In Magento, there are three product recommendation types: Magento Cross-sell, Magento Up-sells, and Related Products. While two of these appear while viewing a product, third one usually appears in the shopping cart.
Magento Upsells
Up-sells for a product are the ones that you would like your customer to buy instead of the product he is viewing. These are usually costlier and better quality products than the one your customers are interested in. Upsells are intended to make your customers spend more money by making them buy a more expensive version of the product they are interested in.
Given below is an example of a Magento upsell: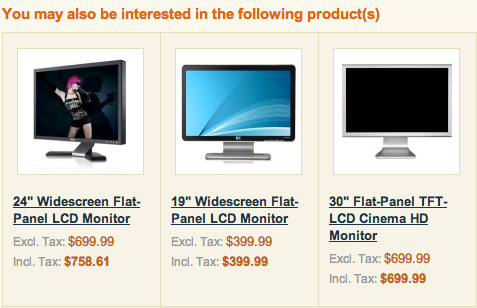 Related Products
Related products also appear in the product detail page, but they are those products, which are meant to serve as replacements to the one that the customer is viewing. This particular kind of product recommendation is designed to convince your customer to make a purchase from your store. When a customer is viewing a products, there is a 98% chance that he is going to leave the website. So in order to keep this shopper, products that are similar to the viewed product are displayed. To give you an example of how Related Products look in a Magento store, see this one below: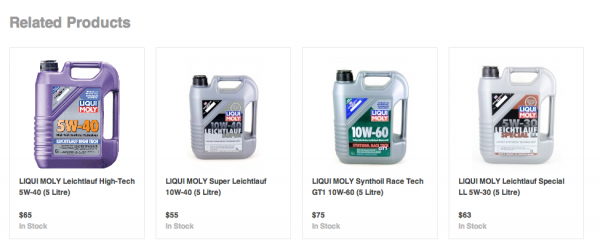 Magento Cross-sell
Cross-sell items can appear both in the product page and in the shopping cart. Two different types of cross-sells exist:
1) Mostly on the shopping cart pages, impulse buy items are recommended inside the cross-sell container. These can be compared to those small products which you often see being kept at the cash tills in grocery stores. This functionality is intended to make your customers buy items they didn't necessarily need when they came to your website. It's really similar to all those items you see at the cash register in stores that make you buy something impulsively. Usually these are small items that can be bought without a lot of thought; and hence, they should not be very expensive because in the latter case, it might end up pushing the buyer away.
A Magento cross-sell looks something like the one here: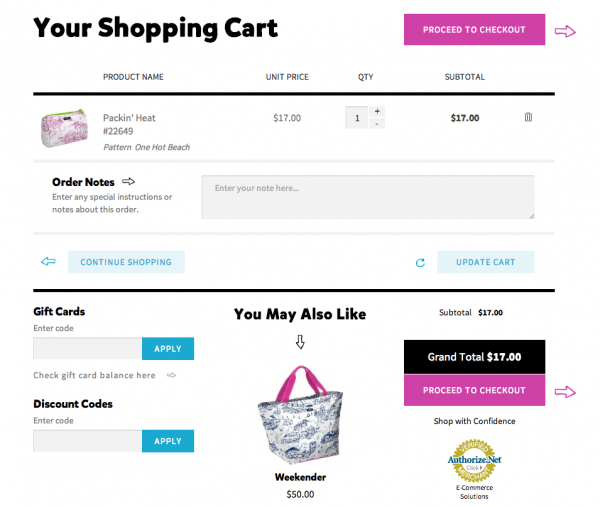 2) Cross-sell items are the products that match the initially viewed product. In grocery purchases, complimentary items are usually recommended i.e. cheese for wine, milk for coffee. Fashion retailers usually choose the title "buy the look" to refer to cross-sell items. As style and colour are important in fashion, the items that can be matched with the viewed item i.e. t-shirts to trousers, gloves to hats are showcased inside the cross-sell widgets.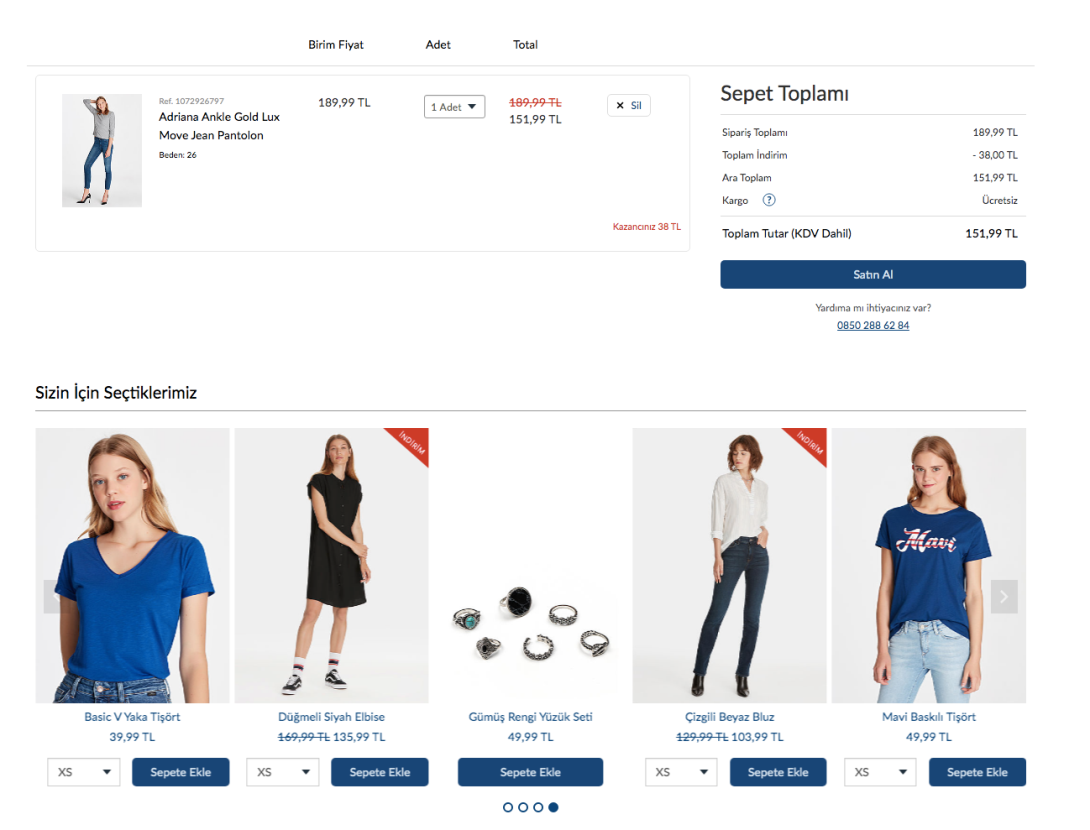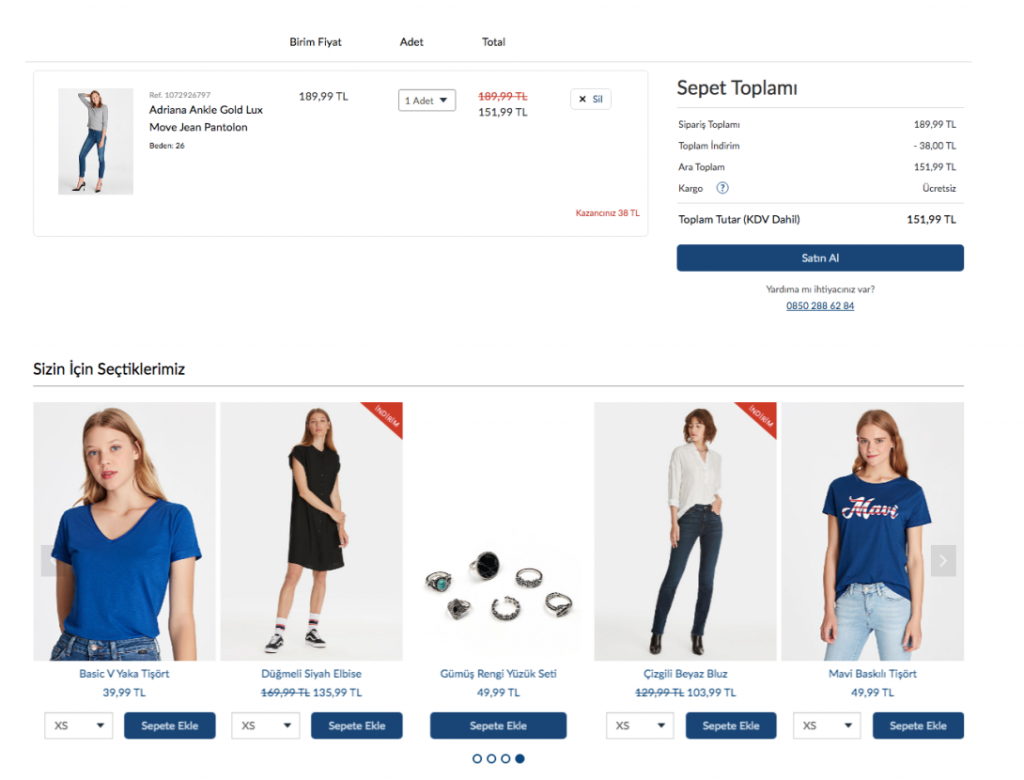 The main difference between Magento up-sells, Magento cross-sell and Related Products is that up-sells point the customers towards an improved version of the item they have chosen, while the other two are there to simply make customers buy more products including the one he came to buy in the first place.
Sometimes all these three product recommendations are combined by hiding up-sells and cross-sells within related products. Some businesses also prefer to put these under labels such as: "Want to Upgrade?" for up-sells and "More Recommendations", "You may also be interested in the following product(s)", "Complete the look", "May we suggest…" for related products/cross-sells. Trying different titles and methods can also help you evaluate what types of suggestions/labels are more effective.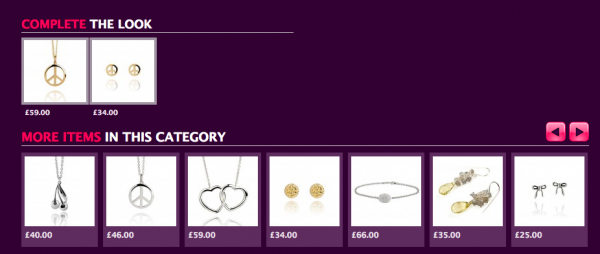 The table below will help summarize these three types of product recommendations:
| | | | |
| --- | --- | --- | --- |
| Criteria | Magento Upsell | Magento Cross-Sell | Related Products |
| Page on the website | Product Page | Cart, product page | Product page |
| Price | Higher than chosen product | Low cost or complimentary items | Variable |
| Product | Bought instead of chosen product | In addition to chosen product | Similar to chosen product |
Magento Upsell Cross-sell – Benefits
There are several reasons behind the success of cross-selling and upselling in Magento stores:
Increased revenue
Increased customer retention
Better customer experience through personalization
Better insights into customer behavior
Cost optimization by combining several products into one order
Greater customer loyalty
Ability to sell products which may be otherwise "unknown" to the customer
Lower bounce rates
Higher user interaction
How to add cross-sell products in Magento 2?
In the Admin Panel of your Magento store, go to the Products section.
Click on Catalog.
Select one of the products and open its Advance Settings section.
You will see Up-sells, Cross-sells and Related products options.
From here you will be able to add items to each section to create appropriate Magento 2 up-sell products, Magento 2 cross-sell products or Related Products.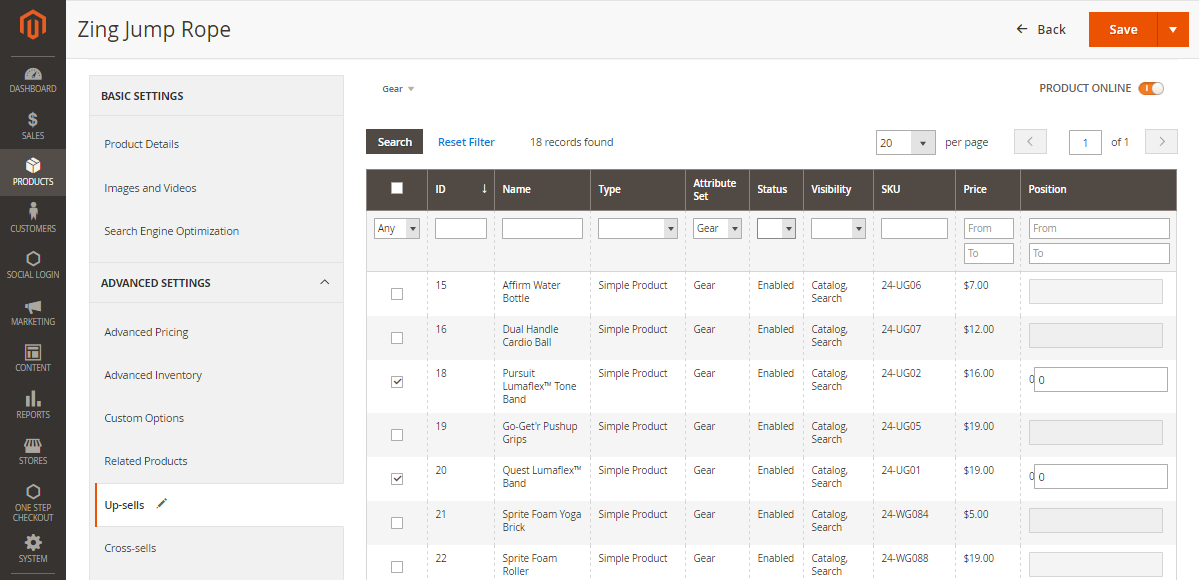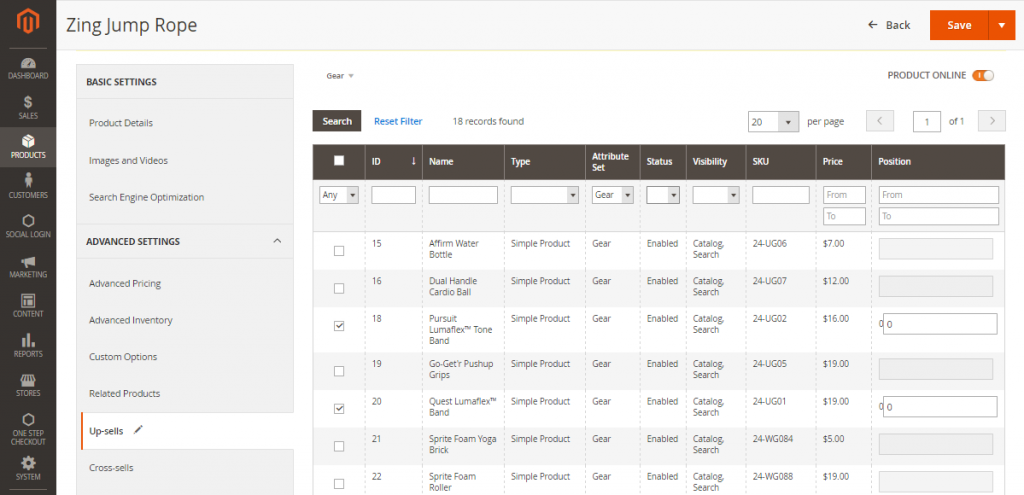 In the below example, we are adding cross-sells to jump rope. So, we are going to select other workout equipment from my catalog as cross-sells.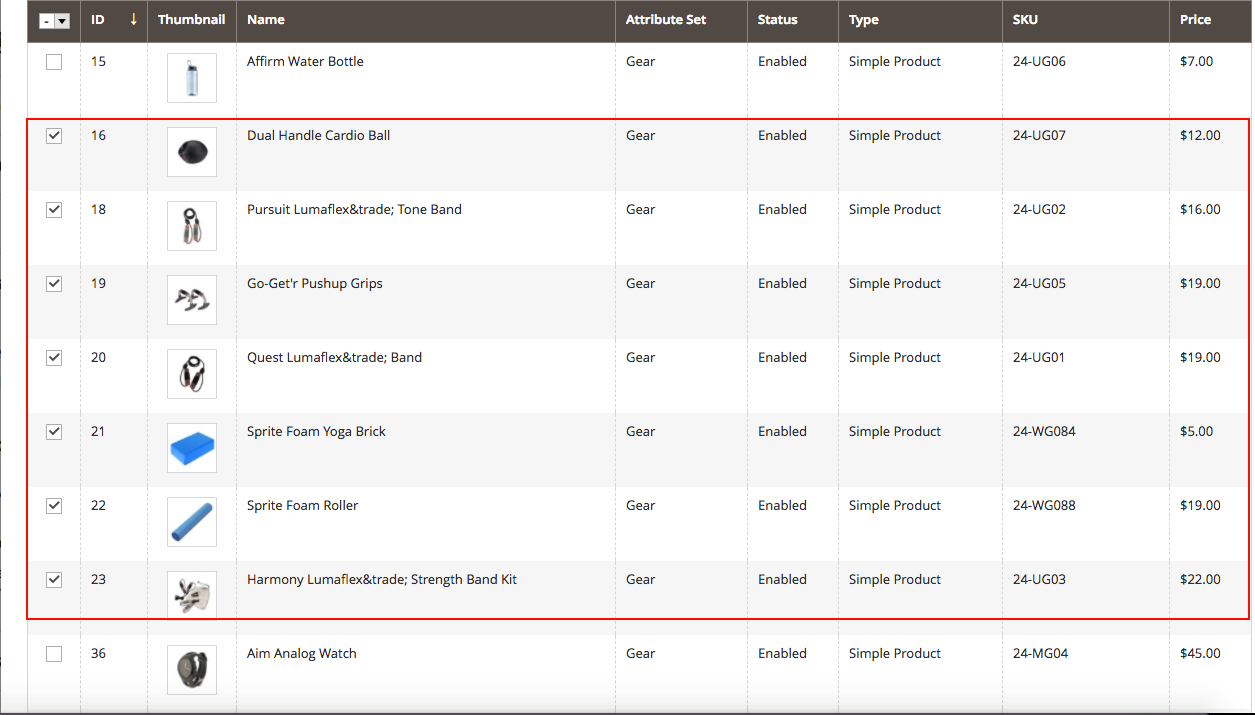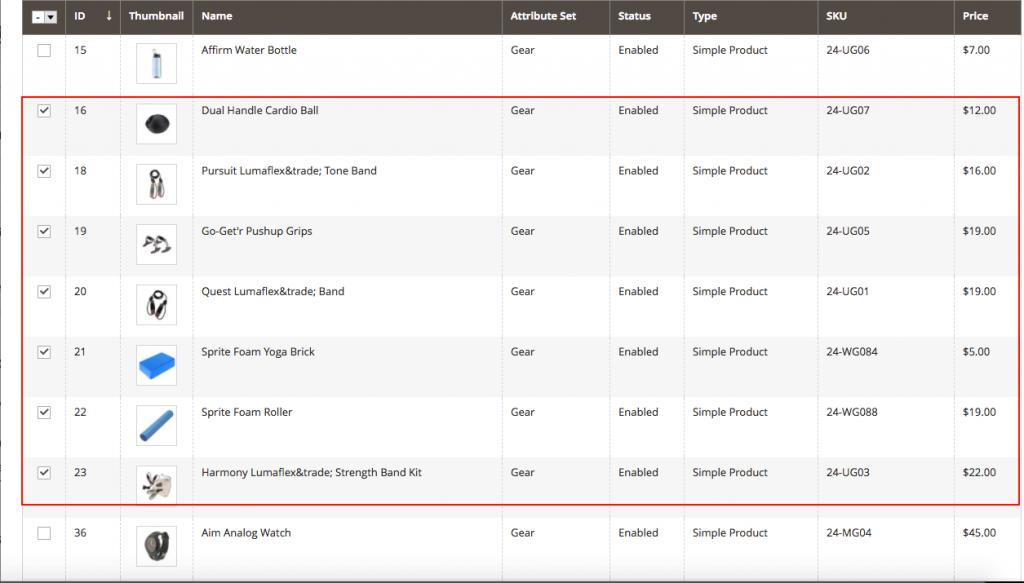 After adding the necessary products you can go ahead and save the list to complete the operation for a certain product.
When you navigate to the product on your front end, and then add it to your cart, you will see a section towards the bottom that is labeled "More choices" with the Magento cross-sell products we just added.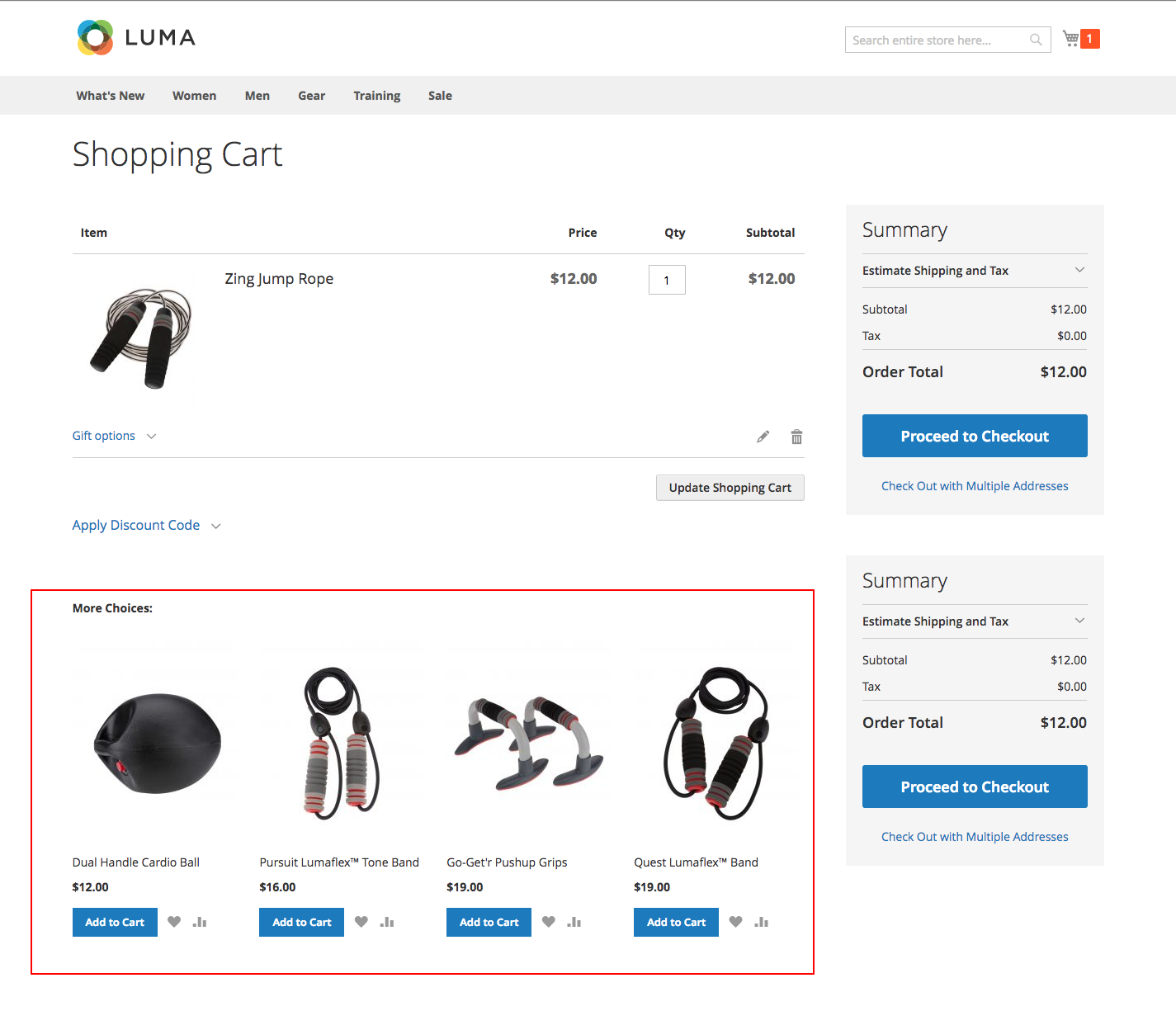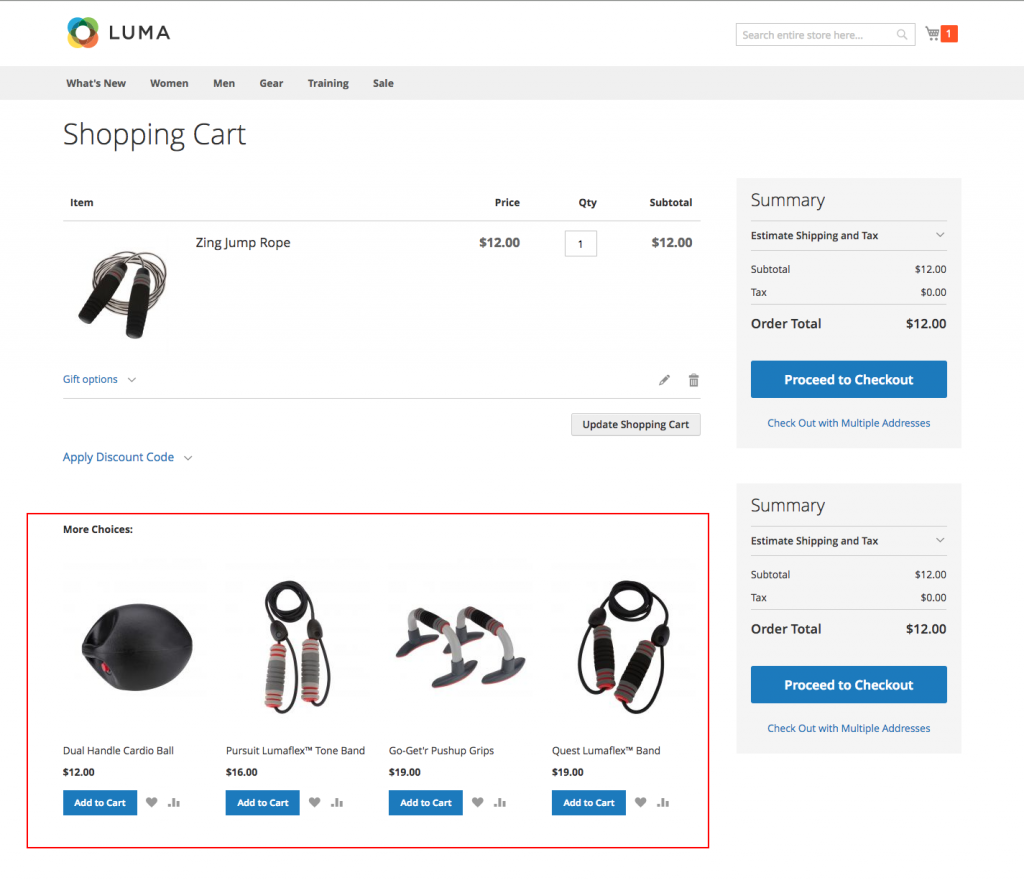 In addition to the default Magneto 2 Up-sell, Magento 2 Cross-sell products, and Related products functionality you will also be able to implement Magento cross-sell plugins like Perzonalization.
But why should you prefer Perzonalization's Magento 2 cross-sell features?
Honestly, it is difficult to manage upsells in Magento, for the simple reason that you need to spend a lot of time to set them for every product manually. All subsequent edits are also too complicated. Perzonalization provides you with an ability to configure upsells, cross-sells & related products easily. If you'd like to, in Magento 2, get cross-sell products programmatically, then Perzonalization's Magento integration would be your go-to destination. You don't have to set Magento cross-sell and upsell for every product individually – just create simple rules and leave the rest to Perzonalization.
Perzonalization provides you with an ability to configure upsells, cross-sells & related products easily and allows you to cross-sell products programmatically on your Magento 2 store. – Tweet This!
Let's look at some more attributes that Perzonalization's Magento 2 cross-sell and upsell feature offers:
Products can be displayed almost anywhere on the website, namely CMS page, Cart page, Category page, Product page, Checkout page etc.
You can also provide a discount on your upsell products to woo your customers
It's very easy to set and run
Each and every user sees another set of personalized cross-sell and upsell items.
You will be able to configure "if this, then that" type of recommendation rules which will allow you to display upsells and cross-sells for some specific products under certain rules.
Why is an automated Magento 2 cross-sell plugin better than Magento's Out Of The Box (OOTB) cross-sell functionality?
Let's try to answer this more objectively to understand why Perzonalization's Magento Cross-Sell integration should be your go-to place.
| | |
| --- | --- |
| Why do Magento's OOTB cross-sell functionality fail? | How can Perzonalization help? |
| Default product relation algorithms are often not enough. | Variety of conditions and flexible product relation rules can be applied |
| Restricted accuracy of recommendations | High precision and algorithm driven suggestions working in real-time |
| Manual adding/editing required for every product | Auto-generation of personalized cross-sell/upsell recommendations. |
| Time consuming | Quick and easy configuration |
| Not relatable to customer behavior | Items suggestions based on customer behavior, and hence more personalized |
| Out of Stock items are often not considered or can be easily ignored | Inventory is automatically taken into account |
Some more ways in which you can cross-sell on Magento with Perzonalization
Display discounted products
Add a carousel of related products (Cross-sell products)
Include personalized cross-sells and upsells in your e-mails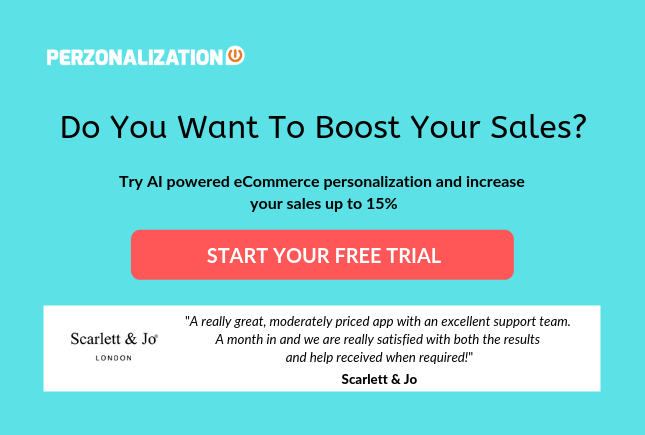 Final Word: Cross-sell the Automatic Way
One of the best ways to personalize and give your customers a wonderful experience on your Magento 2 store is by offering Magento up-sell and Magento cross-sell product recommendations.
And even if you are a small eCommerce retailer, you may easily install Perzonalization on your Magento store and start displaying automated cross-sells and upsells.
You could start by identifying your best-selling, most popular, and big-ticket items; or the flagship or more expensive items in your catalog. And then try and determine those products that would directly interest those customers. Subsequently present them on the product page or during checkout.
Test and improve continually and consistently to see which products sell well. Build trust with your customer without pitching too hard or being pushy, and soon you'll begin to see profits in places you didn't expect.
Are you already making money with cross-selling? Let us know.
Curious to learn more? Take a look at related posts!
Do You Want To Boost Your Sales?
We are Perzonalization and we'd like to help you.
Try AI powered eCommerce personalization and increase your sales up to 15%.