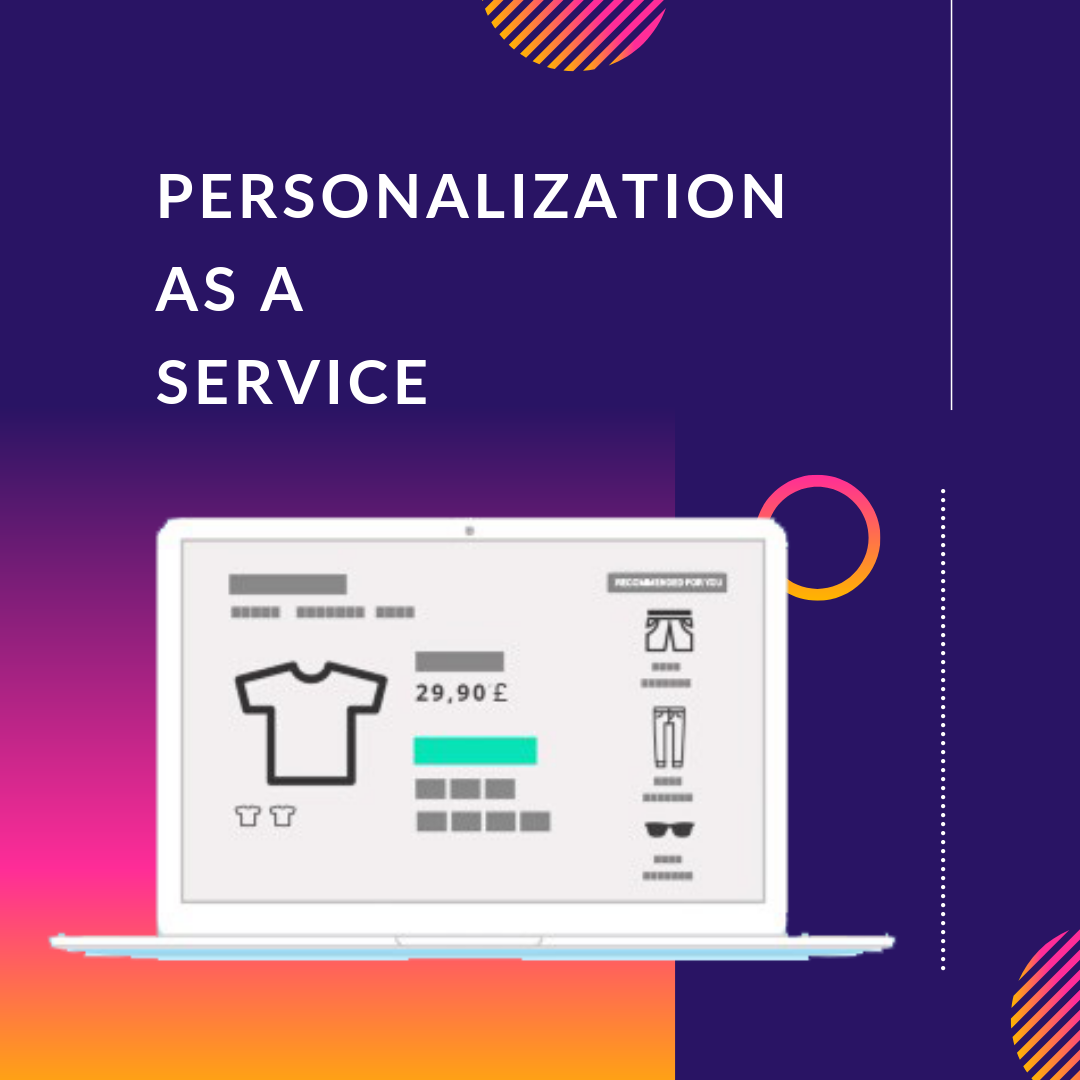 Imagine this; you have walked into your favorite retail outlet, and salesperson there after looking at you instantly knows what you are looking for and hands it over to you along with few other similar options. In the web this is called personalization as a Service.
Are you able to showcase AI powered related products, upsell items and frequently bought together products on your online store? To get all of these and more, install Perzonalization now and start your 14 day free trial.
If you were an eCommerce merchant or a marketing exec working for an online business, what would you not give for providing your shoppers such a great experience, which is called personalization as a service? When you get a similar (if not better) and exclusive shopping experience on an online store, we call it eCommerce personalization. And these days every business-client interaction is all about personalization, and several companies now cater to eCommerce businesses with different personalization tools such as product recommendation engines offering personalized product recommendations, personalization as a service software, web personalization, and other various personalization technologies which beautifully combine real time online consumer behavior with machine learning to deliver the most outstanding shopping experience to your customers.
According to a recent report, 91% of consumers are more likely to shop from brands that remember them and provide relevant offers. Additionally, 83% of them wouldn't mind sharing their data in exchange for a personalized experience.
A study by the Boston Consulting Group suggests that brands which create personalized experiences grow revenue by 6% – 10% – about two to three times faster than brands which don't. AI powered product recommendations in eCommerce have the potential to grow your revenue by 10%-30%, because by personalizing shopping experiences, marketers not only make relevant suggestions, but also reach out to customers when they are most likely to shop.
So, it's a no brainer that personalization makes customers feel special, and as a result, improves their shopping experience – and in most cases result in higher purchases, increasing your bottom line.
Keeping your customers happy and loyal requires fine tuning customer experience as much as your product offering.
Keeping your customers happy and loyal requires fine tuning customer experience as much as your product offering. – Tweet This!
But the term personalization can be overwhelming for many, given its diverse nature and scope. Phrases like 'predictive analysis', 'machine learning enabled product recommendations' or 'recommender systems with machine learning' can confuse the average retailer and make personalization as a service an unattainable objective, when it shouldn't be that way.
Personalization is and should be seen as a tool to improve user experience, and this can be done in several ways. In fact with companies like Perzonalization, all you need to do is just to install the tool and all your personalization needs – whether it be product recommendations shopify or personalization on a Magento store – are effectively taken care of.
However, it is still advisable that you understand what personalization is and how we as team Perzonalization have been helping eCommerce businesses achieve their objectives; and this is what this article is about.
What does eCommerce personalization entail?
At the macro level, personalization as a service needs to be relevant to your users. It should also ideally inspire the action you want this customer to take, which is determined by their customer lifecycle stage.
If this is a first time visitor, then it is a bad idea to greet them with an overlay deal. It doesn't matter how cool those products are – you don't know this visitor. Maybe he/she is not interested in that particular product.
In such cases you risk alienating, or even losing your new visitor. Similarly, if you interrupt their customer journey with a random ad about something they don't care about, you will not be able to drive the action you want. But if you can analyse the real-time clickstream behaviour on that site and instantly predict what that visitor is after, you can respond to the shopper's needs by displaying relevant and personalized product recommendations.
Since this is a first time visitor, you will also need his/her email address to continue with the communication. To get an email address, tell them about a unique selling point of your site that requires an email address (like a flash sales you can only get through the newsletter).
Now the second question to ask yourself is what can you – as a business – offer them in exchange for that email address?
You could offer them a voucher for a discount on their first purchase; or enter a site-wide raffle that picks a winning email address.
Essentially, target each shopper with something relevant to instigate the action you want them to take. This method of website personalization as a service is a simple way to make your messaging specific to the segment you're speaking to – or your target audience.
You could also personalize the homepage with a banner that showcases your new arrival, like Dollar Shave Club below: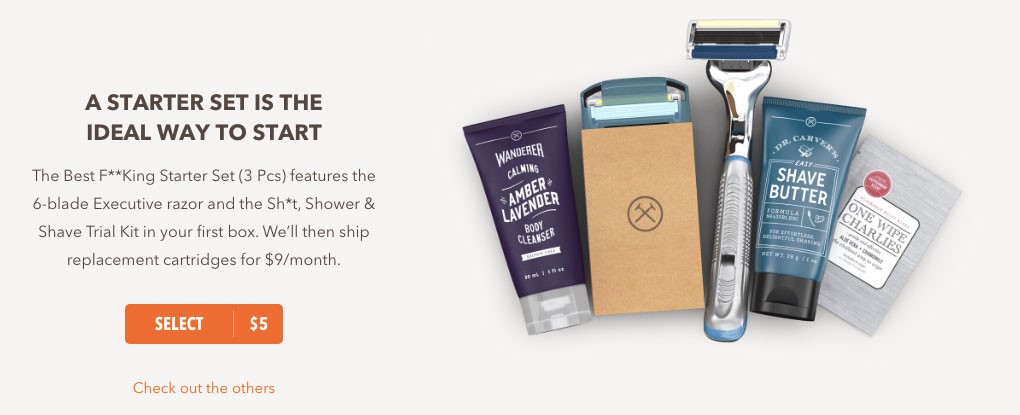 Their philosophy is simple: show the people what they want (even if they don't yet know they want it). With a sentence starting with "The Best F**King Starter Set", you want people to notice your product at the first opportunity.
eCommerce personalization is built on the sole premise that every customer is different with respect to their preferences and needs when it comes to shopping, and your product should be able to address that need. The way the customer gets his hands on that product, and how the problem is solved with that product is achieved through personalization.
So, now that we understand that personalization is everything about delivering exceptional shopping experiences targeting increased conversions and revenue, in order to improve customer experience, you should have:
An ability to collect behavioral, demographic and transactional data on your online visitors.
An ability to analyze that data to identify segments that will respond favorably to a particular experience, and
An ability to deliver an experience aligned to that particular segment in real time
Why personalization? Benefits of personalization
Personalization is online retail's best friend. By personalizing your customers' shopping experiences, you are:
Increasing your conversion
Improving engagement
Increasing average order size and value
Reducing bounce rates
Driving more leads
Increasing retention and customer loyalty
What can you do with Personalization as a Service?
Following are some of the ways personalization can work for your eCommerce store:
Device Specific Offerings: As much as personalization is about "who" shopping for the "what," it is also "how" they're shopping. For instance, someone shopping on a desktop or a tablet would have a different mindset than someone shopping on a mobile phone. There's a chance that the mobile phone user is actually looking for a brick-and-mortar location of the online store or trying to re-discover the dress she has found while surfing on her work laptop but then lost when a colleague interrupts her by asking a question.
The desktop user, on the other hand, almost certainly is shopping from a fixed location and intends to buy online. Offering in-store discounts to mobile users who are closer to your brick-and-mortar location is a great way to lure them in. Or cross matching the user on multiple devices and reminding them about the recently viewed products on web while they start navigation on your mobile app might be a good way to ensure conversions.
Geographic product offerings: If your target audience span a variety of geographic regions, consider personalizing your offerings based on that.
Time-specific product offerings: Like geographic product offerings, time-sensitive offerings can also have shown to be effective. To use apparel as an example, it would mean highlighting the most popular shopping categories based on the time of year. For instance, in summer that might be dresses, while in winter it would be heavier coats, jumpers and jackets. If you are a seller of sporting goods, your homepage could highlight baseball products in the spring, basketball in the winter, football in the fall, etc. This is a very basic form of personalization.
Off-Site personalization: With off-site retargeting, you can reach your target audience on their favourite social media platforms or even get them to reconsider purchasing with ads created from their browsing history which are displayed on websites they frequent.
Remarketing via emails: Email is not dead on the contrary it is as alive as can be! AI powered personalization can make a difference in your email marketing practices in the sense that they can both be used on automated emails and email newsletters.
Automated emails are those emails that are triggered by customer actions say when a user is inactive for 30 days, you may send him a 'come back' email that includes the personalized product recommendations that reflect that customers' preferences.
Personalized emails are newsletters that include recommended products, which reflect each and every user's purchase and view history. Even though you make mass emailings, you can still display a different set of product recommendations to each user. By this, you can ensure repeat purchases.
Below are some of the best product recommendation email examples: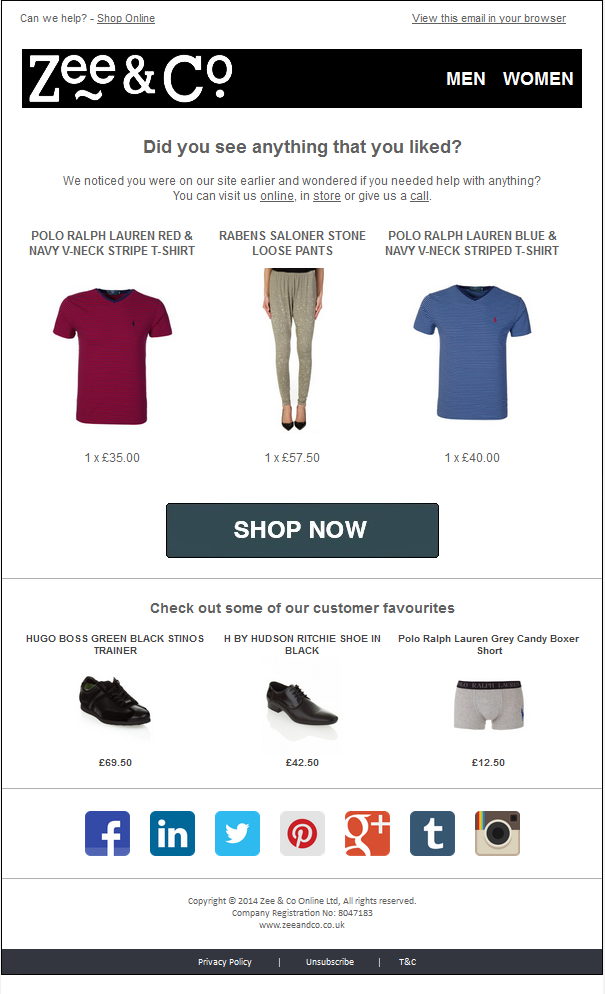 Now this is an example of an automated email, which we call "Homepage Browse Abandonment Email" with personalized product recommendations.
Here's another one of those: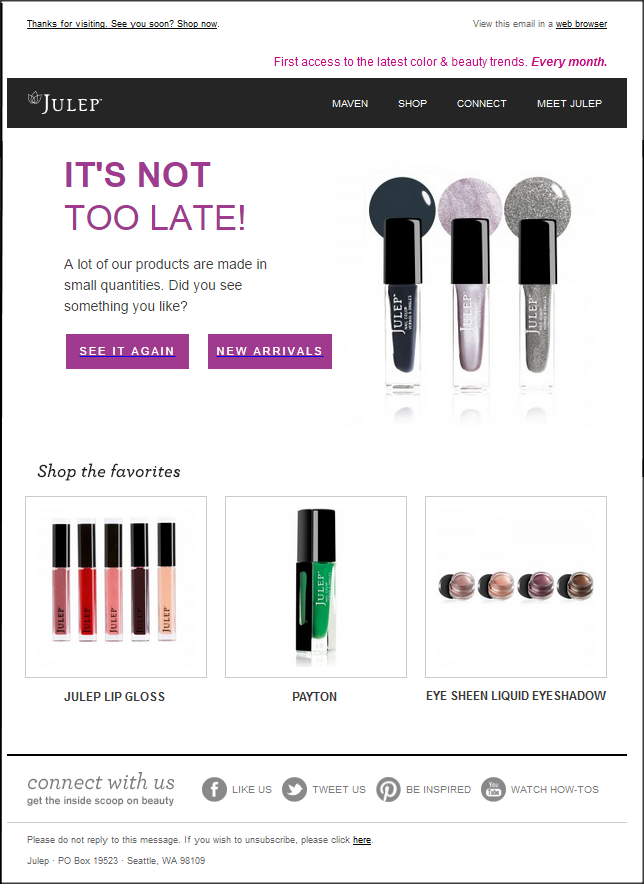 Intelligent recommendations: Personalized product recommendations are of course, the most tried and tested form of personalization, and it has never failed. Anticipating what your customer is looking for is the cherry on the cake of personalized shopping. For instance, an ideal search page would incorporate intelligent recommendations based on what other customers have viewed and purchased to guide customers along their journey.
Sur La Table sets a good example of pushing their customers towards the products they want: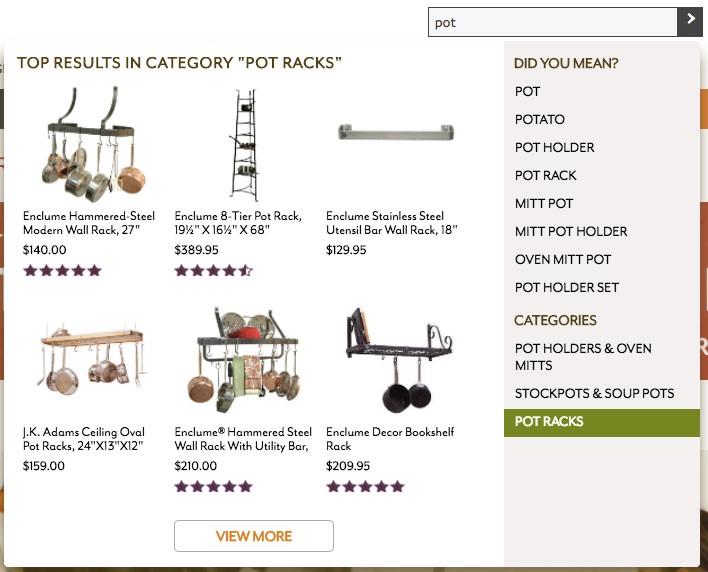 User-generated content: Arguably one of the best ways to personalize content to your audience is to allow your audience to create it. This content can be served through email or social media to inspire your customers to use your product in new ways, effectively by saying something like: "Here's what so and so did with the product. You can too."
Personalization as a Service – The Basics
Before we dive into an ocean of impressive words and lingos like onsite product recommendations, AI, product recommendation software, machine learning, recommender systems, it's important to preface the whole concept with significant strategic planning.
Segmentation is key in the implementation of any eCommerce personalization. Whether your online visitors are new or returning customers, where they're coming from, the kind of device they're using, and their online behavior – all of this make a difference to the offers you show them.
The second important thing is to be aware of customer experience. A good personalization:
Should meet the users' needs
Should make sure that your users are not bombarded with irrelevant or poor recommendations. A report shows that two in five shoppers would drop a retailer who sends them irrelevant offers.
Should be used only where it justifies your investments.
It is also important to understand here what personalization as a service isn't.
Personalization is a range of things – from being a product recommendation platform to using the most advanced product recommendation technology and incorporating these recommendations at every step of the customer's buying journey based on their online behavior. Successful personalization as a service strives to engage your customers on the website, app or with emails through relevant and exciting content that is directed at what they are interested in at the moment.
However, contrary to some common perception, personalization as a service is not a one-size fits-all kind of a solution. Some also assume that personalization as a service works, irrespective of the way it is implemented. But that's not how it works. Hence, personalization is NOT, and should not be limited to:
Adding a customer's first name to an email
An automated retargeting ad showing what someone browsed
Creating marketing programs based on demographic segments
Personalization as a service is much more than all of the above mentioned three things.
At this stage, you must be able to answer a few questions to help you plan your store personalization better.
Who is your customer?
Pay a lot of attention to understand who your customer is. Which are those people you want to speak differently to? Are they your prospective customers or existing? What is their demographics and geographical locations? Think through all these and understand the meaningful differences that exist between them, because this will be the basis for your segmentation and rule-based campaigns, which is the key to any sort of personalization.
The next step is to know about the differences between individuals/segments. Every person has his own set of preferences for brands, categories, color, prices etc. Every person is also at a different stage of the funnel and they will respond differently to different campaigns and promotions. Knowing these differences will help you with your 1-to-1 AI-driven campaigns.
Where do you plan to implement personalization?
Next thing to consider is where you plan to apply your personalization practices. For starters, consider the channels that you currently use to interact with your customers. Is it your website? Mobile app? Or emails? Whichever channel you use to actively and regularly interact with your audience is a good place to start your personalization from.
Subsequently, you should get a little more granular and start thinking about different points of interaction, like landing pages, category pages, cart pages, automated emails, newsletters etc. Determining which aspect of the buyer's experience you'd ideally like to personalize will help you get on the right foot from the start.
How do you want to go about it?
The final question will be around execution. For example would you want to spend hundreds of man-hours in studying the online behavior of your customers, extract the data, design campaigns and promotional offers; or would you rather deploy a handy product recommendation tool like Perzonalization and let it do its job with its array of product recommendation algorithms which uses a hybrid technology combining machine learning with micro-segmentation models derived from the real-time online behaviour on your webstore?
Personalization Software – Meaning
Web personalization as a service is the entire process of creating customized and personalized experiences for online visitors on a website. Instead of providing a single, one-size-fits-all experience, web personalization as a service allows brands and retailers to present visitors with unique experiences tailor made to their preferences and desires. It is not a new concept. In layman's terms, personalization as a service in the eCommerce context is fine tuning your online store with respect to your customers' needs resulting in effective, faster and easier interactions – and consequently increasing customer satisfaction, likelihood of repeat purchases and ultimately your sales numbers.
A personalization software thus, is a tool that customizes your website content based on your customers' characteristics and online behavior. These platforms help businesses optimize your offerings by creating a more individualized experience for your customers.
Personalization software identifies patterns and trends in your consumer behavior, and then uses that data to display content in the form of products they might be interested in buying. By offering personalization as a service, this software reduces frustration for the customer because they get to view and buy only those products, which they are interested in. It aligns their shopping experience more closely with their likeness. This leads to an increase in brand loyalty, as people will repeatedly want to come back to your brand.
Do you need a personalization software?
The answer is a straightforward "yes".
Every online visitor who comes to your website has their own specific needs, making it all the more important for you to meet their expectations. They want to be associated with a brand that truly understands their needs, and they won't hesitate to give you their loyalty if they find this with your brand.
One great way to prevent these customers from leaving is to integrate a personalization software into their customer experience. According to a study, 91% of consumers are more likely to buy from a company who remember them and provide relevant offers. 41% of consumers switched companies in the previous year due to "poor personalization."
Apart from reducing customer churn, personalization as a service technologies aim at increasing customer satisfaction, which eventually leads to more revenue for your business. In fact, Gartner predicts that by 2020, a personalization software which is able to successfully analyze customer intent will increase digital businesses revenue by 15%.
What is our definition of "personalization" at Perzonalization?
Perzonalization is one of the companies, which has been offering personalization as a service to eCommerce stores across the world. The platform being a recommender system, machine learning is used extensively to read and understand prominent product tags and specifications. It offers a personalization software which not only acts as your personal shopping assistant, suggesting products based on your preferences, but also helps send product recommendation emails through real time micro-segmentation. So, your customers can receive personalized product recommendations on emails based on their online activity on your website, their browsing history, recent purchases etc.
Look at how we – at Perzonalization – work with one of UK's top plus size retailers with 200K monthly traffic.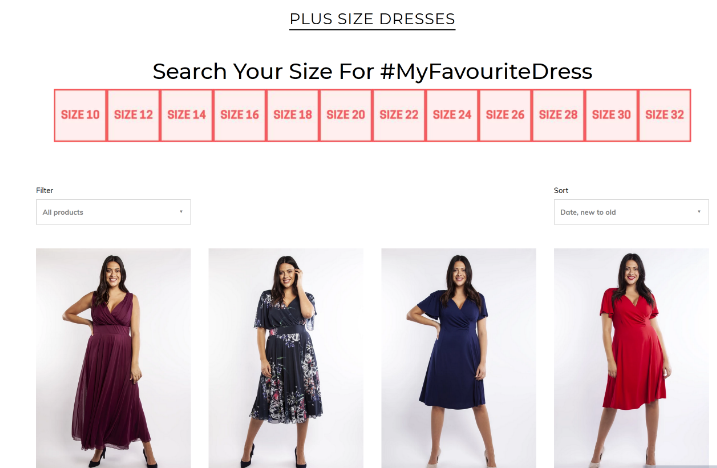 Their homepage starts with the 'Most Popular Items' for shoppers to have a quick glance at, and then followed by 'New Arrivals'.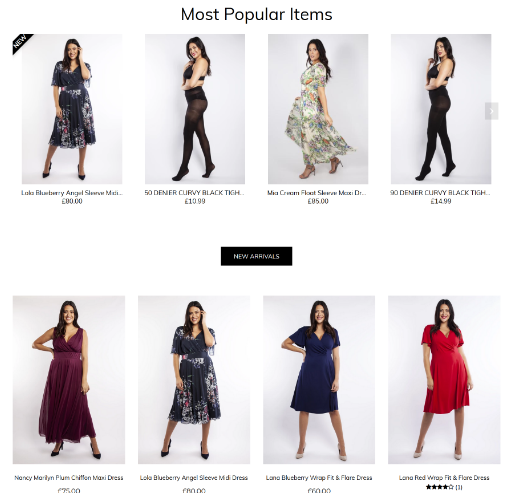 We worked with another online retailer from the Middle East, Just Kidding, where they have also included a section called "we recommend" in their product pages where we suggest some products, which we predict the shopper might be interested to buy. This is another way to spark a bit of interest in the shopper's mind to look around a little more.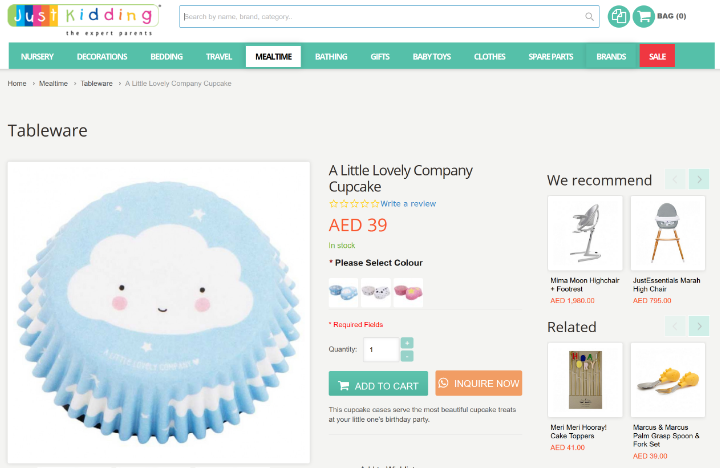 An interesting thing about how our product recommendation system works is we display only those products in their New Arrival section, which have been added in the last 15 days or so. This way they are always able to show new products and keep their web store updated.
With Perzonalization, you can also send product recommendation emails with the help of our personalized automated email feature. You could include new product recommendations, special offers and discounts, abandoned cart notifications – and all of these use AI powered real time predictive technology.
You can also prioritize campaign banners to make them more aligned to each shopper's unique taste and preference.
We also have a product recommendation API, which allows us to provide a list of personalized product recommendations. For instance, an API request from an eCommerce website may contain, 'red polka dotted, summer dresses that are priced 50 USD -75 USD' and we can instantly respond to this request with a list of relevant product recommendations with the help of our product recommendation engine. And some of the global brands have some very nice things to say about Perzonalization. Our mobile API allows you to enable real time personalization on practically any platform or device.
Perzonalization works on all the leading eCommerce platforms – including WooCommerce, Magento, Shopify, PrestaShop and OpenCart.
Given below are some of our product recommendation best practices we executed on different eCommerce websites: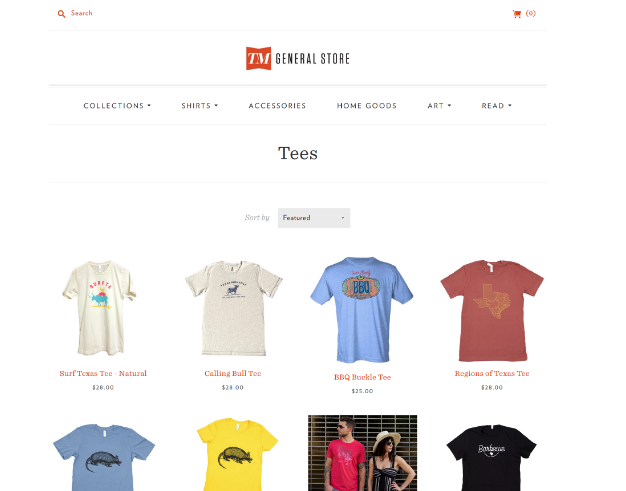 This is Texas Monthly General Store, a US retailer selling home and lifestyle products. The site has one thousand monthly visitors.
Similarly, Open Attire UK below is a UK retailer selling affordable designer wear. They have a monthly traffic of five thousand visitors, and their product detail page showcases products viewed by like-minded people.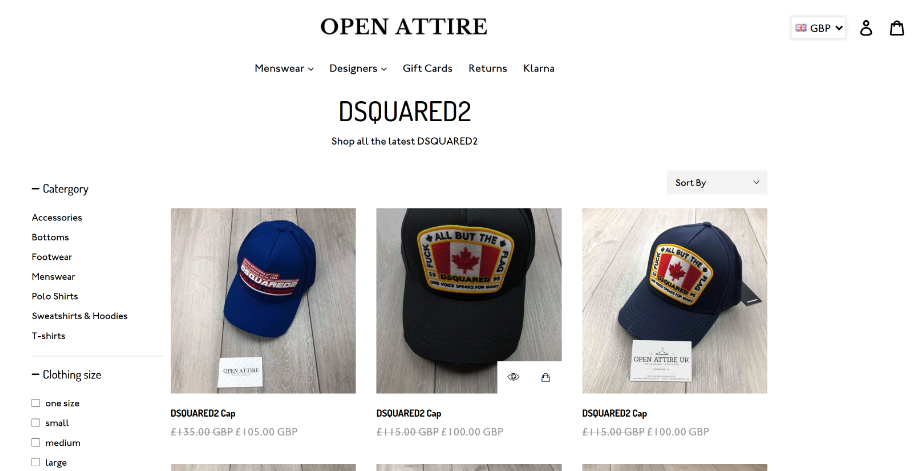 Libas, the Turkish multi-brand premium fashion retailer, which uses Perzonalization has a monthly traffic of more than ten thousand visitors. We are showcasing 'our suggestions for you' on a separate landing page. Each time a visitor surfs on Libas, her recent clickstream behaviour is analysed to come up with personalized product recommendations on this page.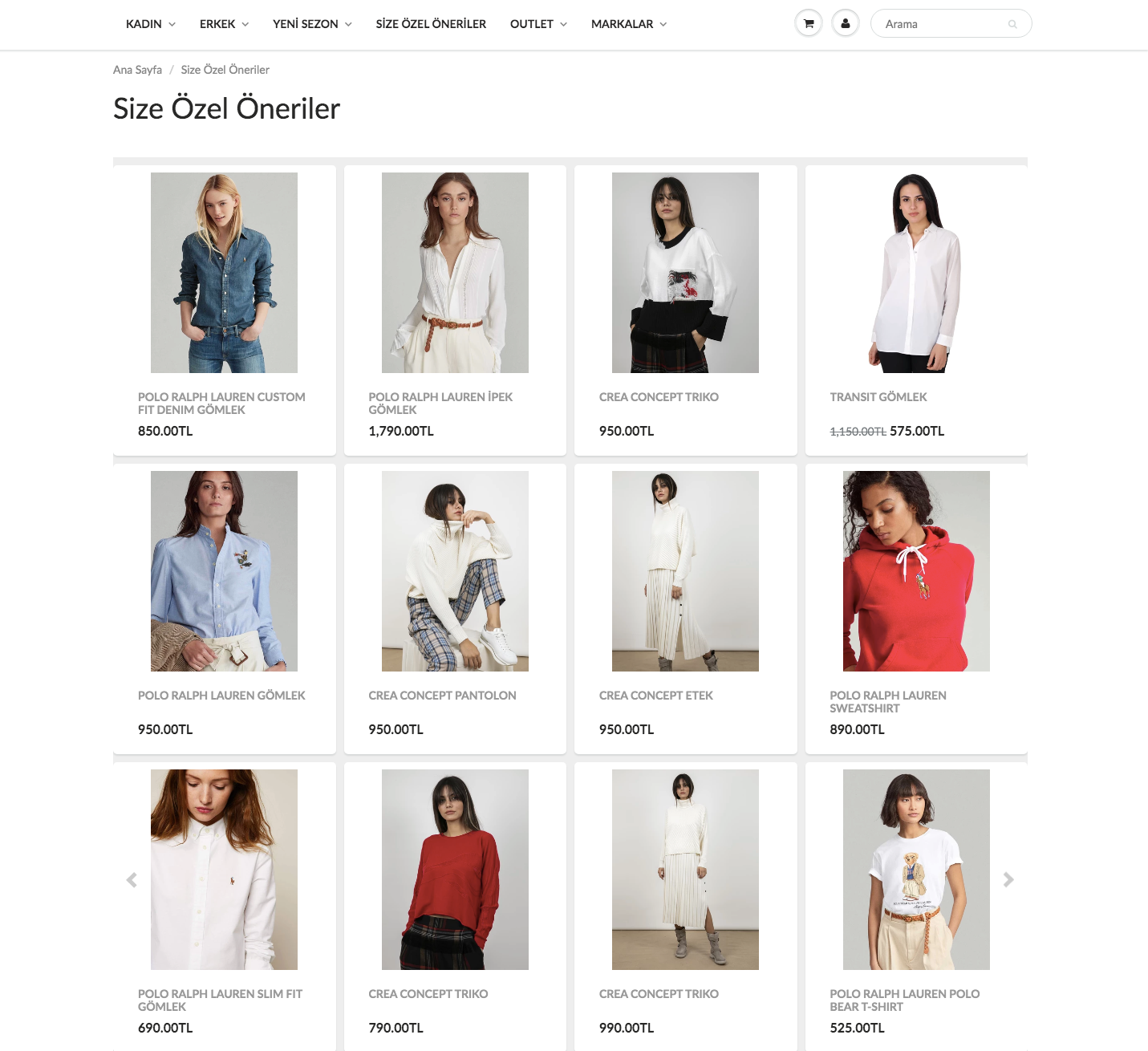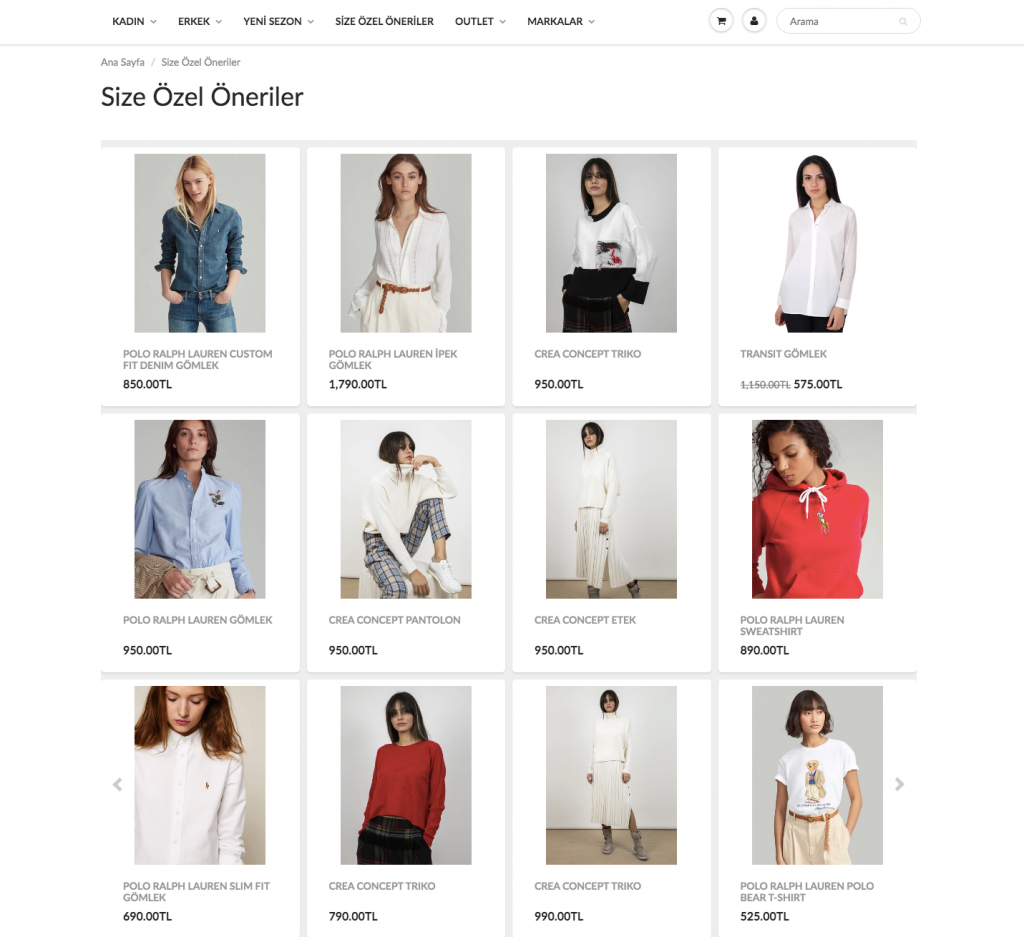 We have been constantly talking about the benefits of personalized product recommendations through our blog and resources, and we believe that personalization is the thing that makes a brand a "thriving business". Personalization is the only way to overcome the biggest hurdle that online retailers face today – that of digital trust.
Given below are some of the benefits of personalized product recommendations:
Personalization helps you understand the direction of your customers' journey.
Personalization allows you to grab your customers' attention by showing them relevant products they might be interested in
Personalization has a huge impact on peoples' buying decision, increasing your overall conversion and sales.
It is also a great way to upsell/ cross-sell and increase order size.
Personalization makes customers feel that you understand them more, and they start to associate with your brand better, increasing Customer Lifecycle Value (CLV).
You gain a competitive advantage over your peers by using personalization. Personalization can be an immediate differentiator because it allows you to offer an enhanced value.
With the help of personalization, you create a consistent brand experience and mitigate customer frustration.
Personalization allows you to deliver a consistent experience across different marketing channels.
Product recommendation apps like Perzonalization allow you to "set it and forget it". You don't have to do much other than the initial set up, and the software takes care of the rest, saving you time to focus on other operational areas.
The results obtained from your personalization efforts give you great insights on the existing market, its trends and demands, and lay the foundation for future marketing efforts.
Why do you need Perzonalization as a Product Recommendation Engine?
Always remember that segmentation is key to getting personalization right.
Whether your visitors are new or returning, what matters is where they're coming from, the device they're using, and their browsing behavior on your site. All this will determine the offers you show them.
Where Perzonalization stands out among other eCommerce personalization technologies is that it delivers fine-grained, smart targeting at competitive prices.
When you set personalization in motion, using personalization as a service strategy is one of the most effective ways to attract more visitors, enhance customer experience, and encourage them to keep coming back. We take the following steps to ensure that eCommerce stores are able to deliver the most personalized experience to their users:
Examine customer data that your business collects: These can be email logs, customer reviews and testimonials, or any other metrics you gather. This information then provides valuable insight regarding your audience's needs and buying patterns.
Allow data to inform and influence ongoing personalization efforts: Very often, businesses have an overload of data, which remain under-utilized. We use the right kind of data at the right time to plan and implement a personalization as a service strategy.
Incorporate personalization campaigns across multiple platforms: We allow you to send personalized product recommendations through emails, display them in product detail pages, category pages, cart and checkout pages, and ensure that customers are always shown what matters to them.
By recruiting Artificial Intelligence, we have revolutionized the way brands conduct business online. AI allows us to predict who will visit your site, what they want, and can ensure that the relevant product offers and promotions are available at the right time, in the right place.
We use the following type of data:
Demographic Data – Geo-location, gender, age, and other demographic data.
Customer Intent – By tracking a visitor's site behavior and combining it with their browsing history and actual purchases,  we are able to display products and categories that your customers are interested in.
Customized Variables – We empower eCommerce stores to manually set rules to guide their personalization efforts.
Perzonalization uses dynamic content
To really enhance your customer experience, we provide value to your customers. We use real-time data, which is vital for making that happen. For instance, if you send an email about a flash sale, and the customer opens it a day later, it will lead them to miss the sale. That's as bad as getting a cart abandonment email after they've placed an order. To truly resonate with what is happening on your site, your content needs to update dynamically to reflect the context when the shopper engages with it.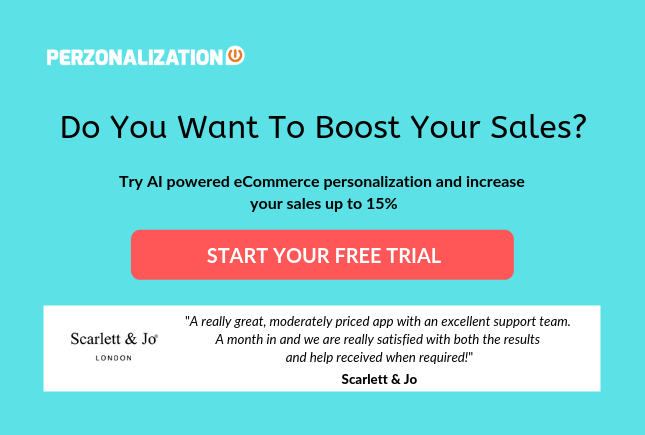 Why behavioral targeting fueled by real-time data is key to personalization?
Shoppers tell you a lot about themselves when they interact with your online store and your emails.
When a user looks at your website and clicks through in your email campaigns; or even your social posts and adverts – they reveal what they are interested in, and that often goes beyond mere demographics, or even previous purchase history.
When a prospective customer is researching a particular product and reacts to your marketing efforts by clicking back to take another look, you can be certain that this is a product they are interested in. On the contrary, if they looked at the product once, and have ignored subsequent messages, it is likely that they've moved on to other products.
To leverage behavioral data effectively, you need to work in real-time. You need to capture the behavior as and when it happens and trigger the appropriate message or adjust what they are seeing on your website ( like with a free shipping offer pop-up). We use real time data along with machine learning, making it simpler for eCommerce stores to predict the customer behavior and to use the data effectively for subsequent marketing efforts.
Types of personalized product recommendations you can do with Perzonalization
Over the years, some personalized product recommendation templates have proven to be more effective than others. Some personalization as a service engines like Perzonalization allow you to place these recommendations anywhere on your site or within your email communication.
Popular products: As one of the original product recommendation templates, this remains as an effective tactic. People have been seen to trust other's opinions. This recommendation type is also helpful for the eCommerce merchant when the customer is new so there is no previous data about the prospect. It is often your best shot at suggesting something that fits their particular needs.
Related products from like-minded shoppers: These are derived with a hybrid approach; a combination of machine learning and real-time micro-segmentation. Every customer's purchase behaviour is analysed, features of products are predicted, the users are segmented into micro groups in which shoppers with similar tastes are present and then product recommendations are formed. It is a complicated and effective process thus the results are just great for the eCommerce merchants.
Cross Selling and Upselling: These are recommendations showing complementary or substitutes. This gives your customers options which are either similar to something they have chosen or something they might need along with the product they have bought. These can also be seen in the form of "Complete your look", "Matching Styles", or "Matching colours".
With Perzonalization, you can deliver personalized experiences to your customers in the following ways:
Adjust your navigation to visitors' Interests
Recommend product categories based on browsing behavior or history
Send personalized emails based on user behavior
Show category-specific discount and offers
Suggest complementary products
Show an upsell at and after the purchase
Remind shoppers of previous interactions and interests
Show recommendations alongside the chosen product
Personalize the homepage banners
Show personalized offers to returning visitors
Personalization As A Service: The Wrap-Up
Like personalization as a service itself, implementation strategies are different for each business. To achieve better personalization, you need to understand your customers' needs, wants, and behaviour and decide what you want to achieve with personalization. Only then, will you be able to effectively influence their shopping journey and boost your sales.
Curious to learn more? Take a look at related posts!
Do You Want To Boost Your Sales?
We are Perzonalization and we'd like to help you.
Try AI powered eCommerce personalization and increase your sales up to 15%.