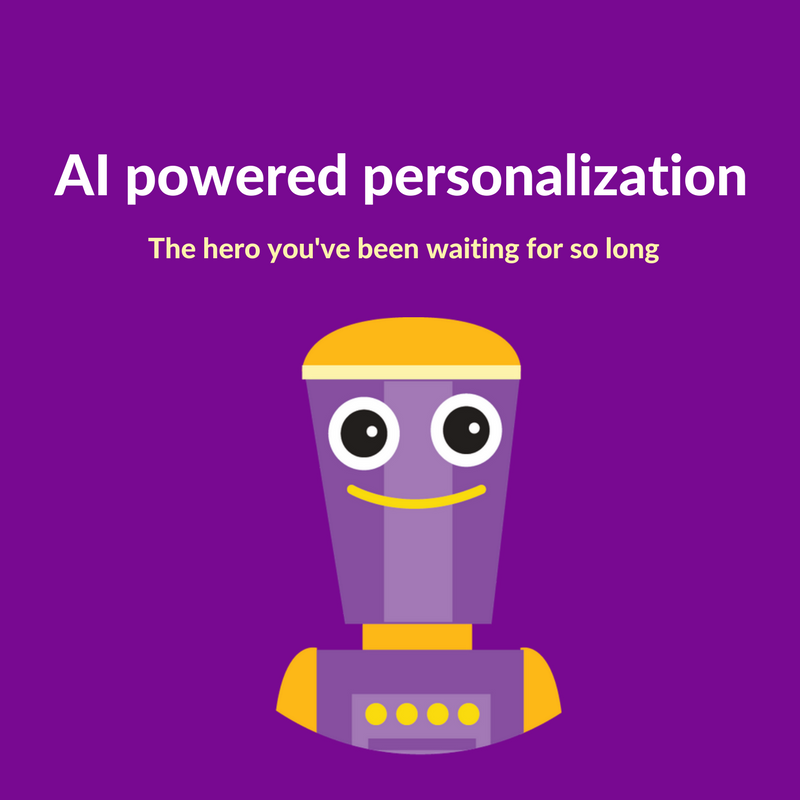 The early texts on artificial intelligence before AI powered personalization for eCommerce comes on stage
The literature on AI has long been present before the term AI powered personalization for eCommerce was coined. The early texts on AI dates back to ancient Greek and mentions the extraordinary power of knowledge. The history of human efforts to gain knowledge then appears in the works of many authors and philosophers including Dante, Milton, Mary Shelley (in Frankenstein) and even Shakespeare. [1]
In today's popular culture, artificial intelligence is being portrayed both as a monster and a valuable resource of innovation especially by Hollywood that's been using AI as a staple for years.
Are you able to apply eCommerce personalization on your webstore ? If your answer is NO, then install Perzonalization now and start your 14 day free trial.
In the context of eCommerce, AI is a sexy term as it refers to all activities that are helping online retailers with dehumanized methods. Dynamic pricing, AI powered personalization for eCommerce, customer service via chatbots, retargeting, stock and payment tracking are all areas through which AI has been helping eCommerce businesses for years.
Today's consumers want to feel more in control and they want to be seen and valued more than their money. Technology has radically changed the psychology of these new consumers and created a host of new expectations. In order to fulfill these expectations, online retailers need to adopt new ways to be able to understand their customers. As the amount, type of customer data and the demand for real-time applications have increased, it is nearly impossible to make use of the big data in eCommerce without benefiting from the power of artificial intelligence.
AI powered personalization for eCommerce empowers online retailers
One of the biggest questions on every eCommerce executive's mind is undoubtedly "which product is my visitor looking for, at the moment". After all, if an online retailer can guess the visitor's purchase intention, the chances of conversion increases significantly. In brick and mortar stores, there surely is a sales person who profiles the shopper's tastes and purchase intentions at a glance and recommends her products that she may like. What about the online shops?
It is not hard to guess that a shopper would not appreciate the online merchant if she keeps on getting the same experience every time she interacts with that online store. That's where AI powered personalization for eCommerce comes in! It allows online merchants to get closer to behaviours in a scalable and practical way. AI can pick up on where loyalty programs have failed. They build loyalty by understanding the visitor's individual needs, the best times for various triggers, how sensitive he is to price differences and his preferred channels. [2]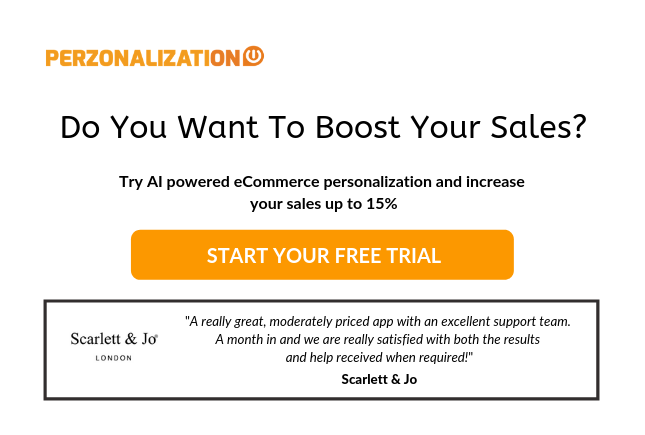 How can small and medium sized businesses benefit from personalization
Personalization, AI and big data are usually handled in the context of enterprise-level online retailers. Big budgets, huge R&D teams, months long integration projects, sky-rocketing vendor fees are seen as the must-haves. With the help of recent developments in the computer technology, it is now possible to fully equip the SMB online retailers with AI powered personalization tools that work on cloud and offer monthly subscription.
Are you able to apply eCommerce personalization on your webstore ? If your answer is NO, then install Perzonalization now and start your 14 day free trial.
The ideal personalization engine for SMB eCommerce
SMB owners are known for their flexibility and cost-sensitiveness that comes along with quick-decision making skills. That is why most of the small and medium eCommerce businesses work on eCommerce platforms such as Shopify, OpenCart, PrestaShop, WooCommerce or Magento. A personalization engine that can work on these platforms and support web, emails and mobile regardless of the eCommerce site's volume may be the hero that the SMB online merchant has been looking for.
Given that every single penny counts – especially for small and medium eCommerce websites – reaching an enterprise level AI powered personalization solution without upfront costs or hidden fees might mean a must have route to take to reach success in personalization.
At Perzonalization, our aim is to help online retailers benefit from AI powered personalization and get a high return on their investments. Adding personalization on an SMB level eCommerce site and seeing the value it adds on top of the current revenue baseline shall be every eCommerce executive's dream come true!
Curious to learn more? Take a look at related posts!
---