The Internet is becoming more and more personalized every day, and so are the businesses that are based on it. eCommerce has embraced AI, Big Data, personalized advertising and marketing automation; and companies like us are constantly developing personalization software that help eCommerce businesses in customizing their websites and make them more customer-friendly.
Download our guide and learn how product recommendations can ensure repeat sales.
Any software which enables your eCommerce website to render personalized content to cater to the preferences and requirements of your customers can be coined a personalization software. This software can be an extension, a plugin or an email marketing software. The sole objective of such a personalization software is to increase certain metrics of the eCommerce websites such as revenue, conversion rate, loyalty and average order value by using a product recommendation algorithm.

Attributes of a good Personalization Software
The best recommendation engines should be able to tap into real-time customer behavior
A good personalization software should be able to capture real-time visitor behavior happening on several channels i.e. web, mobile and e-mails. Unified commerce being the need of the hour, retailers need to blend their physical and digital platforms for a seamless customer experience. Best recommendation systems are the ones who are able to track and analyze customer behaviours on multiple devices. With a personalization software, retailers will be able to follow their customers' journey on different channels and display relevant product recommendations. For the users – as the eCommerce site will now have a holistic view of their behaviors across channels – shopping through multiple channels will become much more personalized thus more easy.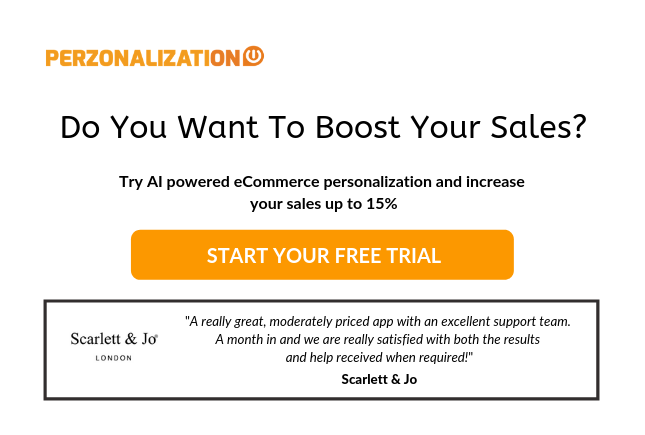 A good product recommendation algorithm should be able to recommend personalized products
The fundamental component of personalization is to provide personalized product recommendations. Any personalization software should be able to recommend personalized and relevant products to its customers based on their search history, keywords and click stream behavior. Efficient product recommendation tools should be able to upsell and cross sell products, boost sales, engage customers through their entire shopping journey and increase conversions. On site product recommendations can also be empowered through personalized banners & content, landing page personalization, product recommendations on e-mails, personalized marketing automation, call center messages, digital ads, mobile ecommerce site and apps, social media and A/B testing. Although product recommendation techniques differ, they all serve the same purpose; boosting sales via helping the online shopper.
A good recommendation engine should be integrated with AI for optimum conversions
Predicting customer behavior is the base for every marketing effort and is powered by product recommendation algorithms. But predicting the preferences and behavior of every customer is not humanly possible for any business. So, when AI and machine learning lent a hand to marketing, it didn't come as a surprise. AI coupled with big data is capable of predicting the behavior of shoppers and thus, increasing the level of personalization. AI powered tools, like automated emails help customers with tailored content that are relevant to them. This takes your email marketing campaigns several notches up. Chatbots, voice-activated apps and personal shopping assistants help in marketing by understanding customer needs.
Customers are now demanding a more personalized engagement, and if your priority is to instantly increase sales with at a low cost, then a high ROI personalization software is what you should choose.
Curious to learn more? Take a look at related posts!