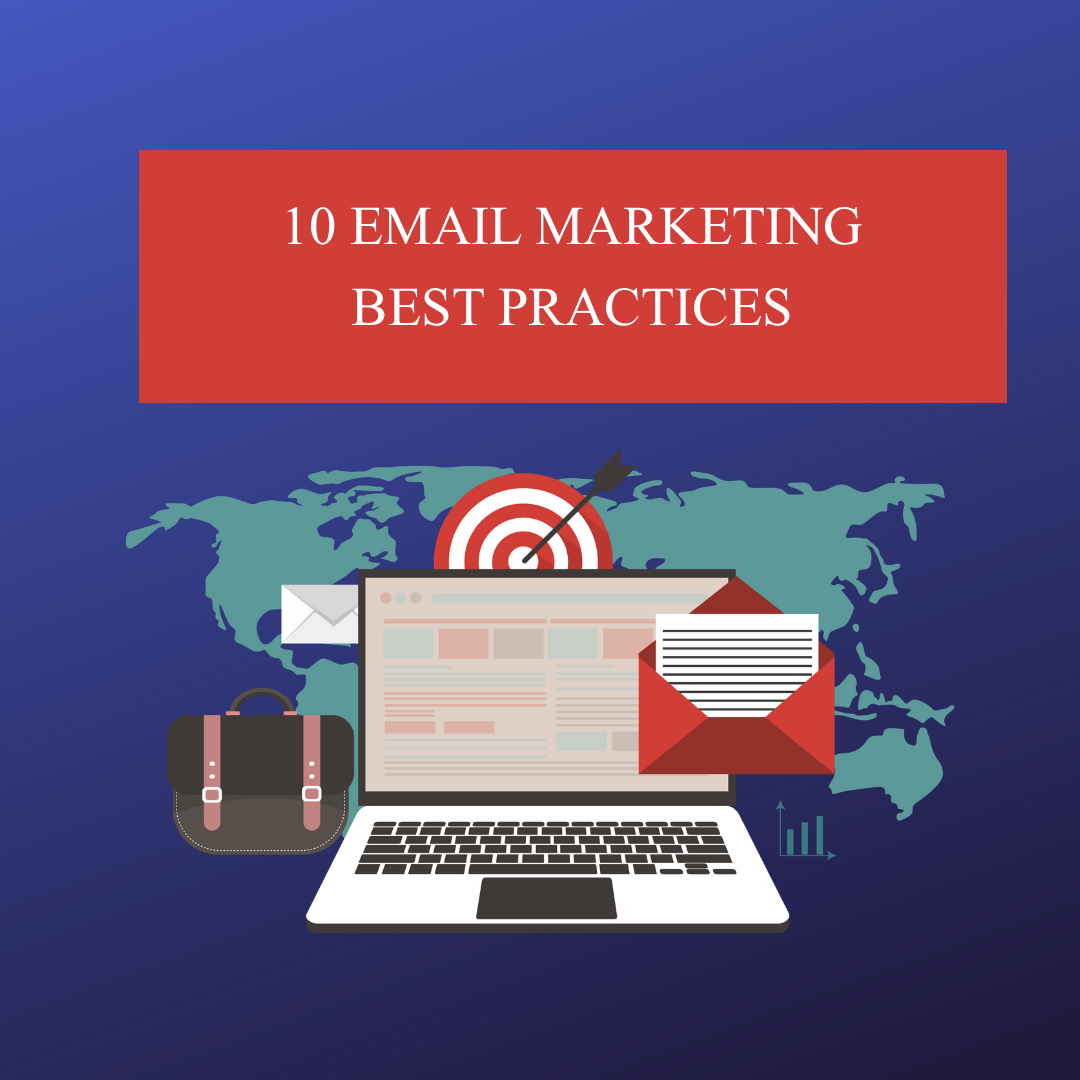 These below-mentioned email marketing best practices will ensure that you never miss an opportunity to get leads and more importantly, never leave your customer unhappy – giving them a reason to come back to your site again and again.
Sending an email in 2022 is simple, isn't it?
We do it all the time with our friends, family, coworkers, and with our customers. Emails make up for that lack of in-person interactions. And it is this one-to-one interaction that creates long term relationships, even with our customers. Email marketing best practices – if implemented correctly – can reap significant benefits for your eCommerce store. So, why is an email marketing strategy so important for eCommerce success? Let us look at some of the benefits of email marketing for eCommerce.
Download your guide and learn what conversion rate optimization is and how can your conversions.
Email marketing benefits
Unlike other marketing channels, email marketing enables you to consistently stay in touch with your customers. Whether it's a simple, "Thank you for your purchase," a cheerful "Welcome aboard," or a heartfelt "Happy Birthday," emails are the most effective way to nurture relationships and let your customers know how much you value them. Customers love it when a business treats them as someone special, distinct from everyone else.
That value demonstrated in your emails, directly reflects the effort you are willing to put in to your target audience, their needs and preferences. The more value you create, the more they'll look forward to hearing from you. And when that happens, it's easier to engage them with your call-to-action.
That value demonstrated in your emails, directly reflects the effort you are willing to put in to your target audience, their needs and preferences. – Tweet This!
Building an email list and sending the relevant emails can have the following benefits for your eCommerce store:
It drives sales
Retail email marketing best practices, when executed correctly, can prove to be extremely beneficial for driving sales. A 2018 study showed that for every dollar spent on email marketing yields an average return of $32. It not only drives that first sales, but also unlocks the potential to draw more revenue from the same customers in the long run.
Impacts the three main growth multipliers
Email marketing directly impacts the three main growth identifiers when it comes to eCommerce – number of customers, Average Order Value (AOV), and number of purchases per customer. Automated emails like the ones aimed at cart abandonment recovery or welcome emails increase conversion rates. Some winback campaigns increase a customer's number of purchases and some others increase AOV by highlighting the relevant products to customers.
Emails reactivate your dormant customers
How often has it happened that some of your customers have become inactive after some time? With the increasingly blinding spell of eCommerce stores, we can't really blame customers for momentarily forgetting about some of them. But getting their attention back to your store with an attractive discount personalized for them is something email marketing helps you to. Even if they open that email without taking any action, you will know that they are at least thinking of you.
Manages your brand reputation
When you encourage your customers to leave a review or feedback for the products they have purchased from your online store, you are in a way helping to boost your brand image and reputation. With the right feedback from real customers who have bought from your store, you will know exactly how to improve to serve your customers better.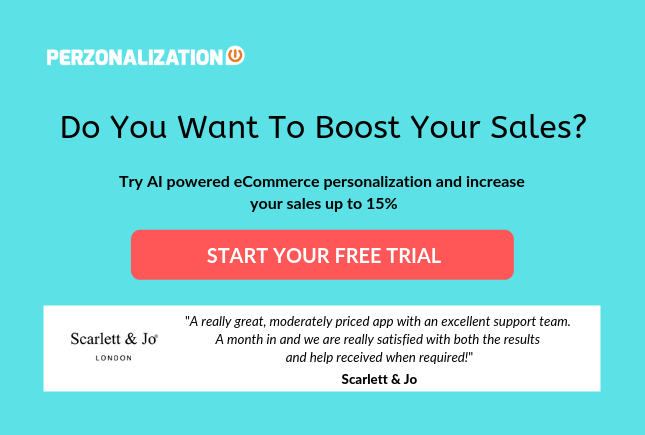 It is inexpensive
One of the most significant benefits of email marketing is its cost-effectiveness. Email marketing is comparatively cheaper than other mainstream marketing channels. Apart from a small overhead for sending bulk emails (in thousands), there is hardly any cost in automating, tracking or evaluating the emails you send to your customers.
Email Marketing best practices
One of the most vital aspects of running an eCommerce store is your capability to build an email list. This is your first step in building a robust email marketing strategy, because the proprietary data you have in the form of email ids is where it all starts. Once you have that, you can get going with adopting the Email Marketing best practices for your online store. So, let's start from this very point.
Make your subscription simple
Your subscription process should be as easy as possible to find and complete. Although you may want to collect all sorts of information about your new customer, steer clear of the temptation to gather additional data in your subscription form. Keeping it simple will ensure completion, and you can always go back and collect other information later, as your relationship with your customer develops.
Automate your "Welcome" emails
A "Welcome" mail is the best way to acknowledge the newest member into your family. Likewise, an automated welcome mail does the trick with your new customers as well. You can do it manually too, but automating will ensure that you never miss acknowledging a single customer. You just need to set up a marketing automation rule that whenever a new subscriber is added to your list, they automatically receive a pre-drafted welcome email.
Look at Huckberry's welcome email. They have this unique way of welcoming their newest subscribers, and it's always a HIT.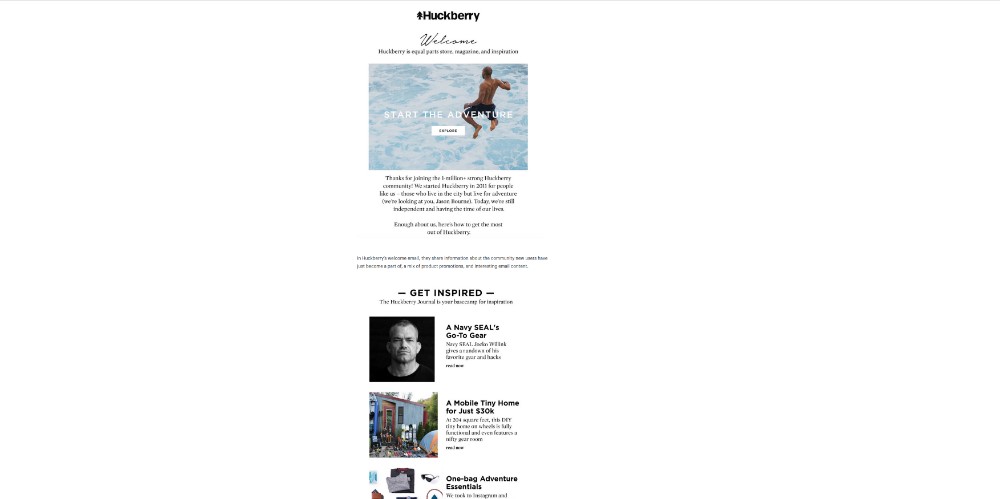 Ann Taylor, on the other hand, has an exclusive offer for their new subscribers – something which is sure to make the customer keep coming back for more.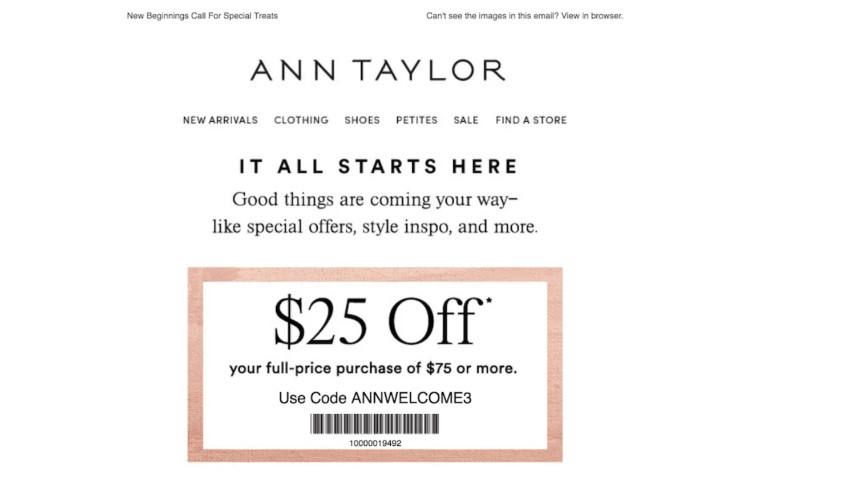 And then there is ModCloth, which takes this opportunity to introduce themselves, spells out the benefits of shopping with them, and gives out a promo code.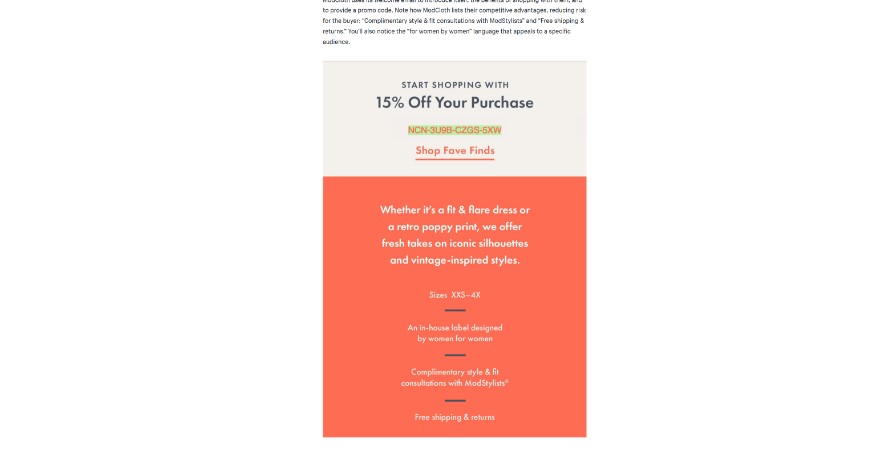 Have a mobile-friendly website
The importance of this email marketing best practice can't be emphasized enough. I am not saying that your customers are reading their emails only on their hand-held devices, but they are definitely scanning through their incoming emails in their mobile phones to come back to them later. Speaking of mobile friendly layouts, you might want to consider multi-column layouts with an option to post lots of product images. The email below is an example of such a layout.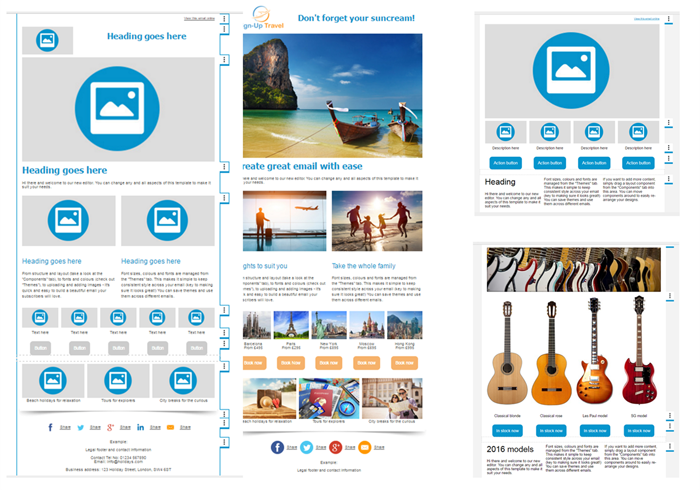 Personalize subject line
When it comes to email marketing best practices, subject line personalization is key. The email subject line is your opportunity to create the lasting first impression. Think through this like you would prepare for your first job interview. Your subject lines can either make your email marketing campaigns, or break it. Look how the retailer in the below example grabs the reader's attention with its subject line.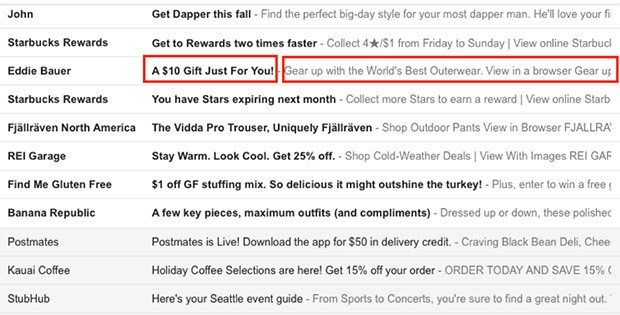 Good subject lines pique the reader's interest. But keep in mind that they should not sound clickbait or spam. It should be about genuine texts that distils a certain confidence in your customers.
Focus on your unique value proposition
What is your unique value proposition? Is it free shipping? Identify your unique value proposition and then use that to woo your customers. Booklinen uses what they think their value proposition is, and encourages engagement by offering free shipping to their customers. The company knows shipping is a common reason for cart abandonment and hence, gives its email recipients an opportunity to overcome that by getting them to activate free shipping themselves. It's undoubtedly a smart move. These kind of emails not only builds engagement, but also takes care of pain areas – cart abandonment in this case.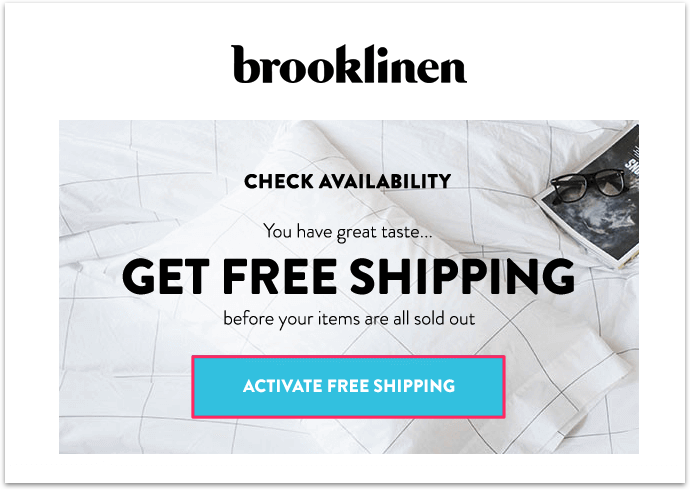 Get referrals from your customers
Word of mouth and referral programs have been the oldest tricks to increasing marketing leads. In fact, according to a recent study by Ogilvy, 74% of consumers identify word-of-mouth as a key influencer in their buying decision. Apart from asking for referrals on your "Thank You" page, which you should do anyway, your email campaigns are a great place to do this too. Bombas's is a great example of this. They even put a hint of humor in it.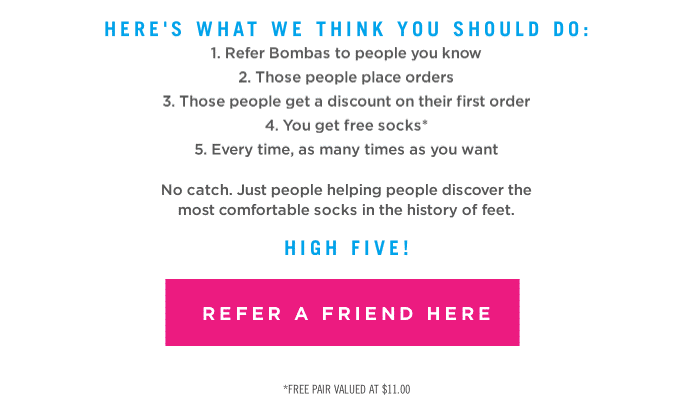 Here's another way of doing this. The retailer here offers $25 for every referral.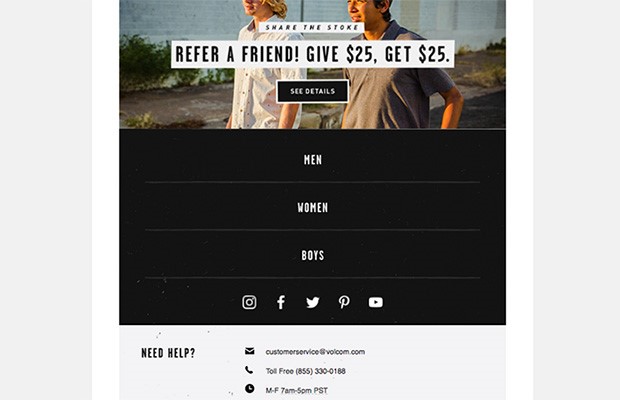 Also, place your social media buttons in the top header or bottom footer of your emails. That way they can be found easily and they don't detract from the main message or content. It's also common to see 'share this content' nowadays for specific campaigns as a whole or for selected items.
Word of mouth and referral programs have been the oldest tricks to increasing marketing leads. – Tweet This!
Set your trigger emails in place for more conversions
Also known as "transactional emails", trigger emails are ones that are triggered by a particular pre-defined action taken by a recipient (such as visiting a product page). While these can be made applicable to any action (even a recipient resetting their password), their primary objective is to nudge a prospective customer along her buying journey till she becomes a customer.  According to a study, trigger emails have 8X higher open rates and click-throughs, and generate as much as 6X more revenue. Ugmonk sends its customers the below email when they exit their shipping page without making a purchase: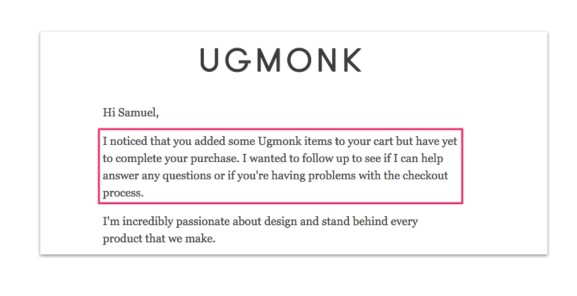 Similarly, Dollar Shave Club creates one of the email marketing best practices by turning its cart abandoners into customers by addressing the problem of shipping costs and overcoming it with a follow up email: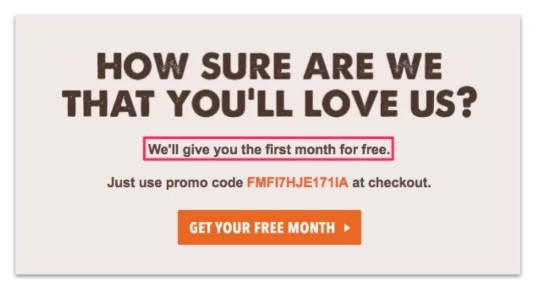 Echoing purchase details and following it up with a purchase/order confirmation is a good way to let your customers feel assured that they can trust you. Amazon does it all the time, and now more and more eCommerce stores have adopted this.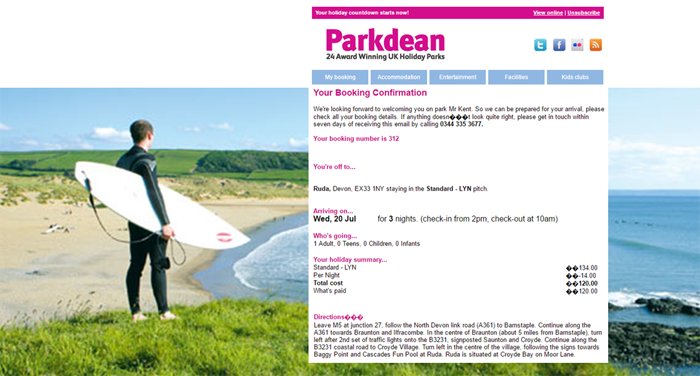 The four types of emails you can consider as trigger emails are:
Discount emails
Cart abandonment emails
The Order confirmation email
Upsell/Cross selling emails
Email Marketing Best Practices – Upsell and Cross Sell
Following from the last type of trigger emails, stems our next Email Marketing best practices; that of upselling and cross-selling emails. Up-sell and cross-sell emails are sent to customers who have already purchased from you once. The objective is to sell additional (but relevant) products to these customers and, in the process increase your store's AOV. You can do this by either,
Sending a product follow-up email including similar products often bought with the product purchased.
Sending a category follow-up email to promote 'related items' after they have bought something from a specific category.
A receipt follow-up email sending receipts from purchases, and including offers and discounts for recommending friends and family.
Incorporate Customer loyalty and re-engagement emails
These kind of emails help in building a long standing relationship with your customers, which is essential after a point because retention, as they say, is cheaper than acquisition. These specific emails focus on building a stronger connection with your customers and helps you win them back when they become dormant or inactive after some time. Birthday or special occasion emails for instance, help you drive significant relationships. You can wish them on their special days and offer them discounts and offers giving them a personalized reason to come back to your store. Look how the retailer does this in the example below: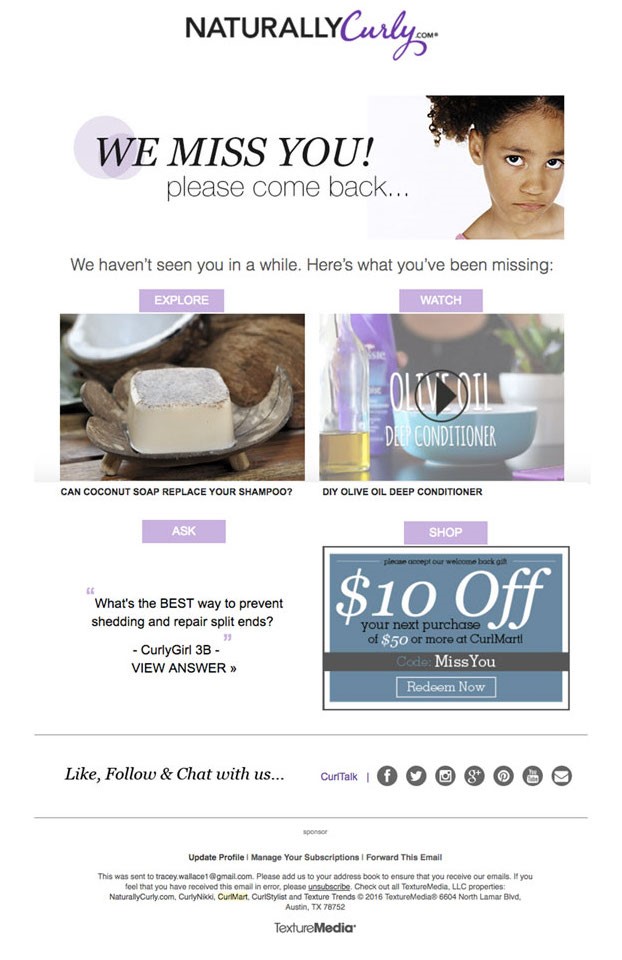 Notify customers about previously "out of stock" items
If a popular product is back in stock, or something that your customers viewed was previously out of stock, but is not anymore, let them know. A lot of online retailers nowadays have a "notify me" button next to their out of stock products, and customers can key in their email id for a notification to be sent to them when the inventory is back, just like the one below:
These type of emails keep customers happy by keeping them in the know on products they would really want. It's also a great opportunity to get them into your list, and hence is one of the important eCommerce email marketing best practices.
These above-mentioned email marketing best practices will ensure that you never miss an opportunity to get leads and more importantly, never leave your customer unhappy – giving them a reason to come back to your site again and again.
There are a ton of eCommerce email marketing software vendors, some of which I am mentioning herein:
Email Marketing for Shopify, WooCommerce and Magento
When choosing the right email marketing services for your Shopify store, you will stumble upon the following:
Klaviyo – for those online merchants who want to go focus primarily on email marketing campaigns. The free version allows up to 250 subscribers and 500 email sends.
Omnisend – For merchants who don't want to spend a lot of time on email marketing, Omnisend is their best bet. The free version gives you up to 15,000 emails per month or 2,000 emails per day. However, it's one of the pricier email marketing services available.
Conversio – This is for those eCommerce store owners who want to engage their customers and focus on building loyalty. The platform charges based on customers, and is one of the only email marketing services which includes all the features in every pricing bracket.
When we talk about email marketing for Magento, some of the Email Marketing best practices for Magento is done with Listrack Retail Solutions. Listrak effectively puts your Magento store on the email marketing dynamics, and also offers an added range of customizable marketing options to broaden the effectiveness of your marketing campaigns.
Again, Mailchimp is another service used by Magento store owners.
Remarkety is another service which makes email marketing in Magento pretty simple. Remarkety maintains a high status in the Magento marketplace for its simple-to-use software, amazing extension integration, and a helpful support team. It offers a sliding scale subscription plan that increases with your number of subscribers.
As far as WooCommerce email marketing plugins are concerned, Mailchimp for WooCommerce is a free plugin that connects your WooCommerce store with your Mailchimp account. You can sync list and purchase data, set up marketing automatons, track and segment markets and do a whole lot more with this extension.
Follow ups is another WooCommerce plugin which contacts customers after purchase and helps to keep your store on the top of their minds.
So here we are!
Email marketing is about building relationships. And email marketing best practices is about making sure that you are doing it the right way.
Nothing more, nothing less.
As soon as you approach email marketing with this particular perspective in mind, you'll always win. You will end up creating better promotions that sell more product, you'll learn to nurture your subscribers, leading to long-term sales; and you will thus generate more sales.
So, all the best for your next email marketing campaign.
Curious to learn more? Take a look at related posts!
Do You Want To Boost Your Sales?
We are Perzonalization and we'd like to help you.
Try AI powered eCommerce personalization and increase your sales up to 15%.