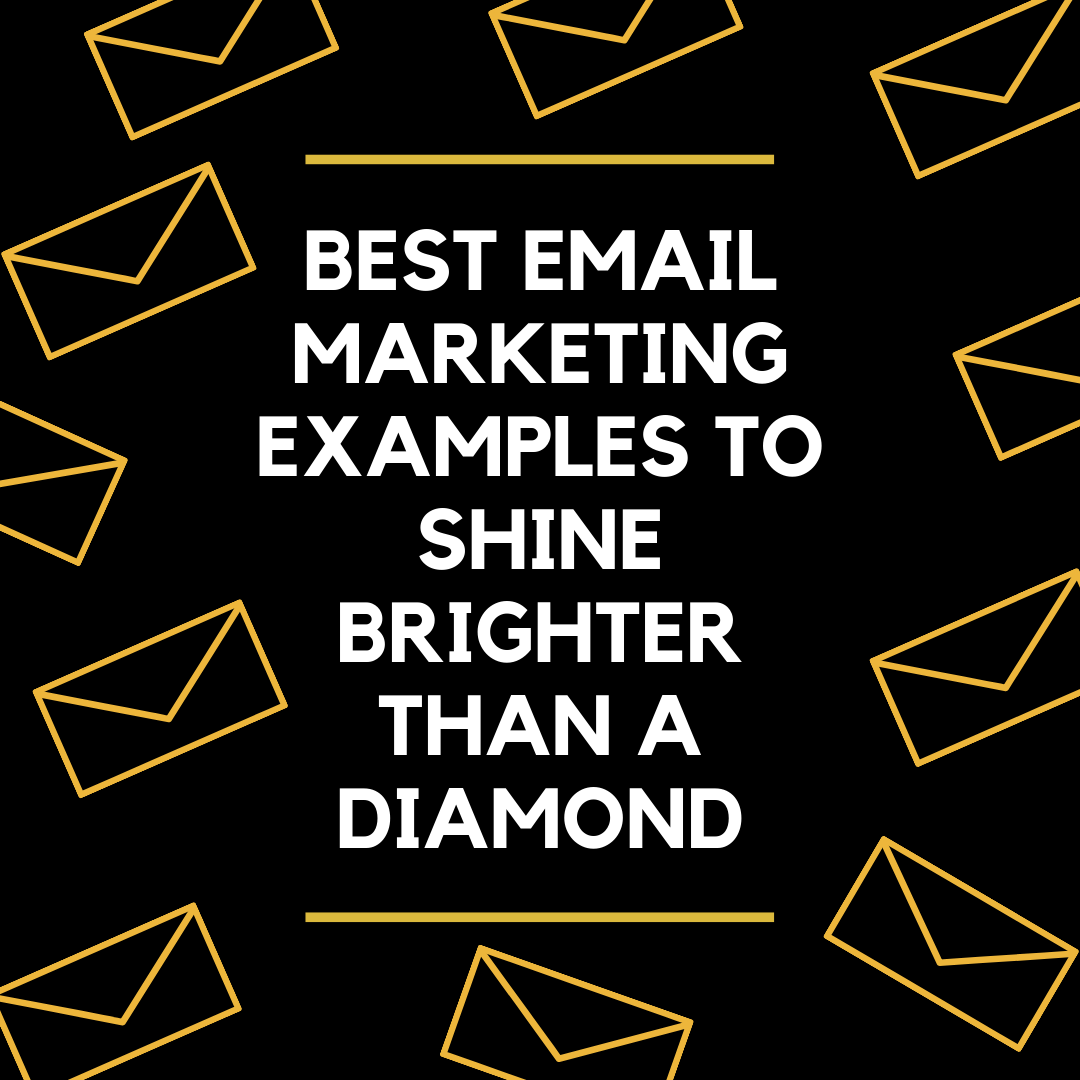 Since Internet has evolved rapidly, the development on browsers and the unending user data enabled marketers to get more accurate information about the needs of their users, their shopping intents, and their willingness to purchase a product. Email marketing is a great way to bring those products in front of these users. Here are some of the best email marketing examples that will give you inspiration for your upcoming email campaigns!
Email marketing, is the process of using emails to build up long lasting relationships with current and potential customers. This action has many purposes such as offering products to your customers, inviting them to webinars organized by your company, announcing the launch of a new product, or maybe the anniversary of your company.
Download your guide and learn how to build your marketing plan to sell more in 2019.
It doesn't matter if you are a marketing star or a newbie, it is always a good idea to have a look at the best email marketing campaigns which will absolutely help you improve your own content.
We know that it is really hard to find the best email marketing examples, as you will have to sign up to countless email lists. Even if you were subscribed, it would be very difficult to discover a good campaign, as you will be receiving tons of emails every single day.
This is an essential and fast changing medium for any company. As the needs and target audiences differ across businesses, a few essentials steps need to be taken in order to execute the best email marketing campaigns.
We have created this guide that combines some of the best email marketing examples that will absolutely be an inspiration on how to do email marketing for your eCommerce business!
Email Marketing Examples
Email marketing has a great ROI and a valuable tool when it comes to customer engagement. 35% of the marketing emails are opened based on the subject line and 44% of these email recipients will make at least one purchase in a year based on promotional emails.
35% of the marketing emails are opened based on the subject line and 44% of these email recipients will make at least one purchase in a year. – Tweet This!
So now, let's jump into some of the best email marketing examples to learn how they will benefit your brand.
-Nike
The below example is a seasonal email sent from Nike during the summer period. The design is very simple that gets right to the point. This could easily be one of the email marketing best examples!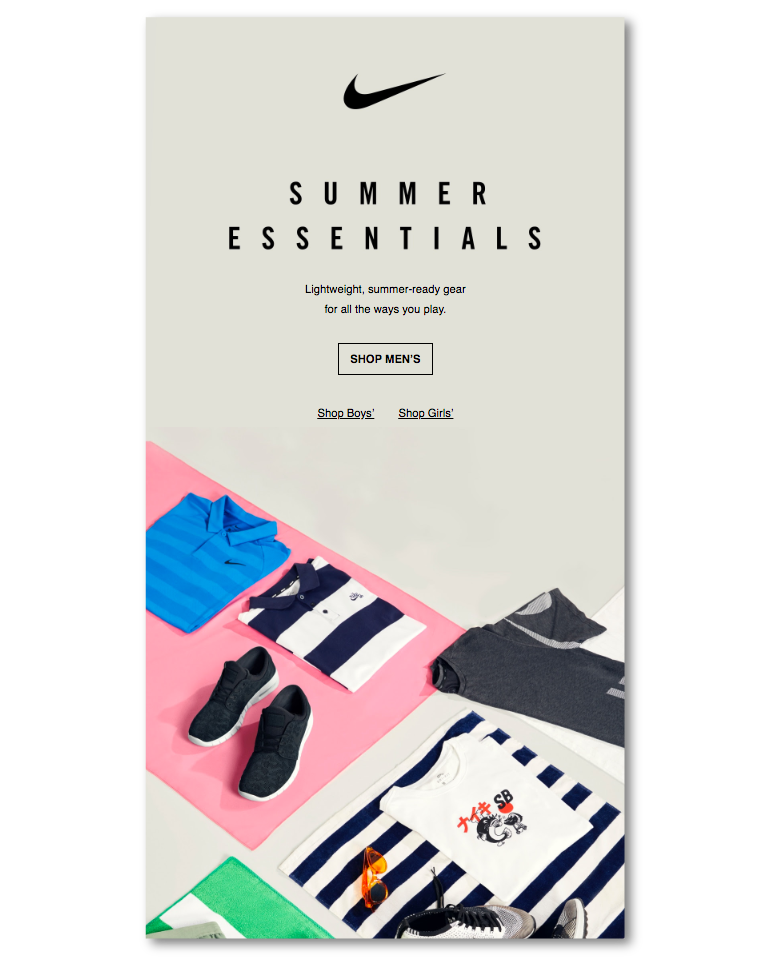 In this example, the CTA button prioritizes the men's products but it changes according to the visitor's search history.
Visually this email has a great photography with a creative layout. These are combined with the uncluttered design that automatically keeps the focus on the product.
If you want to develop an email like this, it is important to have images of your product with a high quality. You can collaborate with a photographer for a quick shootout or invest in one DSLR camera and learn the basics of the product photography. These small actions will definitely change the way your emails look. Trust us!
The second most crucial thing here is to understand the importance of segmentation so that you can optimize your email CTAs according to different segments.
Check out our guide here to learn more.
-Kayla Itsines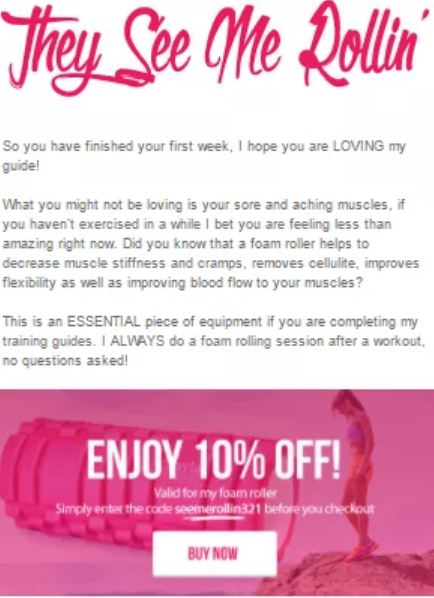 In this email example Kayla Itsines offers a deal for her foam.
She is addressing the users that have already paid and completed the first week of her workout guide. She probably knows the pains in the muscles that her clients are going to have and plays to this with the cross promotional email shown above.
Secondly, she educates this audience by explaining why that particular foam is perfect to relief any achy muscle. In this environment, the sale is very likely to happen.
You may also think about ways to create cross-sell opportunities that will follow up the purchases. After segmenting your customers, you could try a similar way by educating them and offering real reasons to buy this additional product.
This won't feel salesy for your customers, as this email will be more helpful to them.
-Threadless
Threadless is a brand selling creative clothing and décors. As you can see from their email marketing campaign below, Threadless has a very strong visual brand.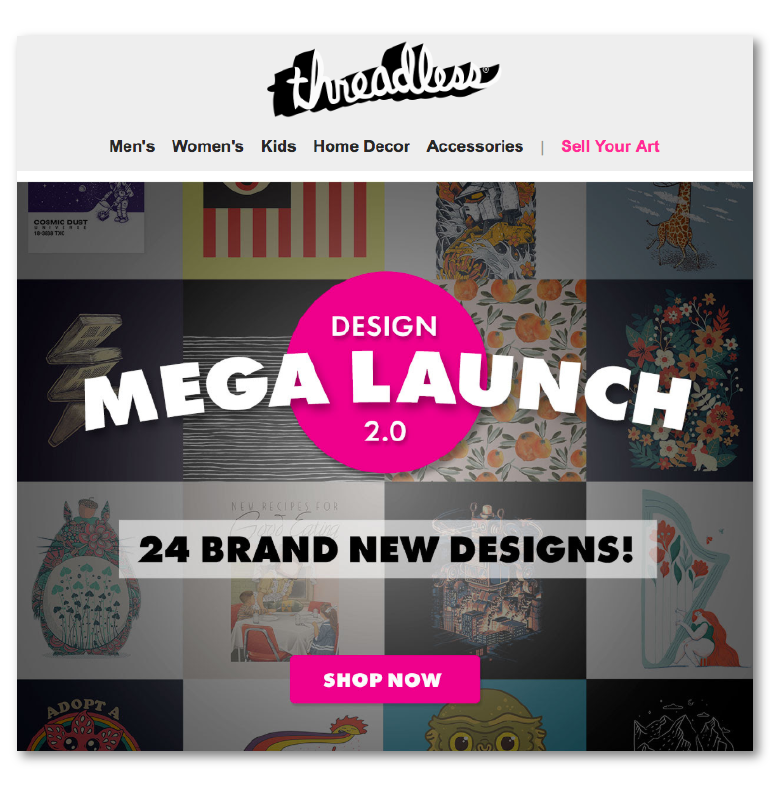 The email starts with a great imaginary and a fascinating value proposition. In this example, they showcase their new designs. To not waste the time of their clients, they have included a catchy CTA button, which allows the users to discover all of the new arrivals.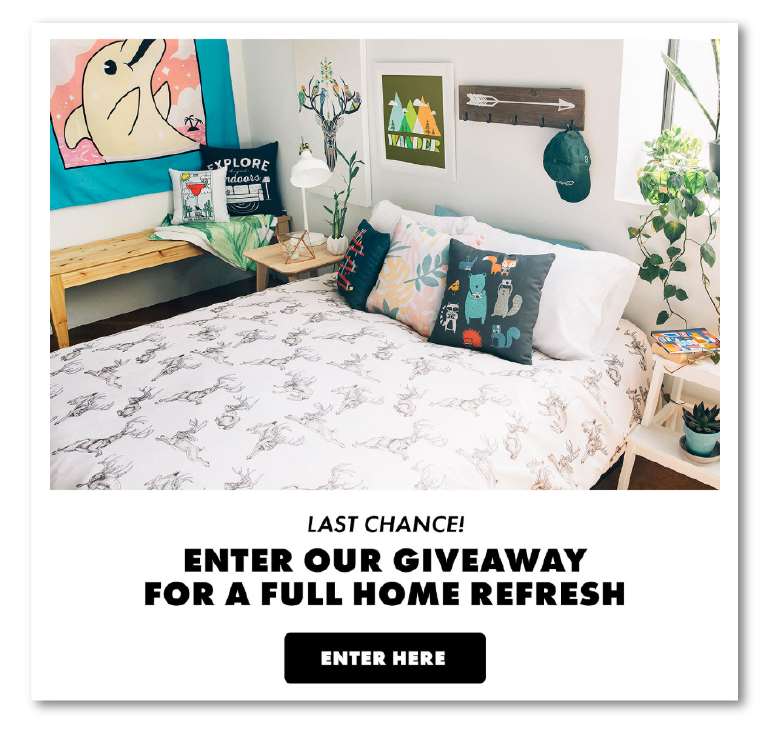 Just under this first visual, it's a giveaway announcement which smartly showcases how their products look inside of a room. The "Last Chance" creates an urgency to enter the competition, which is also a great way to engage with the customers.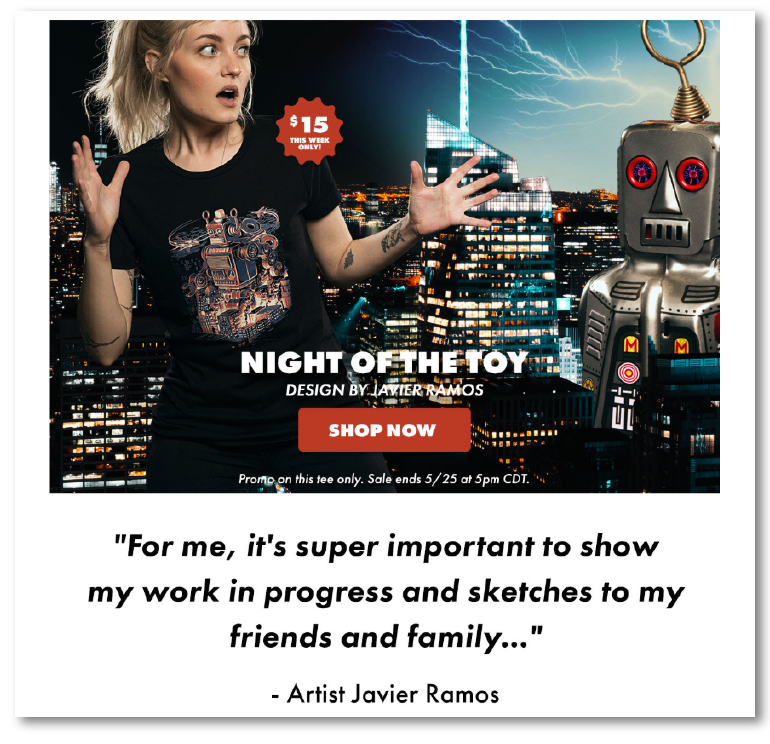 This part includes a real person wearing their product, so the customer will have a real idea on how it looks on a real person. Also, this image is supported with a quote from the artist who designed this t-shirt.
Threadless is a brand with a very strong visual design. If you are not able to achieve this in your company, don't worry!
There are still some things that you can do!
It's very important to avoid common CTAs like "Shop Now" or "Enter Here". It's a better idea to use benefit driven CTAs to really sell a benefit.
You could also use quotes in your email marketing campaigns. It is clear that people love them very much.
-Starbucks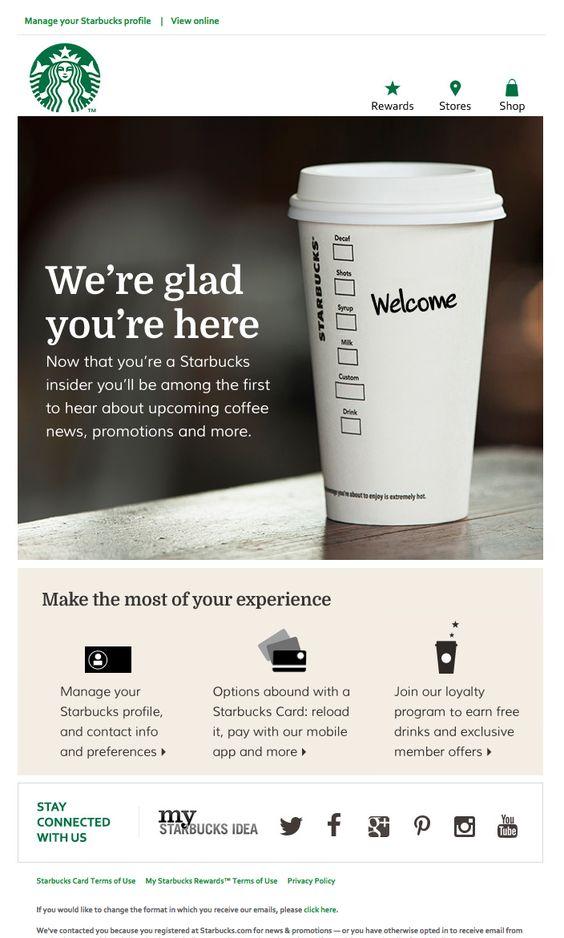 When you are welcoming your users, your emails should not be complicated. This won't be a great choice to create an effective relationship.
This one from Starbucks is visually appealing and creates a very clear communication.
In this email, Starbucks gives a good reason to people to engage with their emails. Undoubtedly, they know how to make people buy this caramel macchiato.
It's sweet, right?
You should also set up welcoming email marketing templates for your new subscribers.
Don't forget to give them real reasons to engage with your emails and become your loyal customers as the time passes by.
Clear message! Attractive visual! Sweetness!
These are the main points. Try not to miss them.
How to Develop a Great Email Marketing Strategy
Email marketing in eCommerce, is one of the strongest marketing channels if it is backed by the right email marketing strategy.
A robust email marketing strategy can help you use the best and most profitable email marketing channels. This happens because the main focus here is the behaviors of your customers, their preferences and the benefits that they are looking for.
You need to plan your own email marketing strategy!
No, don't panic! We are here for you 🙂
We have summarized the tips to create an outstanding email marketing strategy.
These will – hopefully – back up your email marketing to create one of the best email marketing examples in your industry!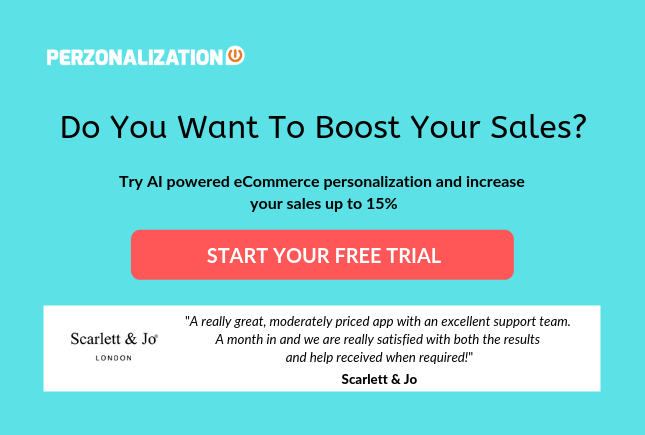 Let's jump into the tips:
1- Build and Grow your Subscriber List
Needless to say, you need an email marketing list to which you can send out your emails.
There are many ways to grow your contact list but the most important thing here is to do it organically.
Your website is the first place to start. Of course, you can integrate your social media platforms, too.
2- Define Your Goals
 Before sending your emails, be sure to decide on what you want to achieve. Email marketing drives the highest ROI.
A/B testing and comparing performance of your campaigns will be the golden tips for your success.
3- Plan Your Campaigns
 After growing your list and clearly defining your goals, it will be the time to plan your campaigns. Content is customizable and differs across any brand but there are some elements that are always needed.
Subject Line: Keep a tone true to your brand. Adding emojis or catchy phrases is great too.
From Name: To be recognizable, use your brand name or find something that can be still back to you.
Preheader: Summarize your email in the most appropriate way.
Call to Action: Responsive and easy to navigate CTAs are recommended.
These elements are the ones that will get your email opened or moved to the trash.
4- Always Use Responsive Emails
Almost 60% of the emails are opened on a mobile device, so make sure that you are using responsive design.
Also, finding the best fit between your images and the text is very important. This will ensure that your customers are seeing the emails just as you want them to.
Finally you should send some test emails before you start your campaign.
BONUS: With the automated emails of Perzonalization everything is more than easy, now.
Automated emails allow you to define behavioral scenarios and have personalized emails sent automatically when the criteria are satisfied. You can create as many automated emails as you want. Edit them by choosing your own template and changing the subject of the emails that will be sent. You may activate/deactivate them, send test emails for preview and track their performance.
Discover one of the best email marketing examples from here!
5- Making Emails More Relevant
You have to create messages that directly address the needs of your customers.
Segmentation, personalization and automation are really useful tools in this situation.
6- Feedback
Learn from your past experiences to improve your upcoming one!
To do this, simply collect the feedback of your customers to figure out what they exactly want.
As an eCommerce store owner, you might send a lot of emails. But these email marketing tips mentioned above are more than important to build one of the greatest email marketing examples. Don't forget to keep them on your mind!
Fashion Email Marketing Examples
The main point that differentiates the successful eCommerce fashion retailers from the rest is their marketing. Brands that are able to execute the best fashion email marketing campaigns reach their current and potential customers easily and retain them for a longer period of time.
-Tommy Hilfiger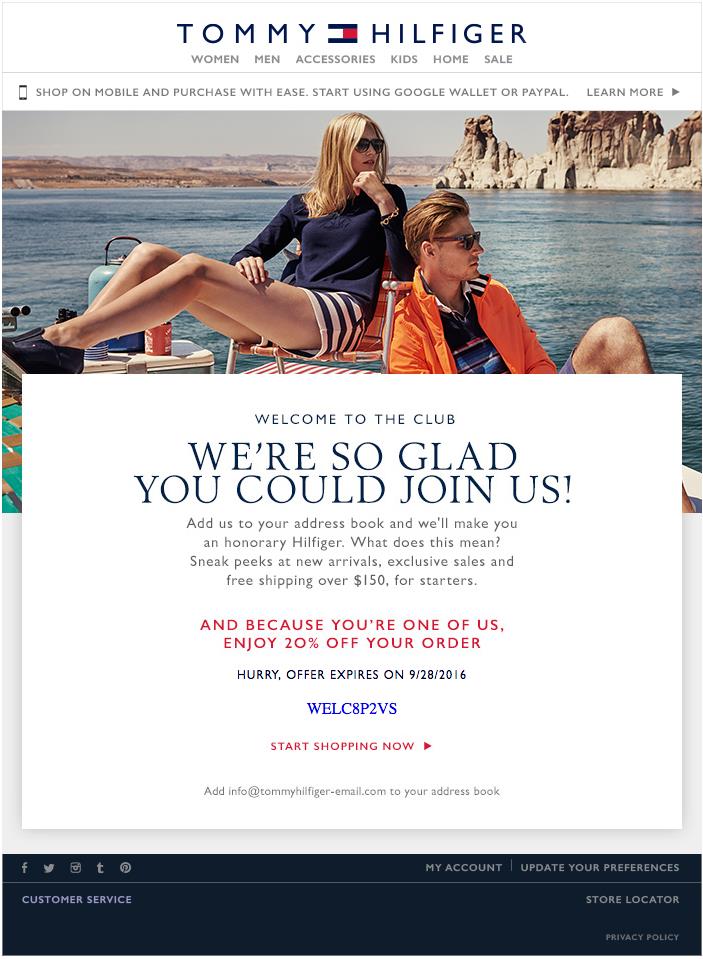 This welcoming email from Tommy Hilfiger makes you feel like you are a part of an exclusive club. Single CTA is combined with a clean image that gives you everything you need without getting confused.
–Tradesy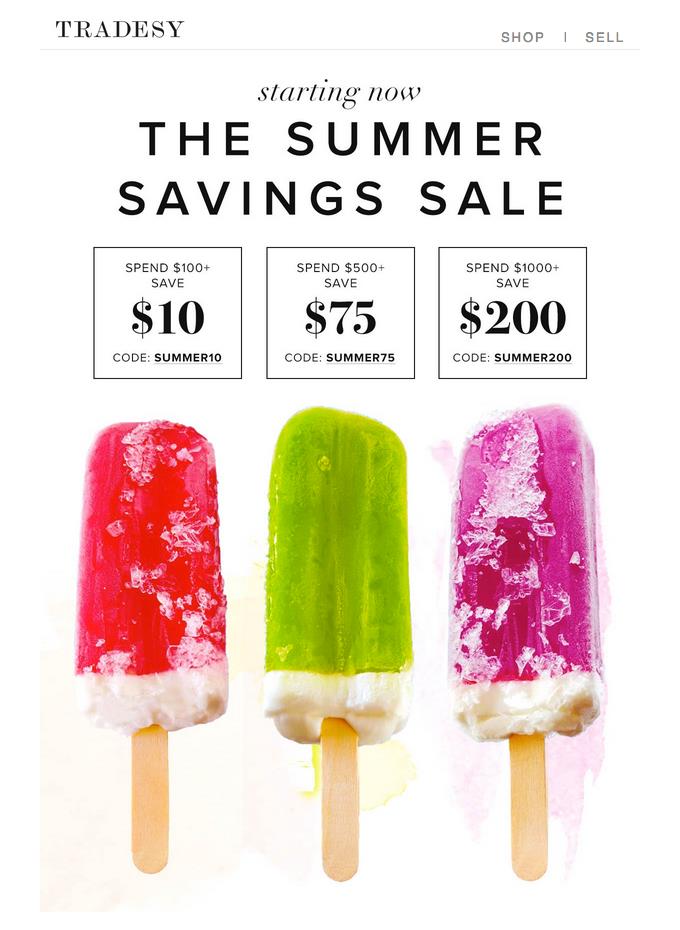 After welcoming and thanking your customers for getting abroad, it's the right time to send your first promotional email. If you have specific products on sales, you can offer them or you can get rid of your old stocks. Your main goal here should be to increase your AOV.
In this specific example, Tradesy gives its customers a great chance to save $10-$200 on their purchases. There is no denying that this encourages more sales.
-Zee & Co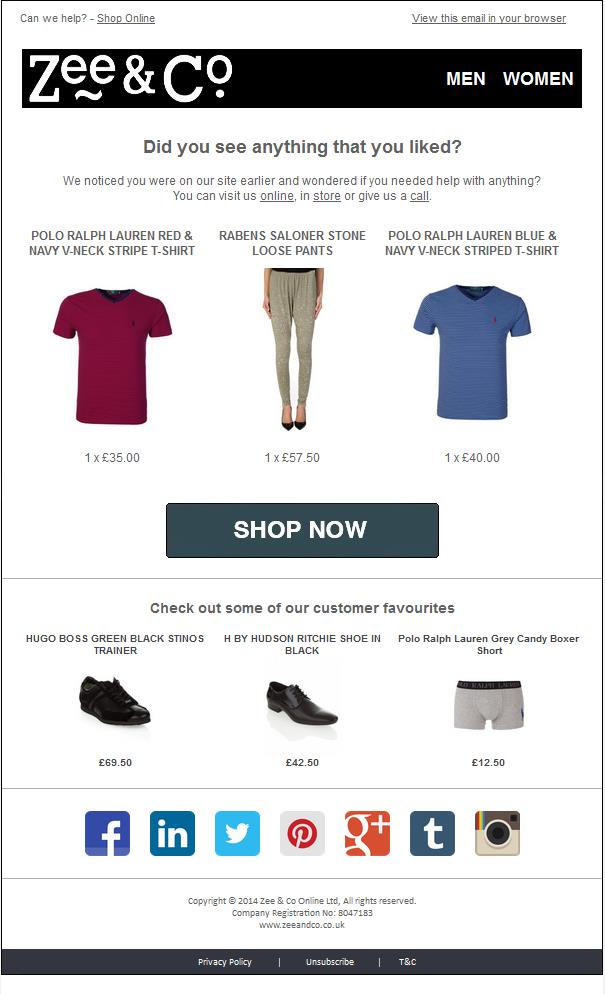 Almost every fashion eCommerce website displays product recommendations on their websites. These can also be sent with an email for a more personal approach.
The email sent from Zee & Co smartly showcases the personalized recommended products. This email clearly states the products that this particular customer searched for on their website, earlier. It also gives the opportunity to jump into the website with just one click.
Our Perzonalization app, allows you to do this very quickly with the personalized emails. You are able to download and add the code snippet into your template. As a result, when a customer opens the email, the personalized products will be displayed according to her shopping behavior.
Email Marketing Tools
Choosing one the best email marketing tools is the key point in creating one of the best email marketing examples.
Below is a list of some of these tools, which can be very useful for your email marketing campaign!
Bad Email Marketing Examples
We all know how an inbox can look with lots of emails that offer products ranging from cosmetics to sportswear or even home decorations. In many cases, these emails could be bad email marketing examples, especially if they lack personalization.
The emails below showcase some failures in almost every aspect of email marketing.
So, check them out to avoid these mistakes, which could prevent you from creating one of the best email marketing examples.
1- Macy's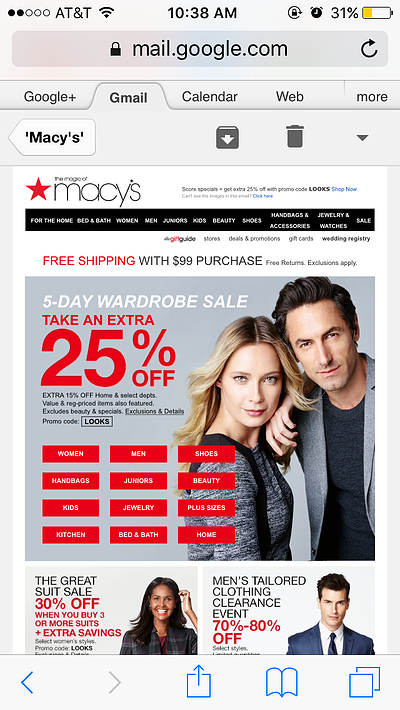 Nowadays, mobile is the preferred option to open and read your emails. If you are not sending responsive emails, customers will have problems while reading your emails.
Emails need to be responsive and also easy to navigate on a mobile device.
In the example of Macy's, it's very hard to navigate because the CTAs are very close. This is an absolutely bad user experience.
All of your emails must be easy to read and interact on a mobile device.
2- FoodTown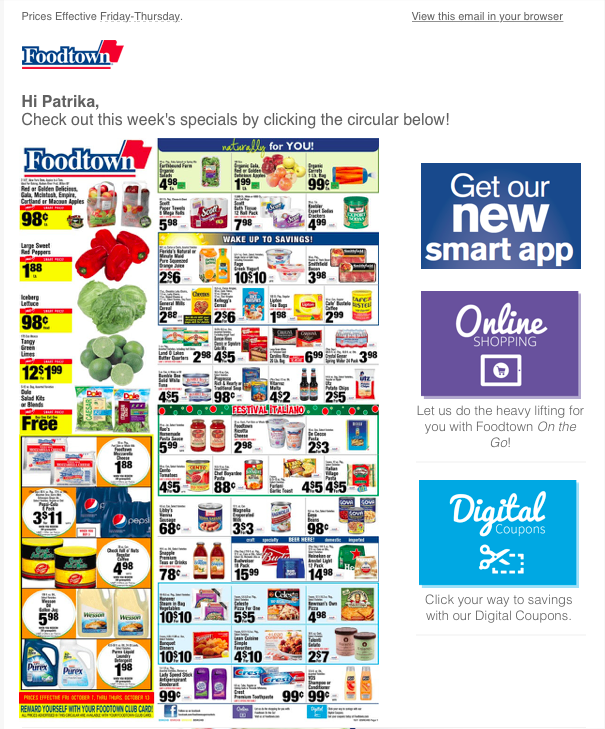 Opening an email with a poor design is probably not the best experience. Different font sizes, a wide range of colors and dozens of CTAs move your email right to the trash.
In this example, FoodTown literally blows the mind of its user. There are too many offers creating a clutter for the shopper.
You should always highlight a few key items in an easy to read format to entice your reader to click your CTA, which will probably lead her to make a purchase.
3- Polldaddy
Customers want companies to recognize, remember and send them personalized offers.
Polldaddy tried to personalize its emails with the use of a recipient name merge field. The problem here is that, not all of its subscribers had an associated first name, which made it one of the worst email marketing examples.
If you don't want to risk it and have problems like this, just leave fields like first names out of your email marketing.
4- Moveon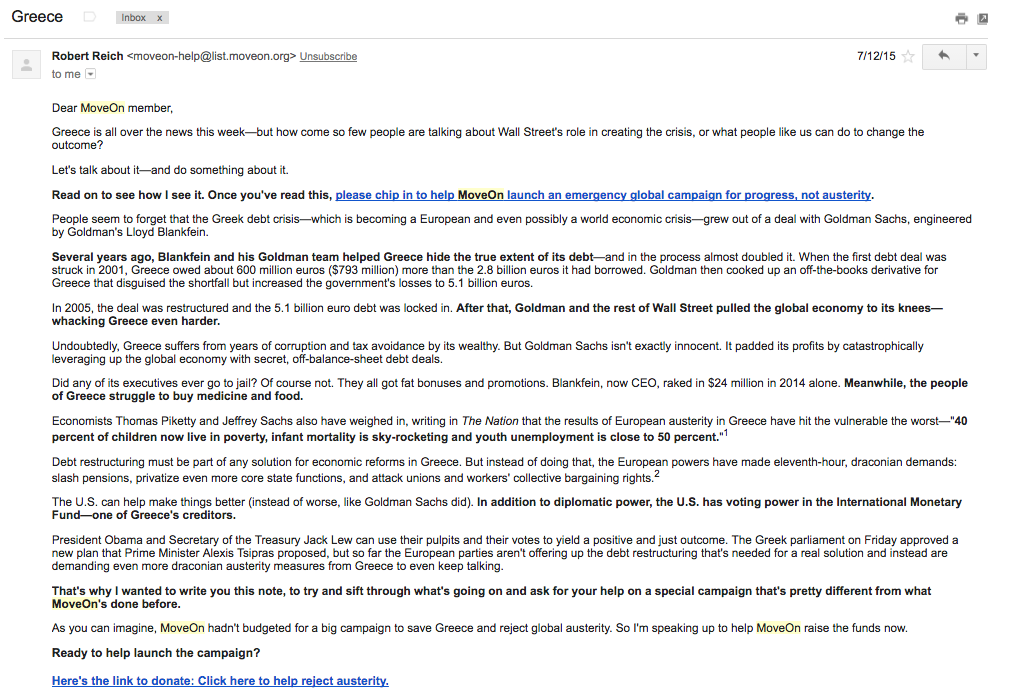 We know that you all want your customers to know everything about your brand. It's very important to include valuable information in your emails but adding too much text will prevent the readers from engaging with your brand. Opening this kind of texts on a mobile phone will make your customer loose her interest just in a few seconds.
To avoid this, just give a brief information and make sure to have them click your CTA button which will direct them to a relevant landing page on your website.
Final Words
Email marketing for eCommerce businesses, is literally the lifeblood of your eCommerce marketing. Don't forget that it also has a great ROI.
As an eCommerce entrepreneur, you will soon learn to prepare your own email marketing templates that fit your email marketing priorities.
In this article, we have summarized everything to make sure you create one of the best email marketing examples.
If you think that we have missed a point, get in touch and we will include it in this post. 🙂
Curious to learn more? Take a look at related posts!
Do You Want To Boost Your Sales?
We are Perzonalization and we'd like to help you.
Try AI powered eCommerce personalization and increase your sales up to 15%.