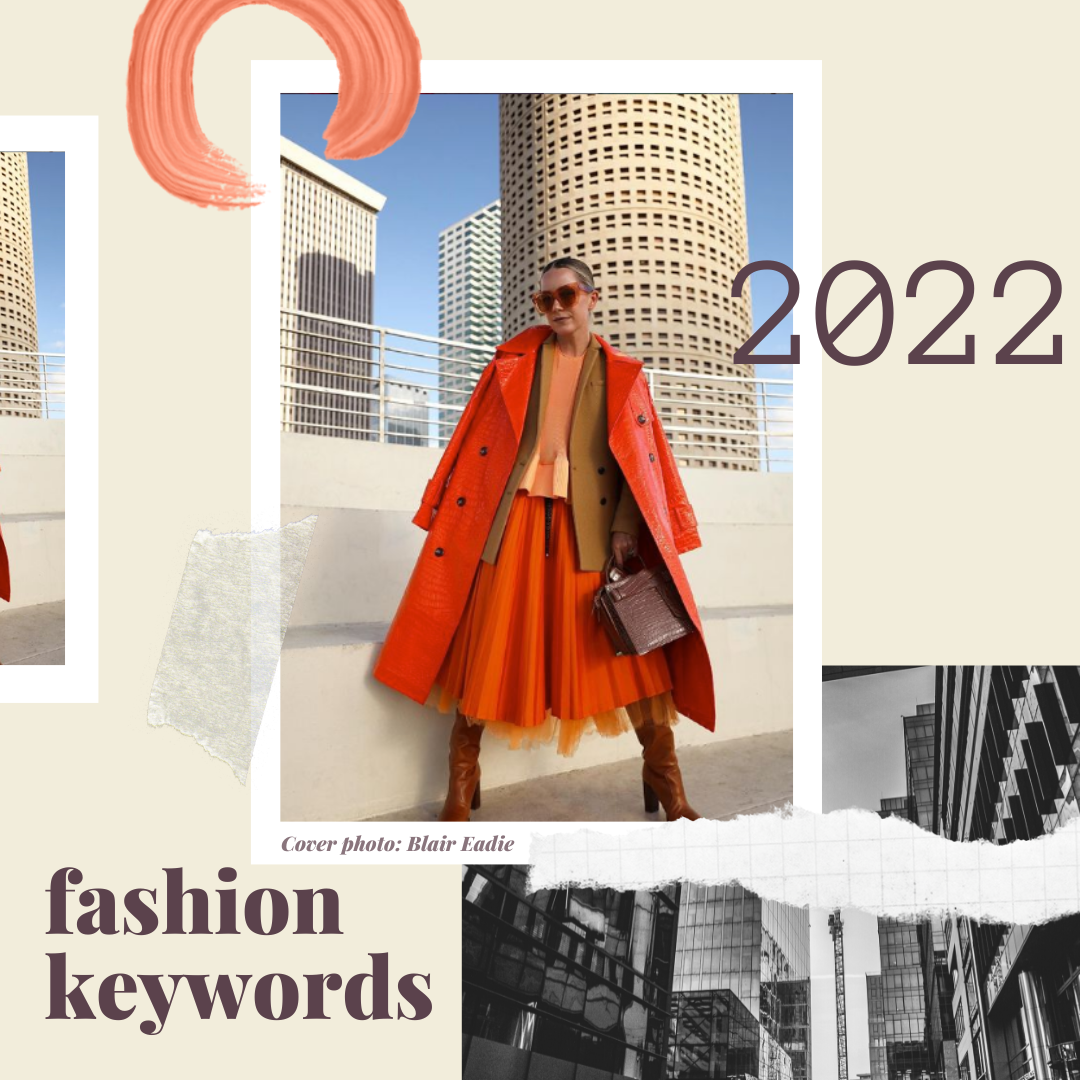 Fashion has always been the driving force behind the eCommerce industry. The major players of the industry i.e. Amazon, Flipkart, Alibaba, Snapdeal and eBay have been constantly presenting themselves with more innovative solutions which have shaped up online fashion. The fashion eCommerce industry is expected to grow by 26.5% from 2020-2024. But… This was all before the COVID-19 outbreak in year 2020. The pandemic has changed the way we live, the way we work, the way we socialize and even the way we breathe! This has affected many aspects of the eCommerce world including the fashion trends. Thus, the most searched fashion keywords 2022 will be different from the keywords we have seen in the previous years.
Are you able to showcase AI powered related products, upsell items and frequently bought together products on your Shopify store? To get all of these and more, install Perzonalization for Shopify now and start your 14 day free trial.
The Role Of Fashion Keywords 2022 In Your SEO Efforts
Some people might argue with that but SEO is still a great method to attract free traffic to a fashion eCommerce site. That being said, playing with keywords is a dirty battle. Your competition is also injecting keywords inside the product names, stuffing descriptions with keywords and adding metatitles. Luckily, these will not guarantee organic traffic for your competition. But what we're going to talk about today will surely help you nail it with SEO for fashion eCommerce!
You Surely Need A Blog To Inject Fashion Keywords 2022!
Having a fashion blog on your eCommerce website is a great way to apply SEO for an online clothing store. Besides, it is a good tool to create lots of high value content that will appeal to your target audience.
A blog is valuable for your online business in the sense that blog posts can include lots of trending eCommerce search terms. While used with care, these apparel keywords can drive the organic traffic you've been dreaming of.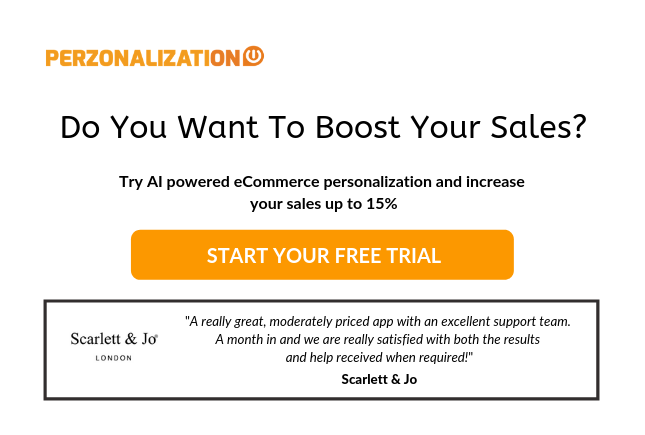 However, only adding a blog to your online shop will not be enough. You need to be constantly looking for the most searched keywords in fashion and write blog articles around those keywords. You also want to be picking the niche or the long-tail keywords to avoid competion in fashion SEO. For example, the keyword "style" can be meaningful for many fashion blogs however it is a mainstream keyword, thus used in many blog posts. To be able to rank high in search engine results pages, you will need to differentiate your blog by using the longer keywords that would appeal to a niche audience. This is how you will be successful in doing SEO for the clothing company you own or work for.
Which Fashion Keywords 2022 Can Help You In Your Fashion SEO Efforts?
If you are responsible for executing SEO for fashion in your company, it is likely that you will feel like the Don Quixote against the windmills! Google's search engine algorithms are very strong and you need to beat them like a hero in order to rank high in the SERP. Human intelligence and effort against the machine!
If you'll play this, let us give you the right weapons to succeed in 2022. Here are a few fashion keywords that will help you while doing fashion eCommerce SEO.
Fashion Keywords 2022 Chapter 1: Yellow Bags
Yellow bags is likely to become a popular fashion keyword in 2022 because the search volume for this keyword is increasing. However, you need to be careful with the country breakdown as this keyword is particularly popular in the UK. While doing SEO for fashion brands, it is important to understand the individual trends in different geographies and target your efforts, accordingly.

Are you able to showcase AI powered related products, upsell items and frequently bought together products on your Shopify store? To get all of these and more, install Perzonalization for Shopify now and start your 14 day free trial.
Fashion Keywords 2022 Chapter 2: Bra Tops
Representing a somewhat strange type of clothing category between a crop top and a bra, bra tops are likely to emerge as a warm-weather trend in 2022.
While using bra tops as your SEO fashion keyword, try to think about your blog's and webstores audience. As this trend may not appeal to everyone, use it if your target shopper segment is interested in this type of clothing. Youngster women may be the fans of bra tops while women over 50 might hate this type of clothing!

Fashion Keywords 2022 Chapter 3: High Rise Pants
Some people find them comfortable, some other think they're not sexy. Whether you like them or not, high rise pants are here to stay! There is a growing demand for high rise pants and if you are doing SEO for online boutique, this is a keyword you should definitely use in your blog posts.

Fashion Keywords 2022 Chapter 4: Midi Skirt
Once seen as out-of-date or granny-like, midskirts have become popular again. But this time, they come in different patterns and fabric. Google Trends show us the growing popularity around the keyword "midi skirt" whereas Instagram proves that hashtag #midiskirt is rocking it on social media with +500.000 posts worldwide! So again, this is a must have SEO fashion keyword for your website.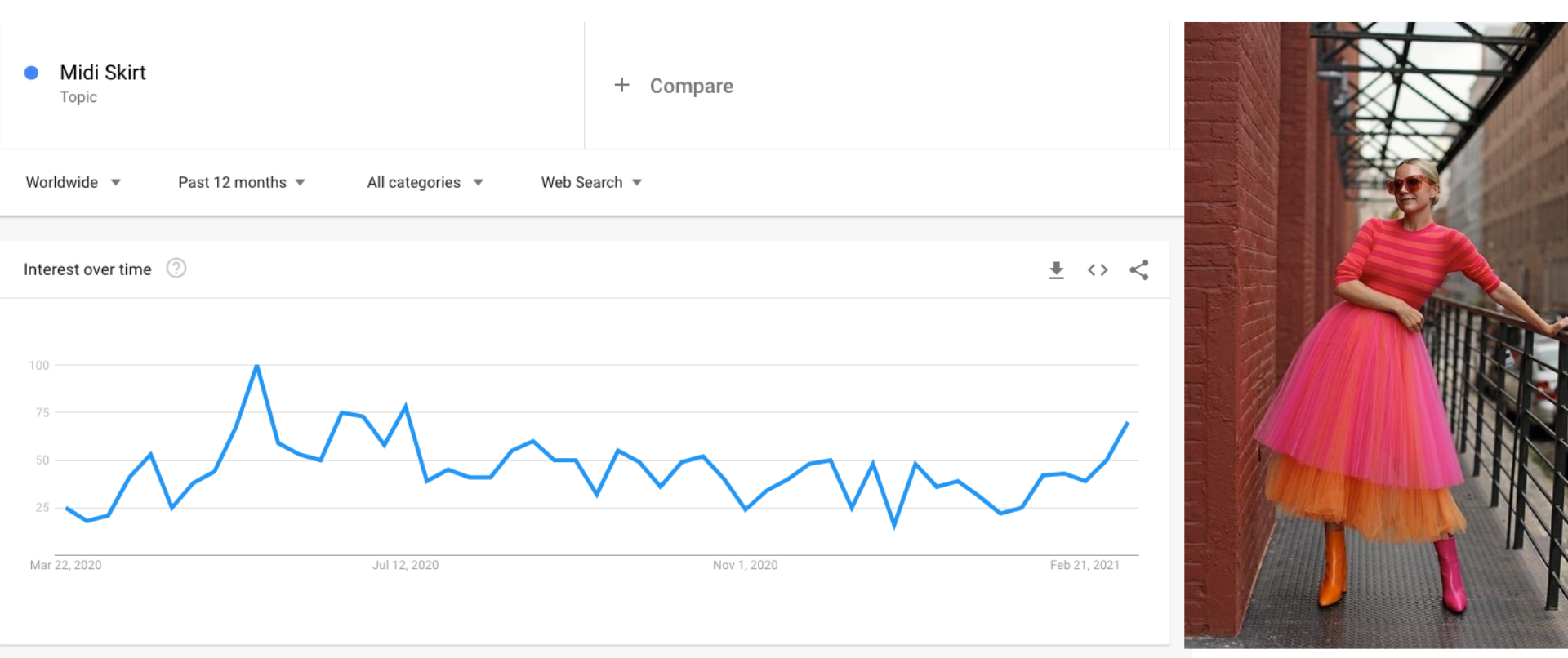 Fashion Keywords 2022 Chapter 5: Nike Blazers
Using a brand name in your blog posts even when you do not actually sell that brand may or may not be wise depending on the situation. If you intend to "embrace" the fashion industry, then using a popular brand might not hurt your own.
Nike Blazers might be a great example to branded fashion keywords in 2022. This model is one of the oldest sneakers in Nike history. Back in 1973, the Nike Blazer was a basketball shoe worn by the likes of George Gervin. Today, this model been adapted as a popular sneaker for casual lifestyle wear and even for skateboarding.
One of the best things about the fashion SEO keyword "Nike Blazers" is that, it appeals to both the male and female audience.

Are you able to showcase AI powered related products, upsell items and frequently bought together products on your Shopify store? To get all of these and more, install Perzonalization for Shopify now and start your 14 day free trial.
Fashion Keywords 2022 Chapter 6: Utility Jackets
A utility jacket was originally made to keep American farmhands warm in the early 20th century. Thus, denim or toughed wax canvas were commonly used back then. However in today's fashion era, utility jackets are reformed into style peaces and used by both men and women.
In 2020, utility jackets along with cargo pants were quite popular and this trend is not likely to go anywhere soon. Instead, the look for utility jackets are likely to be transformed into a "high-function" vibe in Spring and Summer of 2022. That is why, you may confidently use the fashion keyword "utility jackets" if you are dealing with SEO for a clothing brand in 2022.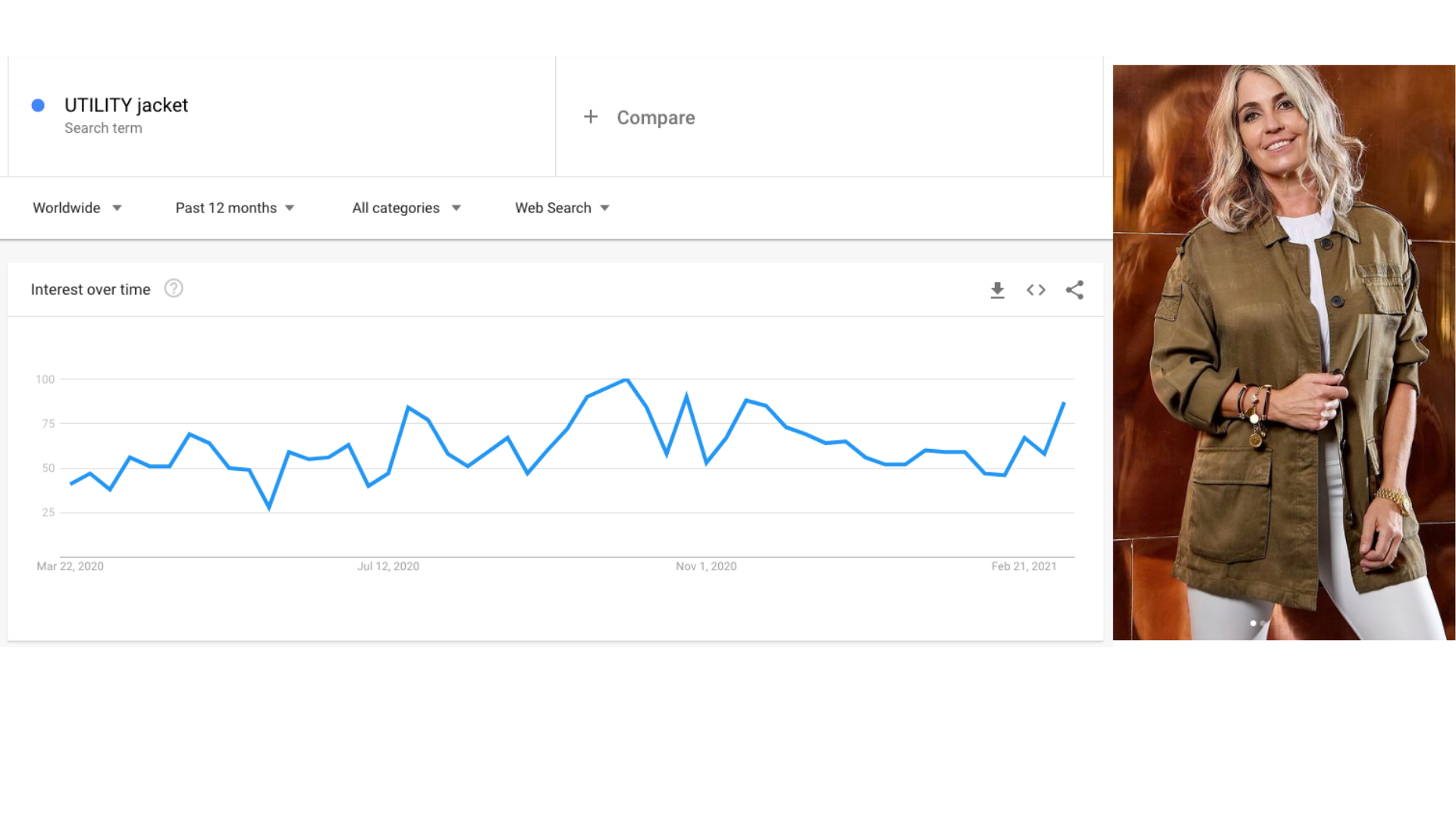 Fashion Keywords 2022 Chapter 7: Waist Beads
Accessories make up a crucial category in fashion. If you are seeking to rank high in SERP, then it might be wise to write about the popular fashion accessories. Waist beads is one of the great keywords to start with.

Waist beads are a traditional African accessory.  This accessory consists of small glass beads on a string or wire worn around the waist or hips. Waist beads are popular especially in Ghana, Nigeria, Senegal, and other West African countries. Besides, these beads are a symbol of femininity, fertility, sensuality, and spiritual well-being. In today's boho fashion cultures, waist beads are usually worn as a style element. A quick tip; the search volume around the fashion keyword "waist beads" typically rise in the summer season so it better to write about this topic in June or July.
Fashion Keywords 2022 Chapter 8: Baggy Jeans
As a fashion keyword, "baggy jeans" has shown as astonishing behaviour in the last 12 months. Because, the search volume around this keyword is gradually increasing. Once a trend-icon in 90s, baggy jeans are back!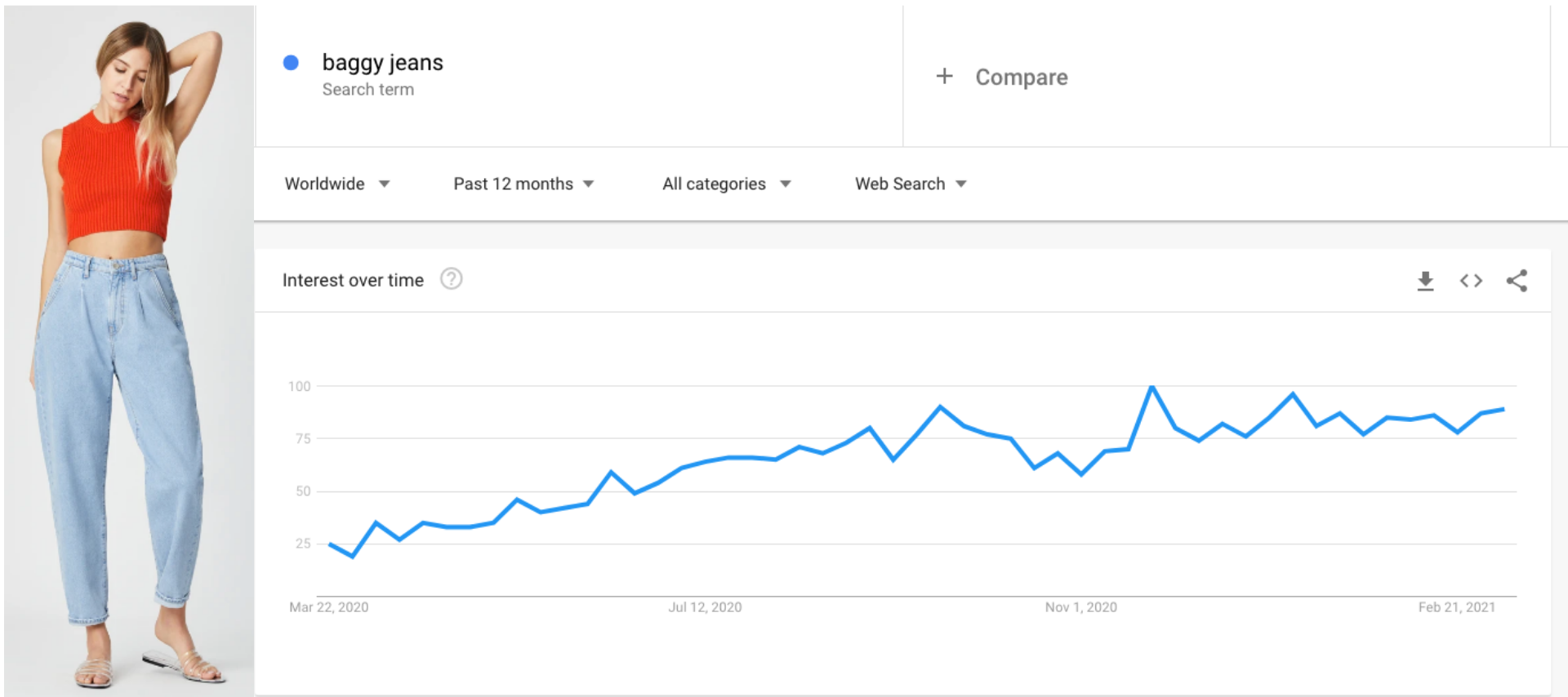 Baggy jeans rose as a response to the anti-skinny jeans trend. Even celebrities have started wearing baggy jeans and styling them in several forms. Thus, for the SEO activities of your fashion blog, the fashion keywords "baggy jeans" might come handy!
Fashion Keywords 2022 Chapter 9: Fitness Apparel Keywords
When it comes to fashion, we should not forget about the activewear category. The activewear sector experienced a spike in sales during shutdown. This increase was obviously caused by the need for comfortable clothes to work and workout from home.
Being one of the critical fitness apparel items, leggings has benefited from this spike. This category is quite lucky in the sense that leggings can both be used as fitness apparel and casual outfit. When writing about leggings, you have a chance to showcase daily outfits as well as activewear styling options.
Vuori joggers make up a cool fashion keyword in the sense that it both appeals to men and women. Being both comfortable and fashionable, the demand for vuori joggers is on the rise. Some people have started to style vuori joggers even with casual shirts, so do not forget to mention different styling tips while writing about vuori joggers.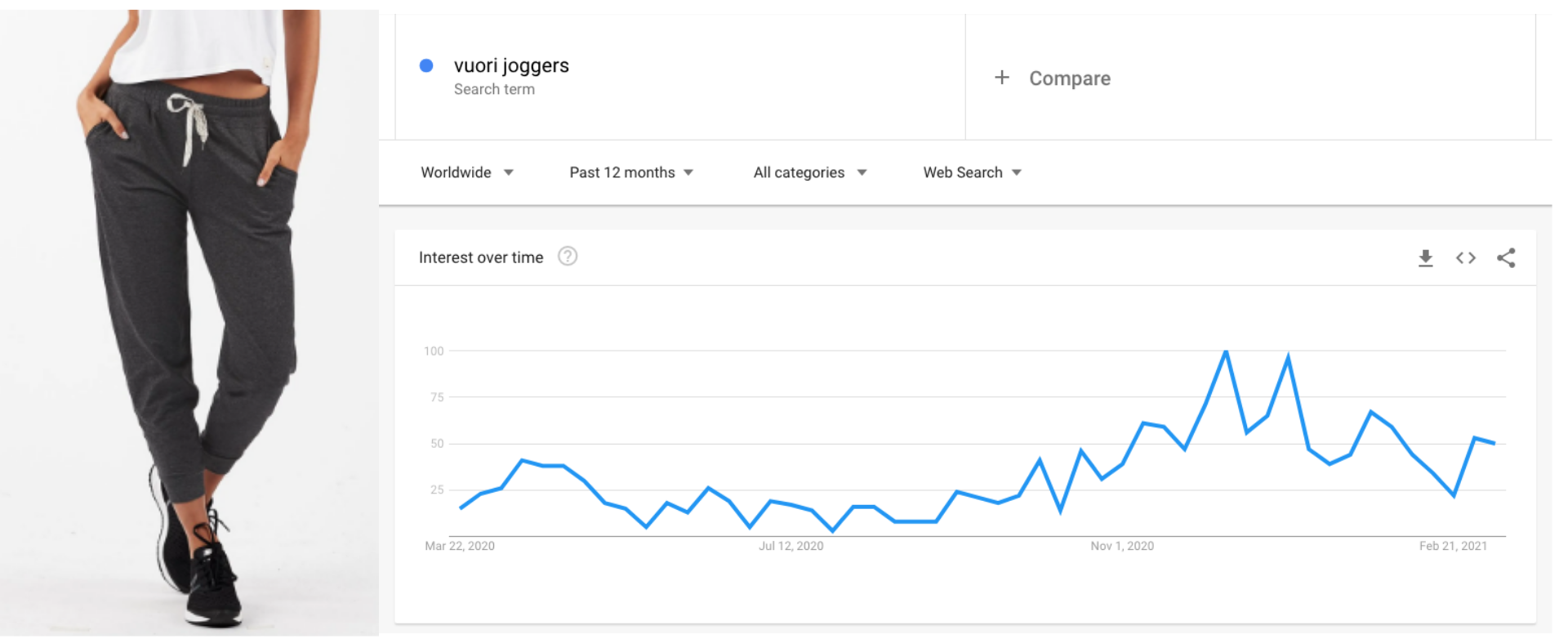 Peach lift leggings make up a special subcategory under leggings. Being a popular buttlifting product, the search volume around this fashion keyword has started to rise in the winter of 2022 after the leggings went viral on TikTok. Thus, the keywords that go along with peach lift leggings are scrunch butt leggings, butt leggings and TikTok leggings. Even the musician Lizzo tried the affordable booty-lifting leggings that went viral TikTok and shared a video about her experience. These fashion keywords may be hype for a few months more, so rush out if you are planning to publish a post about peach lift leggings.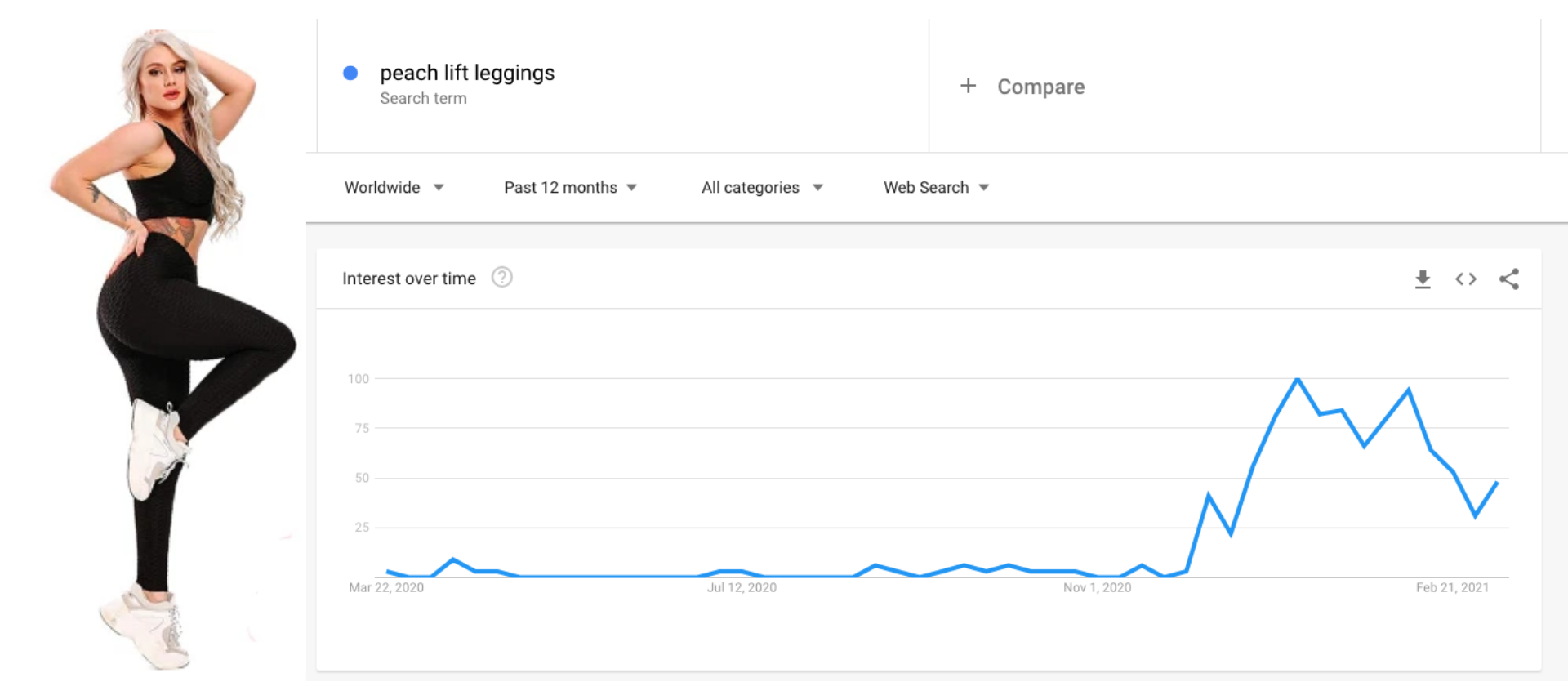 Fashion Keywords 2022 Chapter 10: Floral Bustier
The hype around corsets and bustiers were thought to die with the pandemic however the opposite happened! The trend grew even bigger and found its way in many women's closets. These bustiers come in different shapes and materials offering many different styling options. Therefore, we are not surprised to see that the fashion keyword "floral bustier" is on the rise as Spring 2022 is nearly here. If you are planning to write about this topic, make sure you include the other fashion keywords; "lace bustier", "floral corset top" and "3d floral bustier" in your fashion blog post.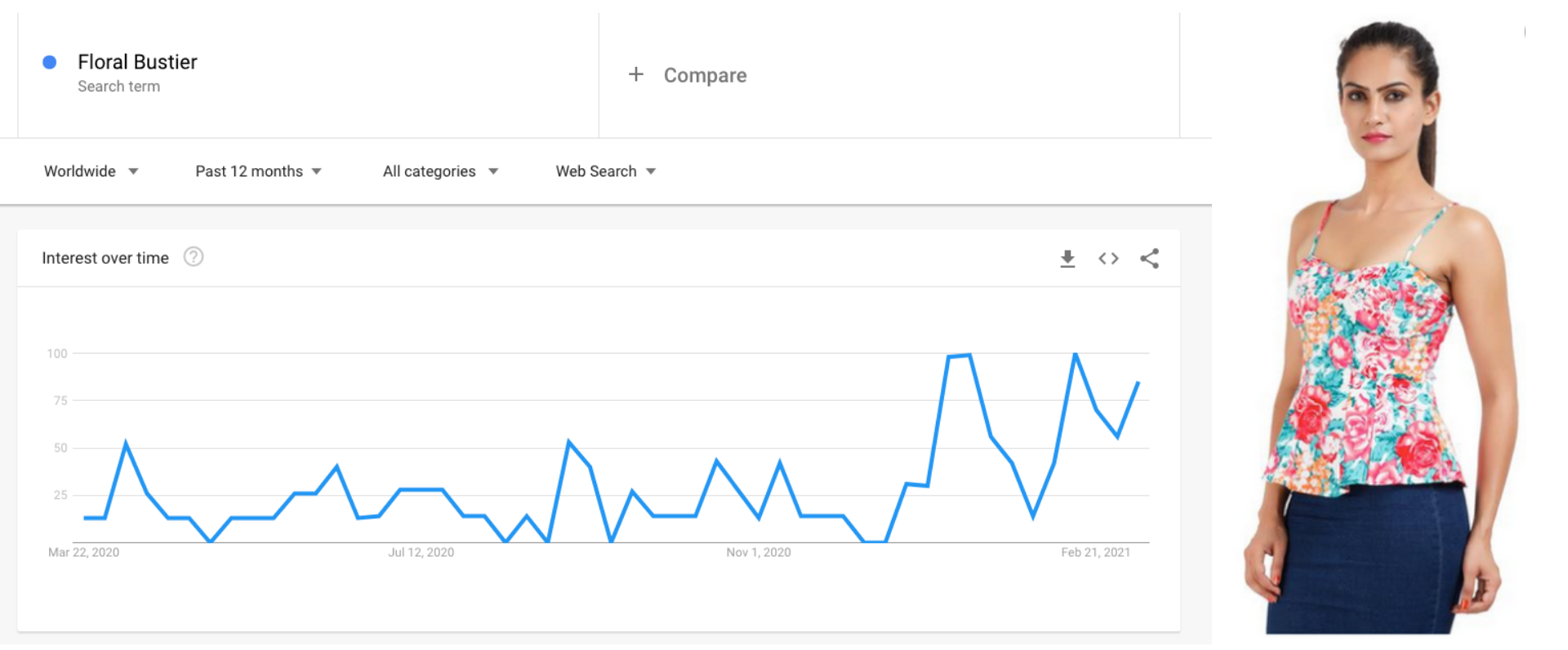 Fashion Keywords 2022 : The Wrap-up
Executing SEO for a fashion blog and/or an eCommerce website is a tough but a fun practice. It is tough because you always need to keep up with the trends in fashion. It is fun because learning about the latest fashion trends and admiring the beautiful apparel pics is an entertaining practice.
We have tried to compile the most popular fashion keywords in 2022 however there are many that we could not cover. So, here is the tip; make sure you follow the Instagram accounts of the famous bloggers and magazines to keep up with the latest fashion trends!
Curious to learn more? Take a look at related posts!