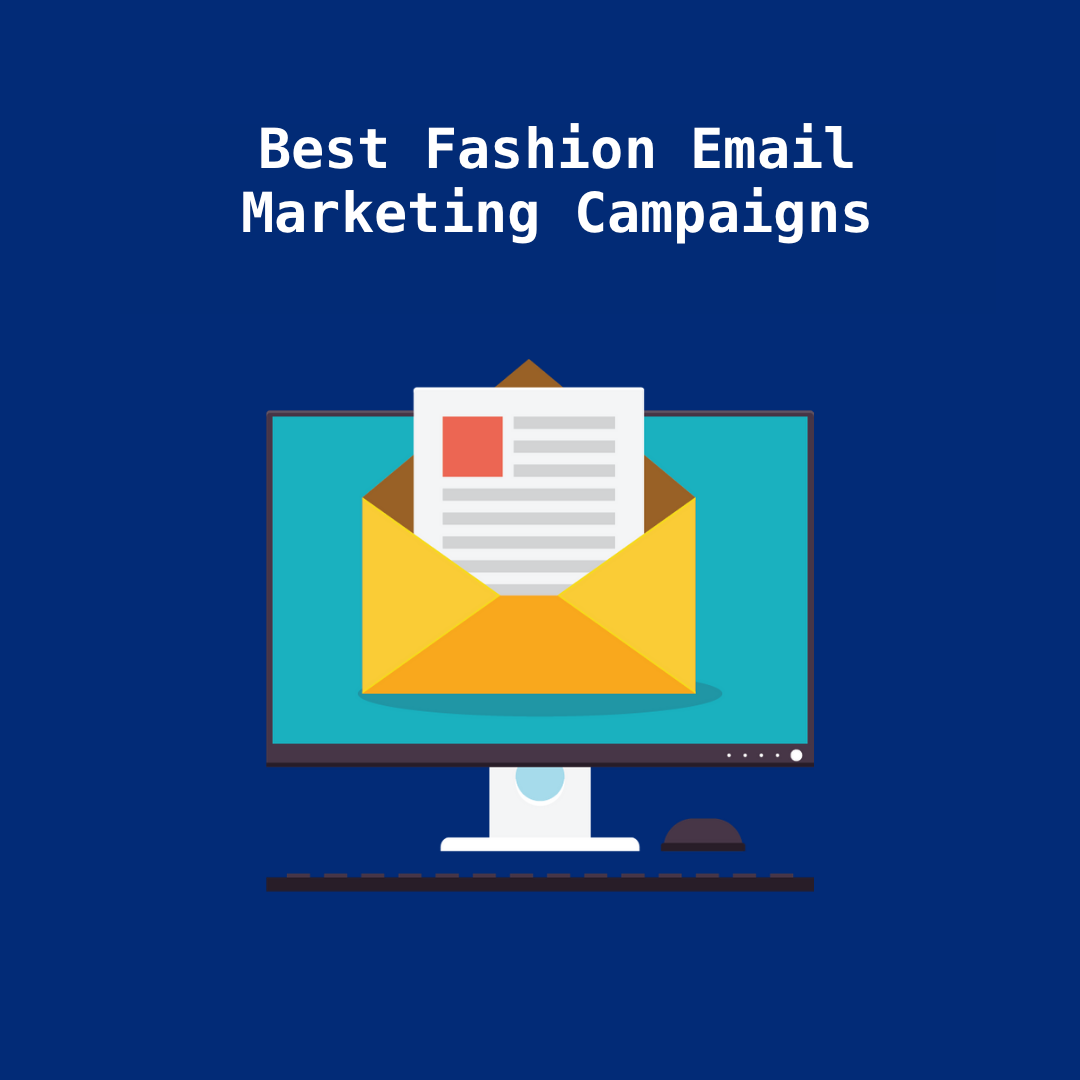 Fashion is one of the most unpredictable and competitive industries you can think of; and, fashion eCommerce is no different either. Ultimately what differentiates successful fashion eCommerce businesses from the rest is their marketing. Brands with the best fashion email marketing campaigns reach their current and prospective customers easily and are also able to retain them for longer periods of time, thus increasing bottom line sales and optimizing conversions.
Best Fashion Email Marketing Campaigns in 2022 – Goals
As marketers of successful fashion marketing campaigns, you get to learn from fashion eCommerce email marketing best practices of other brands and try and apply those concepts in your own marketing. Fashion brands with the best fashion email marketing campaigns have certain goals that they strive to achieve and which ultimately lead them to success. These are:
Focus on customers: Putting customers at the center of their fashion email marketing is what distinguishes successful brands from the rest. Email marketing for fashion integrates marketing efforts in order to create the best possible customer experience. By focusing on the customer, introducing emerging technologies such as marketing automation, and by combining other marketing activities across the buyer's journey, you can ensure that your email marketing campaign is on the right track.
Abandoned cart emails and browse reminders are an online store's must-haves. To get all of these and more, install Perzonalization for Shopify now and start your 14 day free trial.
Create a Community: Owning a fashion eCommerce brand offers you a great opportunity to create a community of brand ambassadors. And for this, all you need to do is engage with your customers and ask them to share photos and opinions about your products. The best fashion email marketing campaigns emails take their customers along as they move forward.
Kate Spade in the following example combines email marketing with social media to inspire people to spread their love for the brand.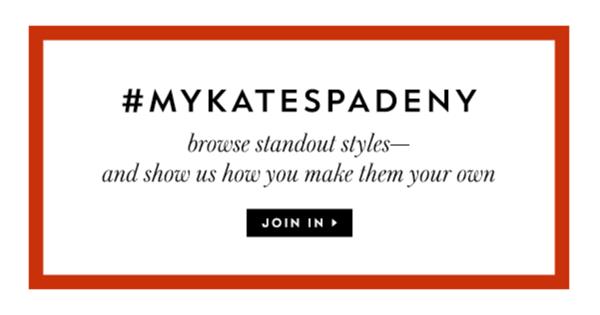 Address a need: When you are able to fix a problem for your customers and address a particular need, you go beyond a single purchase. When you know what they want, you can offer them just that. This action will not only impact the next purchase, but will also help you win a customer for life.
Take a different approach: There is no doubt that the main objective of your fashion eCommerce business is to earn profits. However, some brands dare to take a different approach, and more often than not, it works. They focus on the values they stand up for. They share their brand's message and inspire their subscribers.
American Grant sends you the following message after you sign up for their newsletter.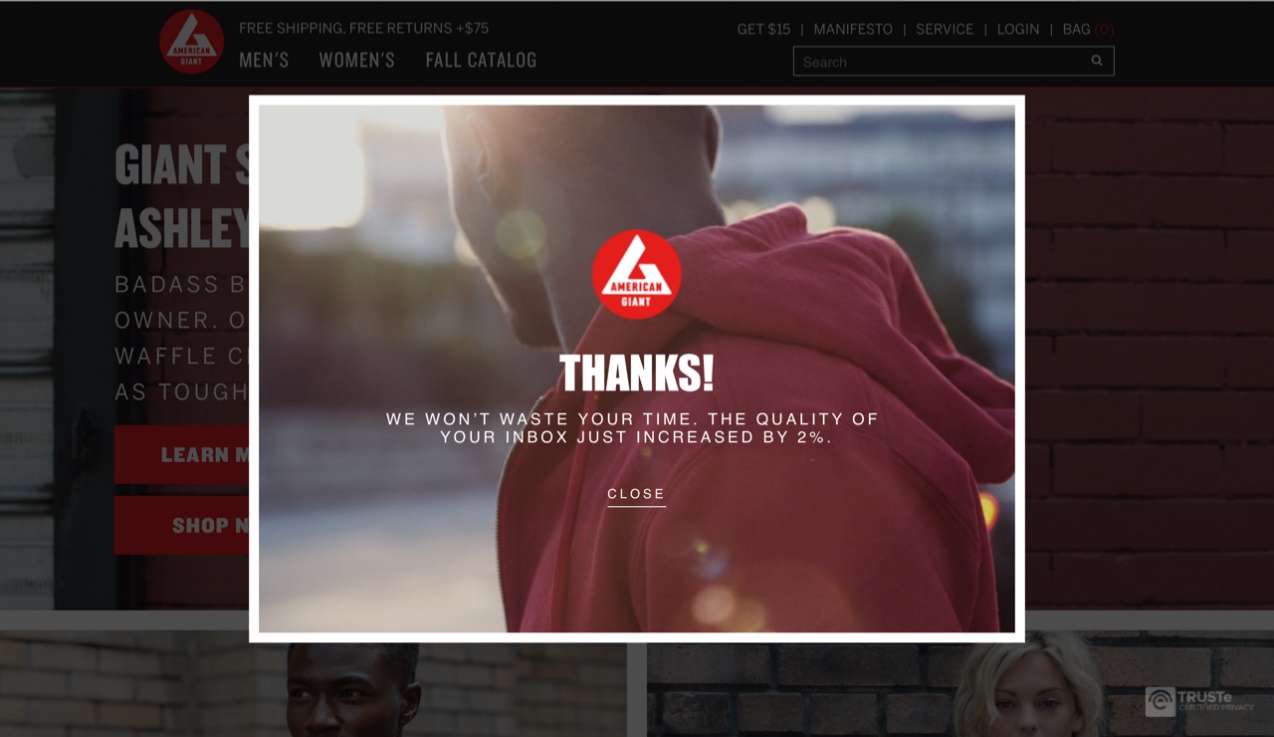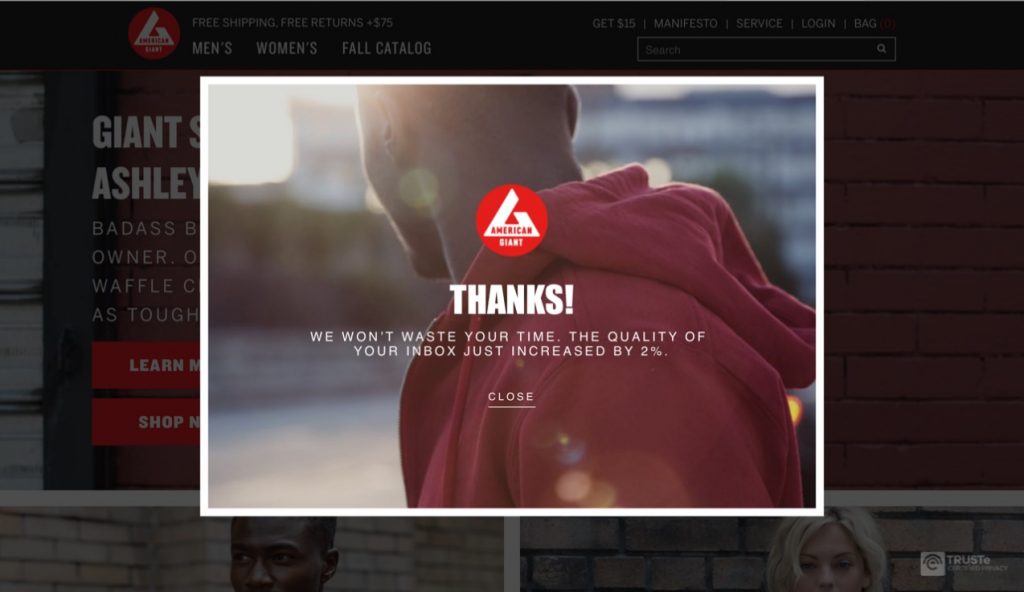 Tell a story: Give your customers a chance to get to know you before they make a purchase from your fashion eCommerce store. Tell your brand story and why you sell your products. Huckberry, while not strictly being a fashion brand, are masters of email marketing. Their email does a great job of telling their story, and also includes some products from their store along the way.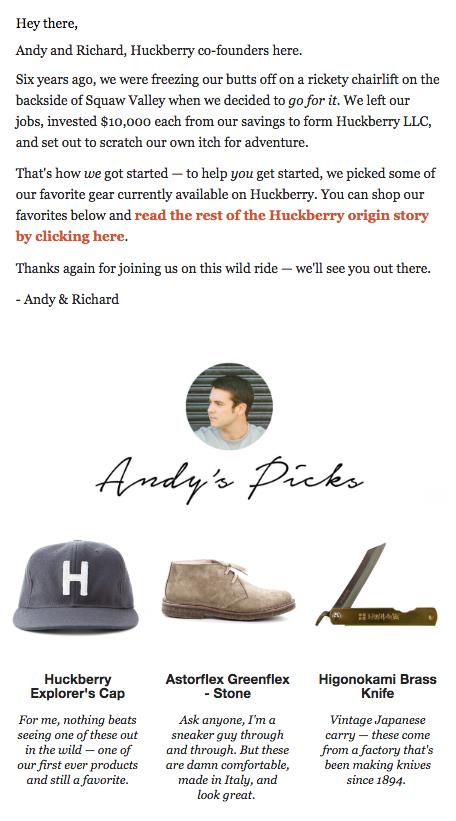 Build a Content Theme: Content theme is important in email marketing for eCommerce. Build a content theme that stimulates the reader's curiosity. This will make them spend more time on the email and ultimately on your fashion eCommerce website. In the below best fashion email marketing campaigns example, Frank & Oak earns the customers' time. The marketer here offers a self-help book to its customers and grabs their interest.


Some email marketing best practices and Fashion email marketing examples
Welcome emails
Welcome emails help you create the first impression. The average welcome email generates four times the total open rates and five times the click rates compared to other bulk promotional mails. Don't forget to include a sincere thank you message and links to your social profiles while sending out these emails. A lot of fashion eCommerce stores also include a 10-20% discount to lure subscribers back to their website to make their first purchase.


Aritzia here breaks the stereotype of the standard welcome email. The email is primarily image based, with bold graphics and increased flexibility.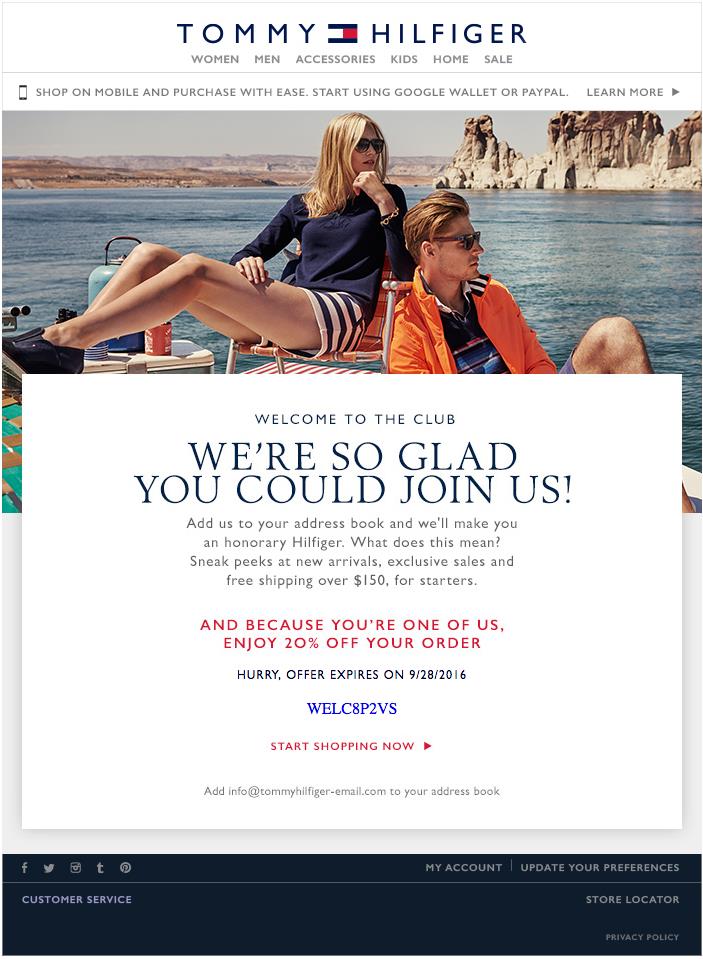 Tommy Hilfiger's welcome mail on the other hand, makes you feel like you're part of an exclusive club. With clean images there is no confusion or clutter, with a 20% Off code and a single call-to-action.
Abandoned cart emails and browse reminders are an online store's must-haves. To get all of these and more, install Perzonalization for Shopify now and start your 14 day free trial.
Content Emails
As a fashion eCommerce brand, you have unending opportunities for sending different kinds of content to your subscribers. Use content emails to educate your audience on styles and trends, tell your story, and entertain them with some meaningful content instead of hard selling all the time.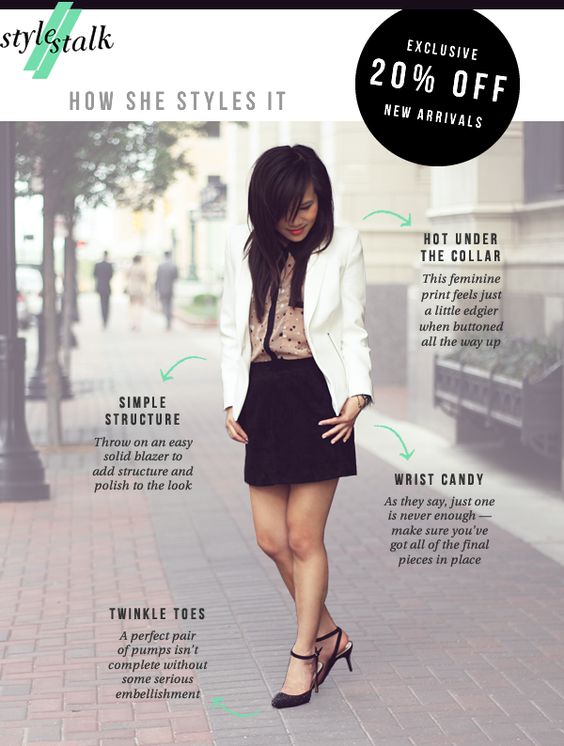 This fashion email marketing example gives its subscribers some really cool style tips which a style conscious customer will quickly take to. The company also doesn't forget to include a 10% discount on its products.
Promotional emails
After you have welcomed your customers and thanked them for getting aboard, it's time to send your first promotional email. The first step here is to pick your offer. If you have specific products on sale and want to focus on them, segment your list so the right offer goes to the right customer. The goal should be to increase your AOV. This will get you more sales. You could also aim to get rid of your old stock through these promotional emails. Give them away instead of discounts with purchases over a certain amount.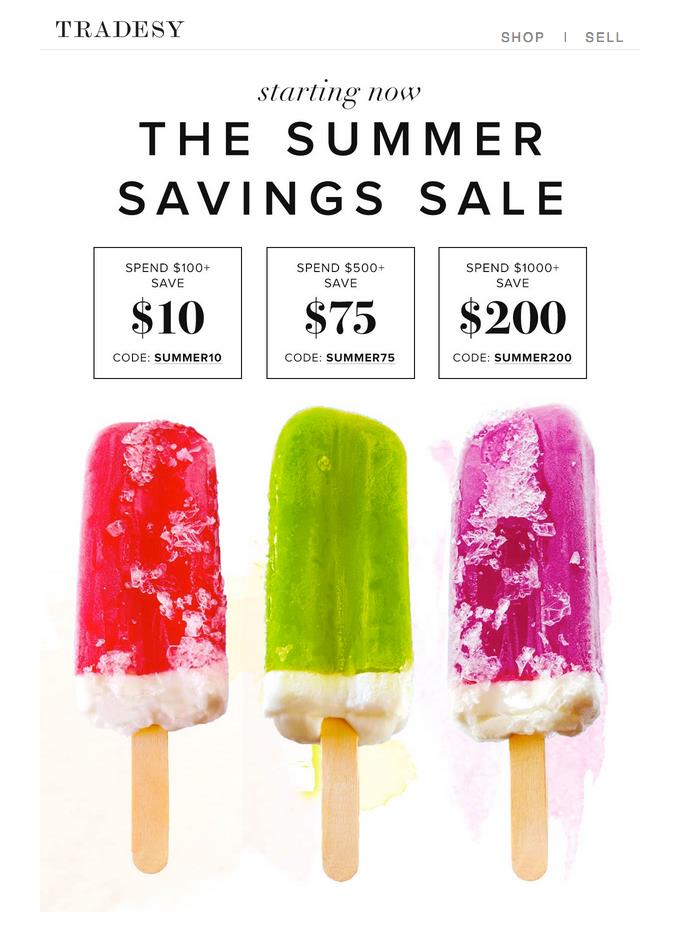 Look at how Tradesy does a fantastic job of giving their customers an opportunity to save anywhere between $10 – $200 on their purchases. This not only encourages more sales, but also gives the customers a chance to keep some money with him.
Almost all fashion eCommerce brands these days display product recommendations on their websites. These recommendations can also be sent in an email for a more one-to-one and personalized touch. Some apps make it easier for eCommerce brands to track their customer's purchase history and browsing behavior and hyper-personalizes these product recommendations straight into their customers' inboxes.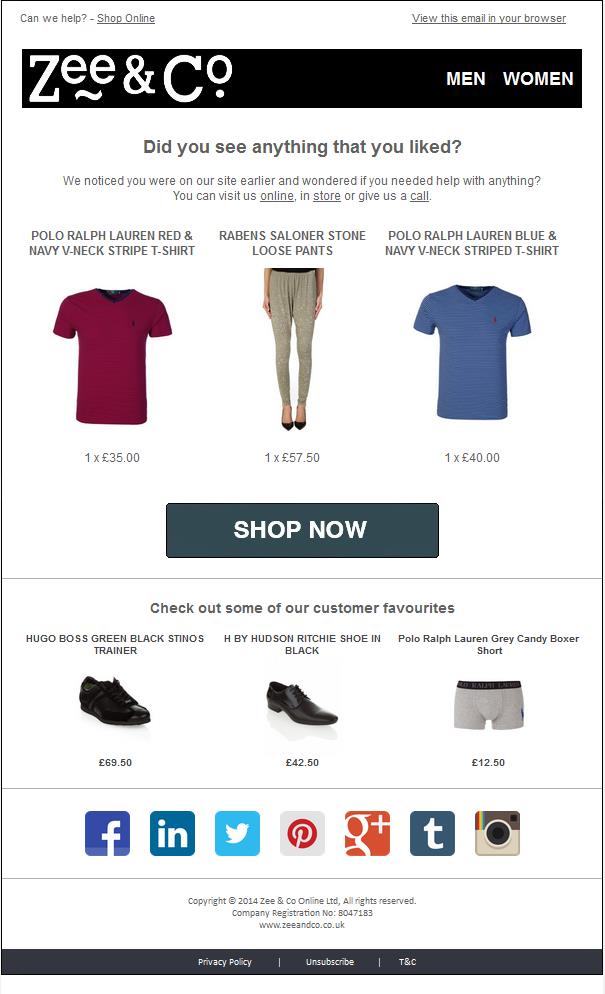 Zee & Co. here sends a smart email with personalized product recommendations. It clearly states that it is based on what the customer has searched for on their website earlier, and also gives the customer an opportunity to head straight to the website.
Abandoned cart emails
By sending abandoned cart emails or cart reminders, as they are often referred to, fashion eCommerce retailers can convert over 68% of customers who have not finished their purchases on their site.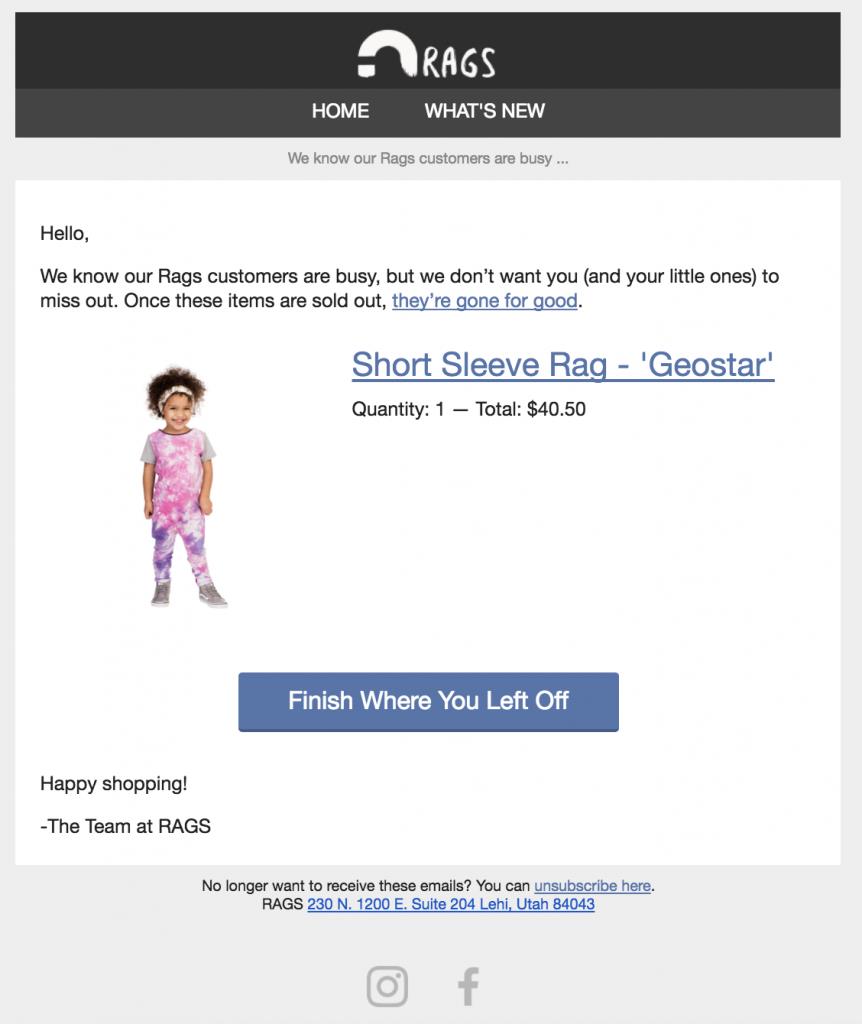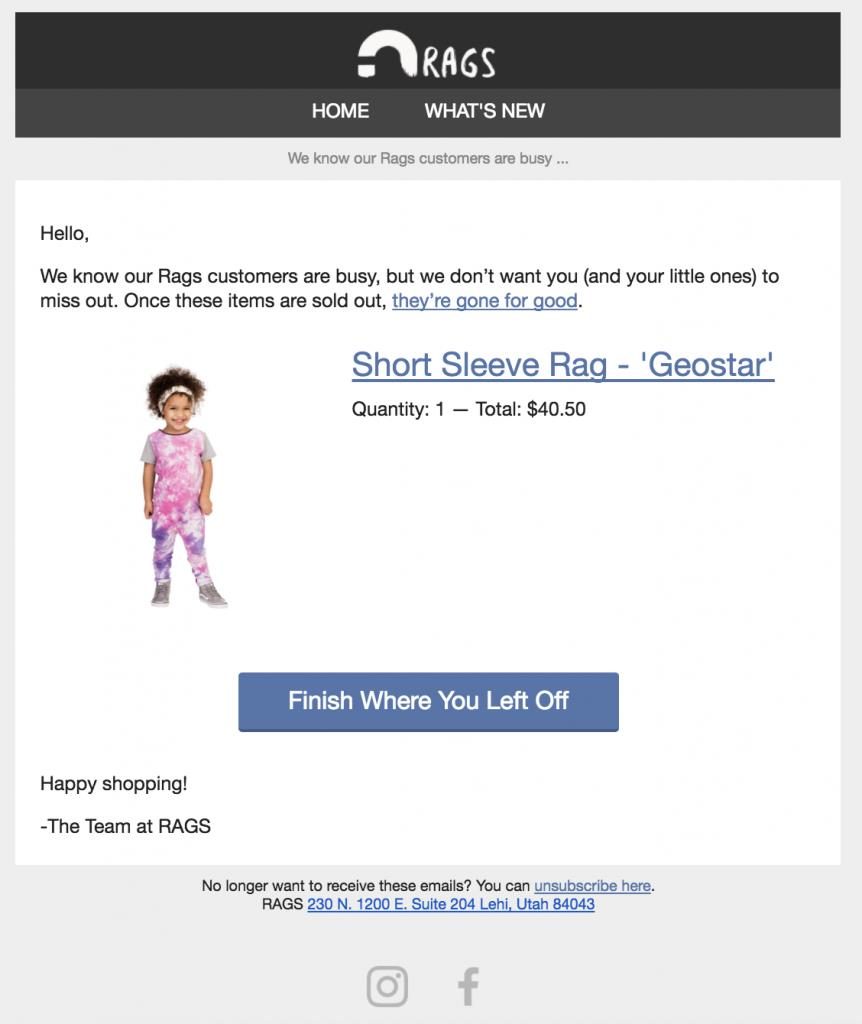 Look at this fashion email marketing template for instance. This email is triggered after 4 hours after a cart has been abandoned. They have used two very impactful marketing tactics:
They create urgency, and
They emphasize on the fact that the collection is limited edition
There is a strong possibility that both these elements will urge the customer to go back to their website and finish their purchases.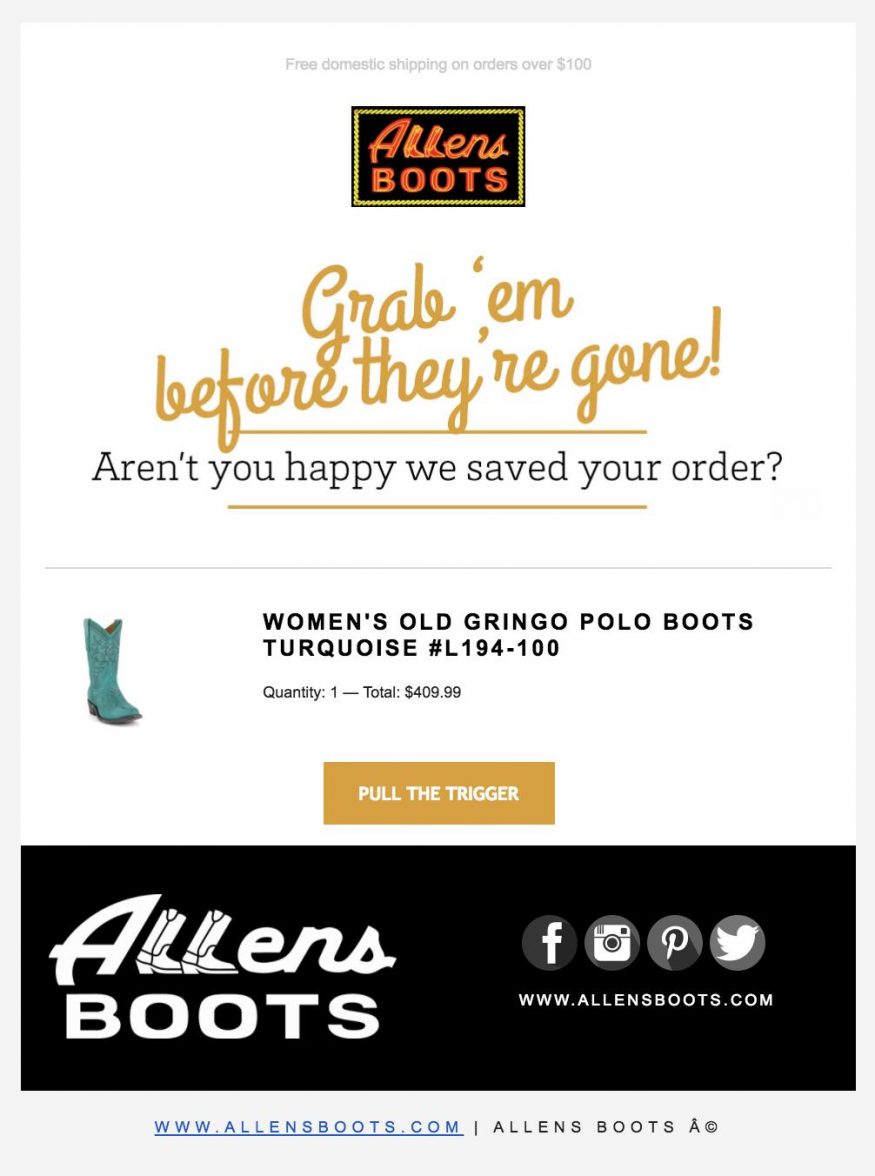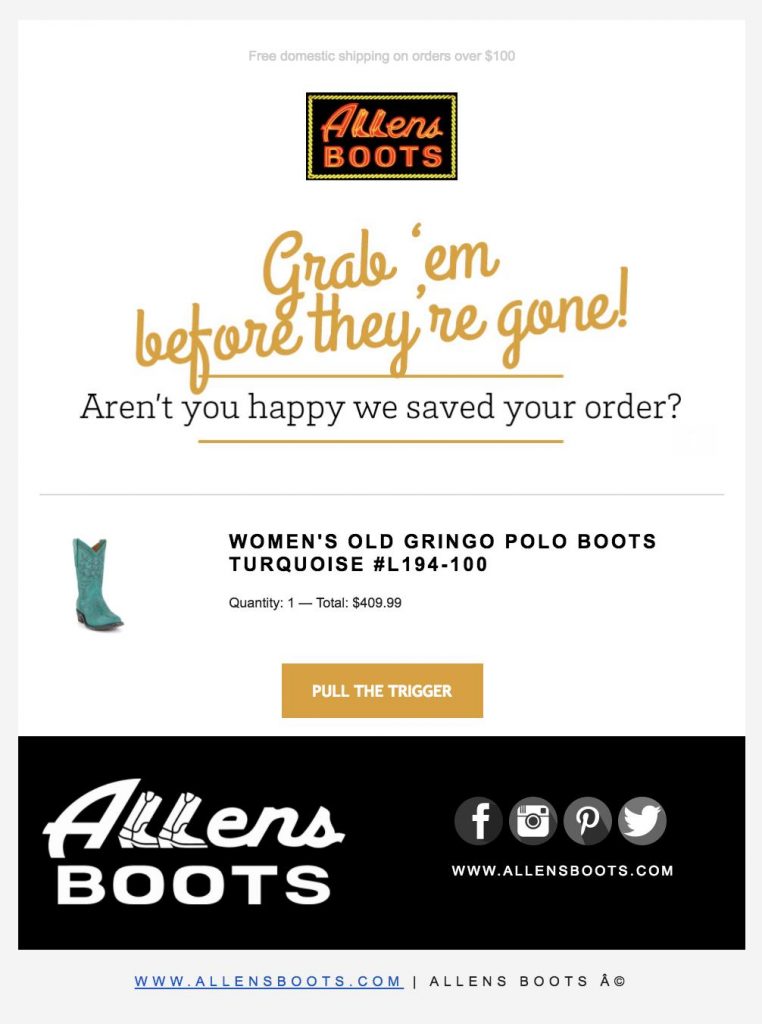 Allen Boots on the other hand tries to focus on the fact that they have saved the customer their valuable time and effort looking for the product all over again by sending the cart link so that they can immediately go back and complete the purchase.
Emails notifying about new stock
More and more best fashion email marketing campaigns are now centered around engaging their current customers by sending them emails with new product inventory. However, there are couple of things marketers should keep in mind while sending these emails:
Keep the email focused
Not clutter the email with unnecessary information not pertaining to the inventory
Include a high-quality image of your products
Segment your email list. For instance, your new inventory of summer dresses will not be relevant to your male customers.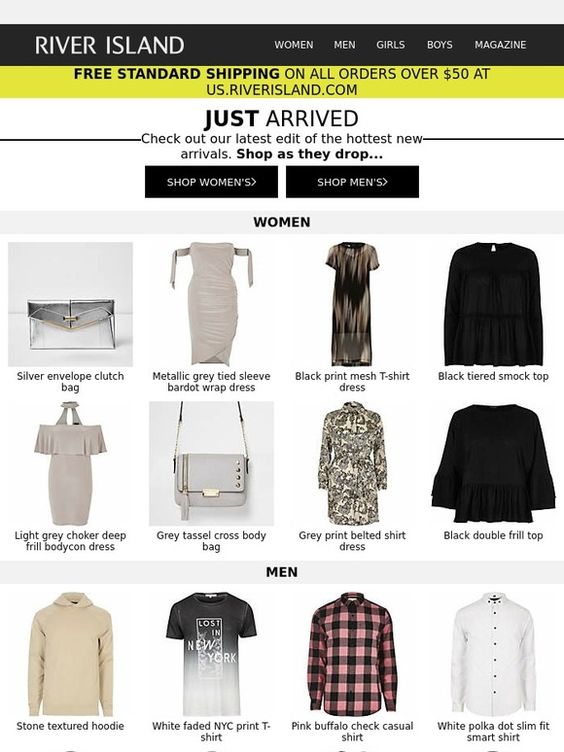 This email from River Island clearly showcases the new collection and also gives the customers an opportunity to go to the website directly from the email.
Post Purchase Emails
Post purchase emails should be sent as an opportunity to offer discounts, cross-sell, and promote the social media pages. The probability of selling to an existing customer is always more than acquiring a new customer.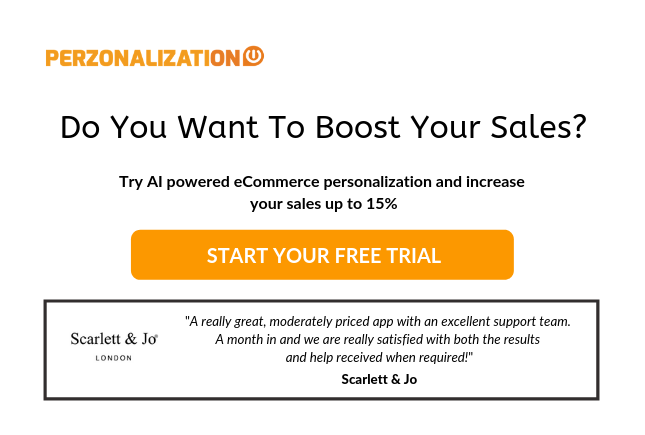 Some quick stuff, which you can include in your post-purchase emails, are:
A coupon code for the next purchase
Referral codes
Cross selling and upselling
Links to your social media pages
Links to share their purchases on social media
Post-purchase surveys
Feedback and review links


Nordstrom here carefully tries to sell related products and also gives a brief account of the customer's order details.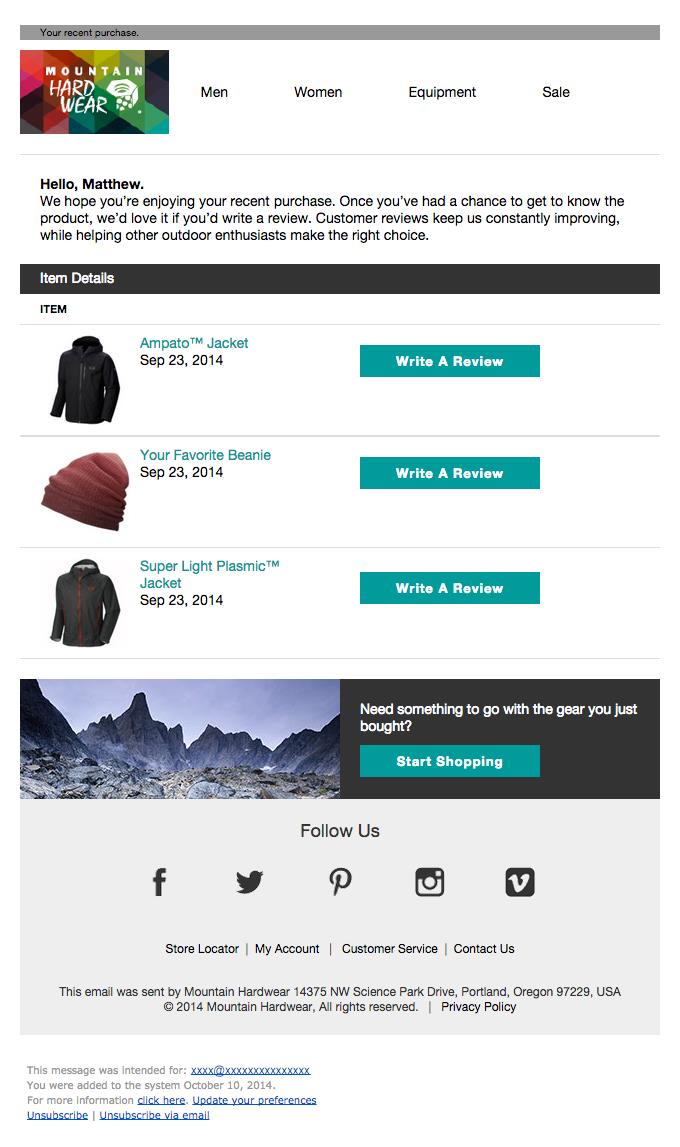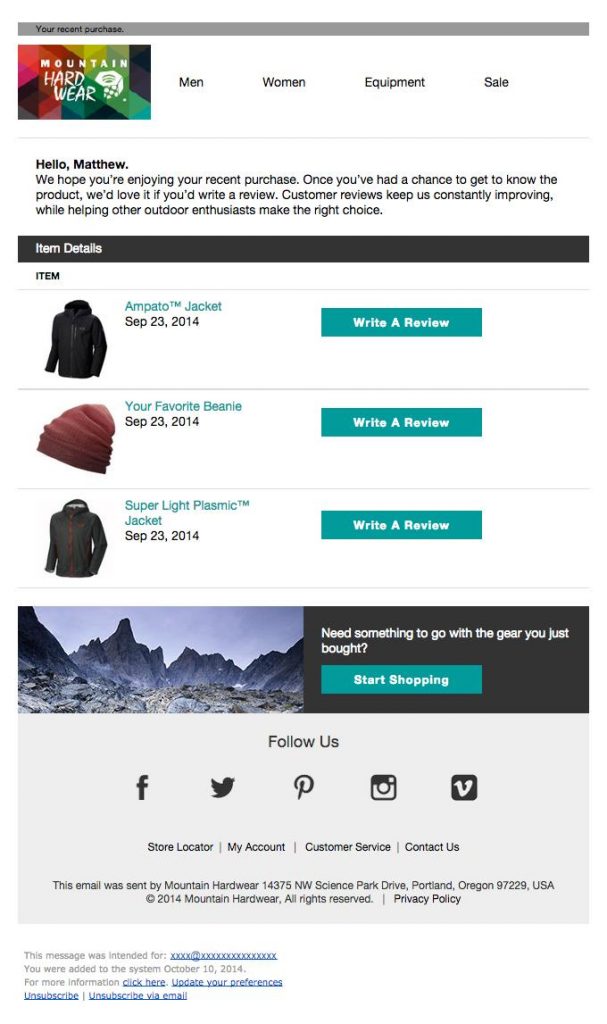 In the above example, Mountain Hard Wear requests the customer to write a review for the products he has purchased.
Emails to reactivate customers
Send reactivation emails to those customers who haven't placed an order in some time. You can add dynamic coupons and other incentives to lure them into buying. These emails can also be sent to those customers who have stopped opening your emails or don't come to your fashion eCommerce store anymore. Design a marketing campaign that will aim at reengaging and reactivating dormant subscribers after a particular period of time.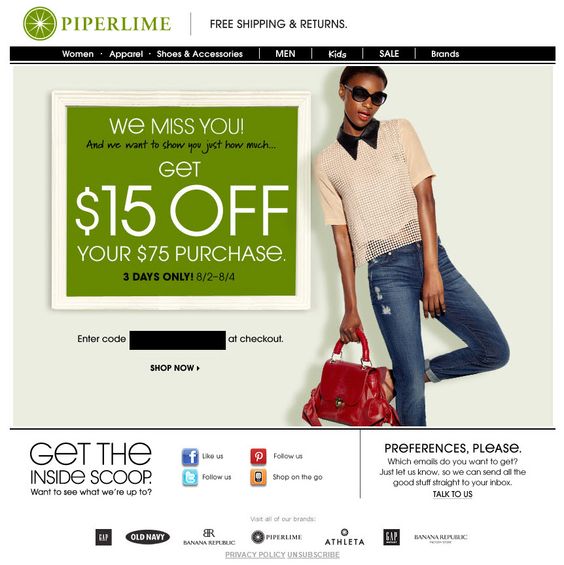 This re-engagement mail from Piperlime promises free return and shipping and also gives a $15 discount for purchases over $75. Phrases like "We missed you" and "Just for you" makes the customer feel special and imbibes a sense if exclusivity in them.
Holiday/Special Event Emails
Considering the potential of the holiday season, fashion eCommerce marketers don't leave any stones unturned to make the best of this period. Similarly, some of the best fashion email marketing campaigns in eCommerce are centered around Back-to-School, Valentines Day, Halloween, Thanksgiving and some special dates like birthdays and anniversaries.


With the color red, which is considered to be the color of love, Saxx has designed this email as part of their Valentines day marketing campaign. The email is sassy and puts its message across quite clearly.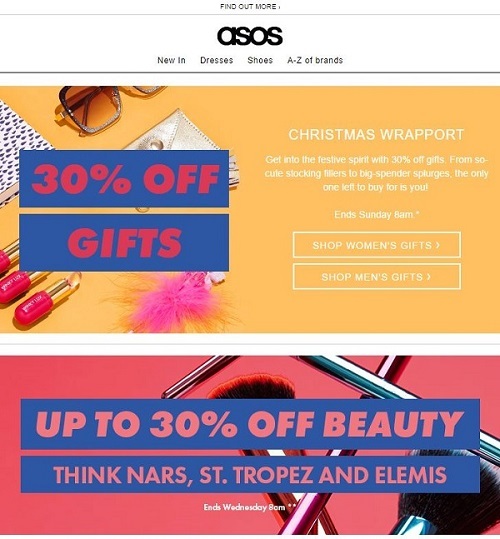 ASOS's Christmas emails are designed to engage their customers effectively, particularly their younger user base. They have used some peppy colors and bold fonts to grab their attention. You could also focus on a particular category of products, which you know users will buy. Take H&M's example below for example. They have used this email to push the concept of 'Christmas Jumper Day' to entice customers to shop.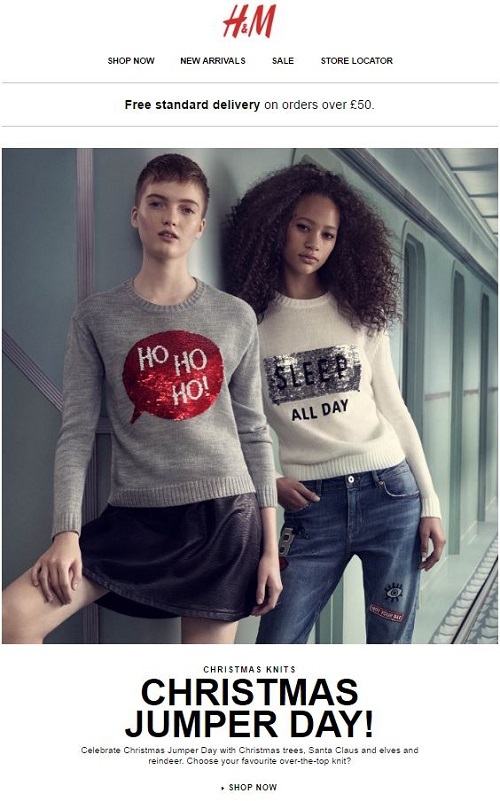 Another fashion eCommerce brand, John Lewis doesn't send the typical Christmas email. Nor does it suggest any kind of holiday discounts on the face of it. Instead, it focuses on their reputation for quality and their commitment to competitive pricing. There of course is a subtle hint at gifting just below that message.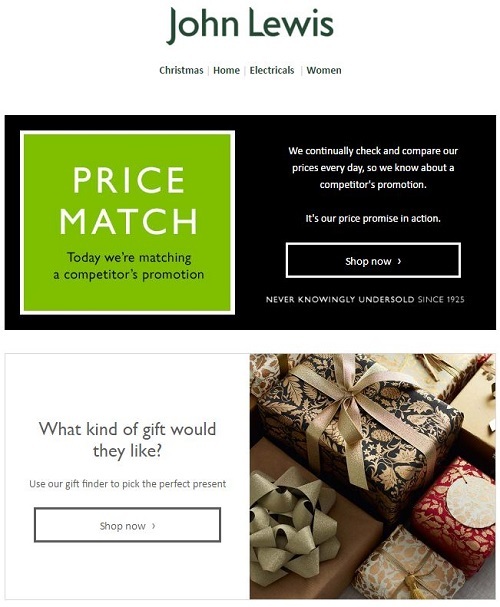 Best Fashion Email Marketing Campaigns: Wrapping Up
I hope these email marketing tips will be helpful when planning your next fashion eCommerce email marketing campaign. There is no golden rule and there is no harm in a little experimentation. It takes some time to build a rapport with customers; but once you do, you can start to run the best fashion email marketing campaigns that will bring excellent returns on investment.
Email marketing makes a huge difference to your bottom line sales. Once you understand what your customer wants, it can be pretty easy to put together a fashion eCommerce email marketing campaign to remember.
Large, high-quality and professional photographs, some loud colors (well, not always), fun and catchy phrases, a clear call-to-action and attention grabbing fonts, can help you seal the deal in your best fashion email marketing campaigns.
Curious to learn more? Take a look at related posts!