Email marketing allows you to maintain positive relationships with customers and carry out effective advertising campaigns. An email campaign is a marketing tactic that is still associated with negative emotions, such as the spam factor. Fortunately, there are many companies that know how to conduct a professional campaign of this type, which hits the bull's eye and transforms their businesses. Email marketing campaigns do a fabulous job of connecting and engaging your customers, if implemented properly.
We will sum up the basic requirements of a good email marketing campaign herein-
Download our guide and learn how product recommendations on emails can ensure repeat sales.
Setting Up A Target Group For Successful Email Marketing Campaigns
Precise identification of the target group should be the basic element of any marketing campaign, especially mailing campaigns. Emails should not be sent to people who do not need or want that email. A carefully analysed and assessed target audience is the key to setting up a successful email campaign or even Newsletter Campaigns for that matter.
Route To Great Email Marketing Campaigns: Email Automation
Once you get your target audience right, the next step is to not spend hours composing and drafting emails manually for each action that a customer(s) may have taken on your e-store. With the help of email automation, you can set pre-conditions on the basis of which an automated mail will be sent to your customers for those who satisfy that condition. For instance, if you want to send a reminder email to customers who have abandoned their carts, smart Automated emails solutions from companies like Perzonalization, makes this job a cakewalk for online store owners.
Mobile Optimization To Nail It With A Good Email Marketing Campaign
Since mobile devices nowadays can handle nearly every task that can be completed on a desktop, more people are opening up and responding to emails on small screen devices. In such a situation, overlooking mobile optimization of your email campaigns is not an option anymore. The bottom line is, if you are not optimizing your emails to be mobile responsive, you are missing out on massive chunks of your audience who will not even bother to open your mails if they are away from their desktops.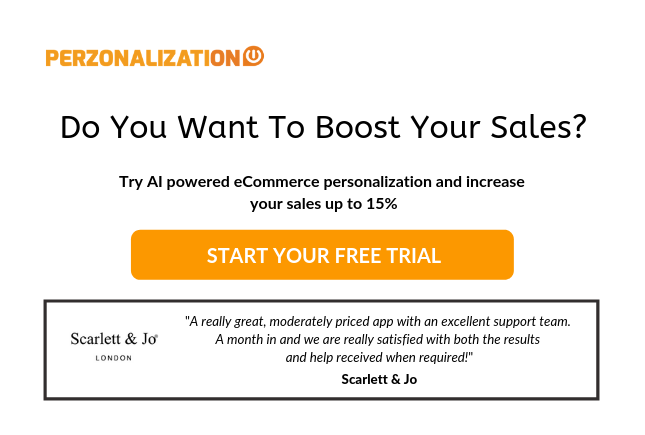 Do Not Forget To Be Human To Nail It With Cool Email Marketing Campaigns
Make your brand tell a story. Provide engaging and personalized content and don't make your email sound like a sales message. Spice it up with information that the customer might be interested in. Inspire your customers in a way that they have a good reason to come back to your store. I have to mention Perzonalization's Personalised emails in this context, which helps in re-engaging with your customers and increases customer loyalty.
Some Implemented Email Marketing Campaigns
Given below are some great email campaign examples and what makes them great.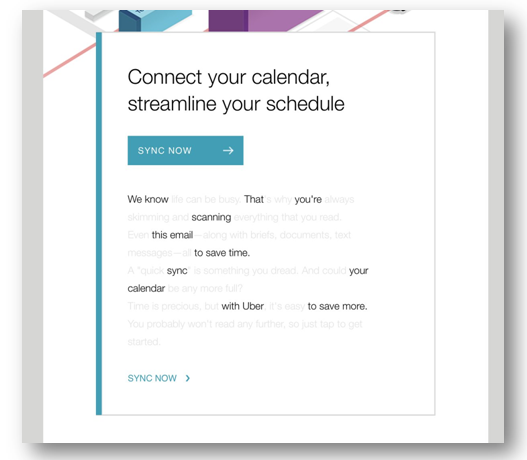 Simplicity is at the core of Uber's email campaigns. This is how their subscribers are alerted to deals and promotions: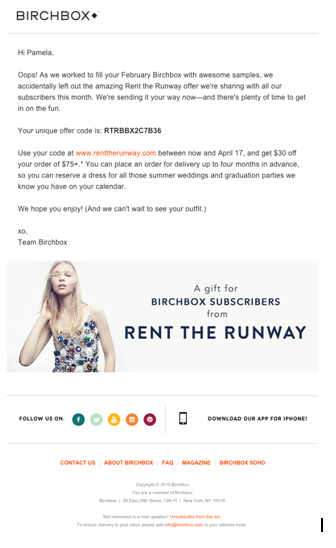 The Subject line of this beauty product subscription service Birchbox read: "We Forgot Something in Your February Box!" Now how clever is that? Wouldn't you open such an email?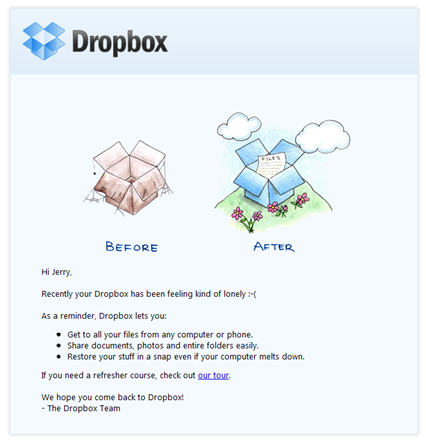 When Dropbox sent this email to their email subscribers, it was to make sure that their users hadn't forgotten Dropbox.
Email Campaigns: The Wrap-Up
To sum it all up, email marketing campaigns offer a wide variety of options to explore and with products like Perzonalization, wherein you can use the email solutions with any service provider, there should be nothing that should stop you from optimizing the power of emails for the growth of your online store.
Curious to learn more? Take a look at related posts!