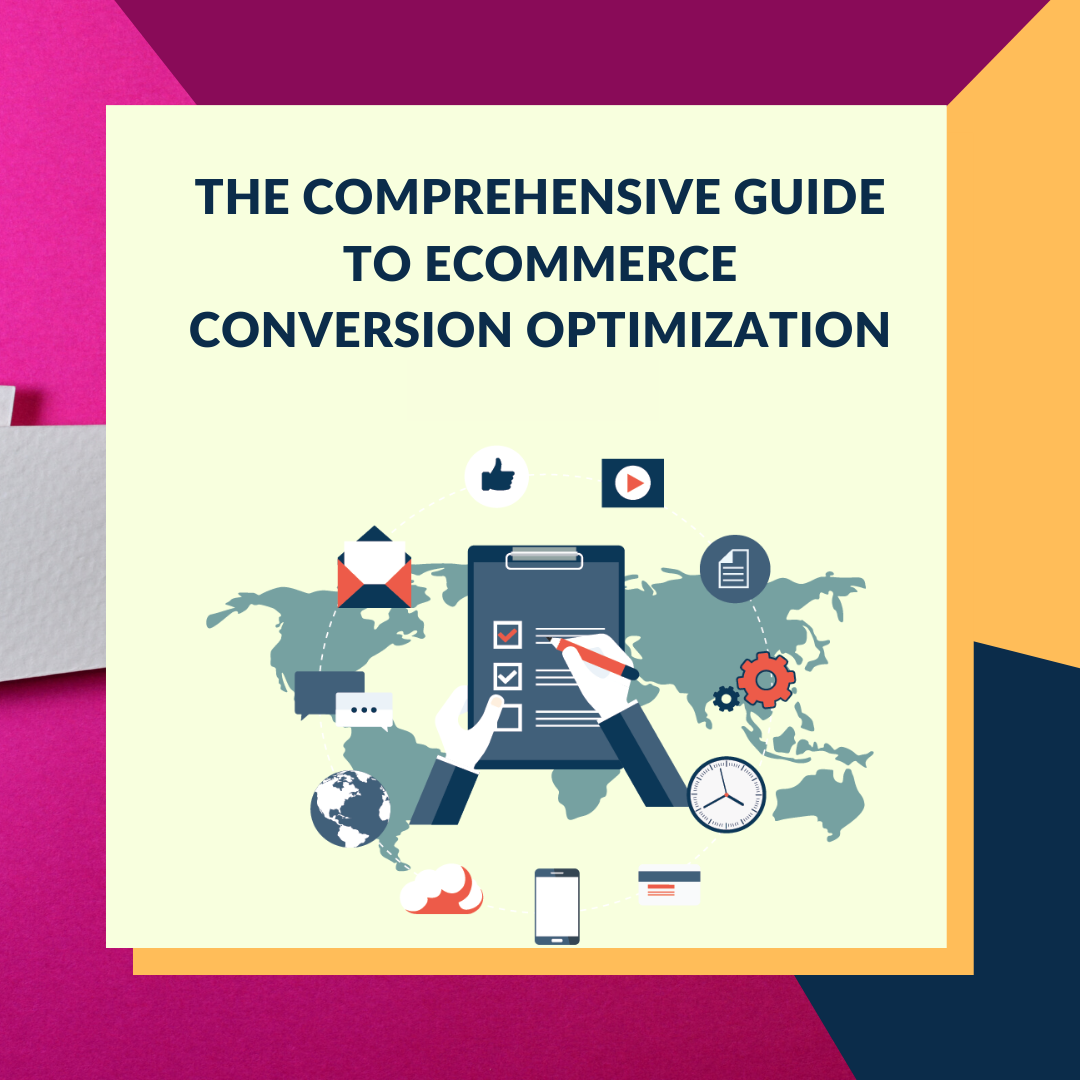 There is a simple formula in eCommerce; unless every single person visiting your online store is making a purchase, there is always room for improvement in terms of conversions. And while some may say that a good conversion rate is one that is better than what you have right now, conversion doesn't just happen – you need to optimize it. Hence, the term eCommerce conversion optimization is made up for a reason.
But first, let's begin by defining the word 'conversion'.
Download our guide and learn about tips and tricks on conversion rate optimization for the busy marketers.
No matter what your industry is, every business is looking to have a lot of visitors on their website who would ideally convert to shoppers or buyers. One metric that helps you to know how many of your online visitors are converting to paying customers is the "Conversion Rate".
One metric that helps you to know how many of your online visitors are converting to paying customers is the "Conversion Rate". – Tweet This!
In other words, conversion rate is the percentage of visitors who make an action during an online session. In eCommerce however, this could mean any of the following:
A sale
A user adding a product to her cart
A user adding an item to his wishlist
Email/newsletter signups
Social media shares
Any other Key Performance Indicator your business chooses
Conversion rate optimization or CRO is thus a aggregate of all those techniques and processes which ultimately result in getting more customers, making more sales and sometimes also recovering lost revenue from cart abandonments.
To calculate conversion rates, the formula is:
Conversion Rate = Total Number of Sales / Number of Visitors
For example, if you had 10 conversions from 100 online visits, your conversion rate would be 1%, since 50 ÷ 1,000 = 1%.
Unfortunately, it's not quite that simple. Average conversion rate varies, not only by industry, but also by the device used, the business model, and more. For instance, the average mobile conversion rate would typically be different from what it would be for the same website when viewed on desktops.
Another important thing to understand here is that although a higher conversion rate is always better, if your site has 20,000 visitors a month, but only a 1% conversion rate, it means you're getting 200 orders per month (1% of 20,000). This may look great on your month-end sales reports. But on the other hand if you had 10,000 visitors and a 5% conversion rate, that's 500 orders a month. Wouldn't that be a much preferable number for you?
This is why knowing average eCommerce conversion rates and how they are calculated is crucial.
Understanding average eCommerce conversion rates in 2019
According to a report by Monetate, the average eCommerce conversion rate is about 2.77% globally.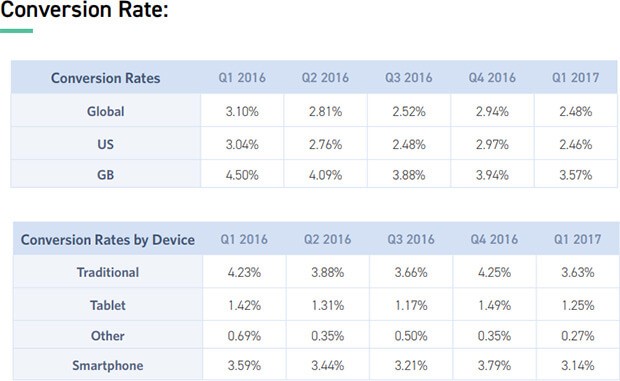 There is also another study by Wolfgang Digital which shows conversion rates by countries, led by UK.

However like I mentioned earlier, there are wide variations depending on the location, the devices used for shopping, and the nature of the actual conversion.
On average, an eCommerce store in the US has a conversion rate of 3%. So, if your eCommerce store has an average conversion rate which hovers around that number, I would say your store is fairly optimized for conversion.
But again some companies like the Dollar Shave Club have a conversion rate of approximately 20%.
Then, what is a good conversion rate?
As per WordStream's conversion rate analysis, there is an overall conversion rate of 2.35%. However, the top 25% of companies have a CR of 5.31% and the top 10% are at 11.45%.
Irrespective of what your conversion rate is, there's always room for improvement.
So, how to increase conversion rates?
What follows in this article is a comprehensive list of eCommerce conversion strategies which will ensure that your eCommerce conversion optimization leads to maximum revenue and return. And when you apply the conversion rate optimization tactics mentioned in this article to your eCommerce business, your web store will be both powerful and efficient.
Before jumping on to eCommerce conversion tips, let's first look at some reasons why your eCommerce store has a low conversion rate:
People don't like what they see on your landing page
Users can't find what they are looking for (Poor Navigation/ Poor filtering and sorting)
Your website isn't optimized for search engines or poor SEO
Your store is not optimized for mobile phones
Products are not demonstrated well/product images are poor
Checkout pages are cumbersome/not secure
Shoppers don't trust you
High shipping costs
No social proof on the website
There's no email marketing/lack of remarketing
eCommerce conversion optimization – Some tips
Simplify the Checkout Process
This is the area from where we ensure that your eCommerce checkout conversion rate optimization is not suffering. Your website visitors and prospective customers should never have to jump through a series of hoops in order to buy from your store.
Remember that people are too pressed for time to waste it on buying a product online. They want fast and easy. You can provide exactly that by making your checkout process a seamless process.
Consider allowing guest shopping instead of compelling everyone to register on your site. Over a quarter of surveyed shoppers reported bouncing from ecommerce sites which force them to register.
According to a survey, over a quarter of shoppers reported bouncing from ecommerce sites, which force them to register. – Tweet This!
Also consider making your forms shorter. 14% of shoppers report abandoning shopping carts when the checkout requests too much information.
Taking a lesson from Amazon's sales process might be helpful, here. Amazon asks for a limited amount of information and even offers 1-click checkout.
Offer Multiple Payment Options
Offering a wide range of payment options might be helpful in terms of conversion optimization in eCommerce.  Accepting credit cards along with PayPal and some other payment methods might be instrumental in selling more products.
Use Heatmaps to Indicate Site Use For eCommerce conversion optimization
A heatmap helps you determine how your online visitors move their cursors on your site, scroll, click, and interact with forms, buttons, and other elements on the website.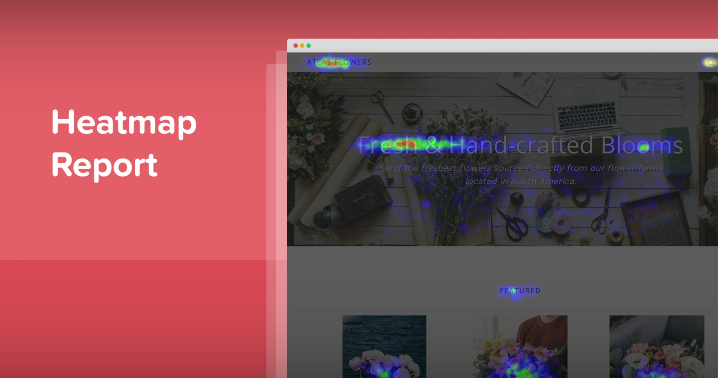 How can this help with eCommerce conversion optimization? Well, the truth is, this amazing technology can give you some better insights into why some of your prospects aren't converting.
With heatmaps, you can determine why people are leaving your website, how effective is your checkout process, and in the process, potentially uncover new CRO opportunities. Heatmaps help in understanding the dead areas, hot spots and bottlenecks, customer traffic pattern and site navigation. With the help of heatmaps, you can improve the promotional and marketing activities of your business by analysing and monitoring the user activity on your e-commerce website.
Do Amazing Things with your Product Pages and Images
When it comes to buying products online, people want to see if they are getting what they are looking for. It's one of the single most important elements of eCommerce conversion optimization.
Images have a huge role to play in boosting conversion rates online. If there was one elixir that could dramatically push your store's conversion rates over the roof, it's high quality images. Big super high quality images with lots of white spaces around the images is the key.
Also remember that you would ideally want to have multiple images, preferably from different angles. The more, the better. A user may not look at all of them, but you should give them the option. Also give them the option to zoom in.
Look at this image from ties.com. It gives its users the option to zoom in to the image and look at it from different angles.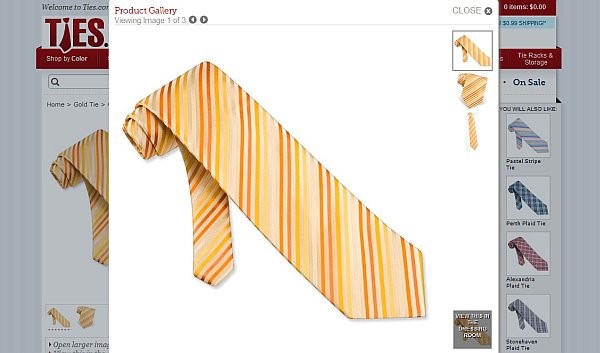 Product copies also matter. And the important thing to keep in mind here is that the best sales copy which ultimately improves conversions isn't laced with hype. They are to the point, but detailing every aspect of the product, intended at solving a problem or addressing a need.
Your product description should provide value and information that helps the customer make a decision.
Home Depot does a good job with their product copies. The top of the page has just a few bullets to summarize the features/attributes of the product, while a longer segment is located down the page with a more detailed description.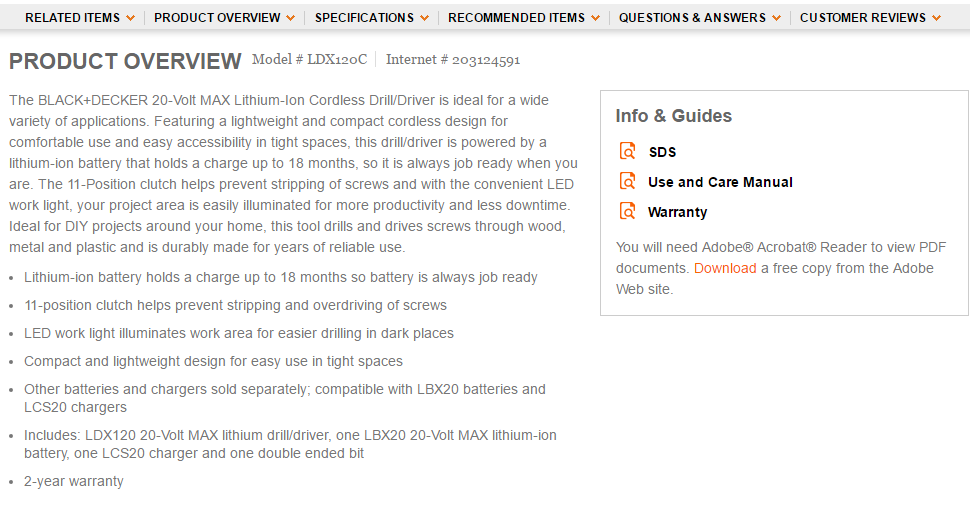 Nike copywriters on the other hand, use minimum space, talk about features in terms of benefits, and provide clear descriptions of every part of the shoe.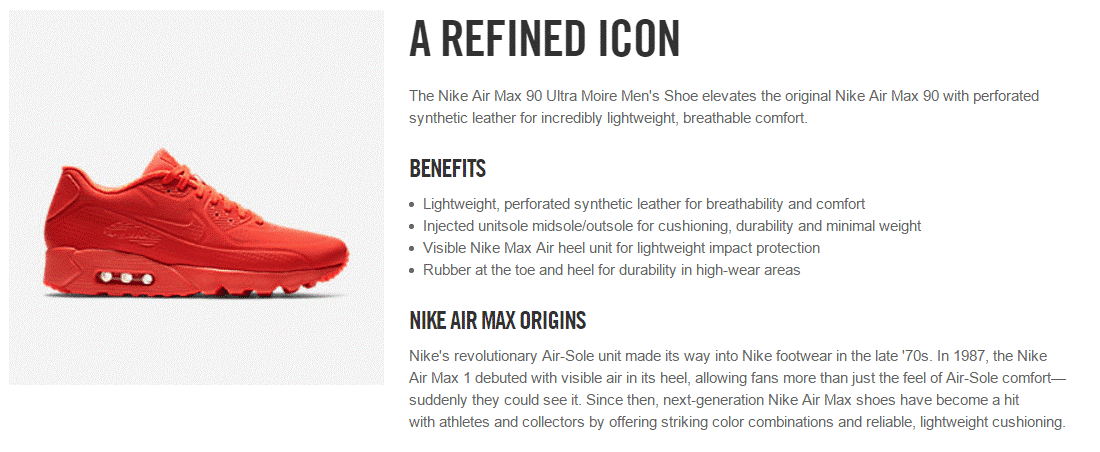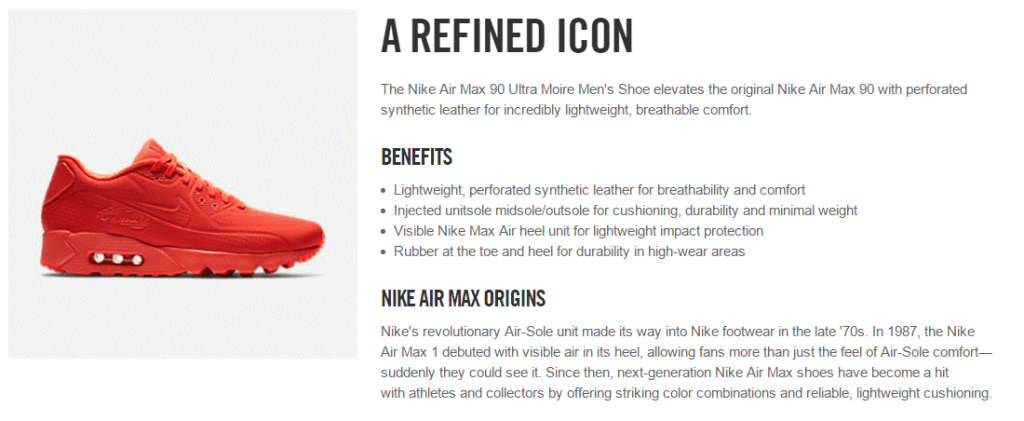 You may also use product videos and testimonial videos. These instil trust and confidence in the hearts and minds of your consumers as they showcase other shoppers while using the product. Your potential customer may come to think that 'this item is worth a try'. You can also pad out your library of videos by shooting videos showcasing your products.
You can as well use a well-defined grid layout for your category/collection page. Using repetitive image attributes enables better eye tracking when scanning a number of products.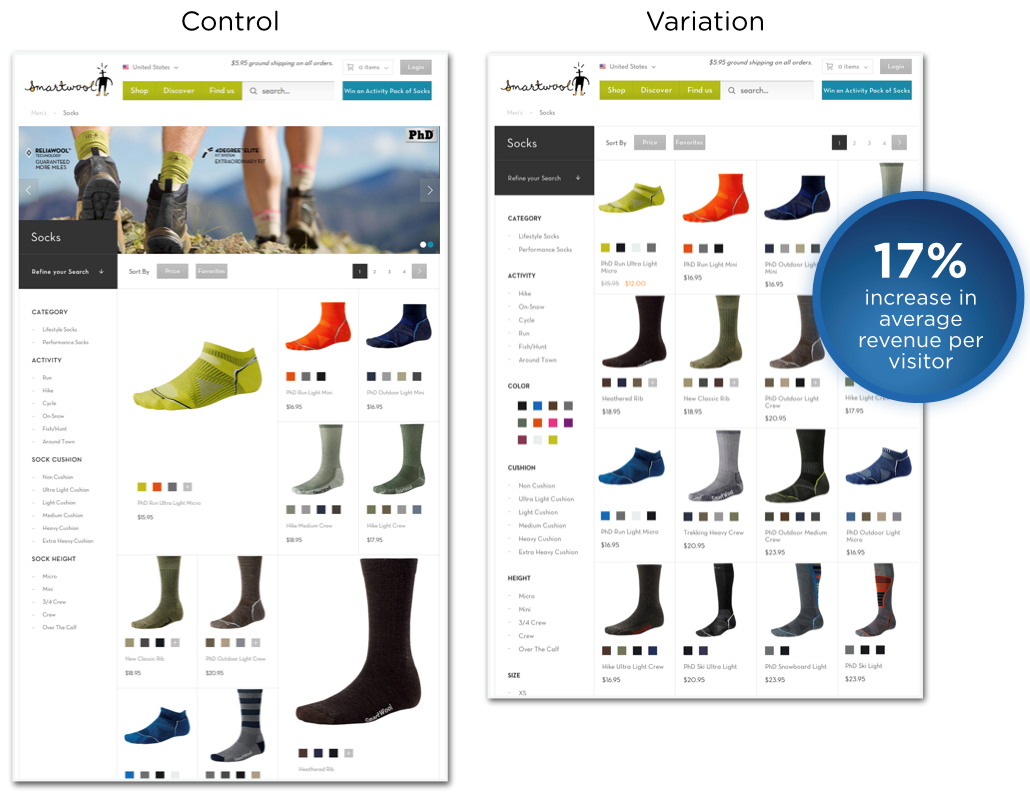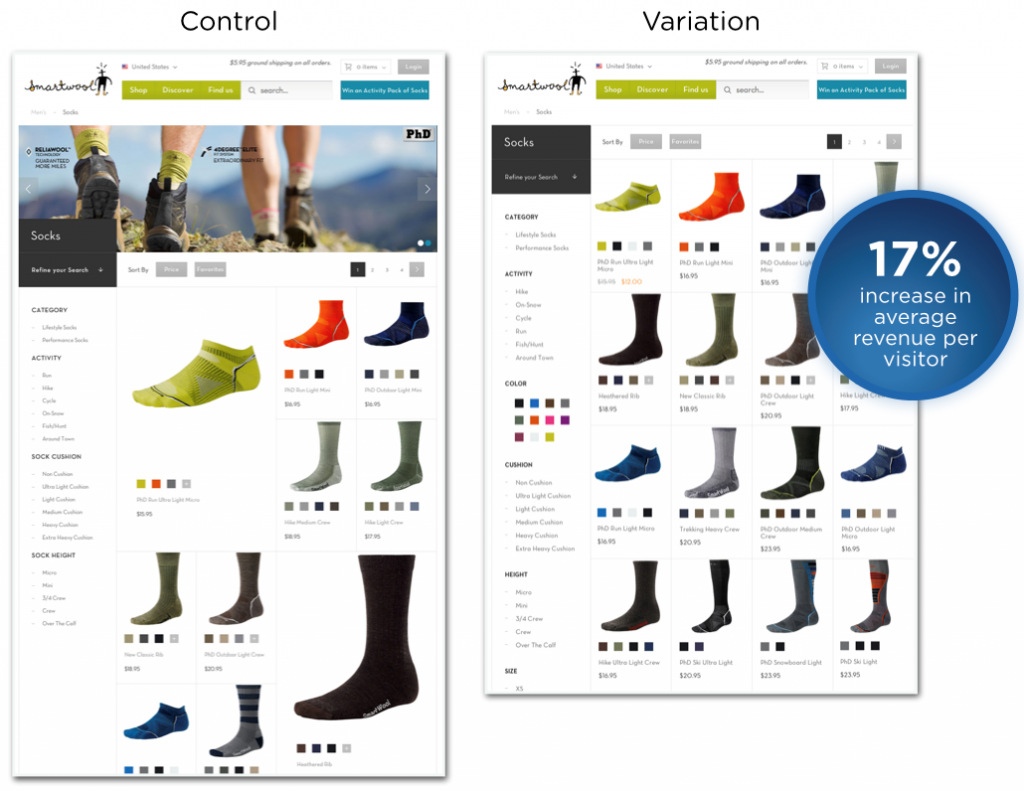 Use Retargeting on Various Platforms
Retargeting is when you try to lure a lost customer back to your store. Once you identify individuals who have already shown an interest in your products, you can follow them around the web using personalized ads and through automated email marketing campaigns.
For instance, a prospective customer goes to checkout, but then abandons his shopping cart. It's all credit to retargeting, that this individual will probably see a specialized ad on his Facebook page, of the very product he added to his cart and then left behind, like the Fossil ad above.
It has been proven that an average prospect needs to see your brand seven times before he commits to a purchase.
Retargeting on Facebook, Google, and in other places online can help prevent your eCommerce store from getting lost into oblivion from the minds of your target audience. This is one of the successful eCommerce conversion optimization tactics used by eCommerce marketers.
Retargeting can also be used for shopping cart abandonment emails sent right to the prospect's inbox. Retargeting BIZ recommends sending the first retargeting email after 15 minutes  — and again after four hours after the cart abandonment occurs.
These retargeting emails have reportedly resulted in a 71% open rate and 40% click-through-rate (CTR).
This particular prospect (in the ad below) was searching online for hotels in Whistler. What he saw next was this ad popping up on this Facebook page by Expedia.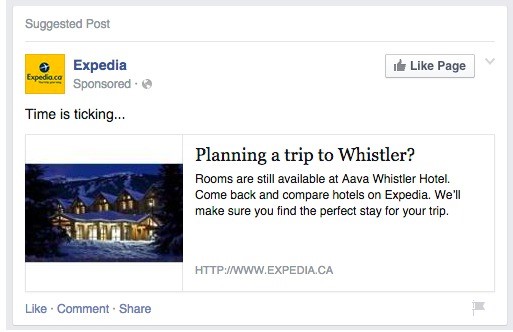 Optimize for Desktop & Mobile
70% or more of all digital media activity is now conducted on mobile devices. Furthermore, Google's mobile-first algorithm looks at rewarding websites that cater to the needs of these particular audiences.
Your e-commerce site should be responsive so that it tailors itself to any handheld device.
Buttons should be spaced wide enough so as to mitigate an element of confusion, and CTAs should be optimized for all devices alike.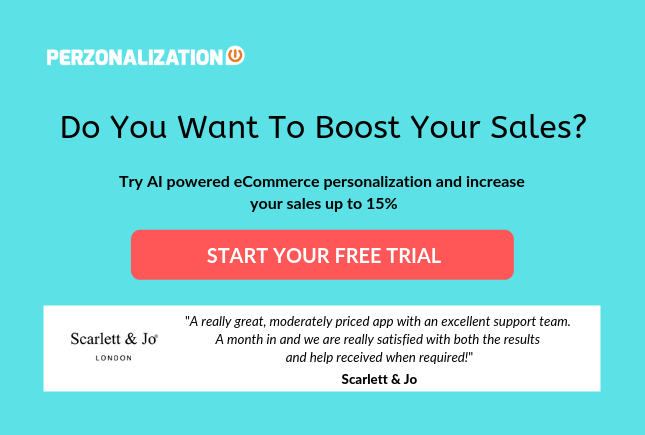 Consider and Reconsider Security
Customers want to know that they are visiting a site secure enough to do any transactions with.
Displaying an SSL (Secure Sockets Layer) certificate on your site allows your potential customers to know that your site is a safe place to share their personal information.
Without an SSL certificate, your site comes across as an unsafe and insecure site.
When you have SSL, your site will display a padlock in the address bar, letting everyone know that they now have access to safe shopping.
Aesthetic Design & Simple Layout
Having a functional and aesthetic homepage or landing page is of utmost importance. It takes less than one second for a visitor to decide whether he/she wants to stay on the page or leave.
Some eye-pleasing homepage design hacks can go a long way in building customer and brand loyalty, and is also often considered an eCommerce conversion optimization strategy. Some key aspects here would be to:
Have an eye-catching sale section
Easy navigation
Showcasing key information first and foremost
Personalized homepage
Simple design and layout
Fast loading homepage
Storytelling element
Merchandising options
It is said that the average eCommerce site's homepage generates about 30% of sessions. This means that you need to clearly convey your brand's USP, instil trust, and be appealing – all at the same time. And given some basic thought, it is not that difficult to pull through.
Azteca's homepage is alive with colour and some great product photography. They allow users to browse by different categories and their top products quickly and easily on the homepage.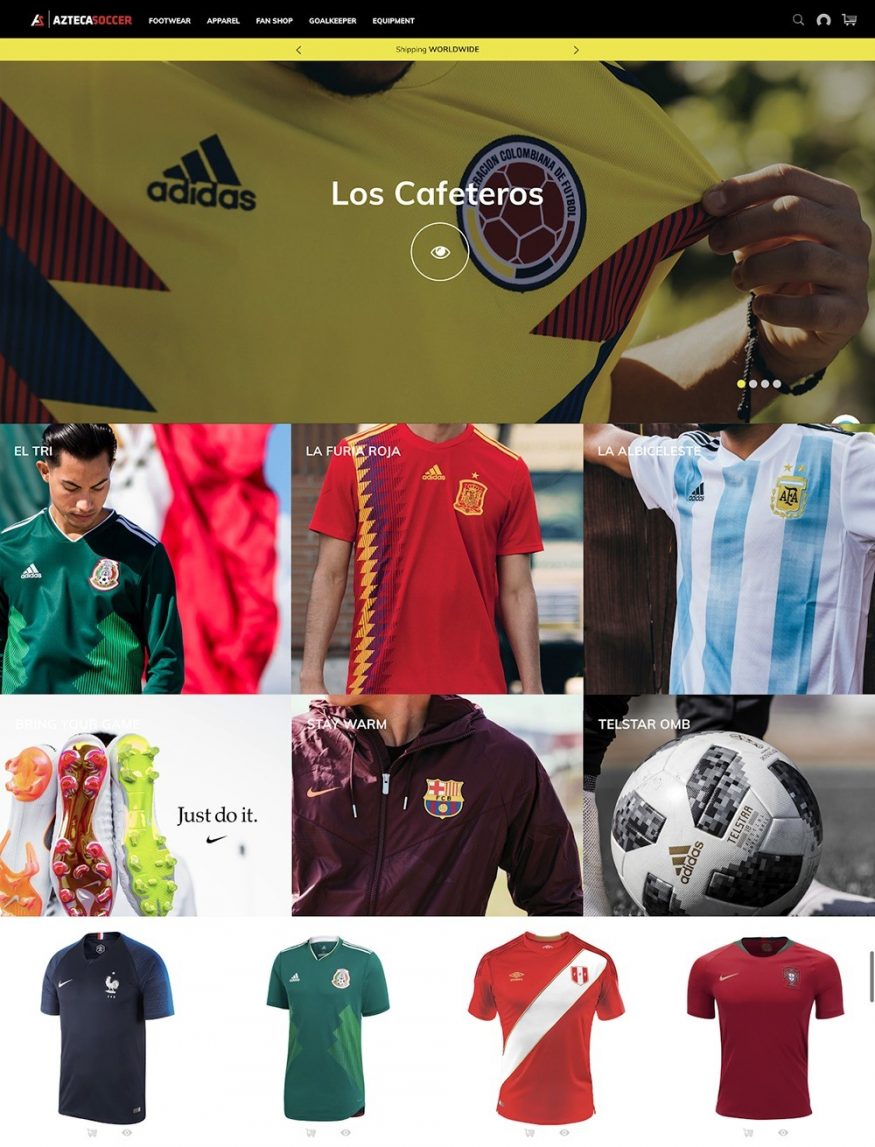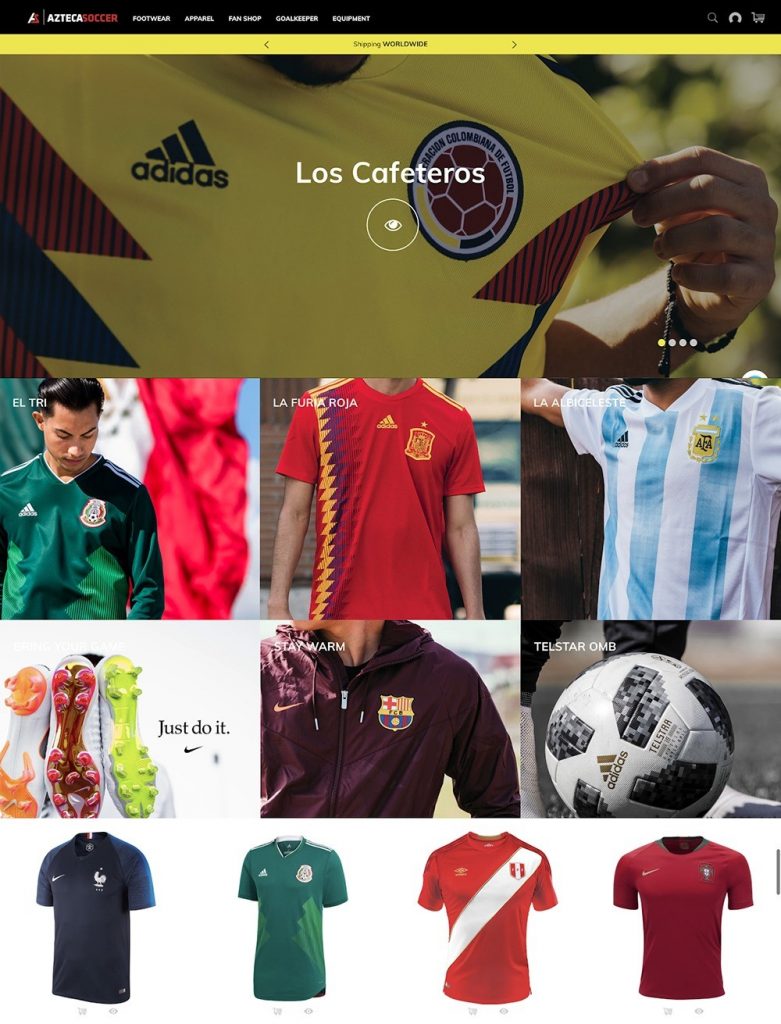 Look at Fronk's homepage below. The company has a unique homepage that clearly shares who they are and the products they offer.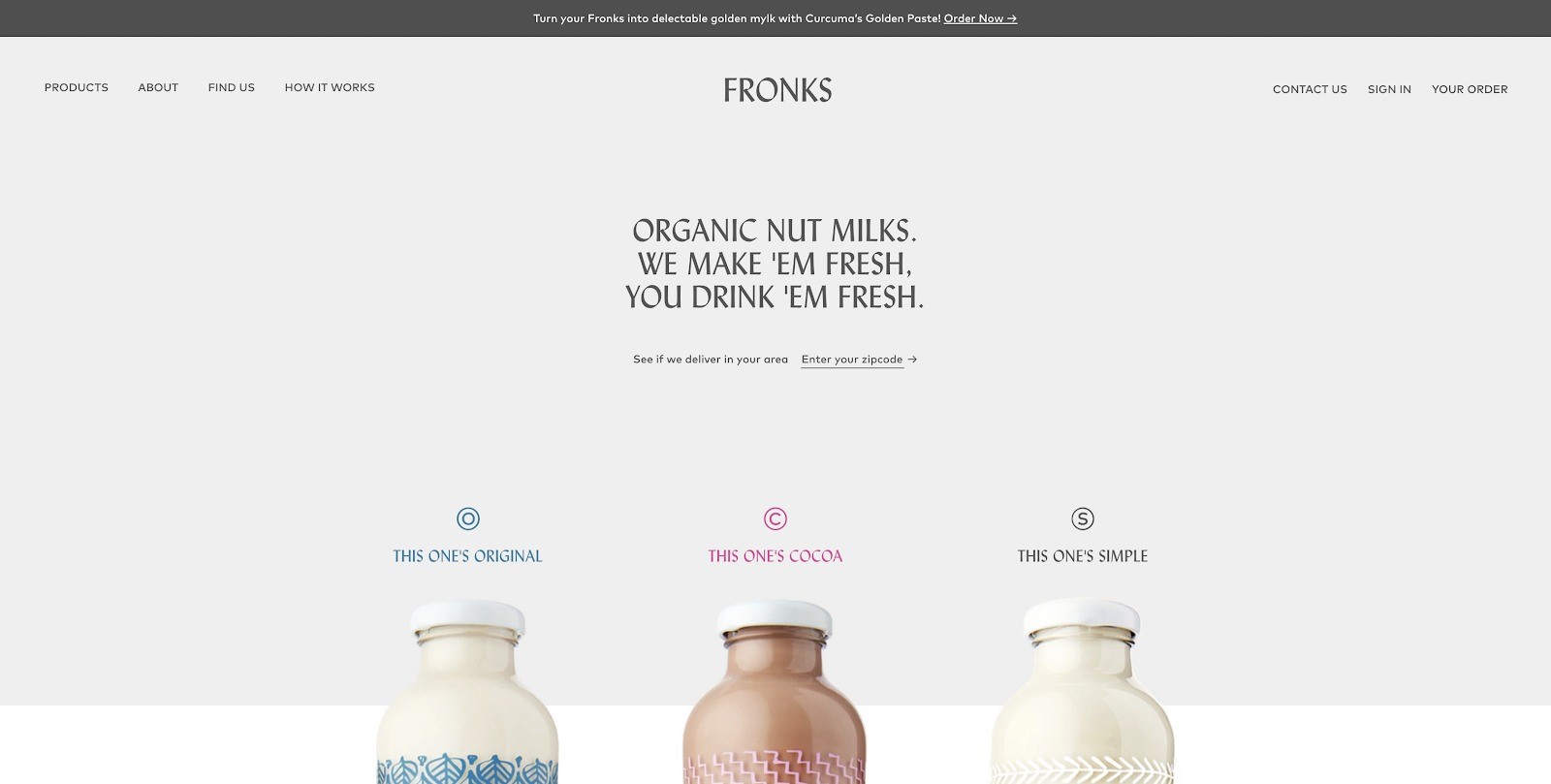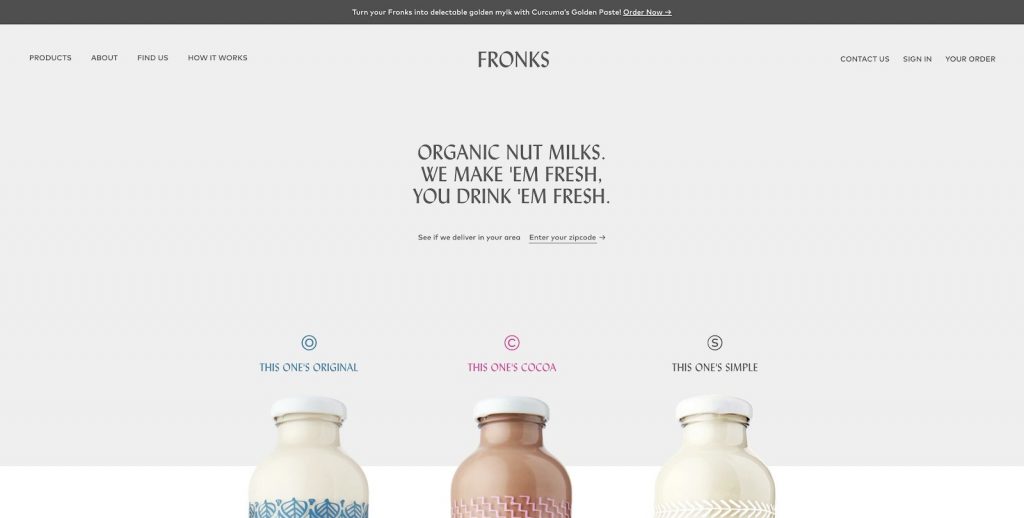 Offer Free Or Low-Cost Shipping
Last but not the least, offering low or free shipping – if you can swing it financially – could help with your eCommerce conversion optimization.
Offering free shipping can improve your conversions by 25% to 40%, in some cases.
eCommerce conversion optimization: The Final Word
The compounding power of eCommerce conversion optimization cannot be underestimated. No matter which of the above-mentioned conversion rate optimization tactics you choose to adopt, do not forget to test and re-test them till you are satisfied that they serve the best interest of your intended audience. By doing this, you are proactively ensuring that your conversion rates are actually changing for the better.
Which one of the eCommerce conversion optimization strategies do you like the most? Or do you know of any other? Please share and comment below!
Curious to learn more? Take a look at related posts!
Do You Want To Boost Your Sales?
We are Perzonalization and we'd like to help you.
Try AI powered eCommerce personalization and increase your sales up to 15%.