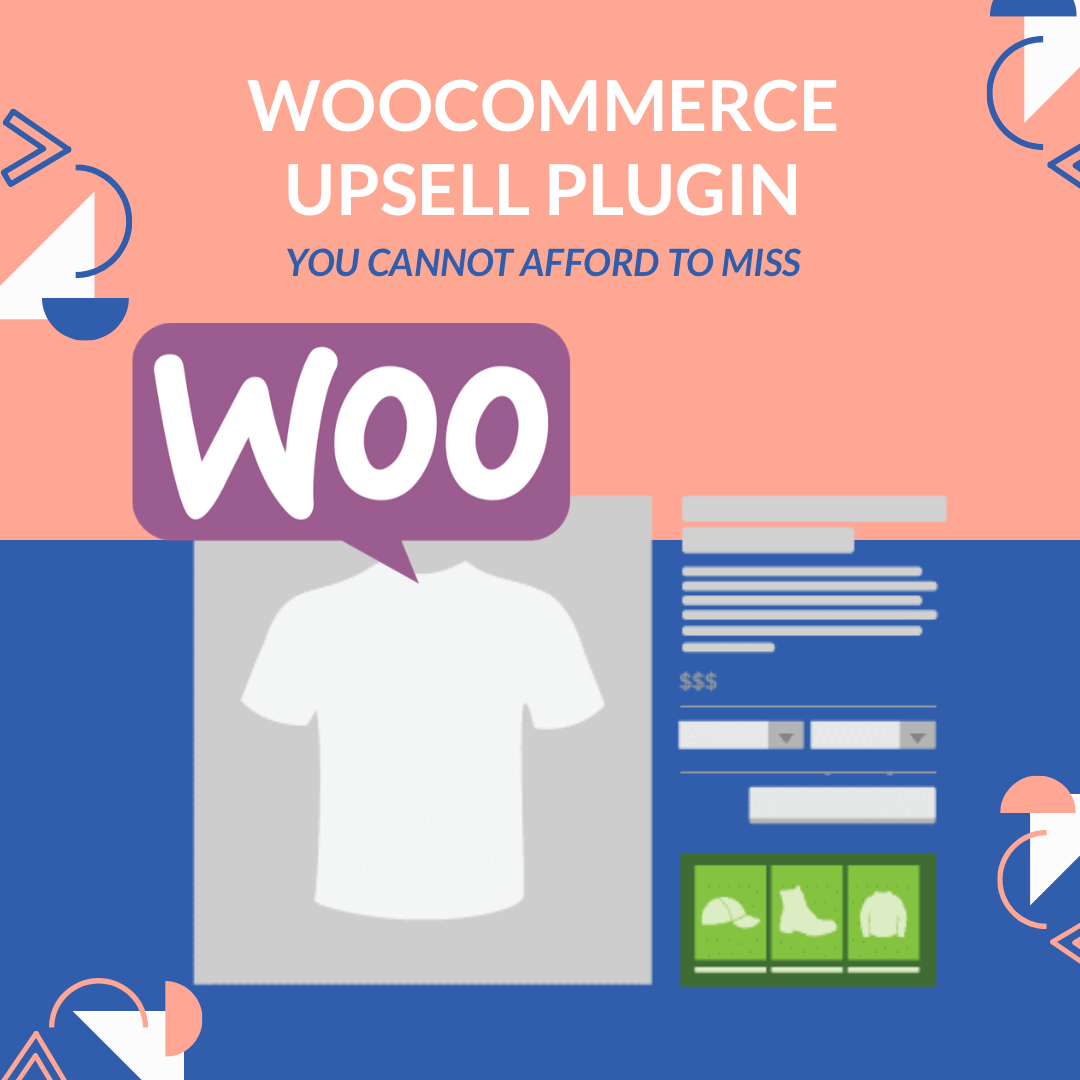 WooCommerce Upsell Plugin; An Incredibly Easy Way Of Boosting Revenues
Did this ever happen to you when you were ordering a coffee in Starbucks, you were asked whether you would like to try their signature coffee beans? Or when you ordered the pizza online, they always suggest additional toppings. That's upselling. And with this post, our aim is to prove you that a WooCommerce upsell plugin is what you need if you want to increase your revenues and average order value.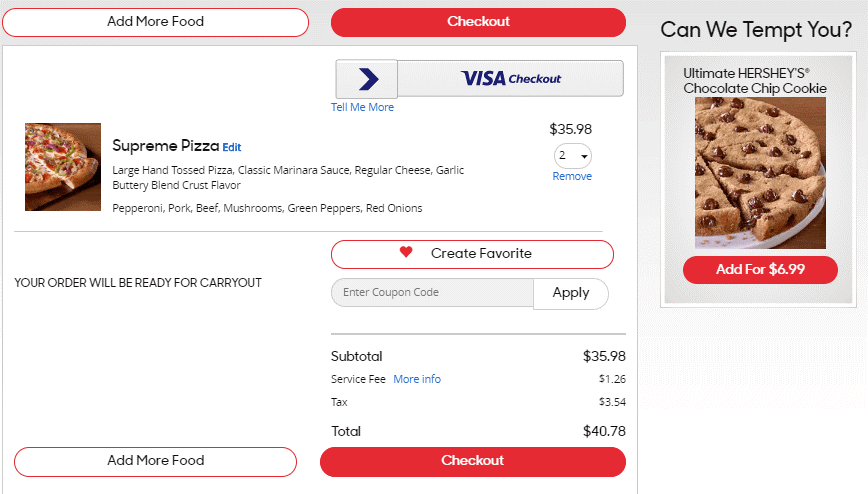 Go to Amazon, and add the product of your choice to the cart. You will instantly see an additional section saying – "customers also viewed" showcasing some items, mostly similar or "related" but usually higher priced. That's also upselling.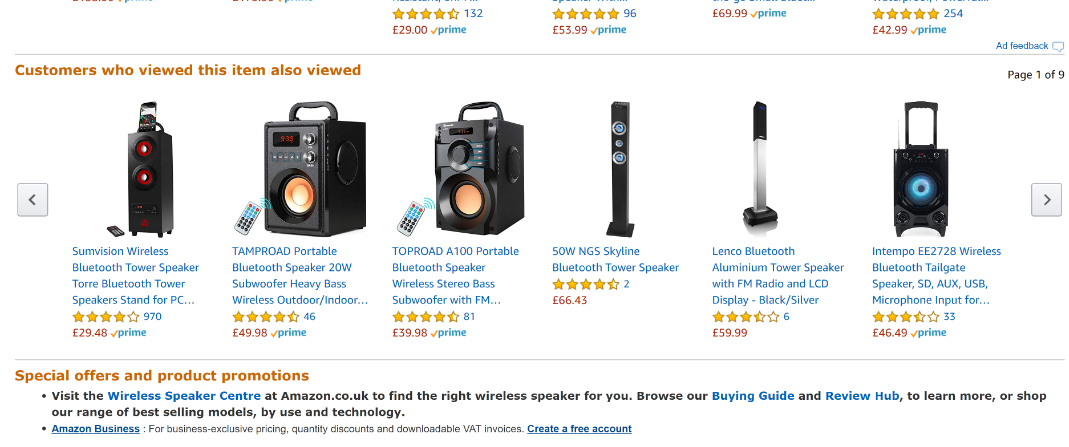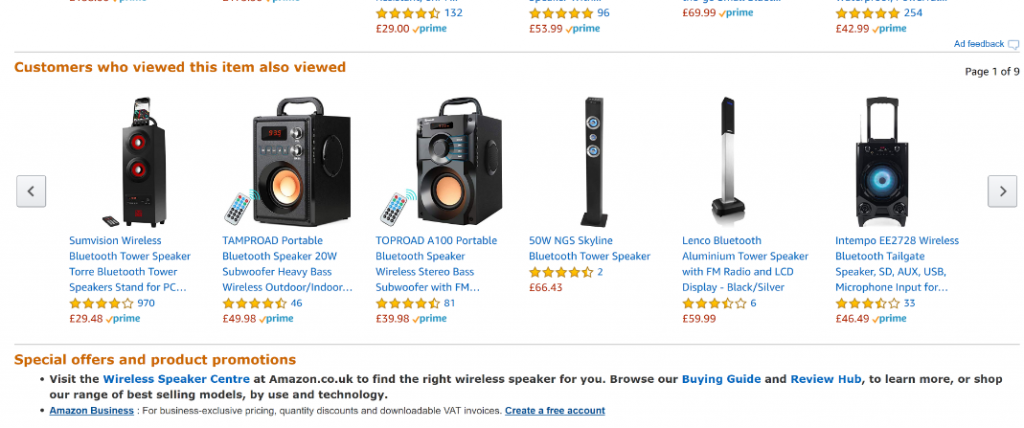 The main purpose of this kind of marketing technique is to increase sales and make some extra money out of every sale that a brand makes. If you are using WooCommerce for your eCommerce operation and if you want to enable WooCommerce upsell, you need a plugin which can facilitate upselling on your WordPress eCommerce store.
Perzonalization's WooCommerce upsell plugin enables you to increase your profitability and also brings customer loyalty and brand engagement. – Tweet This!
Let's first understand how upselling benefits your eCommerce store and which WooCommerce upsell plugin should you look out for.
Are you able to showcase AI powered related products, upsell items and frequently bought together products on your WooCommerce store? To get all of these and more, install Perzonalization for WooCommerce now and start your 14 day free trial.
Look at the below example from Bold Coffee. When someone clicks on a bag of coffee, you can upgrade or "upsell" them to a bigger bag of coffee for just $3 more. Now that's pure upsell.
Why Is Upselling Important In The eCommerce Domain?
The prefix "Up" in the word upsell itself suggests that it has something to do with 'more' – more sales, a higher price and more revenue. Typically, this is achieved by showcasing a better edition of what you are looking at.
A study shows that upselling drives more than 4% of total sales.
A study shows that upselling drives more than 4% of total sales. – Tweet This!
Better Engagement With Customers
As an eCommerce store owner, it is important that you keep your customers engaged, and simultaneously build a strong relationship with them. If for a moment we put aside the aspect of earning more revenue, with upselling you are actually redirecting your customers towards products that may complete their needs in some way – focusing on their happiness in general. And when you focus on your customers' needs, you have the chance to better engage with them.
Like they say, retaining existing customers is a lot easier than trying to acquire new ones. Upselling can help you retain your customers while trying to sell more products to them.
Customer lifetime value (CLV) is a measure of how profitable a customer is to your business. A higher CLV from a particular customer simply means that they are beneficial for your organization. Upselling enables you to get a better CLV from the same customer, because they intend to spend more than what you would get from a new customer.
Now that you understand the benefits of upselling to your store, let's talk in the context of WooCommerce.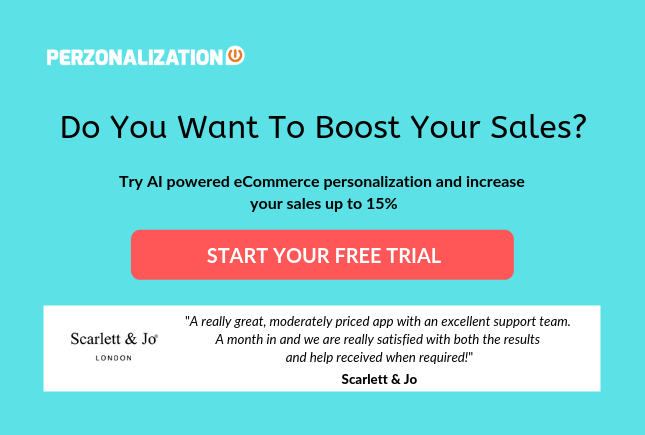 If you are a small eCommerce retailer on WooCommerce, Magento or Shopify, there's a simpler way of ensuring effective upsells on your store.
And that's where WooCommerce upsell plugins come into play.
When we look for the best WooCommerce upsell plugin, we are precisely looking for:
WooCommerce upsell in cart
WooCommerce display upsells on product page
WooCommerce upsell at checkout
Features Of The AI Powered WooCommerce Upsell Plugin
Perzonalization's WooCommerce Upsell Plugin does all the above and more.
In a glance, let me take you through our WooCommerce upsell plugin. For starters, the plugin displays product recommendations on:
Cart Page
Filter Page
Not Found Page
Home Page
Product Page
Search Page
Sales Page
Rules And Algorithms That You Can Use With Perzonalization Plugin
With this WooCommerce one click upsell plugin, you can also use the following list of logic types on your recommendation blocks:
Related products from like-minded shoppers: This algorithm displays products that other shoppers have liked or purchased.
Popular Products: Showcases products that are bestsellers or popular among the customers.
Recently viewed products: Shows products that have been recently viewed.
"If this then that" product recommendations: The plugin also allows you to set some pre-set rules saying something like, 'if the visitor is viewing t-shirts, then show him shorts'. This is possible with the "If this, then that" feature.
Discounted Products: Allows you to feature the products that are on sale/discount.
New Arrivals: You can demonstrate products which are 'New Arrivals'
Frequently bought together: This is a cross sell feature showcasing products which can be bought along with the product the customer has liked.
Product recommendations on emails: This WooCommerce upsell plugin also allows you to send product recommendations to your customers (email subscribers) through email and helps you make upsell.
Examples: Rule And Algorithm Setting On Perzonalization's Customer Panel
For instance if you are looking for Cuffed Skinny Jeans,  our WooCommerce upsell plugin will display the "frequently bought together" products below the viewed item.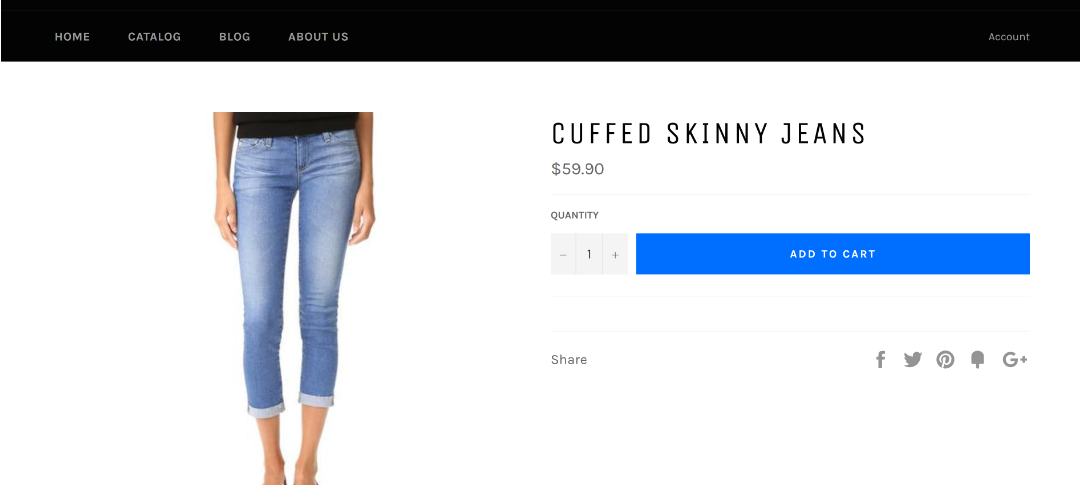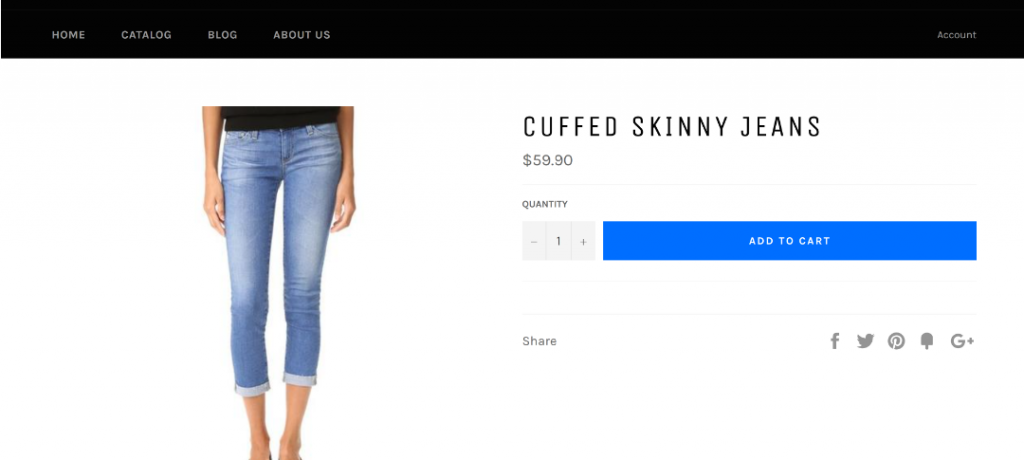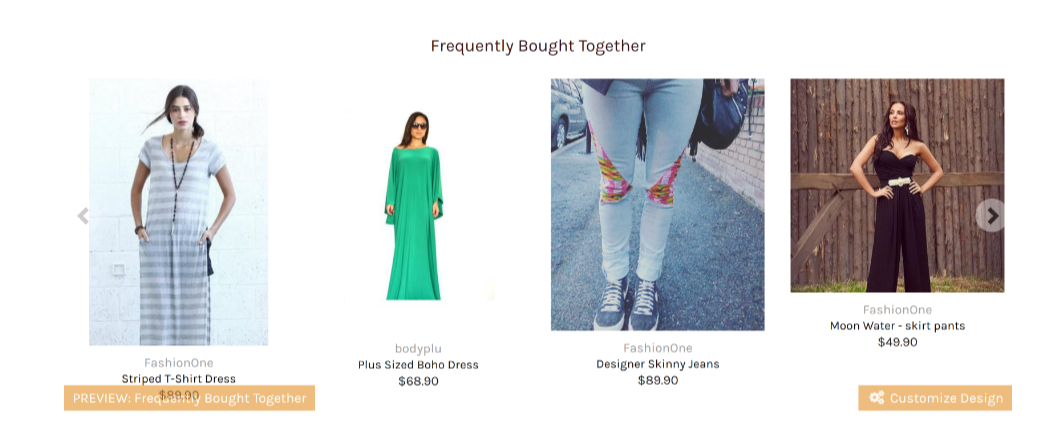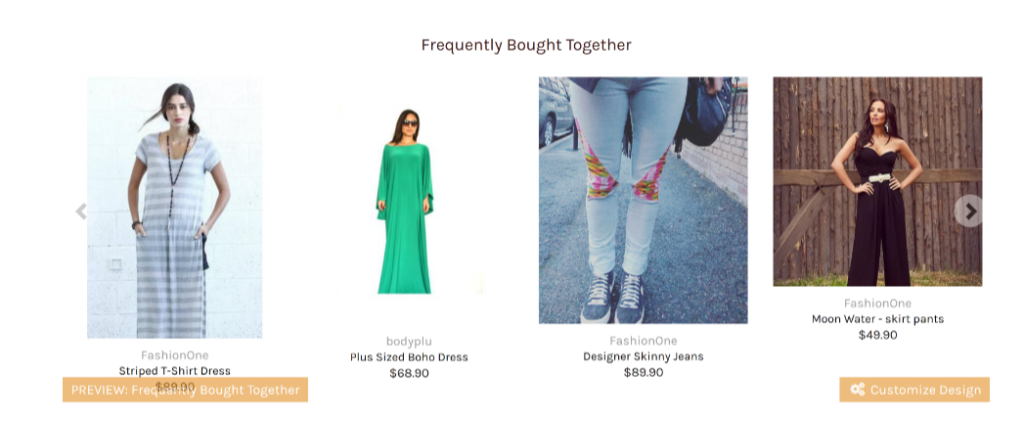 Similarly, you can also enable WooCommerce upsell in cart page like below. Our Woocommerce cart upsell plugin allows you to display upsell products on the shopping cart each time this page is viewed by your customers. With the "add to cart" button, you can instantly create WooCommerce one click upsell options for your visitors.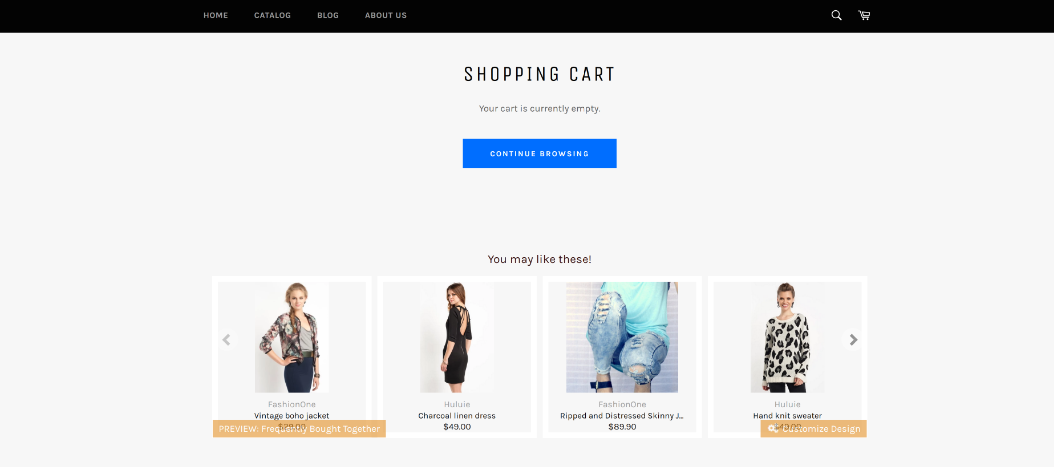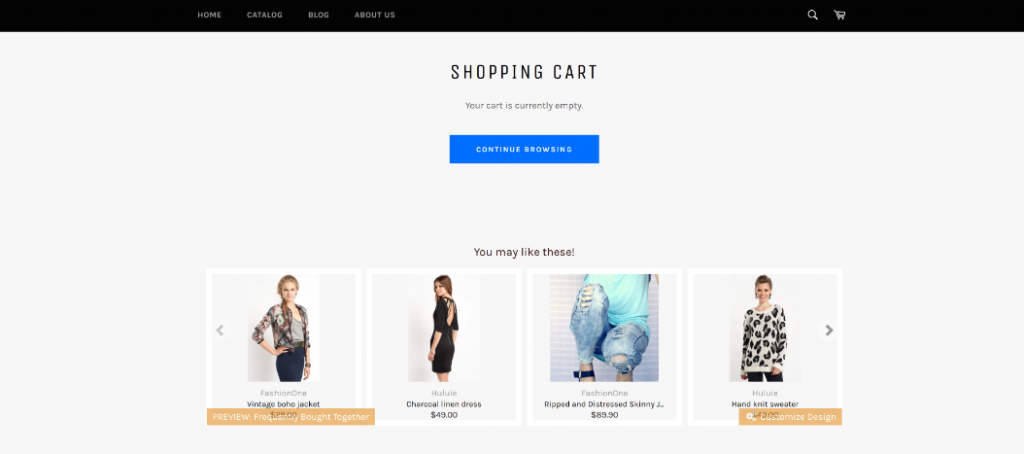 In your product collection page, our WooCommerce upsell plugin will showcase popular products something like this: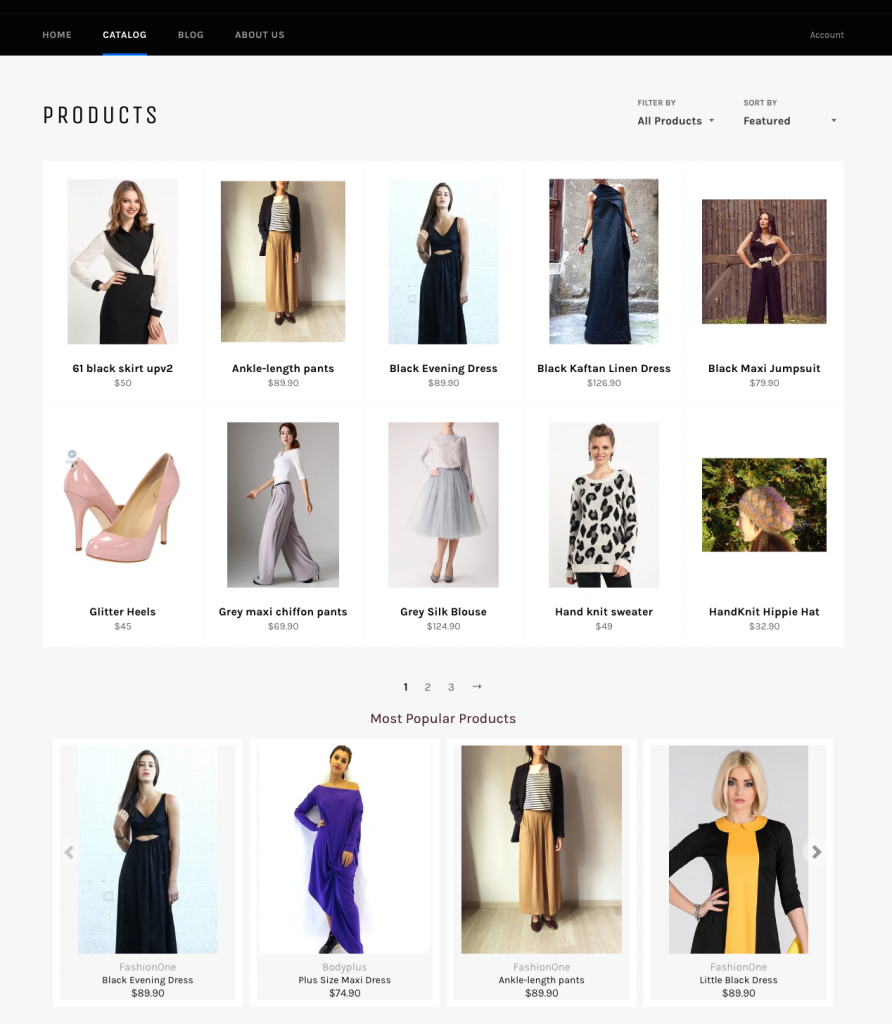 Similarly, for your "no results found" page, it will display related products in the following manner: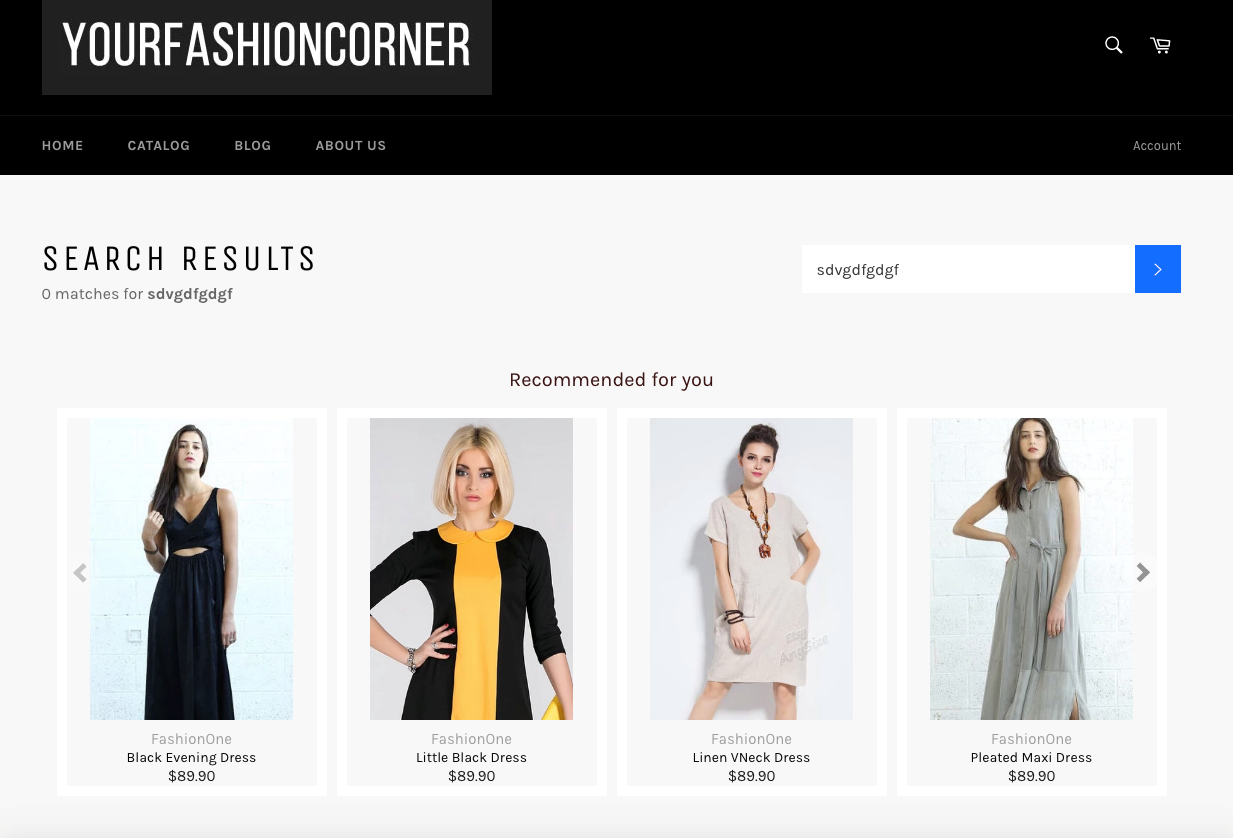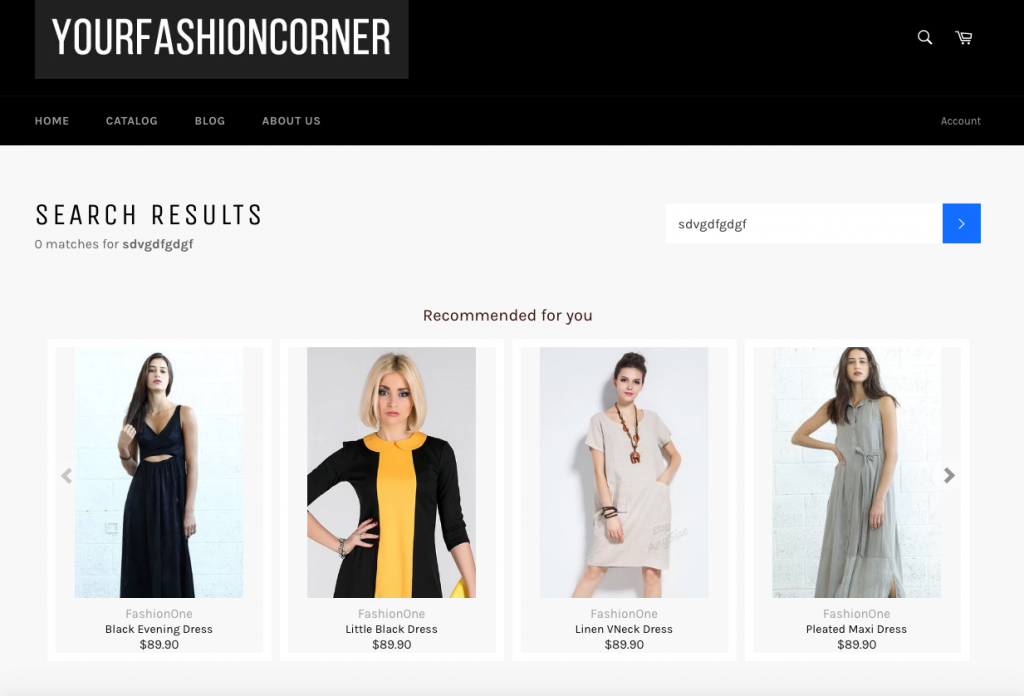 Step-by-step Guide On Using The WooCommerce Upsell Plugin From Perzonalization
Install the Perzonalization WooCommerce Plugin
Determine The rules of upselling with the admin panel
Run it for a couple of weeks
Measure its effectiveness with tools like Google Analytics Enhanced eCommerce
Tweak and repeat
WooCommerce Upsell vs. Cross Sell
There is another cousin of eCommerce upselling called "cross-selling". Cross selling also has the same objective, namely to increase AOV, but it does so by selling or suggesting complementary products. Look at the below example.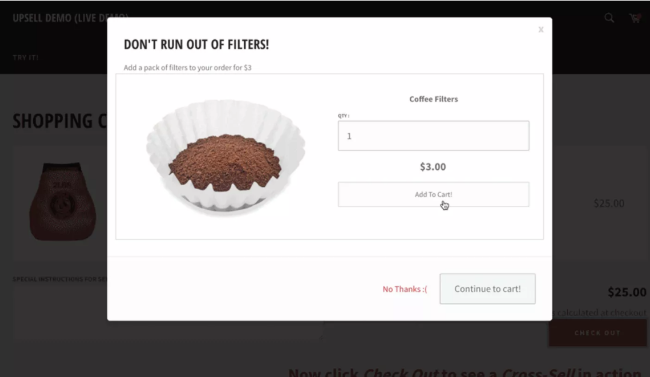 In the above example, you're suggesting to your coffee buyer to add an additional product (coffee filters in this case) to the cart.
Three ways for upselling on your Perzonalization WooCommerce upsell plugin.
How To Create Upsell In Woocommerce?  
A fully equipped product bundle is always helpful when you are trying to drive WooCommerce upsell. For instance, let's say you sell mobile phones. A customer who's been looking at the products in your store decides on the model, and they're ready to hit the BUY button. At this stage, you might want to ask yourself, "What else will this customer need for you to get the most out of this sale?"
A fully equipped product bundle is always helpful when you are trying to drive WooCommerce upsell. – Tweet This!
Here you could offer your customer a 'fully-equipped mobile phone bundle', including a back cover/case, headphones, charger and adaptor etc. These are all things the customer might need to buy later anyway, but if you offer them these at the right moment, you have a greater chance at convincing the customer to spend more now, resulting in higher revenue.
Perzonalization's Woocommerce upsell plugin lets you work on this rule. As you may see in the below panel, a rule like 'If the customer is viewing items from Converse, then show items from collection 'Pants and More' is very easy to define.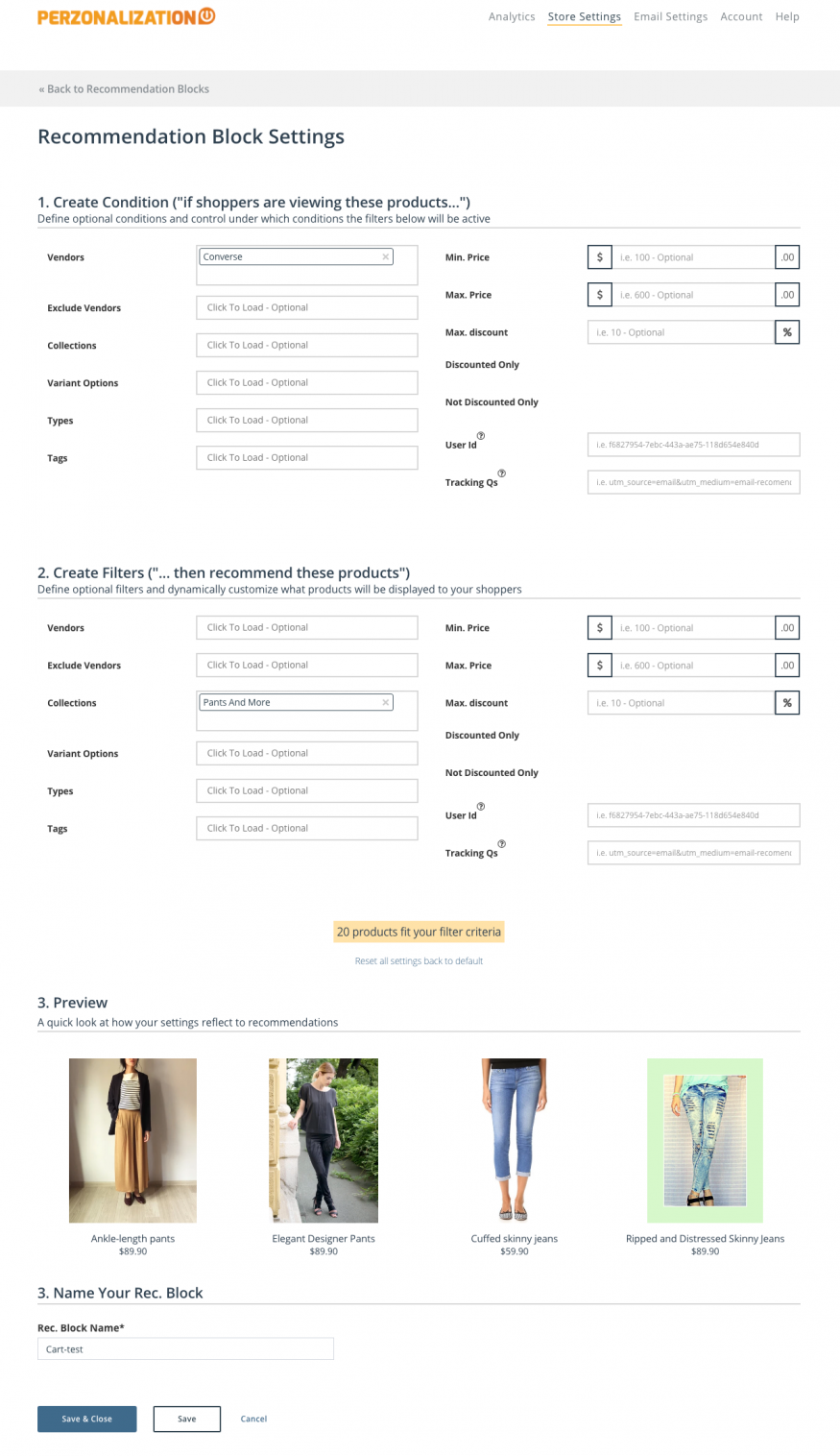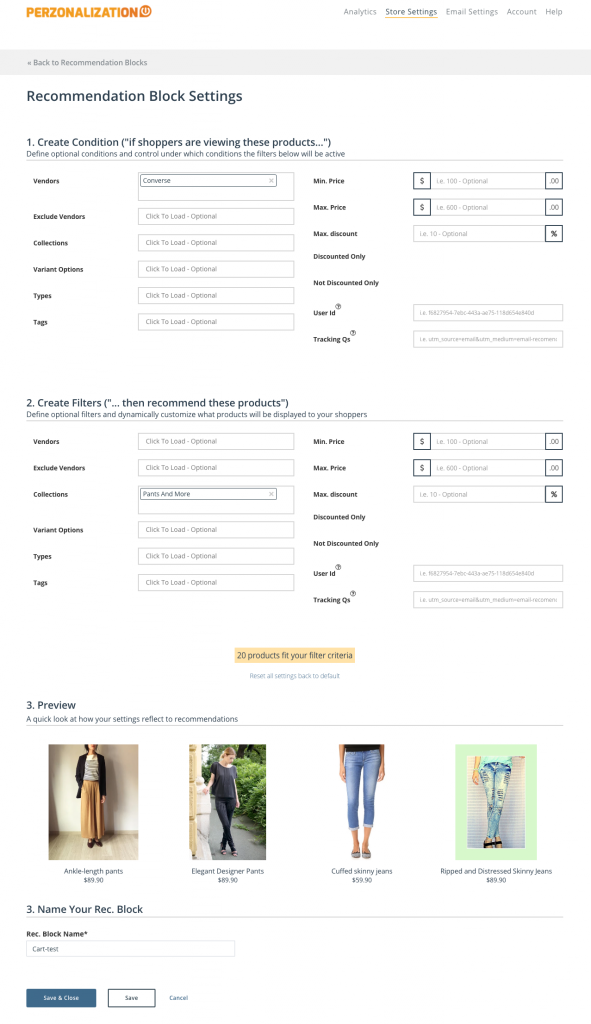 When you place this recommendation block on your cart page, the users who add Converse to their shopping carts will see pants. This is a great example to WooCommerce cross-sell.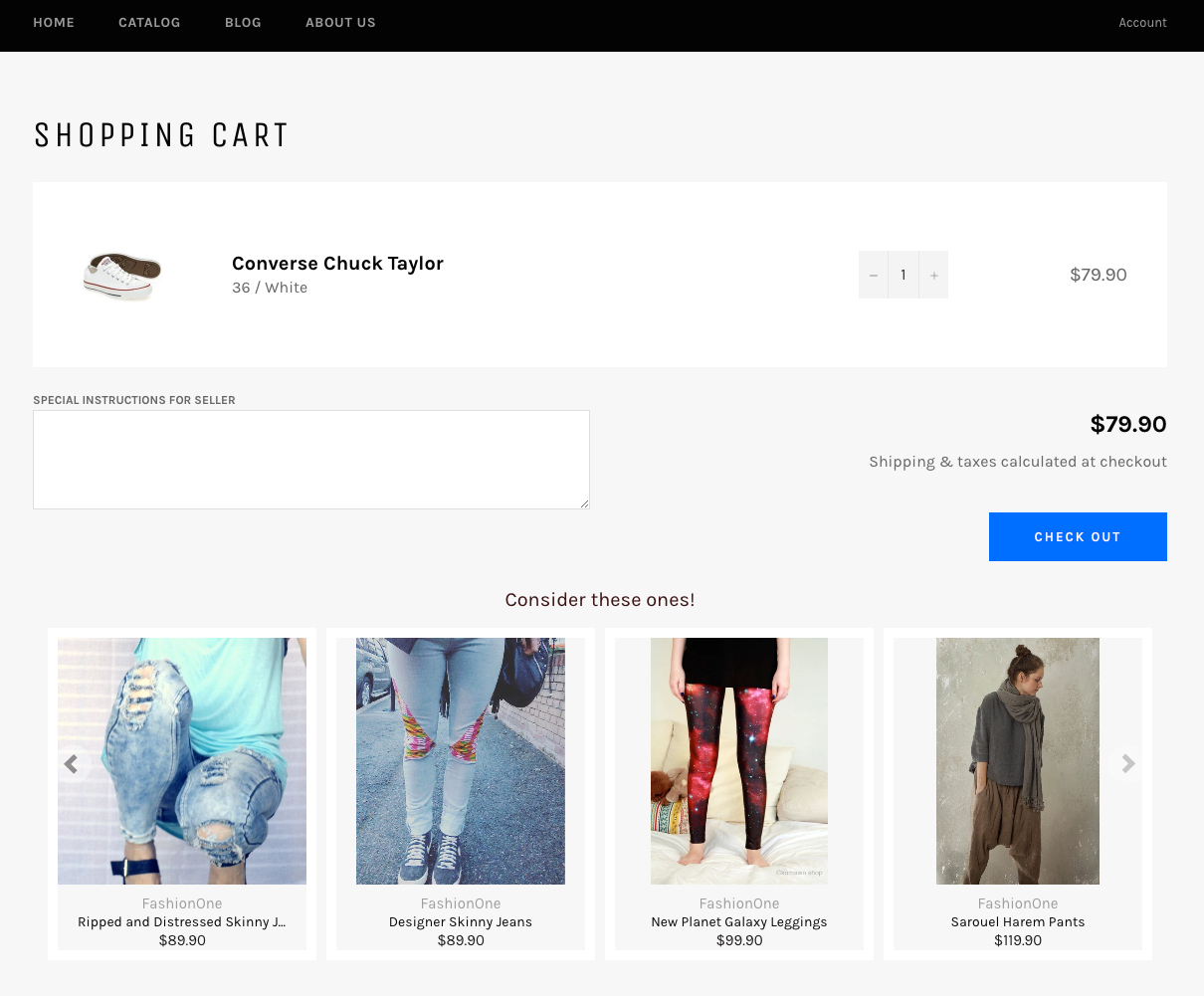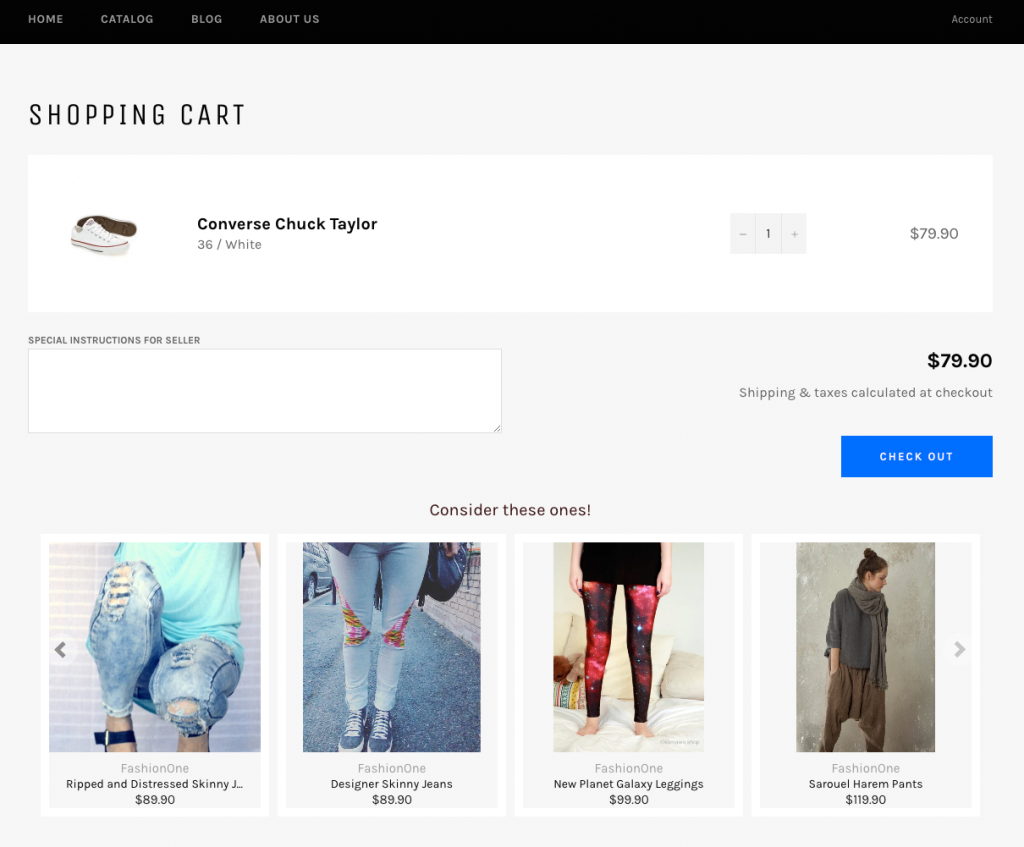 Another good example comes from Sky. It offers a basic package to its customers, along with different add-ons that create different value depending on the customer.
Looking for the best WooCommerce upsell plugin? You've come to the right place! Install Perzonalization for WooCommerce now and start your 14 day free trial.
Where To Use WooCommerce Upsells?
There are three places in your WooCommerce store that are ideal for placing your Perzonalization WooCommerce upsell plugin.
On WooCommerce, Display Upsell On Product Page: The first is inside your product pages, where customers will see WooCommerce upsell widgets. You can also add other useful attributes with this plugin, such as WooCommerce 'you may also like' products or WooCommerce ' you may be interested in' products. For instance, your customer is buying a subscription offer. After the checkout page, you give them the option to upgrade with an additional discount.
WooCommerce Upsell In Cart: The second location where you can use this plugin is your cart page. This page is also the best page to locate a WooCommerce one click upsell item! Perzonalization can act as a WooCommerce cart upsell plugin when used on the WooCommerce cart page. You can even manually select your upsell products and pick the rules that will trigger these recommendations.
WooCommerce Upsell At Checkout: Finally comes the third location for your WooCommerce upsell; checkout page. Many eCommerce stores tend to include certain offers for additional or alternative products within the first few steps of the checkout process. Some others include special discounts for these 'other products', making them available to only those customers who select them during checkout.
Use A Post Purchase WooCommerce Upsell
It's not that you can use this WooCommerce upsell plugin only before and during the checkout process. You can also use WooCommerce one click upsell offers for users after they have made a purchase. But for this you will need customer email addresses and you'll need to ask them if they're open to receiving product offers. If the customer agrees, then you can add them to your email list and send them an occasional marketing newsletter like the WooCommerce new order email to customers to encourage them to make more purchases.
Look at the below example: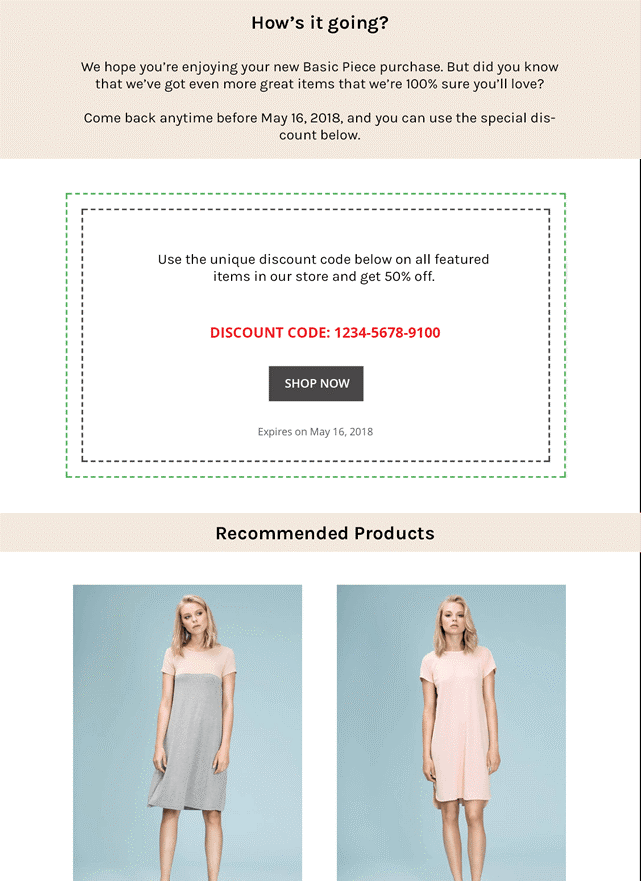 One great thing about this approach is that it's subtle because you give your customers time to think about whether they need any additional products or want to upgrade. So there's less pressure on them.
If you want to use this WooCommerce upsell technique, you may use an email marketing platform that can connect with your e-commerce site. One of the highest selling points of the Perzonalization WooCommerce upsell plugin is that it is compatible with any email marketing platform. Alternatively, you may leave everything to Perzonalization; including email delivery.
You can easily form an e-mail template (like the one below) on Perzonalization's Woocommerce admin panel and send this out with any email marketing platform. The best thing about these emails is that; they contain one or more WooCommerce one click upsell widgets!
WooCommerce Upsell Best Practices
Successful upselling is all about understanding your customers' needs and making the shopping experience more enjoyable and customized for them. Following are some of the best practices to try:
Incentivize your upsell offers and reward your customers for spending that extra buck. Free shipping or a discount on future purchases are good ways to do it.
Create a WooCommerce one click upsell activity for your visitors. The upselling function should be easy to use. After clicking on a button, the visitor should be able to add the upsell item on the cart.
Use simultaneous comparisons to showcase the value the customer gets by purchasing the costlier version of the product.
Ensure that the product you're trying to upsell is within a reasonable price range of the products they have selected. Customers will usually not pay more than 25% of what they planned to spend.
Avoid being too pushy. Give your customers alternatives, but at the same time allow them enough space to make up their minds in their own time.
Put useful reminders to customers to top on related products they might need in the future. Look at the below example from Dollar Shave Club.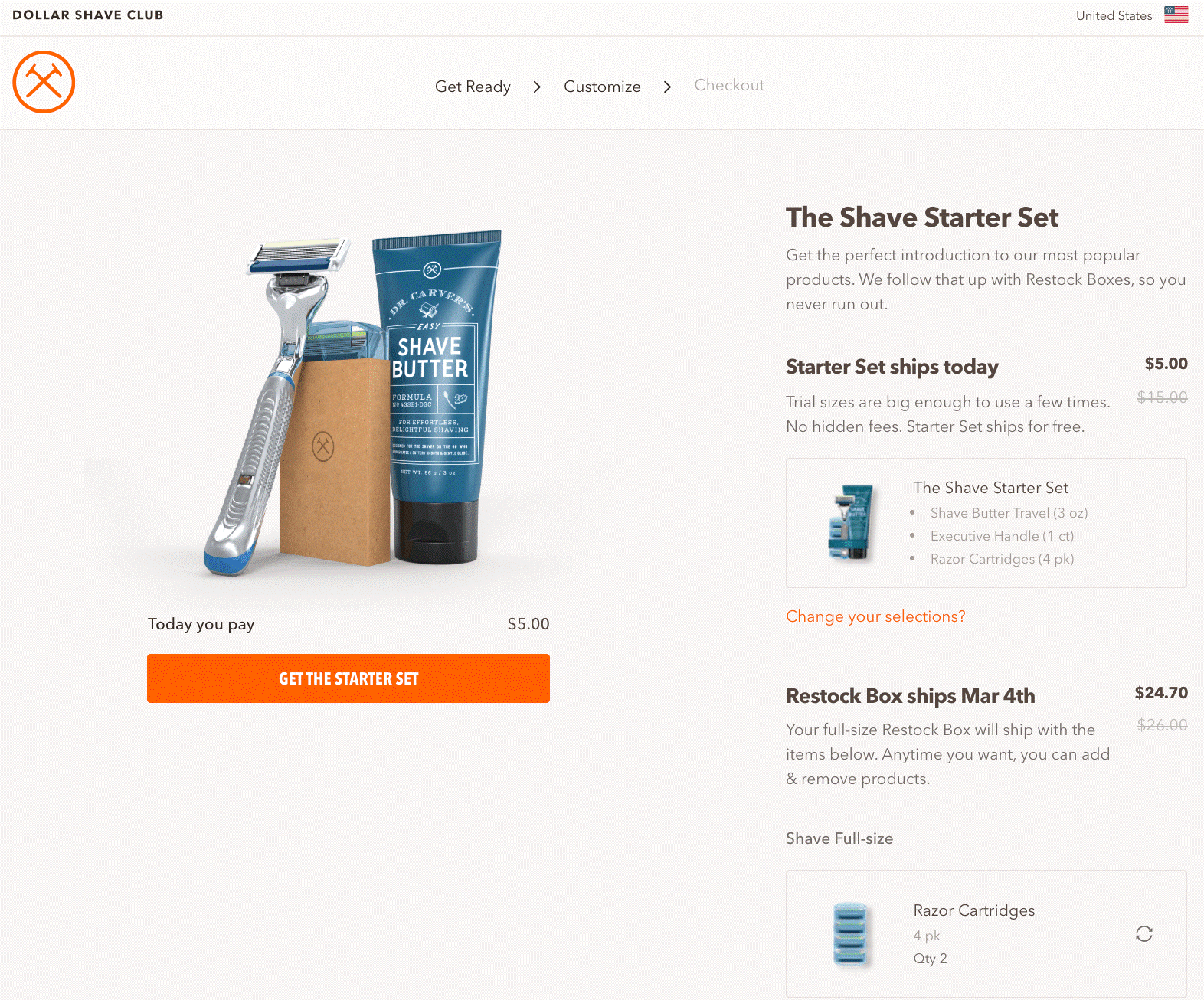 Use customer data/browsing history to personalize offers as much as possible and suggest products that genuinely add value to their purchase.
Make the process simple. There should just be one click to get the upsell offer. More time your user takes to do an additional process of upsell, lesser is the chance of a conversion.
Consider creating a sense of urgency by conveying real-time updates on your stock, for instance, use phrases like "only 2 items left" or remind them that the offer will be available for a limited period of time only.
In the upsell offer below, there is a one-time offer on men's shirts. Customers hence will be tempted to take it.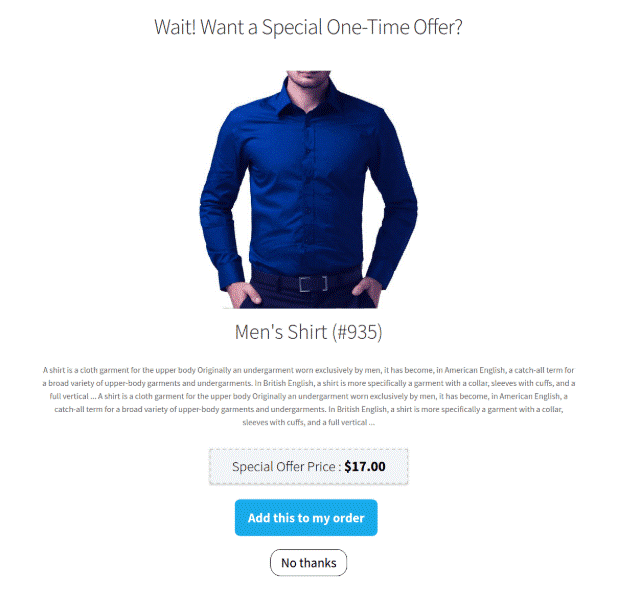 Educate customers on missed opportunities, if they decide not to take advantage of the offer. Create a sense of FOMO (Fear Of Missing Out). Value Proposition is vital.
Don't overwhelm your customer with too many choices, but show a decent range of products.
Try and upsell only your most reviewed/most sold and most relevant products.
Create a "Buy One, Get One For A Discount (BOGO)" offer. A sentence like "That shirt will look great on you. Why not get another for 50% off?" will do the trick.
Time To Get Your WooCommerce Upsell Plugin!
A good upsell always leaves the customer feeling like they have won despite spending that extra buck. For this to happen, you need to strategize your WooCommerce upsell in a way that it is customized to their needs. And although upselling is one of the easiest ways to increase your average order value, improve customer lifetime value, and generally raise your bottom line sales numbers, it requires substantial thought and planning. Perzonalization's WooCommerce upsell plugin enables you to increase your profitability and also brings customer loyalty and brand engagement.
Have you offered your customers something they can't resist in terms of upsell? Let us know.
Curious to learn more? Take a look at related posts!
Do You Want To Boost Your Sales?
We are Perzonalization and we'd like to help you.
Try AI powered eCommerce personalization and increase your sales up to 15%.