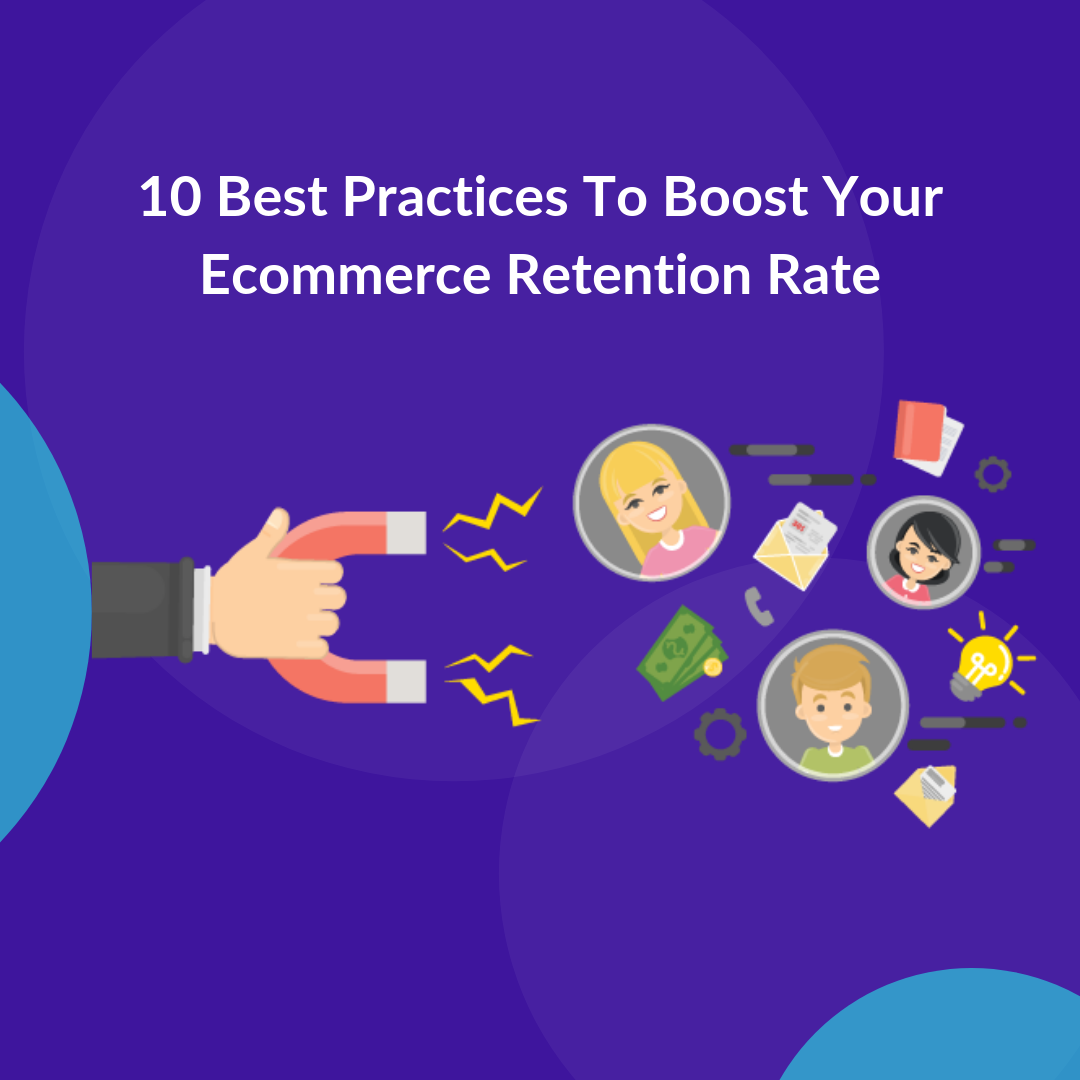 eCommerce Retention Rate or Customer Retention Rate (CRR) often goes unnoticed by most eCommerce entrepreneurs, but guess what?! It's a vital profitability metric to track. – Tweet This!
As marketers, we all know the importance of increasing traffic to our eCommerce stores, but is that all there is to eCommerce marketing?
Merely increasing traffic to your web store with SEO and other paid channels is becoming an outmoded retail marketing strategy, unless they are used along with other techniques targeted towards customer retention.
So, what is the most effective way to grow your eCommerce business?
Download your guide and learn about personalized advertising and why you need it for your online store.
What is more important to keep your eCommerce business afloat alongside your regular marketing activities is to constantly work towards customer retention and deploy marketing techniques that are focused on increasing brand loyalty. The more you cater to existing customers, the more your business is going to flourish. Building retention marketing strategies to retain existing customers is more crucial than ever and can make a magnanimous impact on your business.
What is more important to keep your eCommerce business afloat alongside your regular marketing activities is to constantly work towards customer retention. – Tweet This!
Retention marketing: What does customer retention mean for eCommerce sites?
Retention marketing is a well-planned business strategy that focuses on nurturing your existing customers. The objective here is to generate repeat customers and enhance their frequency of purchase. For that, you will have to make sure your eCommerce store delivers engaging and relevant content to your customers. In this way, you not only influence their buying decisions but also increase their customer lifetime value (CLV), in other words, brand loyalty or E-loyalty.
In addition to creating repeat customers, retention marketing is also about keeping your customers intrinsically happy, loyal, engaged and hopefully, spending.
For an eCommerce website, the maximum revenue comes from repeat customers. As per a study cited by Bain and Co., a five per cent increase in customer retention (for an eCommerce business) can enhance revenue by as much as 55 per cent.
Here's a quick fact for you:
Did you know that popular websites like Karmaloop and Hubspot were about to sink before they began leveraging their businesses only through existing customers – offering exclusive services that gave customers every value for the money they invested.
Hence, dismissing eCommerce customer retention marketing strategies, and solely focusing on attracting new customers result in something called the "customer churn". This happens when a customer stops interacting with a business.  Customer churn ultimately leads to a loss in profit margins and income.
Why is it important to have high eCommerce retention rates?
The only way to keep your eCommerce web store buoyant in this vast ocean of never-ending competition is by having a high customer retention rate. While customer acquisition is also a necessity for the smooth running of your web store, focusing on eCommerce customer retention strategies is equally important.
Implementing eCommerce customer retention strategies will augment profitability in three major ways:
It increases the Customer Lifetime Value (CLV) of a customer: As you enhance the frequency and amount each customer spends with your business, you are invariably impacting their CLV and profitability.
Opens new avenues and sales channels: By increasing the CLV of your customers, you are able to spend more on eCommerce marketing channels that can get potential customers for your business.
Augments Average Order Value (AOV): According to a study by Adobe, repeat customers make up 40 per cent of sales in an eCommerce business.
eCommerce Retention Rate: An Essential Metric To Increase Your Profitability
eCommerce Retention Rate or Customer Retention Rate (CRR) often goes unnoticed by most eCommerce entrepreneurs, but guess what?! It's a vital profitability metric to track. Since acquiring new customers is the most expensive thing an eCommerce web store has to do, revenues rely on how your business can profit from each customer after you get a hold of them.
Therefore, you need to do everything in your power to persuade your existing customers to keep returning after their first purchases.
As an eCommerce marketer, you need to do everything in your power to persuade your existing customers to keep returning after their first purchases. – Tweet This!
If your retention rate is low, it clearly implies that you are focusing more on customer acquisition strategies than on retention marketing tactics. Focusing more on acquisition strategies usually ends up driving up marketing expenses and profitability down.
There are many online software programs that let you calculate eCommerce customer retention rate. You could also use the cohort analysis feature available on Google Analytics to get a clear understanding of your business' CRR.
Here is another simple way to calculate the CRR:
CRR = [E-N/S]*100
E = the number of customers at the end of the period
N = the number of customers acquired during that period
S = the number of customers at the start of the period
Since calculating CRR and manually measuring customer retention is a cumbersome task, it is recommended to use a software or online tool to help you get the exact results.
Is there something called a "good" CRR?
Having a high CRR is clearly a dream of many eCommerce entrepreneurs. However, the typical eCommerce store gets 45 per cent or more of its revenue from repeat customers. The average customer retention rate eCommerce stores can reach can be extremely low when a yearly comparison is made. Likewise, the only way to increase customer retention rate solely depends on how much you are willing to invest in nurturing and retaining your existing customers.
10 best customer retention strategies for your eCommerce business
Bringing new customers to your door step is very important. But what about keeping them around? Listed below are 10 best eCommerce Retention Rate or customer retention strategies to increase your eCommerce business:
eCommerce Retention Rate Strategy #1: Personalized emails
Email newsletters from eCommerce retailers have a dismal click-through rate and, as a consequence, low impact in retaining customers. However, according to a study by Überflip, eCommerce web stores using personalized emails have successfully been able to retain a good amount of customers.
One of the best examples of personalized emails for customer retention is Amazon. Most of the emails you receive from this eCommerce store are a part of a choice of products based on your current activity on their site. Perzonalization lets you send AI powered personalized automated emails when you subscribe to them. It is a great way to increase repeat customers and brand loyalty.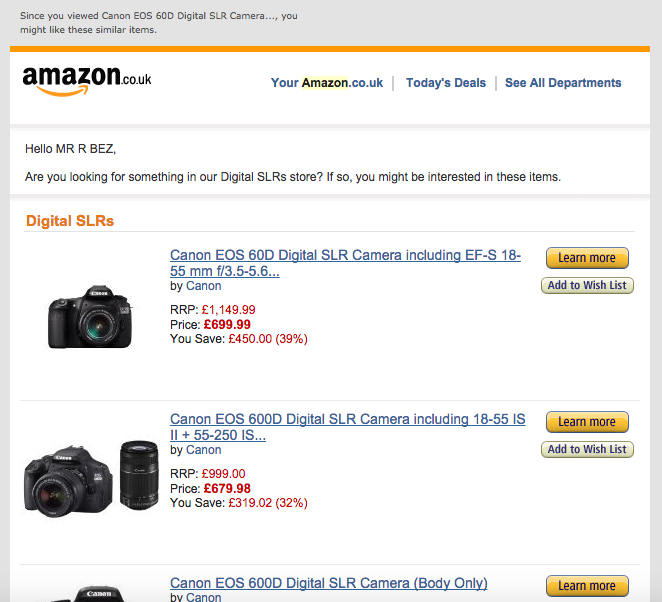 Amazon has a huge inventory and also a good product recommendation engine which lets it generate automated personalized emails (please insert here a link to our automated emails) . The recommendations are based on a customer's previous searches and purchases through the web store.
eCommerce Retention Rate Strategy #2: Good Customer Service
One of the many reasons why most customers do not buy from the same online web store is poor customer services. Customer experience is not just about persuading customers to purchase a product. A great customer experience ensures to boost e-loyalty, which in return contributes to an increased CLV.
For instance, 70 to 80 per cent of sales for Zappos eCommerce site comes from repeat customers, leading to a higher eCommerce CRR. The secret behind such an amazing eCommerce CRR is their great customer service. Zappos does this by focusing on delighting each customer at every transaction they make.
eCommerce Retention Rate Strategy #3: Taking The Social Path
Many people fail to realize the power social media has to retain customers. Facebook especially is one of the best platforms to promote any eCommerce company that follows a B2C business model.
Facebook has over 900 million active users, who spend approximately 650 minutes per month browsing through this platform. It is observed that each day an average of 30 million users update their status. This gives eCommerce owners a good pool of potential customers to reach out to. It also provides them with behavioural information and rich demographic to target their retention marketing campaigns in the best possible way.
eCommerce Retention Rate Strategy #4: Loyalty Programs For Existing Customers
Implementing a loyalty program might not have customers flowing into your web store, but combined with a product and good customer service, it can surely generate sales and enhance customer retention.
In most instances, a customer loyalty and retention program must reward customers based on the frequency of their purchases. "Buy X, Get One Free" or reward points work for consumer businesses. You might want to consider different rewards depending on the nature of your business.
eCommerce Retention Rate Strategy #5: "Hello" and "Welcome Campaigns"
The quickest way to implement a "Hello" and "Welcome Campaign" is through emails. Your customers are most likely to be active immediately after buying a product from your web store. Try to make use of this opportunity to your advantage.
Instead of sending a simple thank you email, you can send a more advanced email like a "Hello" or "Welcome to the Family". This will show your customers that you appreciate their purchase and would give them an offer or a discount on their next purchase.
Look at Huckberry's welcome email below. When you are a new eCommerce business, the most important thing you need to do is to convince your prospective customers that you are the best choice. And what better way to do that than showcasing customers' testimonials and sending them in your welcome mail!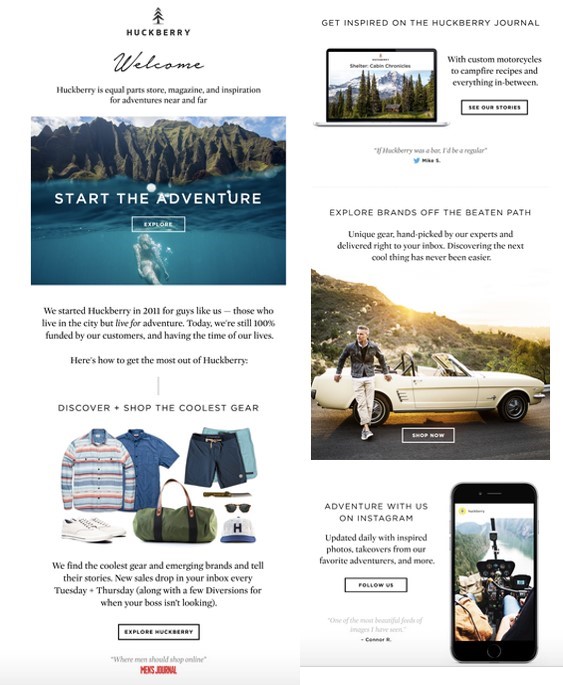 One of Esprit's email marketing campaigns showcased their recycled edition. Every piece of clothing displayed in the email had a separate CTA button. All that the users needed to do was to click the item they liked and they were good to go. This representation made this campaign one of the best email marketing campaigns.


eCommerce Retention Rate Strategy #6: Gamification
Gamifying your eCommerce web store can help you improve customer retention. It makes your web store interesting, interactive and more fun. The idea here is to take a few elements that make online games enjoyable and integrate them into your business. Some popular gamification strategies include online contests, scavenger hunts, point systems, and customer referrals.
eCommerce Retention Rate Strategy #7: Personal Gestures
Going the extra mile to celebrate personal events such as birthdays and anniversaries of customers is a great way to retain customers. Building such personal relationships that differentiate your eCommerce business from others indeed improves customer retention.
eCommerce Retention Rate Strategy #8: Customer Feedback
Surveys and feedbacks are powerful tools to help you know how your business is performing. They may seem to be boring, but customers definitely love it. Surveys and feedback forms give customers an opportunity to either vent their buying frustration or celebrate their happiness. Leveraging your business based on customer surveys and complaints can help you improve customer experience thereby improving customer retention.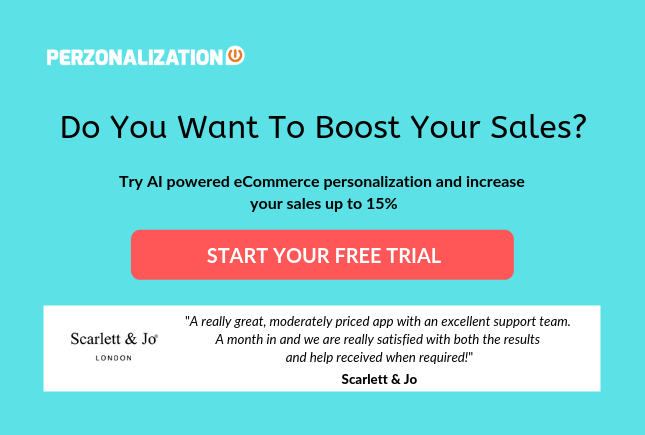 eCommerce Retention Rate Strategy #9: Updating The Website With Valuable Content
Educational and informative content on your eCommerce web store is a great way to bring back customers. Updating timely information and educating customers about a product will promote your business as a reliable eCommerce store. Instead of pushing customers to seek valuable information elsewhere, why not helping them through your eCommerce store!
eCommerce Retention Rate Strategy #10: Subscription-based eCommerce model
Most eCommerce owners oppose subscription-based eCommerce models simply because they guarantee little or no returns. This is not true. For instance, if a customer has been purchasing the same product every month for three years, why not give them a chance to save some money by subscribing to regular deliveries?
This will not only promote your eCommerce business in terms of excellent customer service but will also boost retention rates. In addition, your customer is offered a discount for her brand loyalty and does not have to think about other eCommerce stores.
10 Best Practices To Boost Your eCommerce Retention Rate: Wrapping Up
Customer retention in eCommerce is one of the most crucial factors that come into play whenever any new business seeks expansion and development. Growing your business organically requires more potential customers, which leads to enhanced profitability. However, acquiring new customers is easy and requires minimal investment in marketing activities.
On the contrary, retaining customers may be difficult and requires serious work. The best practices to boost eCommerce Retention Rate mentioned above will give you some idea and help you find possible ways to get suitable recommendations to remain stable online.
Do You Want To Boost Your Sales?
We are Perzonalization and we'd like to help you.
Try AI powered eCommerce personalization and increase your sales up to 15%.