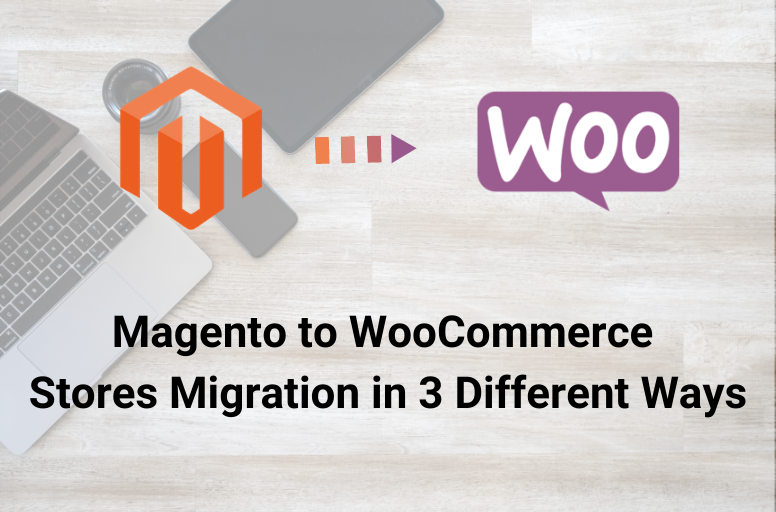 Introduction
WooCommerce and Magento are two of the dominant CMSs in the eCommerce industry. Although Magento is perfect for those with grand plans, thanks to its scalability, merchants may need a generous budget to set a store up and operate it smoothly. Whether you're using Magento 1 or Magento 2 for your online business, you might consider moving your website to a more user-friendly shopping cart. And WooCommerce would be a worth-considering alternative, as this platform is much easier to use and also the most popular eCommerce platform in the world. This article is going to reveal some of the ways to migrate from Magento to WooCommerce. Stay tuned!
Three ways to migrate from Magento to WooCommerce store
Manual migration is the technique that you will export your data from Magento and later import it into your WooCommerce shopping cart.
This method can ensure a high level of security as you can control your store and avoid data leaks. Besides, performing migration manually can help you save your money, especially if you don't have a big budget.
However, keep in mind that you will have to yourself adjust your store due to the different database structure of these two platforms with this method. If you are non-tech savvy, it might take you a lot of time and effort to complete the migration. There's also a high chance of unexpected errors you might encounter throughout the process such as data loss, themes, and customization incompatibility.
Professional help from Website Developers Or Freelancers
If you find performing migration manually is too challenging and time-consuming, you might have to ask for help from a web agency or a developer to carry out the migration for you. They will take care of the whole process and transfer variable types of data more efficiently than you do.
However, this method will cost you a fortune as the normal rate of hiring a web agency is around $50 – $80 per hour. Although they can help you do the compatibility checkup better, unexpected errors might still come at any time. Besides, rarely can a web agency or freelancer understand 100% data structure of both platforms. As a result, the more time they have to spend, the more money you have to pay.
Hiring a web agency to migrate your store from Magento to WooCommerce might be way too expensive. LitExtension is an affordable solution to migration. – Tweet This!
Another disadvantage is that you can't control the migration process, which might lead to a threat of losing valuable data. After all, as a store-owner, you don't want to lose any existing customer information as well as other business-critical data.
The final solution is using automated tools to migrate your store from one eCommerce site to another. This solution allows you to transfer all of your data securely, accurately, and quickly. 
LitExtension is the leading provider of shopping cart migration service. Their tool can transfer almost all important data (including products, customers, orders, multilingual sites, etc.) flawlessly in literally hours to your WooCommerce store without leaving any interruption on your Source Store. They also provide additional options that allow you to expand the migration possibility such as transferring customer passwords, SEO URLs… and other custom field data.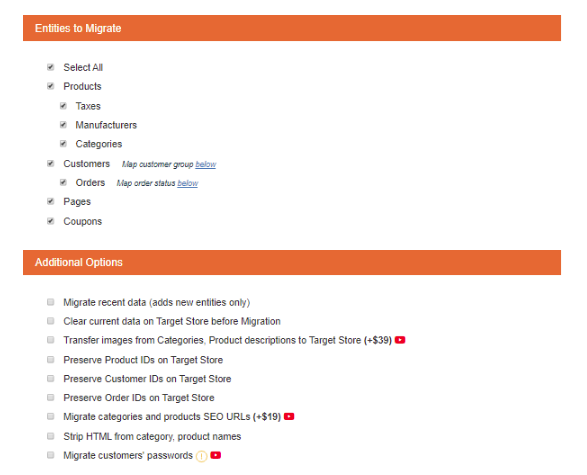 With three-step migration process and a 24/7 support team, this can be the most easy-to-use migration provider at the time. Hence, the following paragraphs will be the detailed instructions to perform the Magento to WooCommerce migration with LitExtension!
How to migrate from Magento to WooCommerce using automated tools?
Step 1: Migration preparation
Back up data on Magento site
Backing up your database (customers, orders and products, etc.) is the very first thing you should notice when making any changes to your online store. This is greatly important because it protects your business-critical data in any case.
However, when migrating your data from Magento to WooCommerce with LitExtension, you don't have to worry about any distortions of your data because LitExtension will not, in any way, edit anything on your Source Store. Therefore, it is not compulsory for you to do backup data before migration.
Enabling the maintenance mode during the backup process is highly recommended to avoid crashes on the storefront, however, this results in your website inaccessibility. 
To back up data on Magento, firstly, you need to login to your Admin Panel and go to System> Tools> Backups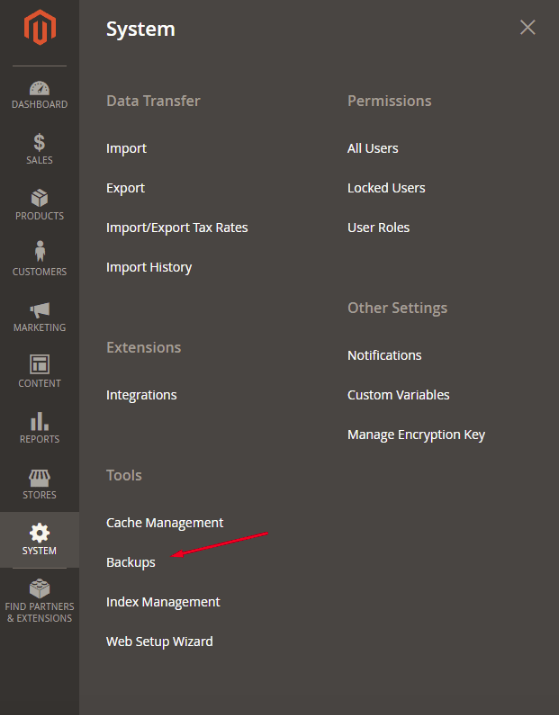 Then in the upper-right corner of the screen, select one of the available backup types: System Backup, Database, and Media Backup, Database Backup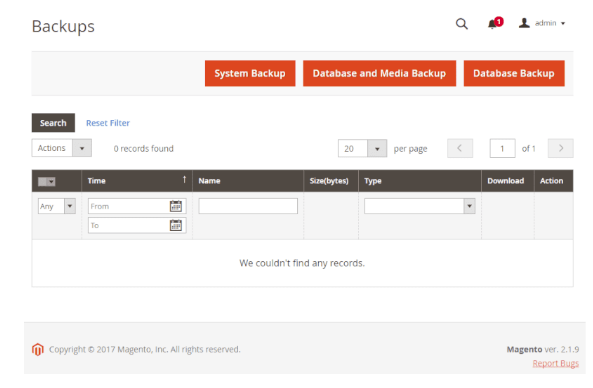 The System Backup creates and saves a complete copy of the database and the file system. Besides, by putting a tick in the checkbox you can choose whether to include the media folder.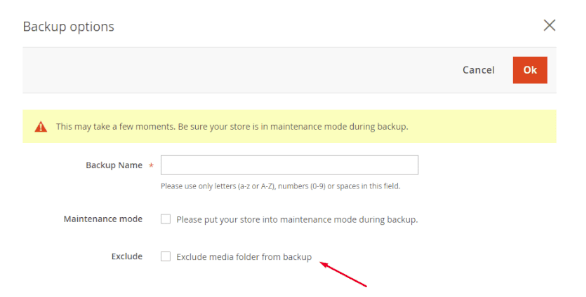 The  Database and Media Backup creates a full copy of the current database and the media folder.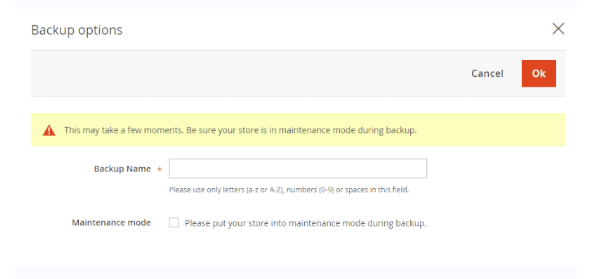 Set a name for the backup file for easy reference. 
And the last option, Database Backup Mode, only forms and stores a copy of the database.
Once the backup is completed, Magento will turn off maintenance mode automatically, and you will receive a notification. 
If your store is operating on Magento 1, please access this article for a detailed backup guide.
Before  launching your WooCommerce shop, you need to install WordPress first. To install WordPress, let's follow the steps below:
Choose a hosting provider
Currently, several hosting providers have been merged with the WooCommerce implementation. It is strongly recommended that you select a reputable WordPress hosting provider that will take care of the whole installation process. 
Download and install WordPress
Once you finish the previous step, download the package from WordPress.org and then install it with detailed instructions. Next, you need to download and install WooCommerce 
To install WooCommerce, on your WordPress admin:
Go to:

Plugins > Add New

.

Search for 'WooCommerce'.

Click

Install Now

Click

Activate Now

and you're ready for the WooCommerce Wizard!

When enabling WooCommerce shop for the first time by clicking "Activate", you can see the notification of the WooCommerce Setup Wizard on the next screen. On the screen, you can see the steps including store setup, payment, shipping, recommend, activates, and ready.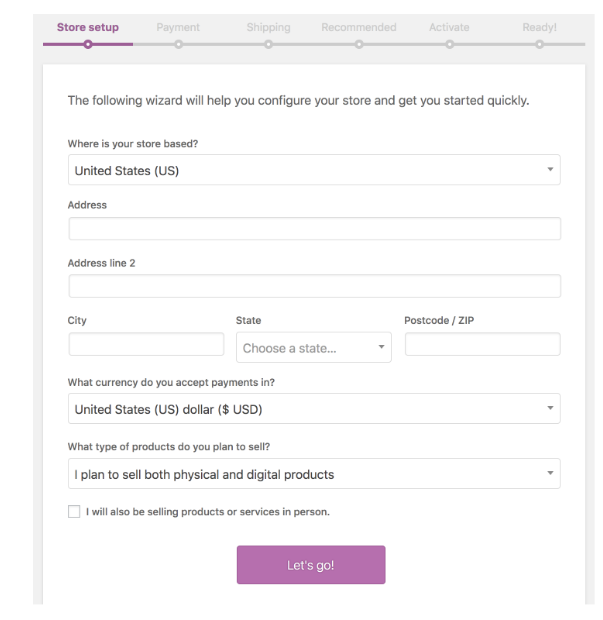 You can access this comprehensive tutorial to help you set up WooCommerce with ease. 
Step 2: Migration process
Firstly, register an account on the LitExtension site. You also can log in easily by your existing Google or Facebook account.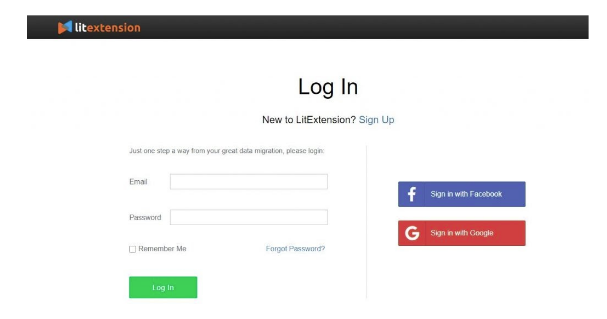 Fill in the required information
On the Migration Page, click Create New Migration at the top right button on the screen. Select Magento as Source Cart Type and provide the Source Store's URL into the blank bar.
Then, click LitExtension Connector to download the connector, extract the zip file, and upload the connector to Source Store's root folder.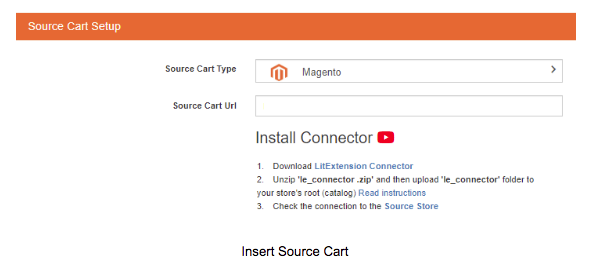 Repeat the same process to set up your Target Store!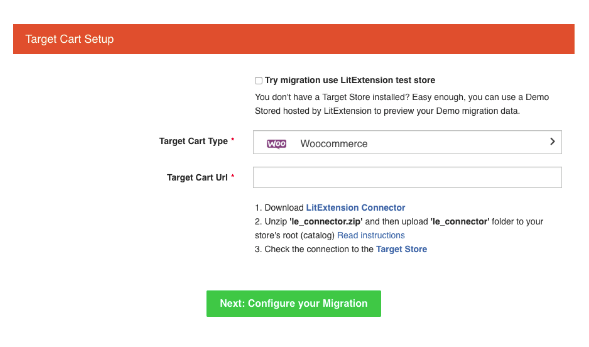 Tick the entities you want to migrate
Choose entities you want to migrate. You can select either all of them together or certain data.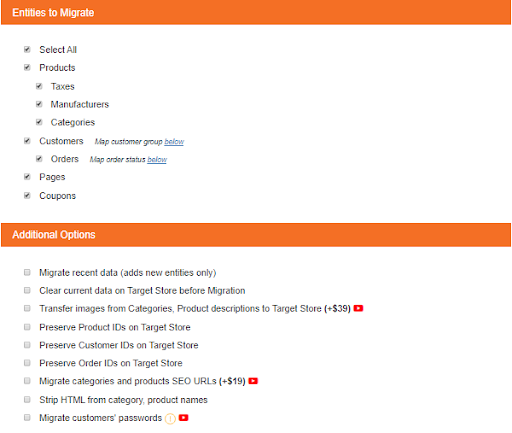 LitExtension also provides Additional Options here to extend your migration options. 
Perform Migration from Magento to WooCommerce
Finally, you can try a demo first or run full migration immediately.
To Try Demo: Start your demo migration with a limit of entities. You will see the same process as the actual migration.

To Perform Full Migration: Click "Skip Demo Migration" button to perform full migration immediately. Please wait for the migrating process, you'll receive an email from LitExtension system after migration is complete.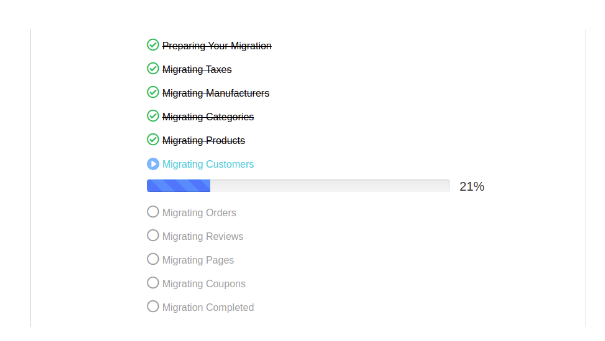 Step 3: Post-migration setup
Check result after the migration
If the migration is complete, you need to ensure that all the data has been successfully migrated to your WooCommerce site. Note that you need to review the data in both the backend and frontend of your WooCommerce shop.
Choose theme for your WooCommerce store
Currently, there is no clear workaround for migrating themes from Magento to WooCommerce. You may either select free themes or purchase a new theme from a third party. You can refer to Themeforest – the largest repository of premium WordPress themes, offering 48,308 themes and website templates.
Install necessary plugins
Then the next step is adding necessary extension. WooCommerce supports users with more than 55,000 plugins. Therefore, you can leverage a wide range of additional features for your new store. Don't know where to start? Check out these best Woocommerce plugins in 2021 that every store owner takes into consideration.  You also need to boost sales with several upsell plugins for your cyber-based business.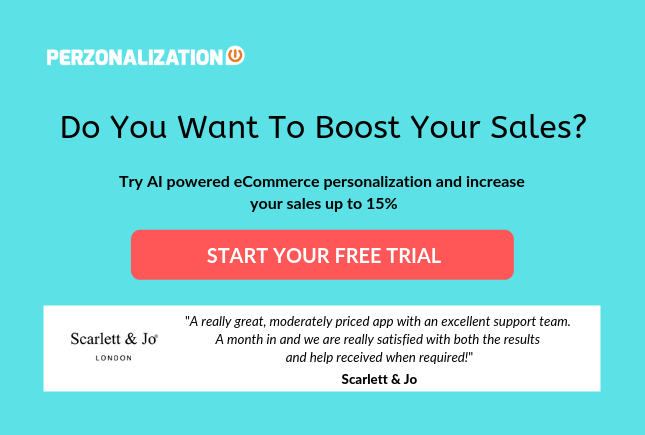 Once you finish adding up extensions, the next step is to build up WooCommerce payment processors that will make business transactions convenient for both you and your customers. 
From your dashboard, go to WooCommerce > Settings. You should see a number of tabs on the page.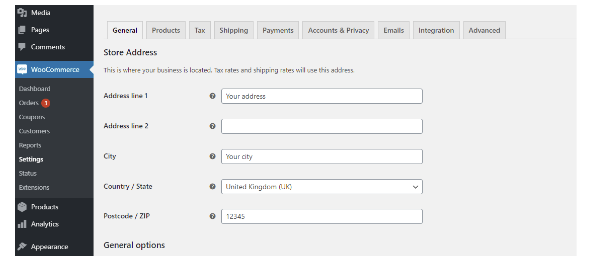 You can configure your payment methods in the Payments tab. This is where you choose which optimal payment gateways to enable and show to your customers on the checkout page. Clicking on any gateway will take you directly to its setup screen, where you can adjust its title, description, and instruction.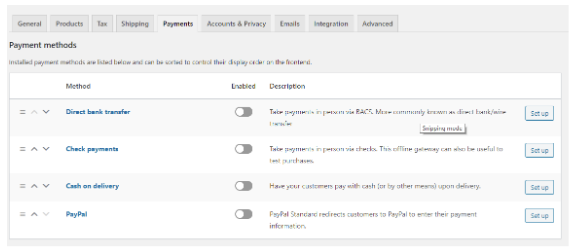 Setting up appropriate payment gateways definitely plays an important role in managing and increasing your online store's revenue.
Run Recent Data Migration
If you choose to migrate with LitExtension, during and after the migration, LitExtension still keeps your Source Store active normally to ensure the service doesn't affect your sales or business performance. Therefore, your store will still receive new orders and customers throughout the data transfer or when you're configuring your new store after the migration.
After finishing the setup, you have to transfer the newly incurred data in your old store to your new store as well and that's when Recent Data Migration comes in handy. You can perform recent data migration with LitExtension for free within 3 months after the initial migration.
To perform in, firstly, you need to log in to the LitExtension site. Then select from your migration lists the transfer you need to migrate new entities and choose "Recent Migration" and follow the simple steps that you did when setting up the full process.
Why should you migrate from Magento to WooCommerce?
Being a WordPress open-source software plugin, WooCommerce is technically free. Pricing will only come down to hosting and how many paid plugins you need to get all the required features.
It has tons of themes and plugins
Retailers can access thousands of WordPress plugins and themes, as well as hundreds of dedicated eCommerce extensions designed just for WooCommerce. These best WooCommerce plugins can extend functionalities in terms of shipping, payment, product handling, etc.
It's easy to install and use
WooCommerce is easy to pick up if you have any experience with WordPress. As it is very user-friendly, literally with just a few clicks you can run your eCommerce store. You don't have to know how to code and with themes and extensions you'll set up your store in just a few hours.
It promises endless growth with powerful analytics and reporting tools
WooCommerce gives store owners the ability to see store's performance from month to month using graphs and stats. WooCommerce users don't need to worry about managing operation activities as they have an integrated analytics system. You will get access to total sales, sales by date, average order, and more.
It provides variety of support channels
Whenever you're stuck, you can always go to the WooCommerce forum on the WordPress site, or contact WooExperts. Even though you can't really get help from the WooCommerce team via phone or email, the user community is so large and active that you can solve most of your problems there. Additionally, WooCommerce gives you access to a lot of self-help options, namely FAQs, Docs, and Blog.
Conclusion
This article has shown you 3 methods to transfer your store from Magento to WooCommerce and provided you a checklist after migration. Migrating from Magento to WooCommerce may bring merchants all around the world a great chance to make use of a more user-friendly open-source platform with lower operating cost. 
We also strongly recommend an automated migration tool – LitExtension as LitExtension is suitable for all users and requires no technical and programming skills. With three simple steps, all your data will be transferred completely, securely, and speedily.
Good luck with your migration!
Curious to learn more? Take a look at related posts!
Do You Want To Boost Your Sales?
We are Perzonalization and we'd like to help you.
Try AI powered eCommerce personalization and increase your sales up to 15%.