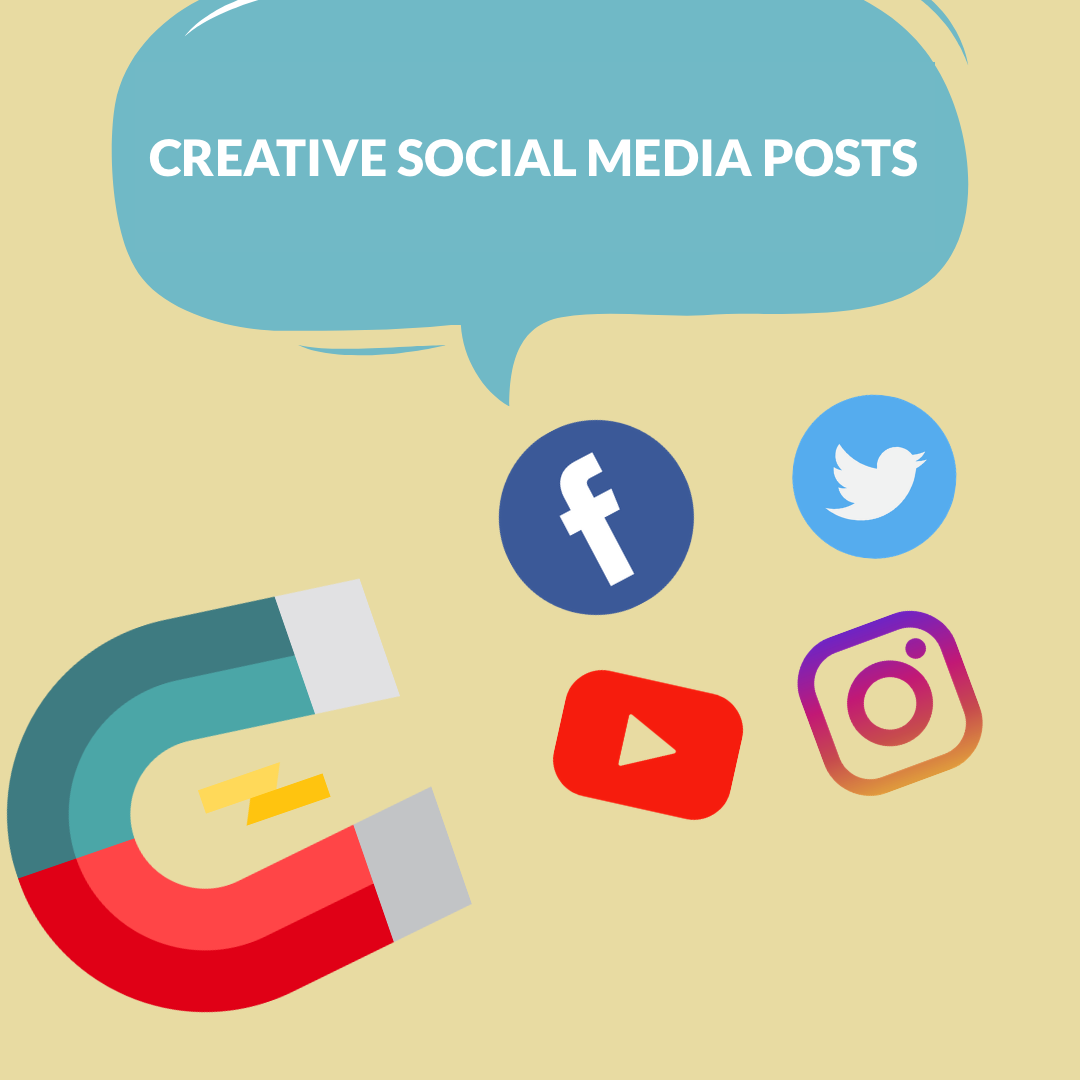 If you ask an eCommerce executive about the importance of being active on social media to boost their online sales, there is no doubt that you will hear an absolute and loud "yes". She will even say that her company has a solid strategy that is empowered by creative posts for social media. The reason for such an involvement around social media marketing lies in the following numbers that speak for themselves.
Let's check them out:
There are around 2.77 billion social media users in 2019.
An average individual has 54 social media accounts.
91% of retail brands use 2 or more social media platforms.
81% of the small and medium sized businesses use some kind of social media platform.
Social media marketing helps eCommerce companies increase brand awareness and generates inbound traffic for online stores.  This is crucial for any business, using any eCommerce platform. Social media creates a positive impression around your brand. The traffic that is generated via social media is more likely to convert into sales – something that any online business owner would hope for!
Download your guide and learn how to reduce your eCommerce bounce rates.
Social media is – without a doubt – a lifesaver for eCommerce businesses. However it also has its pitfalls that every social media marketer should be aware of. The new breed of consumers is powerful and sophisticated making them more difficult to influence. Thus, any standard advertising method or creative material will not be enough to persuade and/or retain these shoppers.
To overcome these obstacles, social media marketers of today have started working in order to woo their audience. Still, this is a time and energy consuming process.
There are lots of social media marketers out there who struggle to understand how to develop creative posts for social media, especially for their eCommerce businesses. Undoubtedly, for a social media marketer, there is nothing worse than struggling with creative social media posting. It's very easy to fall into an endless hopelessness when you have to but you just can't think of creative posts for social media.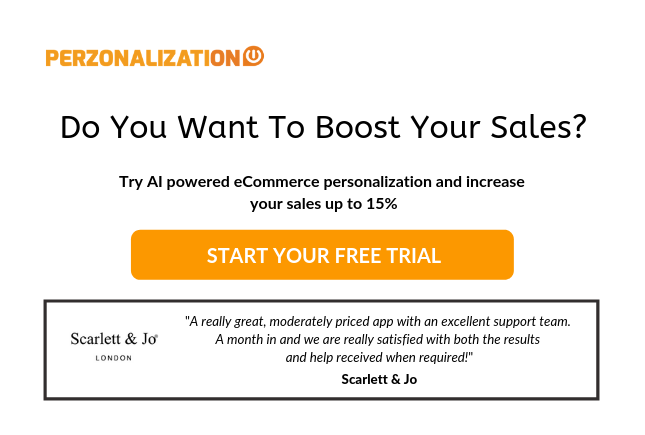 If you are in this position, don't be upset. There is inspiration in this article with some creative social media post examples by different eCommerce businesses, to cover and help you complete your social media tasks. So, without wasting time to think in which platform your audience is more active, you will find and show them something they have not seen before. You can apply some of the examples in this article, or can get inspired and come up with your own creative posts for social media to achieve growth and of course increase your engagement.
In addition to the social media post design, you also have to target your audience when they are most active. So, creativity and finding the best time to post on social media are your powerful weapons to engage with your audience in 2021.
If you are curious about the best times to post on social media, I believe you will find plenty of valuable information in our post here.
How to Come Up With Creative Posts For Social Media To Grab Your Audience's Attention
Almost 78% of online users claim that the creativity level of posts from the online retailers influences their purchases.
Almost 78% of online users claim that the creativity level of posts from the online retailers influences their purchases.– Tweet This!
Whether you own a small-medium sized eCommerce business or you have achieved an outstanding growth over the years, you should feed the social media monster constantly, because as you also know, a hungry stomach has no ears. We know that this could be challenging for you to feed it and come up with creative posts for social media.
So, let's jump into the most creative posts for social media that demonstrate how to use social media creatively:
Creative Social Media Posts Examples 1) Offer a choice to your audience
Asking the opinion of your audience on two products is a great way to increase your engagement. A person can vote by liking the post or sharing it.
Here is an example from Walmart: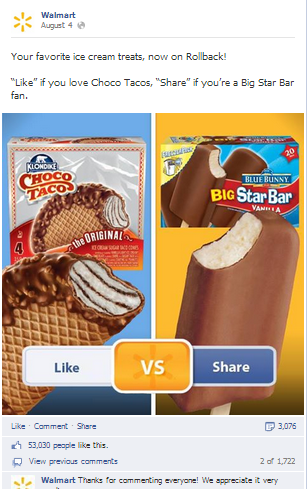 Walmart experience almost 650% increase in Facebook likes, and a major increase in their conversions.
With these two options, thins kind of posts, offer an easy engagement. Using ice cream is the best choice in order to achieve a seasonal relevance and tap into what the followers are already thinking about.
Image that you have a Shopify business and you want to make this strategy work for you. Just think of two different products that suit users with different tastes. Remember that you must use these products in the same activity or context.
This is applicable for any eCommerce business selling any product. You just have to come up with your own creative "product battle" idea.
Bikini or Tankini? Sandals or Flip Flops? Dress or Jeans? Necklace or Bracelet?
BONUS: If you'd like to discover how Instagram can benefit you Shopify business, you could find some golden tips in our post here.
Creative Social Media Posts Examples 2) The Polls
Using polls is a simple but undoubtedly an effective way to get your followers engaged with your brand.
The following example of Nordstrom includes 4 options and wants its followers to tell their favourite one.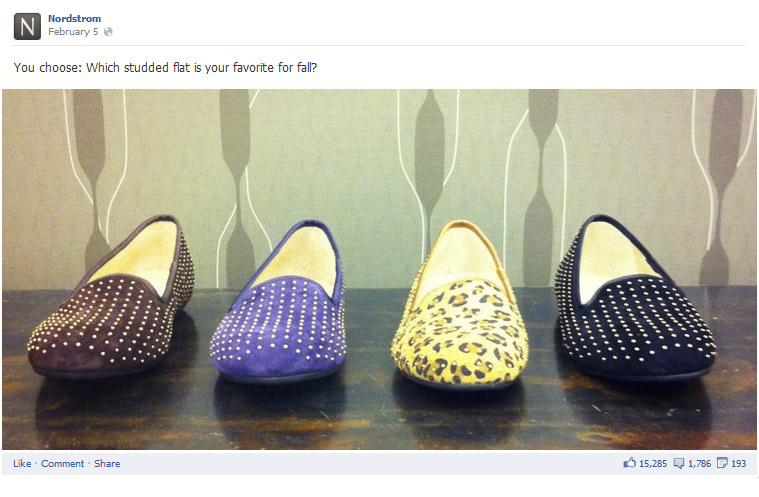 Online users love to share their opinions very much. The above image is clear, and the options make it very easy to understand and participate to the poll. 'Which is your favourite for fall?' is an example of a language use that will be very appealing. It would have been very boring to use Call to Actions like 'Pick one of the flats'.
BONUS: This is also a great way for a quick market research, as Nordstrom team mentions.
Asking the opinion of your followers is a great way for a quick market research. – Tweet This!
You can use this strategy similarly with the 'Share vs Like' option explained before. Again, you have to choose the right products and combine them with an appealing subject line.
Creative Social Media Posts Examples 3) Ask for like
Sometimes the simplest social media design ideas are the best. It's a nice idea to be clear for what you want. This can earn more and more rewards than you have expected.
 Here is how Foundr did it: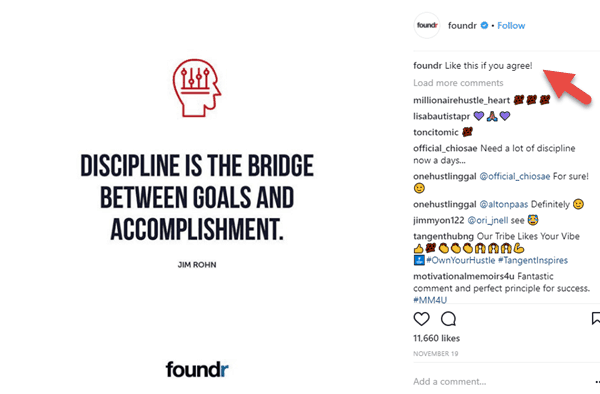 First of all, we think that this post would have done well even without asking users to like it as a great quote like this one will always catch some eyes. But the social media team at Foundr do not leave it to luck. They simply use the phrase "like this if you agree" in the post's body text.
Foundr, recognizes its audience and for sure take the advantage of their passion. They do not use these kinds of posts often, but they are successful every time they do it.
You can implement this strategy to your brand. Firstly, find clear images that mirror your brand. It could be an image including your logo, like Foundr's example, or it could be a more complicated one. This is up to you. Test the images using phasing like 'If you are …, like this post'.
Creative Social Media Posts Examples 4) Product Promoting Posts
If you are an online clothing retailer, you can create your own winning formula by showcasing your online store's products with creative posts for social media.
Olive Womenswear for example, has its own style with its themed posts showcasing its beautiful clothing ranges.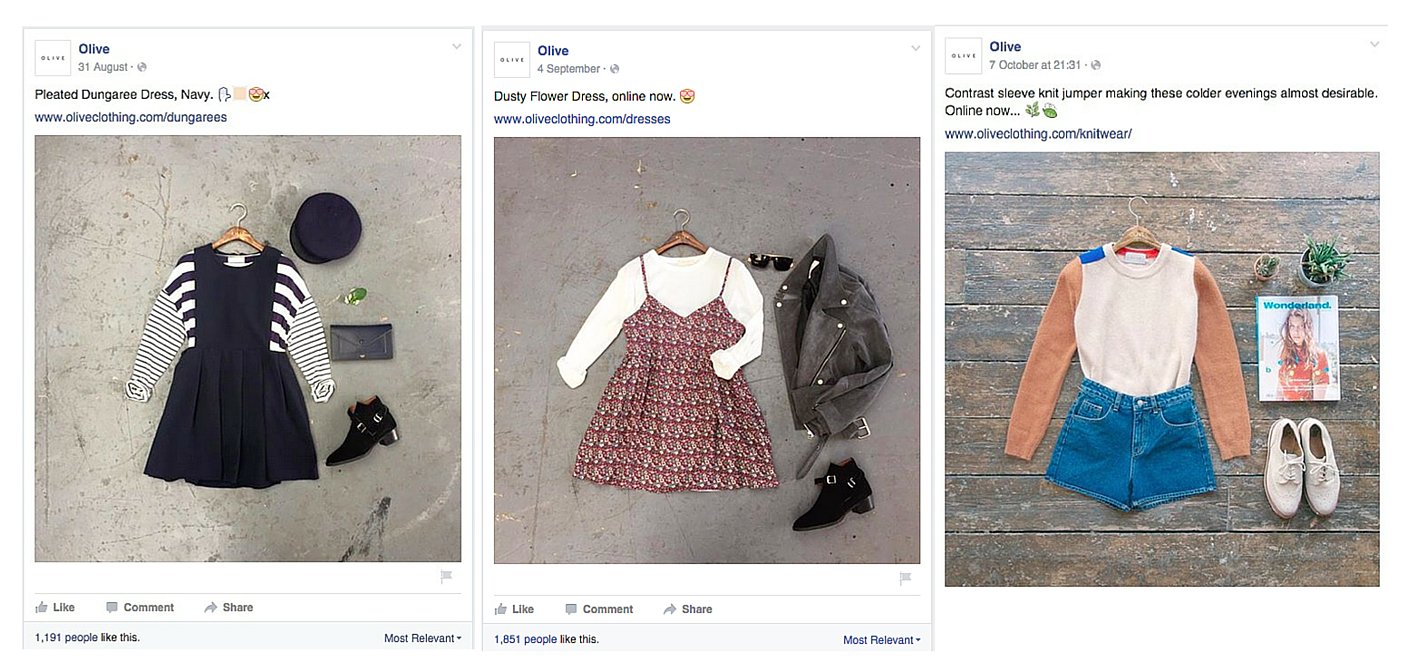 This is a great example because it contains links that lead to dedicated landing pages in which users can easily find the products in the specific 'look'. They create completely trendy looks that catches users' attention, which of course is supported with great quality photography. As you can see, this post also contains a nice bit of cross-sell, too.
If you own an eCommerce business, you can make these kinds of posts work for your business, too. All you have to do is to use your creativity to come up with trendy and outstanding looks, or you can ask for a help from fashion bloggers.
This for sure will increase your engagement, your conversions and of course your sales.
TIPS TO TRY: Undoubtedly you would know that images are everything when it comes to creating Facebook & Instagram posts that get likes, shares, comments and any kind of engagement. You should try abandoning traditional product photos and mix showcase them with a "lifestyle" context. You may support your post by containing the number of the products included in that particular post.
Also, as Facebook offers a lot of formatting options, try all of them to see the most converting ones.
ATTENTION: Be sure to get the right size for your images. This is important to capture the attention of the users. You can see a bad and a good example below: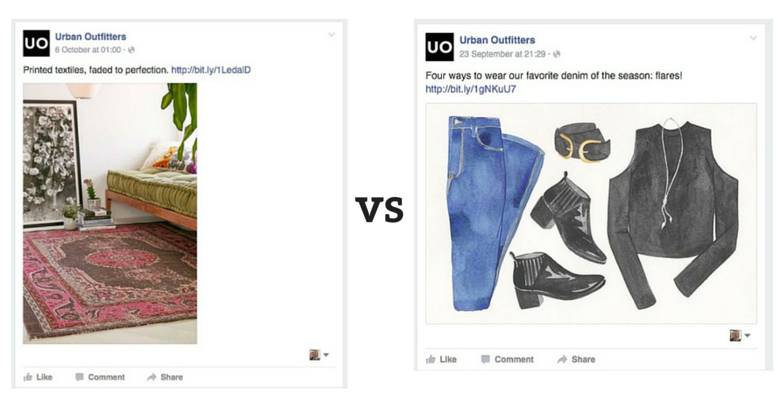 Creative Social Media Posts Examples 5) Promote Your Fans
Facebook and Instagram are conversational platforms in which you can easily showcase your customers' talents. This is a great way to increase your engagement. Users will respond very happily if they feel that you engage with them individually.
Below is a great example of Converse: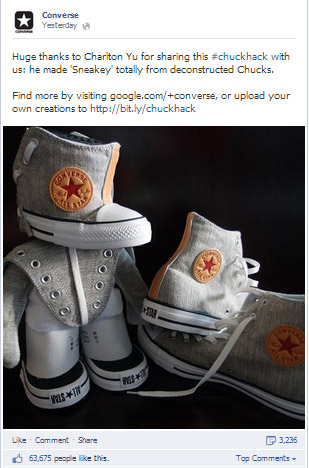 Showcasing this kind of user-themed posts is a great example of creative ideas for social media posts. Converse speaks to its very specific audience highlighting their importance for the brand. Being aware of its very niche audience, Converse "attacks" to it by personally thanking an individual. They encourage other users to upload their own work, which is a great way to demonstrate and spread the love for the brand.
You may try this creative social media example for your own brand. Converse's feed would be a great inspiration for you. Make sure that you know your target audience and act as they would like to. Use a tone that matches your audience.
Creative Social Media Posts Examples 6) Product Promotion with Videos
TIP: Collaboration with social media influencer
We cannot go without mentioning the importance of video while speaking about creative posts for social media.
Knowing the power of the video, many online retailers embrace video based product promotions. And for sure Facebook and Instagram are the perfect channels for getting your brand's videos in front of your fans.
Diageo created a video in which it invited Nick Offerman to share his thoughts about the product. And they were awarded for this.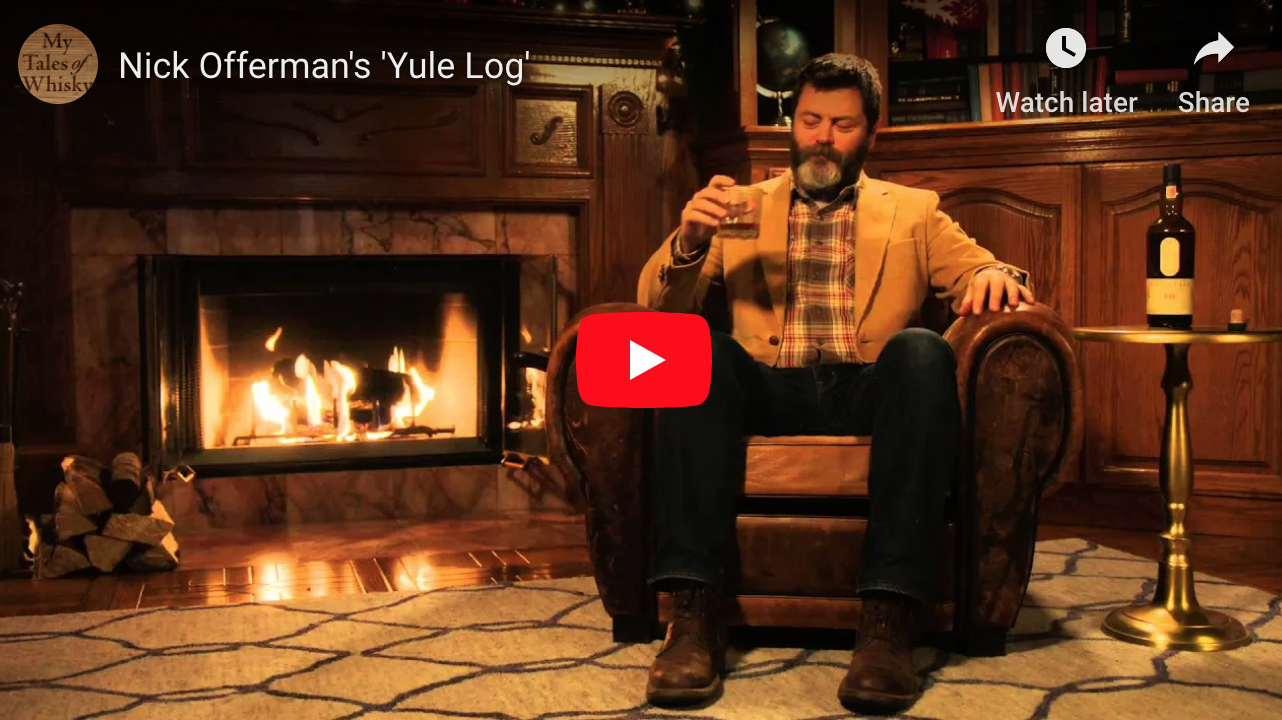 This video shows Offerman sitting by the fireplace, appreciating the taste of the drink while stating grievingly to the camera. Thanks to the simplicity and the charismatic look of Nick Offerman, the video went viral.
Collaborating with influencers and posting content in which they use and express their experience while using your product, is another way of coming up with creative posts for social media. This for sure increases  engagements, and your product sales.
Creative Social Media Posts Examples 7) Posts to Create a Competition For Your Fans
"Like this post and tag your friend for a chance to win" type of posts are old-fashioned these days and they just attract users' attention only for that particular situation. Potential customers are lost in these cases. Trying a competition that entertain and challenge those who enter is a better way to increase your engagement and also gain potential customers.
The following post is a great example of AO's friendly approach. The #GBBO tagged post offers a competition. And that gives the followers a chance to win kitchen appliances for sharing pictures of their baking abilities.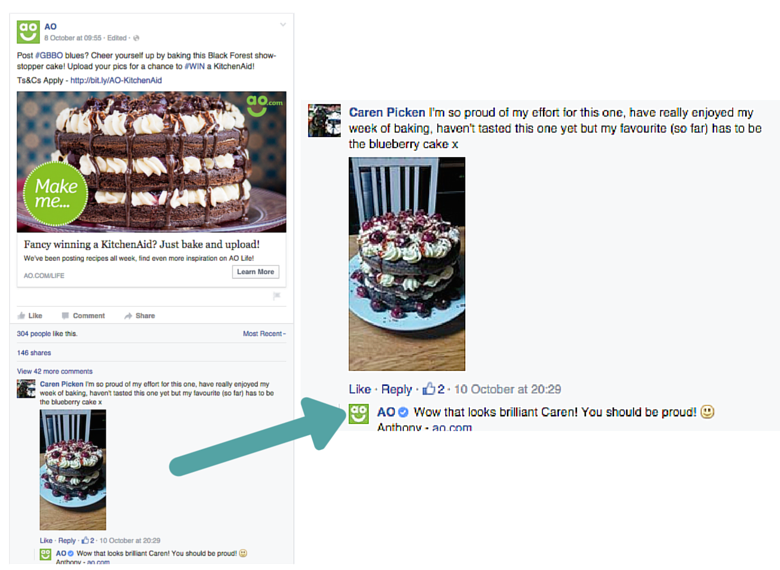 Encouraging its participants to be creative makes them more likely to want to work hard and share their creations with their followers.  Also, AO gets in touch personally with its fans via the comments sections.
These are great ways for creating a community engagement and spreading the word about your brand.
Below is another example of creative posts for social media from Topman, leading fashion retailer: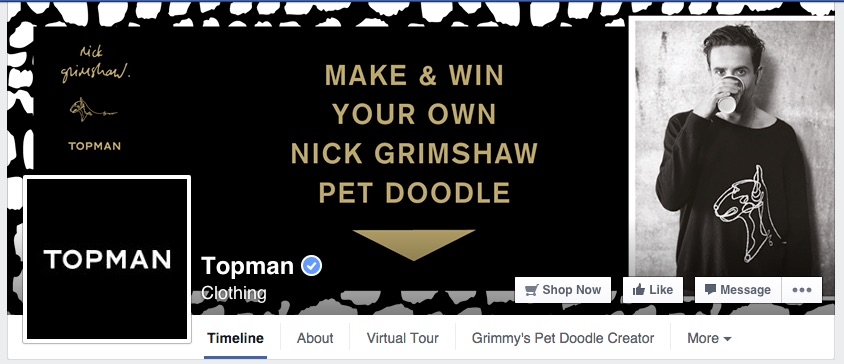 Topman participated with DJ Nick Grimshaw to encourage its fans to post their own animal doodles and as a result, to win their creation printed on a shirt.
As you can see, Topman posted the promotion as the cover picture of the page, by using strong visuals and of course Nick Grimshaw.
Creative Posts For Social Media: The Final Words
We summed up some creative social media post for eCommerce businesses.
In social media, it is more important to provide inspirational and entertaining content with creative posts for social media rather than directly selling your products. Even if you think that you are selling "boring" products, there is no doubt that some humour and creativity will help you increase your brand's awareness.
We hope that seeing some creative social media posts from brands across different niches has inspired you to create your own social media post designs.
These creative social media most ideas are applicable for Shopify, Magento, Woocommerce and any eCommerce business.
You can think of this like your eCommerce business guide for creative social media posts and take a look every time you run out of ideas.
Good luck with it and let us know about your own examples so that we can add them to this list! 🙂
Curious to learn more? Take a look at related posts!
Do You Want To Boost Your Sales?
We are Perzonalization and we'd like to help you.
Try AI powered eCommerce personalization and increase your sales up to 15%.