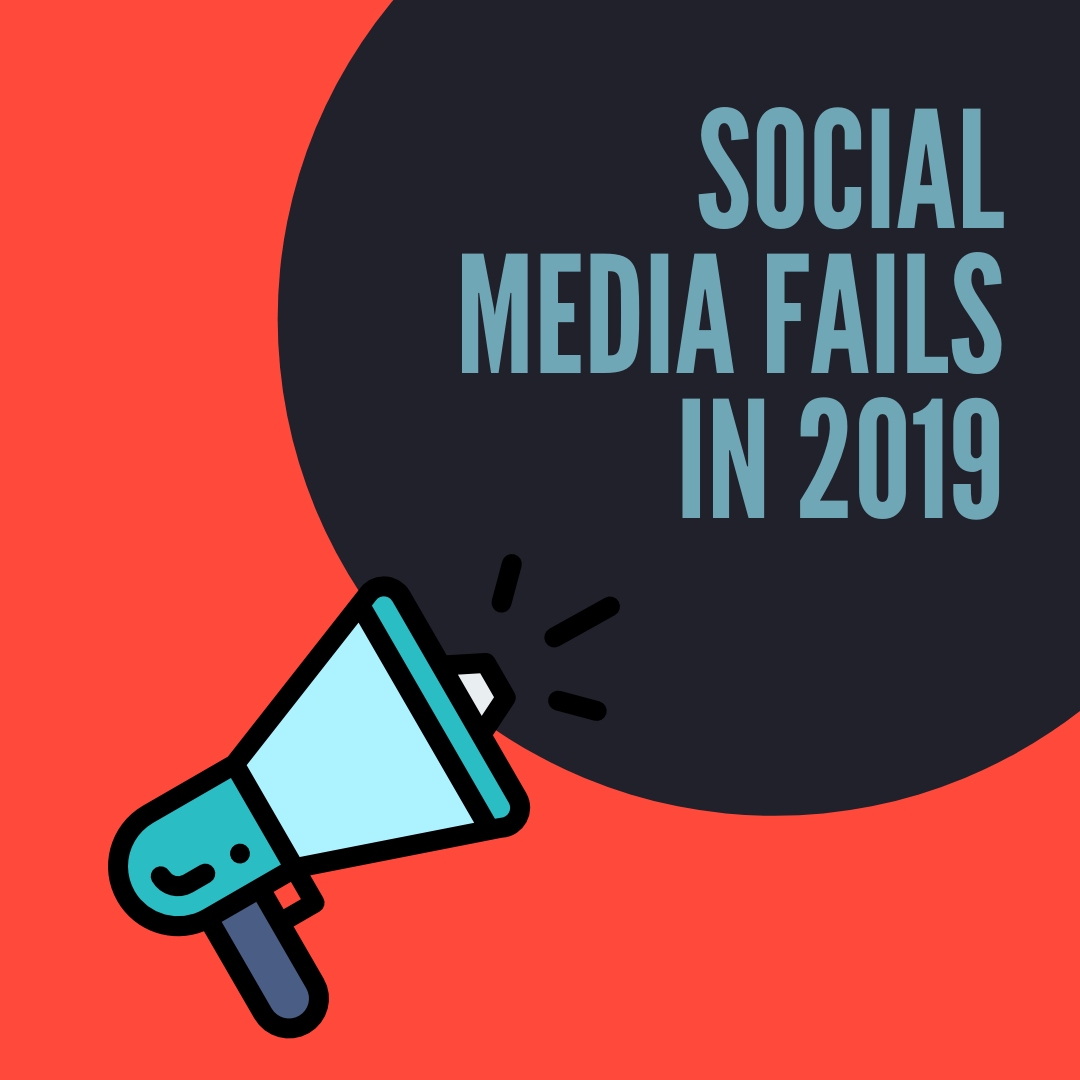 With a great number of people being active on social media platforms, it's not a surprise to see many brands seeking for a presence on these channels. They are doing their best to stand out from the competition, reach every single individual and engage with them. However, for a company that's trying to gain success on social media, it is very crucial to be aware of the social media fails in 2019!
Social media posting fails of individuals can be easily deleted, thus create no problem. But when it comes to businesses, the rules of the game changes. Sometimes the mistakes cannot be deleted instantly and this leads to a flood of angry customers and some malicious jokes about the brand.
Social media posting fails of individuals can be easily deleted, thus create no problem. But when it comes to businesses, the rules of the game changes. – Tweet This!
Every single day, the number of people that use at least one of the social media channels is large enough to blow your mind. Just think about this! Think about the times that you open the applications of Instagram, Facebook, Twitter, Snapchat or Twitter just to see what your friends and following are up to!
When you combine the social media facts with the best time to post on social media you can create an outstanding social media profile for your brand!
Download your guide and learn how to be a Tony Stark in digital marketing.
There is a flood of information on social media. New likes, pics, stories, texts are being shared every day increasing the risk of failure. Thus, every single year brands come up with the biggest social media fails that lead to professional consequences.
While you are scrolling down, let's say on Instagram, and engaging with the posts of the accounts you follow, you are probably noticing ads from different brands just popping in.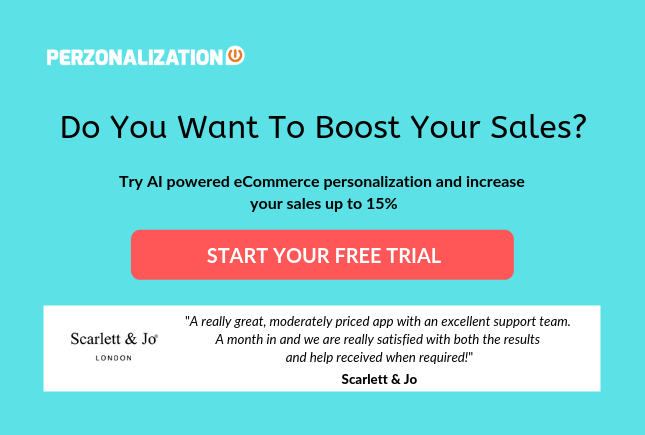 Some of them really catch your attention and this is  the main goal of the brands.
But what happens if they catch your attention for the very wrong reason? Maybe for offending your values. This for sure will make you feel isolated from the brand, won't it?
Below, are some of the top social media fails in 2019 made even by well-known brands.
Worst Social Media Fails in 2019 That You Need to Avoid!
Social media fails by companies happen so often because, either the team is too lazy or they don't really understand the climate of social media platforms.
Almost every brand tries to be up to date but sometimes they fail to do a proper research. There are times that employees were not much Internet savy so they get lost or their tweets got misunderstood. These could be listed among the social media marketing fails and – as you can imagine – these have several effects on the reputation of the brand.
So, let's analyze these major social media fails in 2019 to prevent your brand from any possible disaster.
Even the big names sometimes mess the things up, and this leaves a mix of emotions. Funny and offending, sometimes!
1- Sunny Co. Clothing Company failed to predict the demand for its swimsuit
Sunny Co. Clothing wanted to promote their Baywatch swimsuit named "Pamela". In the first place nothing seemed wrong, as they just wanted to promote their new design.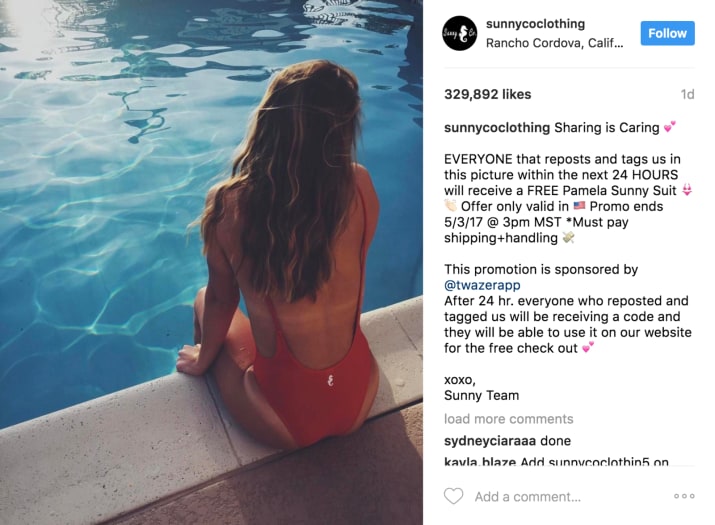 They mentioned that everyone who reposted and tagged their picture in the first 24 hours is going to receive this swimsuit which is worth of 65$ for FREE.
What they didn't expect in this case was that the image would go viral, with almost 3.000 people reposting and tagging the image within a very little time period.
As a result, Sunny Co. Clothing couldn't keep up with the demand and their inbox was filled with messages of angry and disappointed customers who feared that they would not be able to get their free product.
The company then came up with a second post claiming that they had the right to end up the promotion due to the huge/unexpected number of responses.
This is one of the most common social media fails made by eCommerce companies across the globe.
There is no need to say that this didn't make any fan happier.
HINT: The main point of a social media marketing campaign is that even if you want your promotion to go viral, you need to measure things properly and never ever make promises that you can't keep.
2- Tone deaf language of Snapchat
Once, Snapchat ran an ad, which asked users if they would rather "Slap Rihanna" of "Punch Chris Brow". Immediately Rihanna told the app to delete itself and the company lost approximately a billion from its share price.
Undoubtedly this unpleasant ad referred to the 2009 incident in which Chris Brown assaulted Rihanna who was at that time his girlfriend.
After seeing this campaign, Rihanna shared a statement on Instagram Stories, which indicated Snapchat as a platform shaming the victims of violence.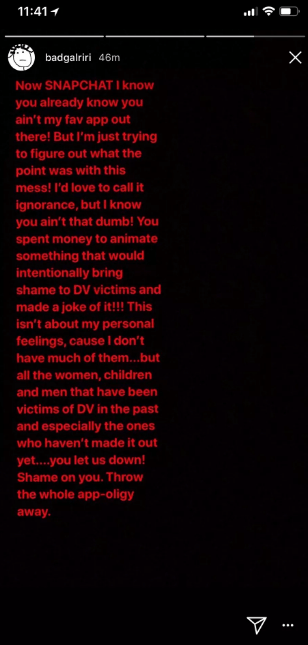 This absolutely is one of the worst social media fails to avoid in 2019!
Snapchat mentioned that the ad was made from a third party and not the platform itself.
Rihanna's comments about this ad sent the share price value down and erased almost a billion from the company's market value.
As you can see, this was very costly for Snapchat.
To avoid these kinds of mistakes, review any content that is displayed on your social media channels very constantly. Stay clear when referencing sensitive subjects to avoid misunderstandings.
3- Dove's transformation message
We all know that Dove focuses on empowering women on natural and realistic standards of beauty.
The company stands on its Real Beauty platform for more than 10 years, and it's successful most of the times. There are many social media marketing campaigns of Dove like "Evolution", "Real Beauty Sketches" which focus on making women feel proud for the way they look. There is no denying that these campaigns can teach a lot to every brand.
But unfortunately, a Facebook post of the company blew the things up! The post shows a black woman transforming to a white woman after using the body lotion of Dove.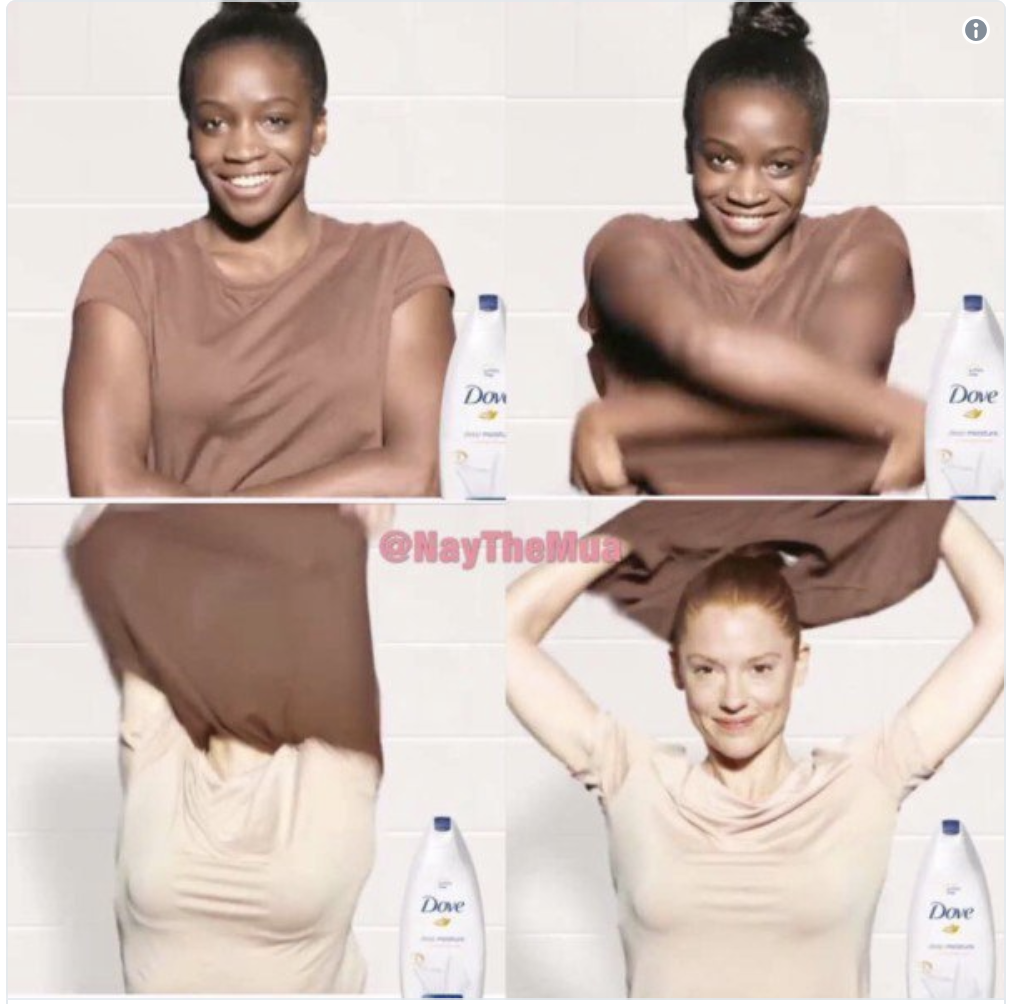 This is totally against a brand message which says that all beauty is real beauty by displaying a woman transforming entirely to a different race after using their product.
Also, this insults a very large part of their audience.
After receiving tons of messages from women across different races, Dove removed the post from Facebook and released an apology statement.
4- Very obvious influencer marketing campaign from Bootea Shake
Influencer marketing is undoubtedly one of the best weapons of brands, once they are used in the correct way.
Working with an influencer who is careless and unprofessional, can lead to one of the social media management fails.
The main point of influencer marketing is that it needs to have a genuine partnership. Not like the following one made by Scott Disick, a professional hand model and a close personality to the Kardashians.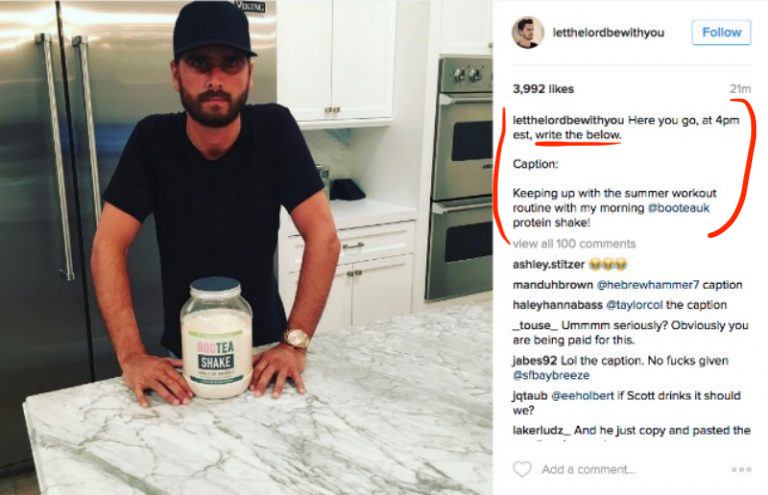 Scott just copy pasted Bootea Shake's suggested caption to his promotional post on Instagram, including their direction for the posting time!
Both the brand and Scott were derided by a large number of people.
If you plan to implement an influencer marketing strategy for your brand, make sure that you are collaborating with people who have a natural fit for your brand.
5- Miele's International Women's Day post
Celebrating modern women on International Women's day by reinforcing the 1950s-housewife stereotype? Not a good idea!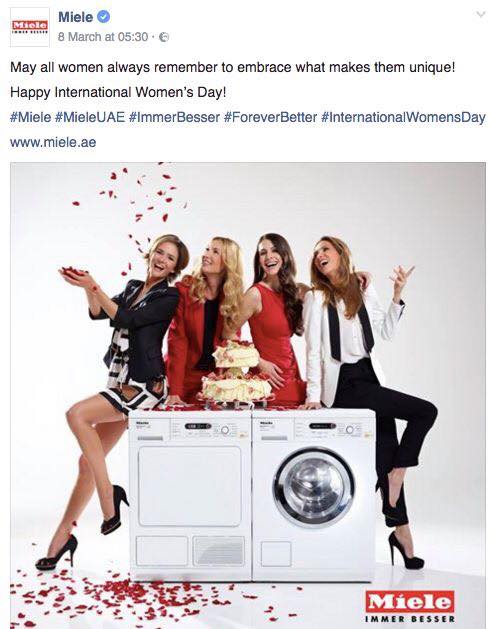 Miele, one of the largest home appliances manufacturers in the world, thought that it would be very cute to share an image of women sitting excitedly on a washing and a dryer machine. They completely missed the mark. The message from this post was that all the housework belongs to women – which was quiet offending.
Miele deleted this Facebook post just a few hours after publishing it.
When it comes to marketing, you don't need to rely on old-fashioned styles that do not resonate with today's audience. It could lead to one of the social media fails in 2019.
You must know your audience and understand what drives them and use all of these information across your social media platforms.
6- Suggestion may go very bad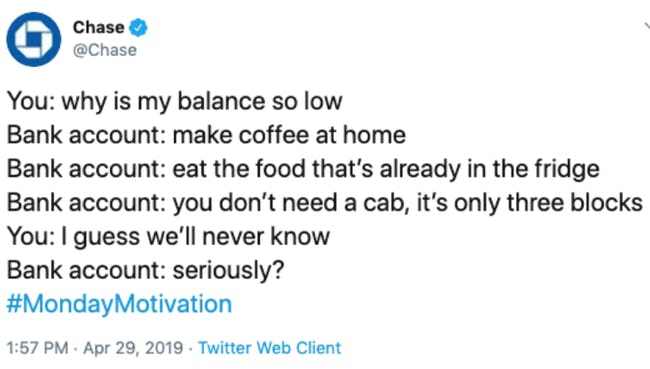 In 29th April of 2019, a very great Monday, Chase bank tweeted that the reason of low balances is the silly spending of their customers and as a Monday Motivation they should stop spending money on coffee, breakfast and cabs.
This tweet received a huge amount of responses and was quickly deleted and replaced with a comment which says "Our Monday Motivation is to get better at Monday Motivation. Thanks for the feedback Twitter world."
As mentioned above, all the social media marketers should not just post or tweet without analyzing their audience and the situations of their geographies.
7- The stray hair from Kaiewei Ni
The following is one of the social media fail examples made in 2017 but it needs to be mentioned here.
This campaign takes clickbait to a whole new level, called swipe bait.
A sneaker manufacturer from China, called Kaiewei Ni, published a Black Friday ad on Instagram Stories with a stray hair right in the middle of the screen.
The designer of the ad, made it to look like it was a stray hair on the phone screen of the person viewing it.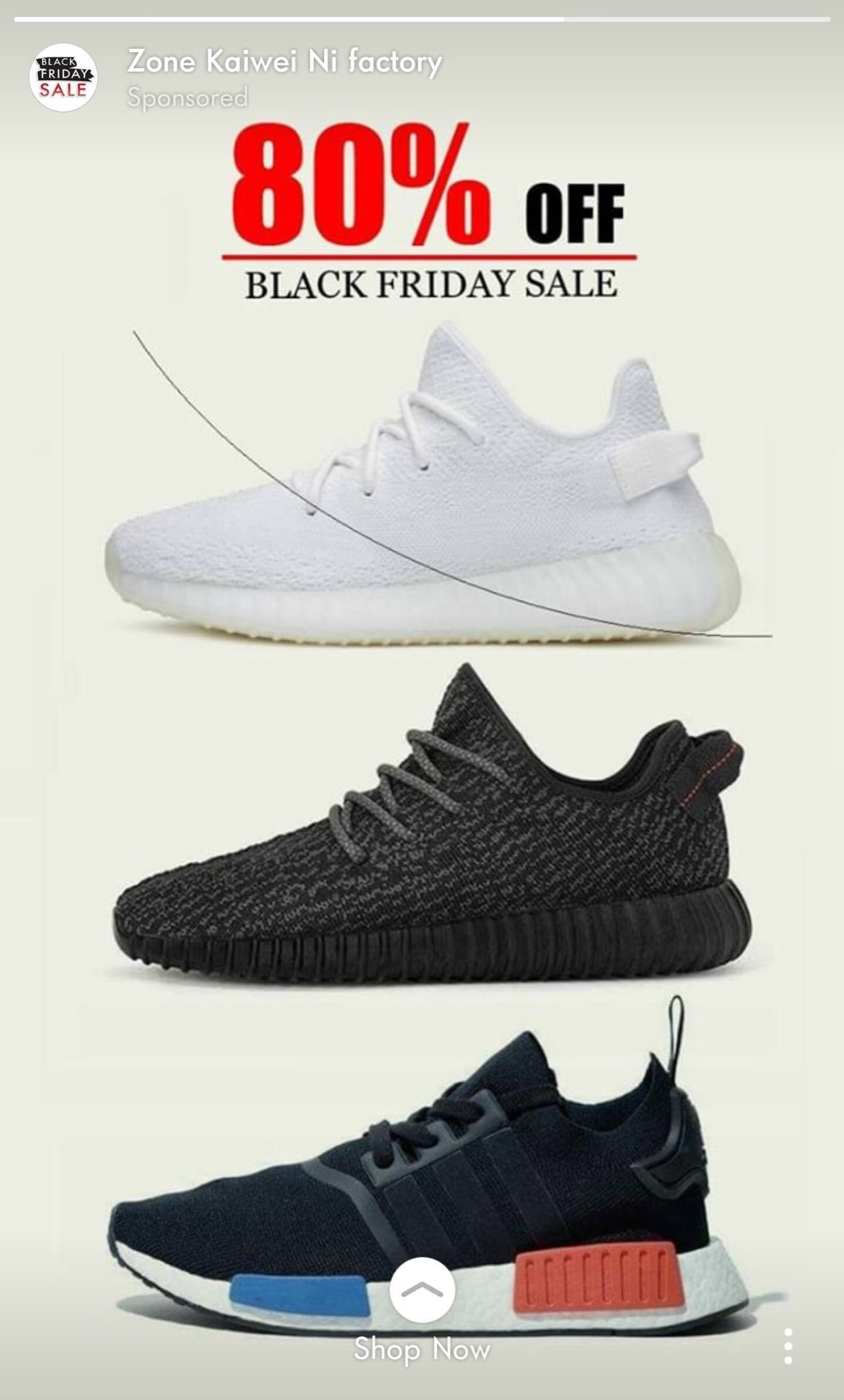 The goal of this ad was very clever, just to make users swipe up their screen in the attempt to clear it from this stray hair.
But, Instagram removed this ad immediately for violating its policies and disabled the account from advertising.
Remember that people really don't like to be treated like fools, and engage in tactics like this one. This will just turn away potential customers.
When you try to play a social media platform it's a matter of time to be caught and get your accounts suspended.
8- Excluding women in social media marketing campaign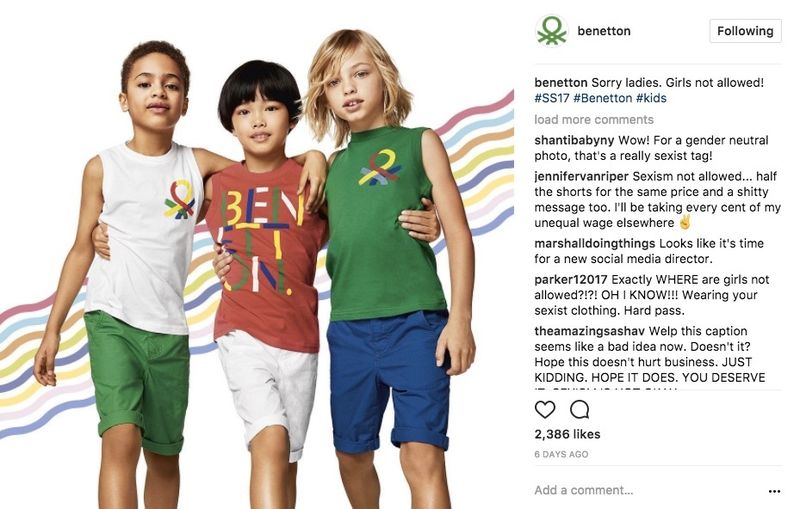 Yes, that's correct! Benetton, did this!
Instituting a "no girls allowed" policy can really lead to one of the social media fails in 2019!
Benetton, a well-known fashion retailer, posted this picture of three boys on their Instagram account with the caption "Sorry ladies. Girls not allowed".
Undoubtedly this was meant to be a cute humor but quickly went down as the followers of Benetton blamed the brand for reinforcing gender inequality among young children.
Remember to be very careful when making statements on social media about who should use your product, especially when you are talking about a gender.
Final Thoughts
In today's world, social media can be a great way to increase brand awareness and help you to get your ideal customers, but only if it's used in the most proper way.
We have analyzed the social media fails in 2019 that can cause great harm to your brand's reputation.
As you are developing your campaigns, you should learn from these social media fails in 2019, to make sure that you are not offending your audience and violating some policies.
All of the social media fails in 2019 would be your best hand guide to protect your brand!
So, be careful! 🙂
Curious to learn more? Take a look at related posts!
Do You Want To Boost Your Sales?
We are Perzonalization and we'd like to help you.
Try AI powered eCommerce personalization and increase your sales up to 15%.