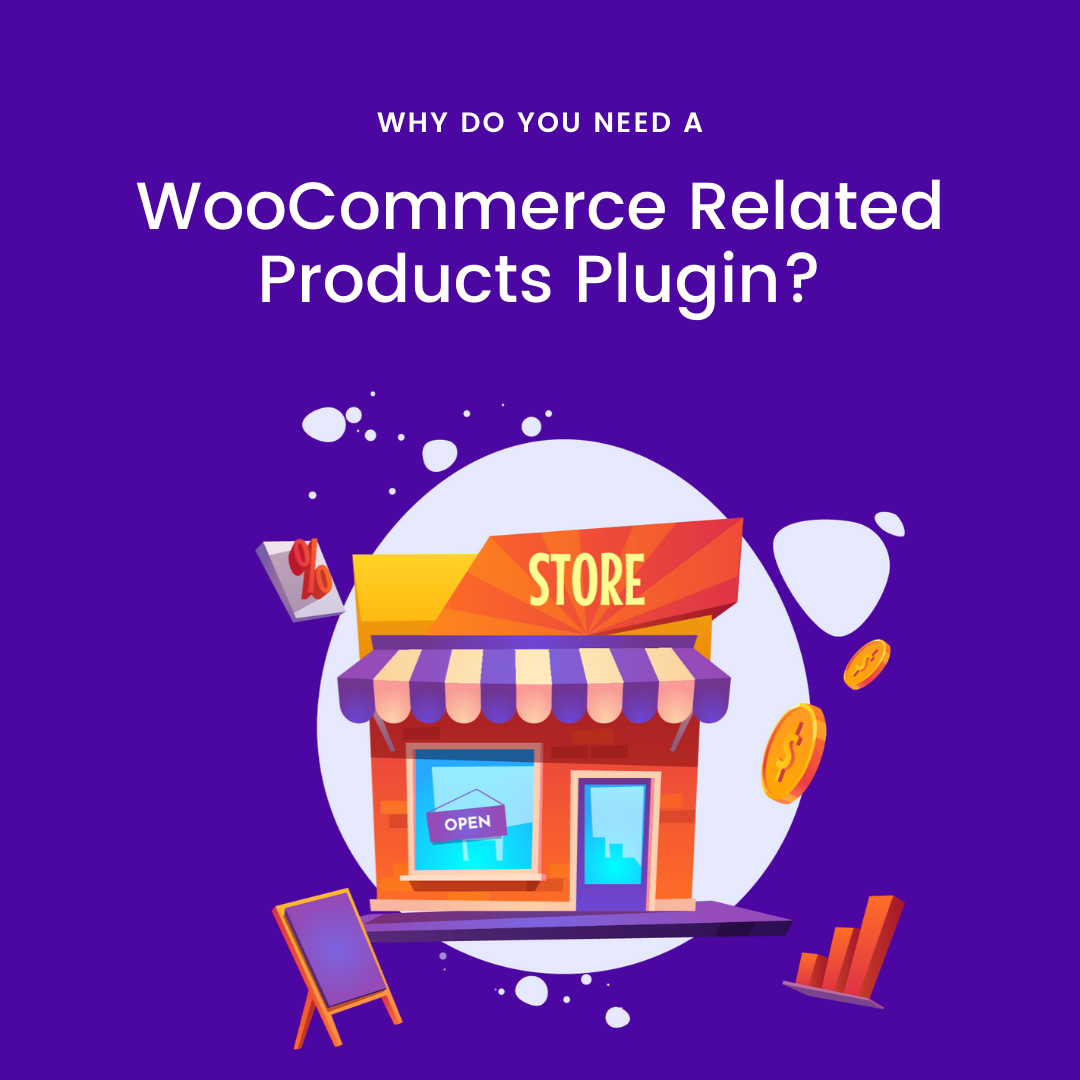 An Introduction to WooCommerce's Plugins 
If you are reading this post, I am guessing that you are hosting your eCommerce site on WooCommerce thus, already knowledgeable about the various aspects of the platform i.e. the plugins that are developed to be used on WooCommerce websites. Promotions and marketing related plugins (i.e. WooCommerce related products plugin) under the plugins marketplace are full of apps developed to help store owners boost their revenues and eCommerce conversion rates via improving the shopping experience. There are many plugin options designed to help stores improve their competencies in the fields like newsletter and SMS sending, remarketing, pop-ups, contests and wishlists.
As an eCommerce professional/owner, you may have noticed by then that WooCommerce related products plugins differentiate themselves from the many other plugin options on the marketplace as some of them do serve as real product recommender systems. I assume you'll also agree with me that a product recommendation tool is a must-have for online stores.
That being said, there is a strong debate around the term "related products" as not all related products widgets offer product recommendations. Throughout this post, I'll try to explain why an AI powered and personalized WooCommerce related products plugin will be your webstore's life-saver.
WooCommerce Related Products Plugin
If you observe that the average time spent on your online store is low and that the bounce rate is high, you may want to try a related products plugin for WooCommerce. WooCommerce related products plugin help you showcase similar products to the one that the visitor is currently viewing. This way, the visitor sees alternative product options that he/she may consider. By clicking on one of the related products, the visitor lands on a new product page, increasing the number of pages viewed and the time spent on site. This in turn decreases the bounce rate and increases the conversion rate of your WooCommerce store. The plugins marketplace locates several alternatives for the stores looking for a WooCommerce related products plugins but not all of them come with state-of-the-art recommendation features.
Are you able to showcase AI powered related products, upsell items and frequently bought together products on your WooCommerce store? To get all of these and more, install Perzonalization for WooCommerce now and start your 14 day free trial.
Would a WooCommerce Related Products Plugin Serve as a Recommendation System?
The answer to this question is "It Depends". My finance professor back in college used to respond to every question with this answer and I totally hated it! But now I can understand that some answers may well change according to the situation and context.
Do we all agree that a recommendation system in a website is increasingly significant for consumer's decision making? I take it as a yes and move on with my next argument! If you are competing with the brick and mortar stores and hundreds of thousands of online stores, then I believe you should be ready to differentiate your offering. Recommending products may be a good way to make your customers happy.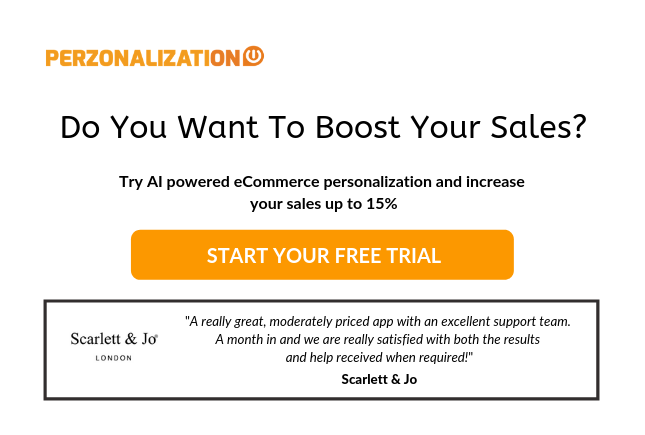 The related products blocks (or widgets) we see on eCommerce sites do look similar – they all have a title, a few products showcased, brand and products names, prices and slider options. This is what the consumer sees on the tip of the iceberg. What makes a WooCommerce related products widget stand apart is the underlying technology that lies in the backend. So if you want to show related products on WooCommerce, you'd better make the right choice and get a full-fledged recommendation system for your online business instead of installing a simple WooCommerce related products plugin.
What is a Recommender System, Then?
According to the mighty "Recommender Systems Handbook (by Francesco Ricci · Lior Rokach · Bracha Shapira · Paul B. Kantor)", recommender systems are software tools and techniques providing suggestions for items to be of use to a user. The suggestions provided are aimed at supporting their users in various decision-making processes. A recommendation system offers several important benefits, such as increasing user satisfaction and building user trust. But the major benefit of a high-performing recommender system is its ability to increase store's sales.
Most of the well-known recommender systems (like the one we have here at Perzonalization) are using state-of-the-art algorithms to come up with product recommendations. WooCommerce recommended products modules do also require a scientific touch as the nature of shopping on all eCommerce sites is the same; there is a demanding shopper lost among many alternatives and a shop owner trying to make profit out of sales.
A good recommender sytem (or a product recommendation engine) can use several methods to track and analyze customer behaviour. Some work in real-time whereas some do batch processing. But the main objective stays the same; boosting revenues and increasing customer loyalty.
A General Painpoint in WooCommerce: How to Show Related Products?
If you are a WooCommerce owner/exec, you may:
Install one of the plugins that will arbitrarily pick-up related products for WooCommerce: If you choose to do so, there will be no algorithms in place. The products displayed will all be the same for each user. There will also be little to no automation.
Get a real-time, automated, AI powered recommendation plugin like Perzonalization which can help you showcase personalized product recommendations on several page types on your WooCommerce store.
Your choice here will determine the success of your product recommendations and how much additional revenues you will get from your related products for WooCommerce.
How To Display Related Products In WooCommerce?
If you are using a WooCommerce Related Products plugin like Perzonalization, it will be fairly easy for you to display related products on several page types of your WooCommerce website. Besides, you will be able to choose from AI powered algorithms and not get restricted to one "related products" rule.
As the WooCommerce merchant, you have the chance to choose the type of logic to use on a recommendation block;
Related products from like-minded shoppers
Popular products
Recently viewed products
Rule based: "If this, then that"
Discounted products
New arrivals
Frequently bought together
Product/category reminder
The plugin automatically tracks and analyzes the clickstream and purchase behaviour on your website. Then recommends every single user a different set of related products. This is done to maximise the conversions, thus your revenues.
The recommendations blocks are showcased in the form of WooCommerce related products carousel. This display type has two advantages; 1) It looks like a part of your website 2) Having a carousel increases the options thus the chances of conversions.
How To Add Extra Related Products In WooCommerce?
If you'd like to showcase more than one related products block on your pages, this is quite possible via Perzonalization plugin. You just need to decide on which pages you'll show the related products and add your blocks on those page types. It only takes a few minutes to set up and start displaying results!
How To Get Related Products In WooCommerce?
Most WooCommerce users try to rely on the theme's own related products container rather than using an automated related products plugin for WooCommerce. This might be a huge mistake in the sense that related products' containers perform well if there is an underlying logic. Thus, an AI powered eCommerce personalization plugin for WooC0mmerce come handy with several smart algorithms.
How To Get Related Products In WooCommerce?
Getting related products in WooCommerce is like a kid's play if you install and use an automated WooCommerce like Perzonalization. All you need to do is to install the plugin in 60 seconds, play with the rules and settings, tweak the design and make it live! The plugin will instantly start showing related products and yielding extra revenues for your business.
How Does WooCommerce Related Products Work?
Perzonalization's WooCommerce Related Products plugin uses a hybrid approach; our proprietary algorithm that combines real-time micro-segmentation with machine learning. By using a hybrid approach, the platform makes sure that both visible and invisible product attributes are considered while predicting real-time customer purchase behaviour.
Will You be Able to Showcase WooCommerce Related Products By Attribute?
I've talked about the difference between the simple WooCommerce related products plugins and a full-fledged recommendation engine. Now I'm going to deep dive into a popular need in eCommerce which is displaying recommended products according to their attributes.
If your products are tagged according to their attributes i.e. sizes, tech specs, colors, then a good recommender system like Perzonalization can easily understand these attributes and analyze the clickstream and transaction behaviour among users around attributes. This, in turn, will be used to showcase custom related products for WooCommerce i.e. products from the same collection or products that are in blue color.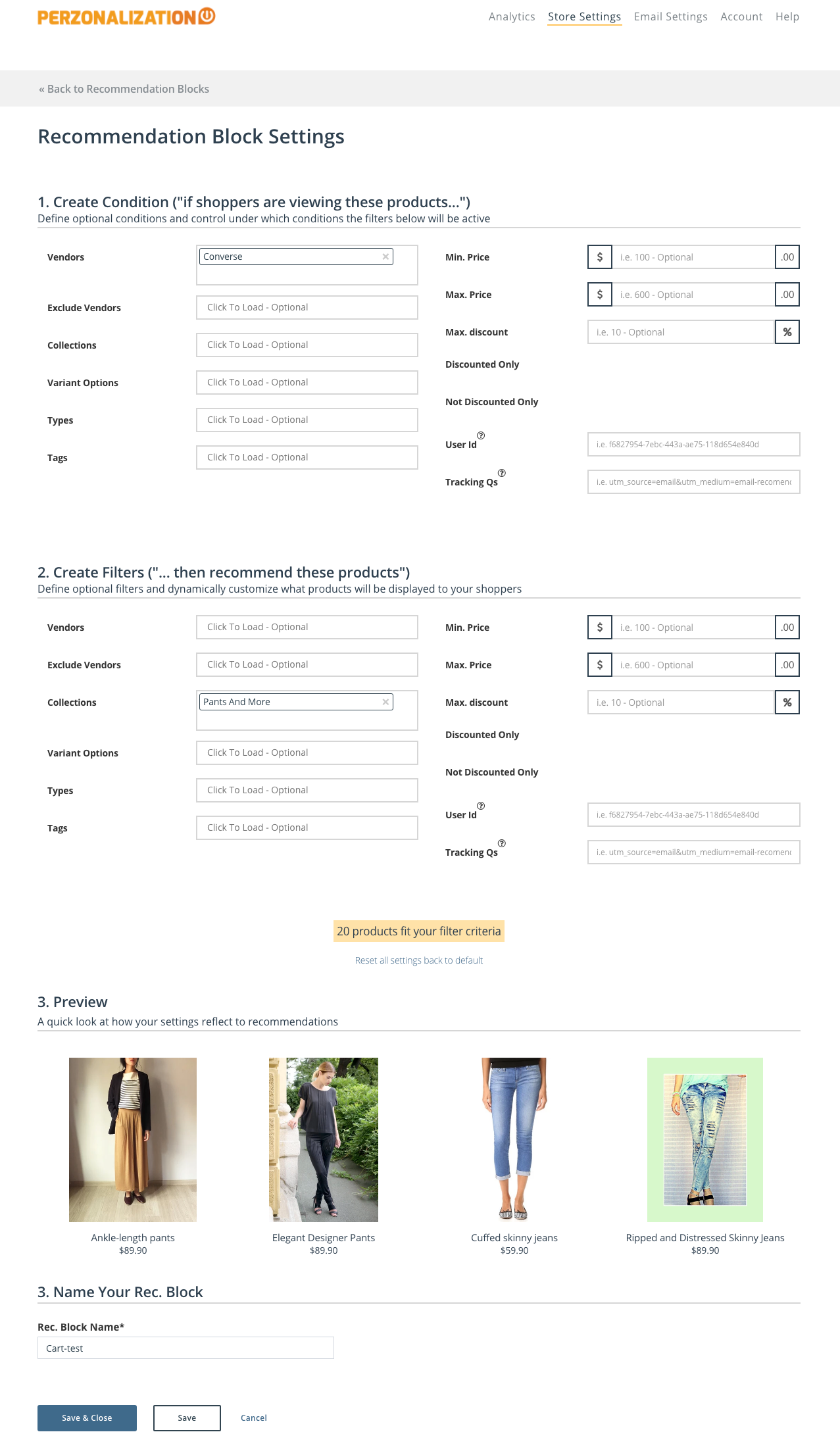 What Is The Best Way To Show WooCommerce Related Products From The Same Category?
Sometimes you may only want to  recommend a few products from a specific category. This is now possible with Perzonalization's WooCommerce related products plugin. All you need to do is to create a "custom recommendations block" on our customer panel, save it and then add the block to any page you want. It's that easy!
How To Show Related Products In WooCommerce Cart Page?
Cart pages are both great and risky to display product recommendations. The risk is that; if the user is not provided with a relevant offer, he/she can easily get distracted and abandon the cart without making a purchase. The good thing on the other side is, it is possible to do cross-sells and upsells on the cart page – luckily Perzonalization's WooCommerce plugin can help you with this. You can easily choose among several rule types (cross-sell, upsell, related, new arrivals, popular) to display recommended products on the cart page.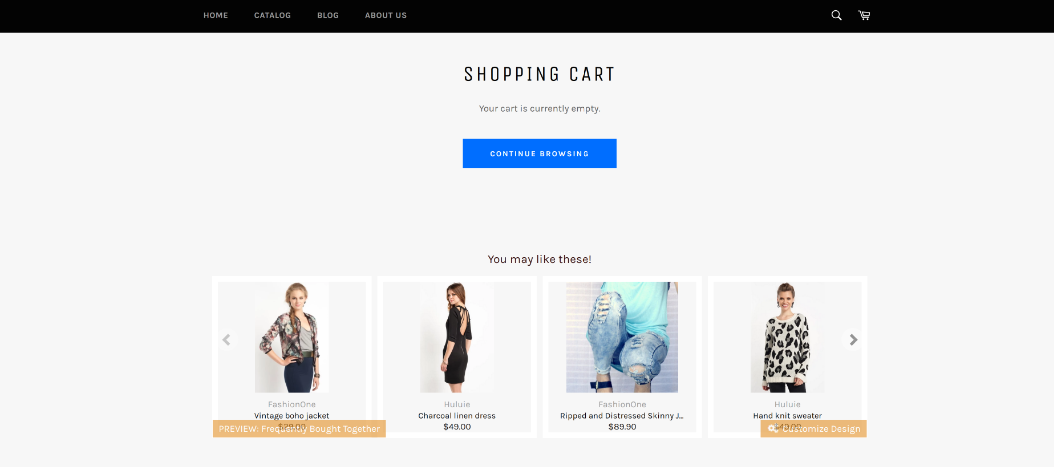 A Dream Come True: Auto Related Products on WooCommerce via Perzonalization 
The best thing about our plugin is that; it is fully automated! No need to choose any products to recommend from your store, no need to update the list. The plugin does it for you!
With our related products plugin, WooCommerce page types (product, cart, collection, home, 404, search pages) can now include personalized product recommendations.
You're also welcomed to try Perzonalization's WooCommerce product recommendation plugin for free for 14 days. We'll be happy to hear your comments on the module.
Curious to learn more? Take a look at related posts!
---