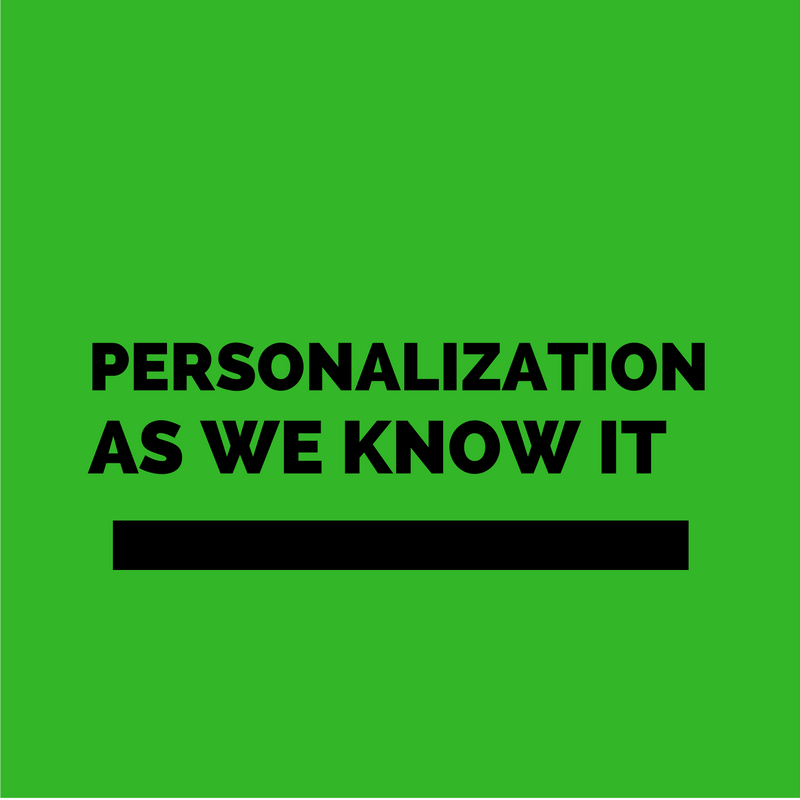 The term personalization is treated as the 'buzzword of 2015'. Still the term is confusing for the ones who are just entering into the wonderful world of data science.
Personalization is creating experiences on web sites or through interactive media that are unique to individuals or segments of consumers. Visitors browse through websites just as they would roam in a supermarket. They have a certain reason for visiting different pages of the site. The job of the predictive personalization systems is to intelligently guess what she's looking for on that page and then choose the most relevant content for her.
Download our free guide and learn how personalized product recommendations can boost your sales.
As the team at Perzonalization, we have had the chance to work on this field for the last two years. That's how we decided to gather some of the learnings we had and share them via this small presentation. Hope you'll enjoy it. Please share your comments with us so that we can consider them for our future posts.
A recap of the slide deck can be found here:
PERSONALIZATION AS WE KNOW IT
What is web personalization? "creating experiences on web sites or through interactive media that are unique to individuals or segments of consumers." Forrrester Research
Why do you need personalization? To filter the information overload on the web To provide experiences considering personal preferences To adopt to the ever changing needs of the users Need for personal experiences Demanding  consumers Information clutter
What's in it for you? CONVERSIONS REVENUE LOYALTY INTERACTION
Which features could be personalized? Content -Texts -Elements (Visuals, Buttons etc.) – Colors Messages E-mails Promotions Product Offerings Product Recommendations Pricing Advertising
Which data is used to personalize the web sites? CONTEXT Weather, Location, Mood, Search Items, Categories INTERESTS Pages Browsed, Items Bought, Genres of Music, Ads Clicked DEMOGRAPHICS Age, Sex, Education, Income SOCIAL DATA Likes, Tweets, Follows, Mentions
What is Predictive Personalization? and targeting via scientific prediction methods Activities enabling 1-1 user analysis are called predictive personalization.
Why is Real Time Personalization a 'Must' rather than a 'Nice to Have'? User related data; – Users' interests – Shopping trends – Users' life status – Users' context (location, weather etc.) Website related data – Stock level – Product campaigns – Discounts/pricing – Product sizes – Website content – Products offered – Marketing strategy – KPIs
EXAMPLES OF WEB PERSONALIZATION DISCOVERED ON THE WEB, WITH PROUD
User Group1 sees Banner1 and Recommended Items Group1 User Group2 sees Banner2 and Recommended Items Group2 Homepage Personalization
Homepage Personalization Caribou keeps track of your purchases. By using this data, Caribou shows you coffee types you may like
Visual Content Personalization User Group1 sees page with a white background User Group2 sees page with a black background
Context Personalization Existing category filtering page Category filtering page personalized according to the 'spring weather' context
Personalized Offers The existing homepage Personalized discount on the most visited item Birthday gift in the form of a discount coupon 10% discount if the first- time visitor is about to leave the site
Personalized Real Time Product Recommendations The user is welcomed with real time and personalized recommendations. The recommendations are updated each time a new filter value is chosen.
Personalized Product Recommendations Similar product recommendati ons on the product pages help user discover products, more easily
Personalized Product Recommendations Cross-sell items help increase the order value
Personalized E-mail Recommendations
A/B Testing for a better content personalization 3 different placements of the 'recommended content' module: Experiment applied by the teams of Upworthy and Optimizely
JUMP IN THE PERSONALIZATION TRAIN NOW FOR MORE HAPPY CUSTOMERS WWW.PERZONALIZATION.COM
---