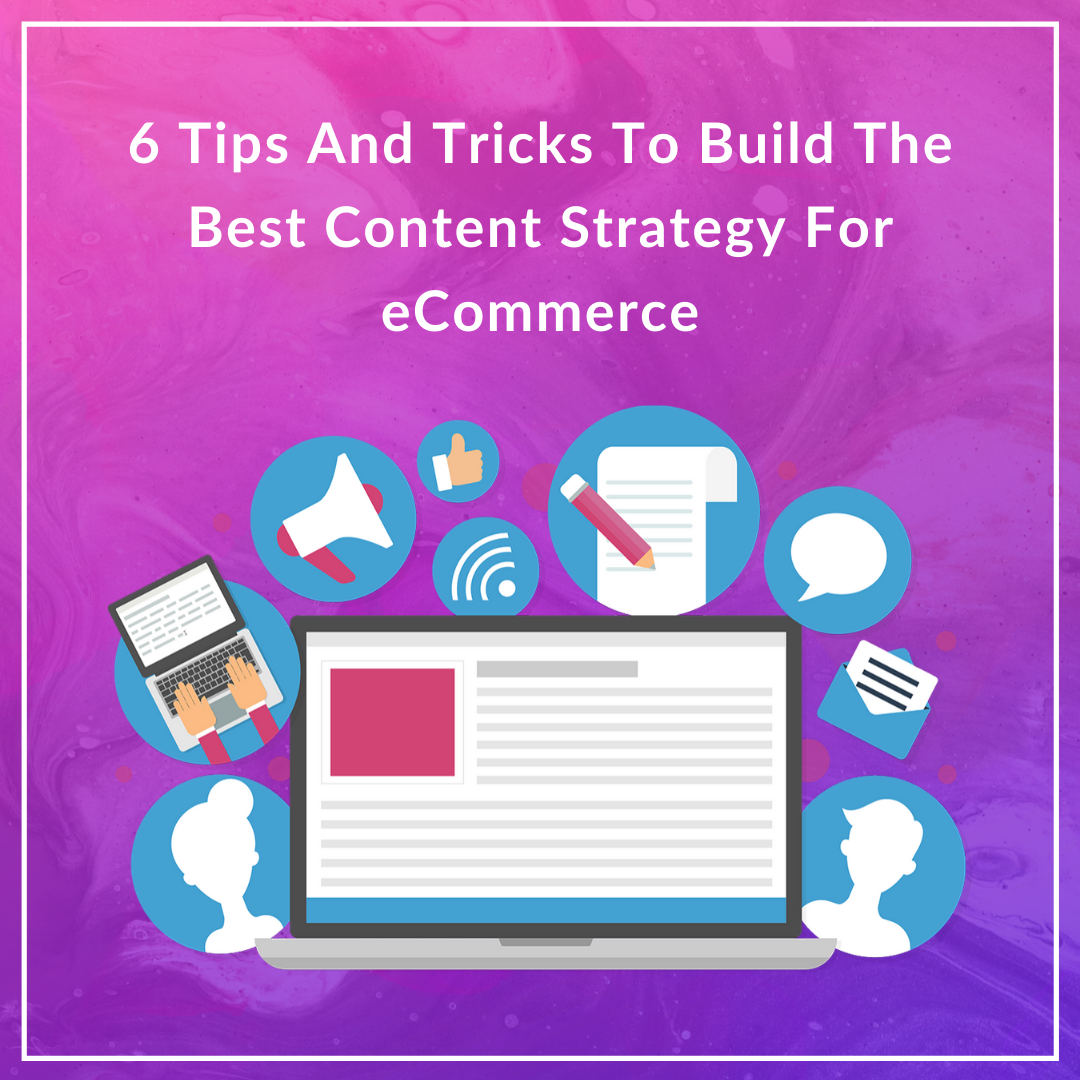 Focus on building relationships through strategic content strategy for eCommerce; loyalty will follow when your content seems to tell good stories. – Tweet This!
Content is king – Bill Gates
This statement stays true even today after he quoted it in 1996 simply because the online industry relies on what content you present. However, this happens to be one of the most difficult aspects of online marketing when it comes to implementation. Today, we will look at the tips and tricks that you can use to build the best content strategy for eCommerce or for your online business.
What is content marketing?
The strategy used to produce valuable content with the aim of creating a ground for marketing product(s) or services, attracting and retaining visitors to derive a profitable customer action is called content marketing. In simpler terms, content marketing is an effective way of attracting audiences for a particular product by using relevant and consistent content to increase sales.
Are you able to showcase AI powered related products, upsell items and frequently bought together products on your online store? To get all of these and more, install Perzonalization for your store now and start your 14 day free trial.
Content marketing has proven very efficient over traditional marketing strategies thanks to its unique way of approaching customers. Content marketing provides useful content to customers and shows how the product/service can help them while – on the other side – traditional marketing constantly pitches the product/service.
From the point of view of an online retailer, content marketing has the advantage of reaching out to a wide spectrum of customers just by uploading content on a single online store. It does not require the investment of traditional ad campaigns and allows you to place your ads specifically in view of target audiences using SEO and social media.
One of the perks of content marketing is that; the content that is produced can be used in several different forms – a blog content can be re-purposed into infographics, social media posts, eBooks, tutorial videos etc.
What is content marketing for eCommerce and how can an online retailer benefit from it?
If your web store displays an array of diverse products that are unique and have mass appeal, then the primary task as an online retailer is to build traffic through a well-executed content marketing strategy for eCommerce sites. Strategic content with SEO keywords can generate enough traffic for online shoppers to visit and view areas of your online store that would be otherwise shrouded in generic ambiguity or lost among millions of similar products.
Having a blog as a part of your eCommerce site and frequently posting articles will make sure that you drive organic traffic to your online shop. You can also use the same content on your email newsletters. The most important thing here is to pick topics that are related to what you are selling and include tips that will somehow motivate your readers to shop from your store.
Zappos has got a great blog called Beyond The Box. It features posts from some easy-to-read categories such as fashion&footwear, everyday living, wellness and wanderlust. They are also able to tie the blog posts with their products.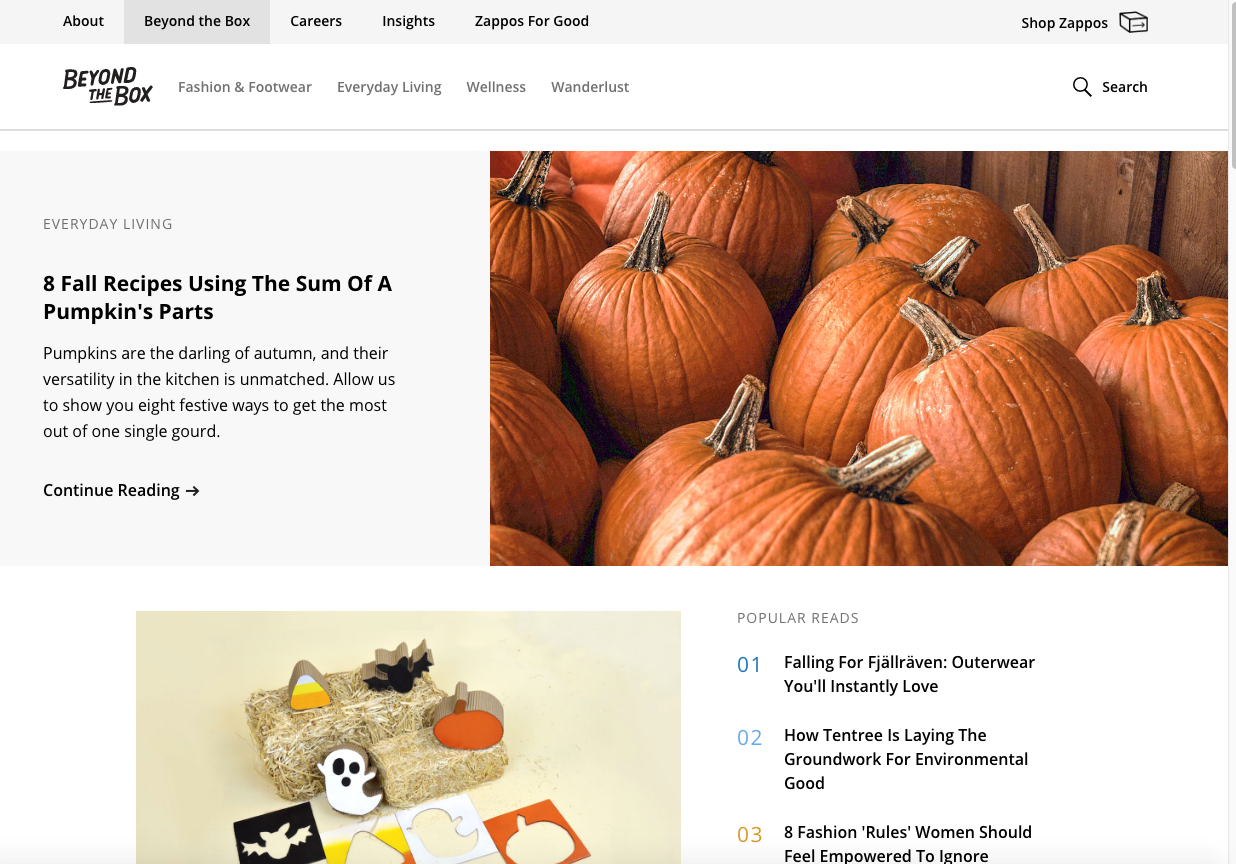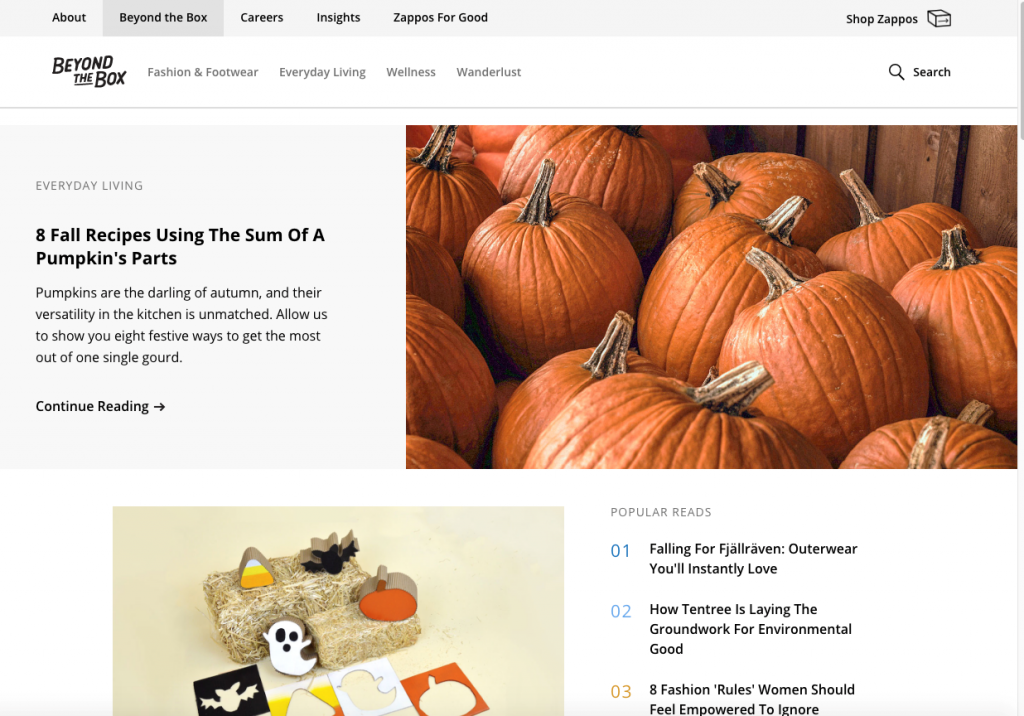 The blog post titled "8 fall recipes using the sum of a pumpkin's parts" includes recipes along with eye-catching images. At the bottom of the page, the blog showcases "pumpkin inspired style" part, which includes several items which a reader can easily get from Zappos.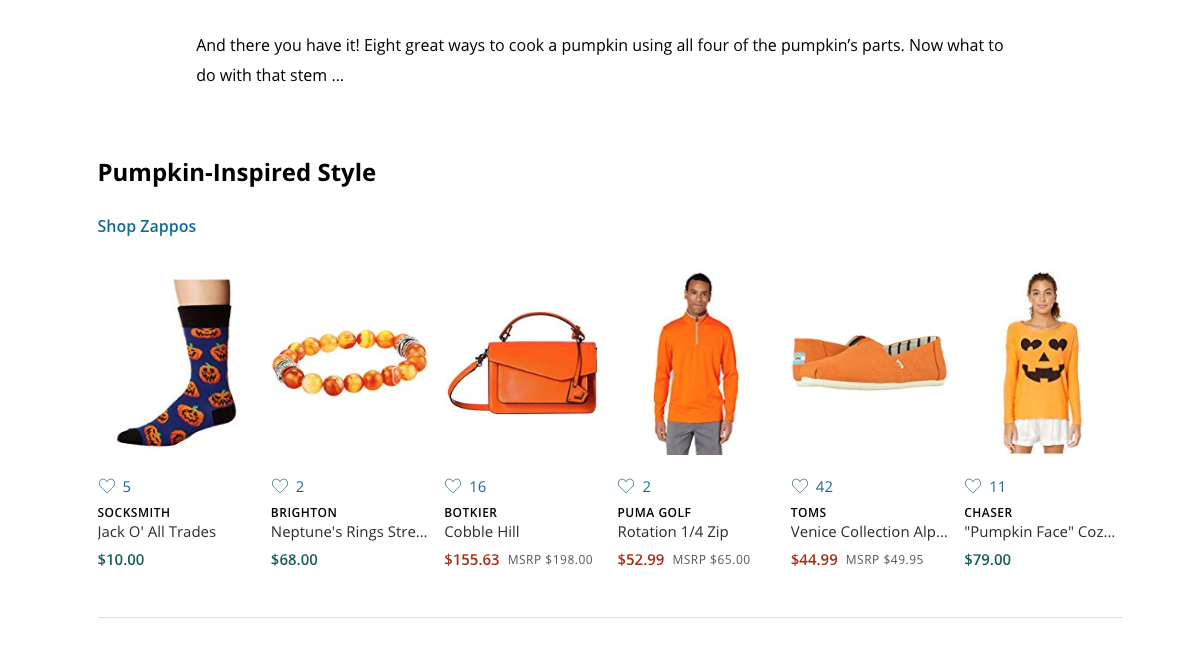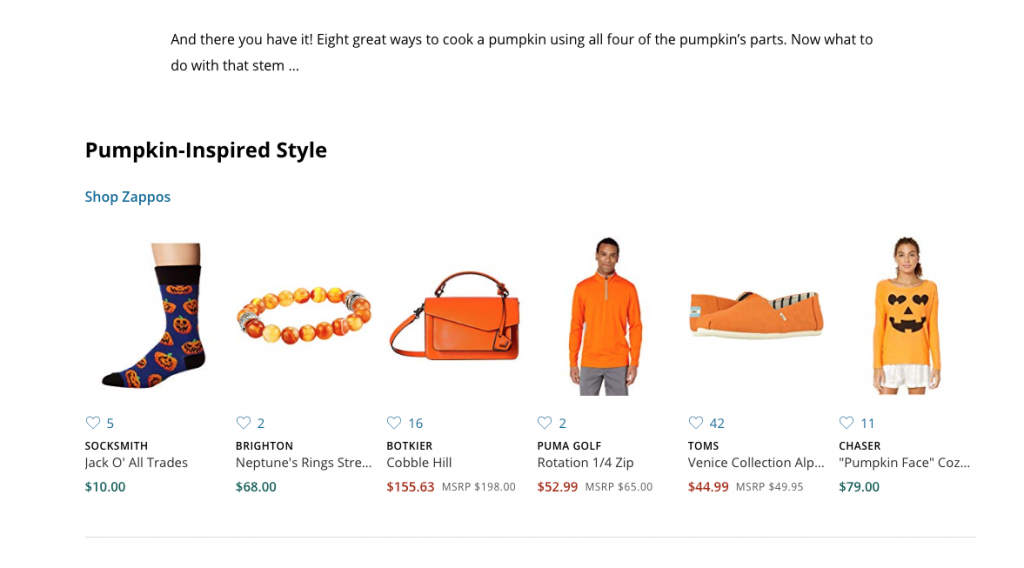 Along with text content, visual content also works well. For instance, posting a video for your products often helps to increase the interest in your customers. Such form of content often engages online visitors just because of the ease of viewing it and understanding it within less period of time. This in turn amplifies brand awareness and credibility, provides avenues for compounding the ROI along with more visibility on different webpages.
When content marketing involves generation of content not by the company's employees but by its consumers, it is called "user generated content". Although hard to achieve, this tactic can drive significant results if executed properly. A very successful example of user generated content driven marketing is the 'Share a Coke' campaign by the soft drink giant Coca Cola. This campaign allowed consumers to personalize their drink by adding an option of including their names on the bottles removing the Coca Cola brand name from one side of the bottle. Consumers were then prompted to create online media content by discussing the product over social media platforms and sharing their photos via the #ShareaCoke hashtag. The campaign went viral creating amazing results such as 500,000 photos shared within the first year alone and 25 million new Facebook followers for Coca Cola. The campaign was subsequently implemented in nearly 80 countries and the share by category went up by nearly 4% worldwide.
What an online retailer needs to understand from the above example is that a mass seller of soft drinks, even though well-established in business worldwide, used a way to connect emotionally with people by allowing their presence on their products giving them a personal association for its customers. The key takeaway here is; telling stories that show how your users can improve their lives with your products often pays off!
Visual content always has an upper hand compared to other forms of content. Such content always engages visitors and prompts impulsive buying. – Tweet This!
What is content strategy for eCommerce?
Strategy at its core means a specific plan to tackle an existing problem or situation. When you devise your content in such a manner that engages the audience in such a way that it leads to a purchase or sale can be, generally, termed to be strategic content.
The primary goals in your content strategy for eCommerce business are audience building, improving the social reach and eventually sales. There is no rule set in stone for content management or marketing thus you need to be innovative about it. The way to understand content strategy for eCommerce is through examples that are already by major brands or competitors. Here are a few examples of content strategy for eCommerce to give you better understanding.
The Catch
For online retailers, use the following points as benchmark standards for effective eCommerce content marketing and content strategy for eCommerce:
Focus on quality: Your product should focus on the problem solving or value addition to the customer rather than quantity for monetary value.
Repurpose Content: When it comes to similar products, use old content to target new comers and allow them to know your brand. Instead of recycling the content, add hyperlinks in blogs that leads to older yet relevant content when speaking about a brand.
Use Social media: Garner attention from audiences with same content by posting on different social media platforms like Instagram, Facebook, Twitter, Pinterest, etc.
Less is more: Produce less content but find avenues to distribute them more on different sites.
Evaluate: The way in which your content performs and brings in good ROI, traffic as well as brand recognition must be evaluated from time to time to understand product performance and reach.
What is the difference between content strategy for the web and content strategy for social media?
The distinction is simple – content strategy generally means content production through creative thought whereas the latter uses social media as a successful delivery mechanism for content. The generic content changes on social media by using certain 'strategies' like, use of hash tag in Instagram followed by the keyword as compared to regular keywords used on web based content. Such content strategy for social media often creates visibility for ad campaigns and focuses on reach and appeal of your online product.
Social media marketing uses social platforms, websites and social networks for marketing products and services of a particular brand. The "social" quotient pushes customers to express their views, opinions and other product related aspects. Thus social media marketing can be used for direct and indirect marketing to promote businesses on the social web by sharing and interactions. For small businesses, the indirect promotion strategies of social media relies on starting a conversation and encouraging sharing among users. It is a great way to enhance brand awareness along with the image of strong customer relationship management.
How to create content strategy for eCommerce business?
Given below are some of the pointers that can help you establish market presence and provide a great way to ensure brand awareness through content strategy for your online eCommerce business.
Set your goals: Be clear about what you want from the get go. Do not dabble on the mission statement because ambiguity will never get you anywhere. The target audience, feasibility of your product, how it will serve the customer and generate an ROI must be the top priorities. Framing your content based on these will always help you reach out to more customers.
Set up KPIs: Key Point Indicators (KPI) are milestone markers based on specific goals. Reaching a particular revenue mark, getting more subscribers, improving search rankings, etc. can be KPIs. Choose what you want and reach out to more people using KPIs so that you still achieve a good ROI and personal goals along with consumer loyalty.
Understand your audience: Collecting demographics can help you understand your audience better. This would allow you to target specific groups and market different trends that would appeal to the masses of that particular demographic.
Find out the best content distribution channels: Framing content for ecommerce businesses is not the end game; knowing where to post them is also important. Using subcategories like share by network, type of content, content length helps to refine the content and its placement online. For example, Google Ads is a good channel in terms of promoting content although it comes along with its cost. As a medium, Good Ads does not allow lengthy content; however, it does use billboard type of content placement with backlinks to your online store. Understanding this would allow to place your ad with the right content online.
Apart from this, creating the right type of content based on the platform you post is also important. Creating a content calendar and measuring results are other ways to create strong content strategies.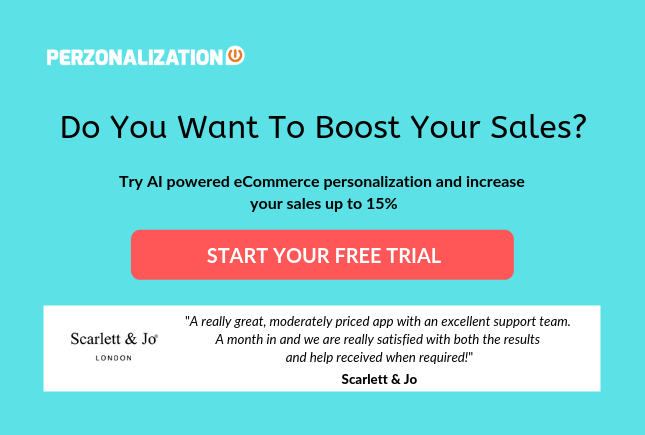 Examples of online retailers executing good content strategy for eCommerce
McDonald's Question Time
McDonald's Canada used a brilliant content strategy for eCommerce by answering the questions of 10,000 customers by introducing the McDonald's Question Time. The result – they built a reliable customer base with authentic, transparent answers about their products by providing valuable insight.
GoPro's Visual Content
Adventurous people always have a great story to tell. GoPro made visual content as their content strategy for eCommerce resulting in 3.4 million subscribers on YouTube and 6.8 million followers on Instagram. They used infographics as a potentially double traffic method to engage users; they promoted their product simply by using the pictures that their products can shoot.
Open Blog by Buffer
Buffer is a social media-tracking app. Although not a member of the online retail space, Buffer does a good job with its blog. On Buffer Open Blog, people tell what other people want to hear. This helps in finding specific solutions to people's problems; the main focus of the blog page is to connect to like-minded people and make them understand that they are not alone.
The list goes on but the above examples will at least provide an insight into the content marketing strategies used by some giants.
Is development of content strategy for eCommerce as tough as it sounds?
eCommerce industry believes that content creation and management is one of the most difficult jobs that you could ever encounter in the online platform. To create a "sales funnel" which will drive inbound targeted traffic and guide visitors, efficient content is required. In addition, the ever-changing market trends in products and technology create a vicious cycle for continuous content generation that challenges quality, context, and relevance. Implementation of such a complex process requires drawn-out series of steps with a degree of timing to be successful.
Your KPIs and content strategy for eCommerce, the web and social media must help managers to envision future steps to determine all the necessary strategic steps and their sequence in order to accomplish smooth implementation using optimal financial resources.
What are the best tools for content strategy for eCommerce?
Whether you have been using content marketing for some time, or have recently understood its importance, it's difficult to ignore the benefits that these tools bring to your eCommerce store. Let's look at some of these tools for a better understanding:
6 content marketing tips and tricks for online retailers
Here are some content strategies that will enable you to function smoothly and ensure proper implementation while running an eCommerce business:
Use several content types and mediums to distribute your content
Do not stick to a few content types i.e. blog posts and social media visuals alone; use different types of content like videos and audio. Relying on a single form of content often makes it dry and people lose interest; perk their interest by creating a feedback and interaction platform that allows them to share their experiences. In addition, use the distribution platforms (i.e. Youtube, Pinterest) to promote your content and gain followers.
When a product enhances the quality of life of a consumer, they tend to talk about it at places where they usually hang out.  Infographics is one proven method to achieve a great way of engaging audience.
Maybe a little outdated but still one of the efficient and effective ways of engaging audience through good content, email marketing happens to be still one of the ways to reach out to more people.
Make it interactive
The value of being heard is enormous. If you look at Amazon, you'll see that their content marketing strategy involves a platform for reviews where customers share their experiences about products with a star rating provision. This simplifies usage at the same time brings in customers as well as product awareness.
Research your competition
Employing content management strategies of your competition can also work. Not that is always necessary, but it will help you understand the strategies they employ and come up with methods to improve your own online mileage.
Use "Billboard" content online
Lengthy posts often deter people from knowing the product in dept. However, using content pieces used on billboards often helps to attract the attention and interest of a consumer about particular products. Sharing this type of content on social media will also allow users to interact with your brand more than they would do on a traditional platform.
How to build a content marketing calendar for eCommerce?
Content marketing calendar is a list of content that your ecommerce business will publish. It is one of the most effective content strategy tools for ecommerce businesses and helps you plan and execute your content marketing strategy in a timely manner.
Think of it as a guide to publish your content at different times of the year or season. Such a tool helps to visualize exact content and order of its publication. The seasonal discount sales, sales on festive celebrations, etc. are based on content marketing calendar strategy. Making different calendar strategies for different platforms makes cross-promotion easy. Planning this in long terms, as ahead as possible, is always better and reduces stress planning.
Content strategy for eCommerce: Key Takeaways
Publishing the right content in a timely manner will always bag the trophy for your online store. Using different strategies like SEO and other digital marketing techniques will enhance the reach and ranking of your online store resulting in a good inbound traffic all the time. Devise a solid content strategy for eCommerce, plan your content ahead and publish it on different platforms according to the guidelines provided here. Just keep in mind  – keep your content original to add value for your followers to keep them coming back for more!
Curious to learn more? Take a look at related posts
Do You Want To Boost Your Sales?
We are Perzonalization and we'd like to help you.
Try AI powered eCommerce personalization and increase your sales up to 15%.