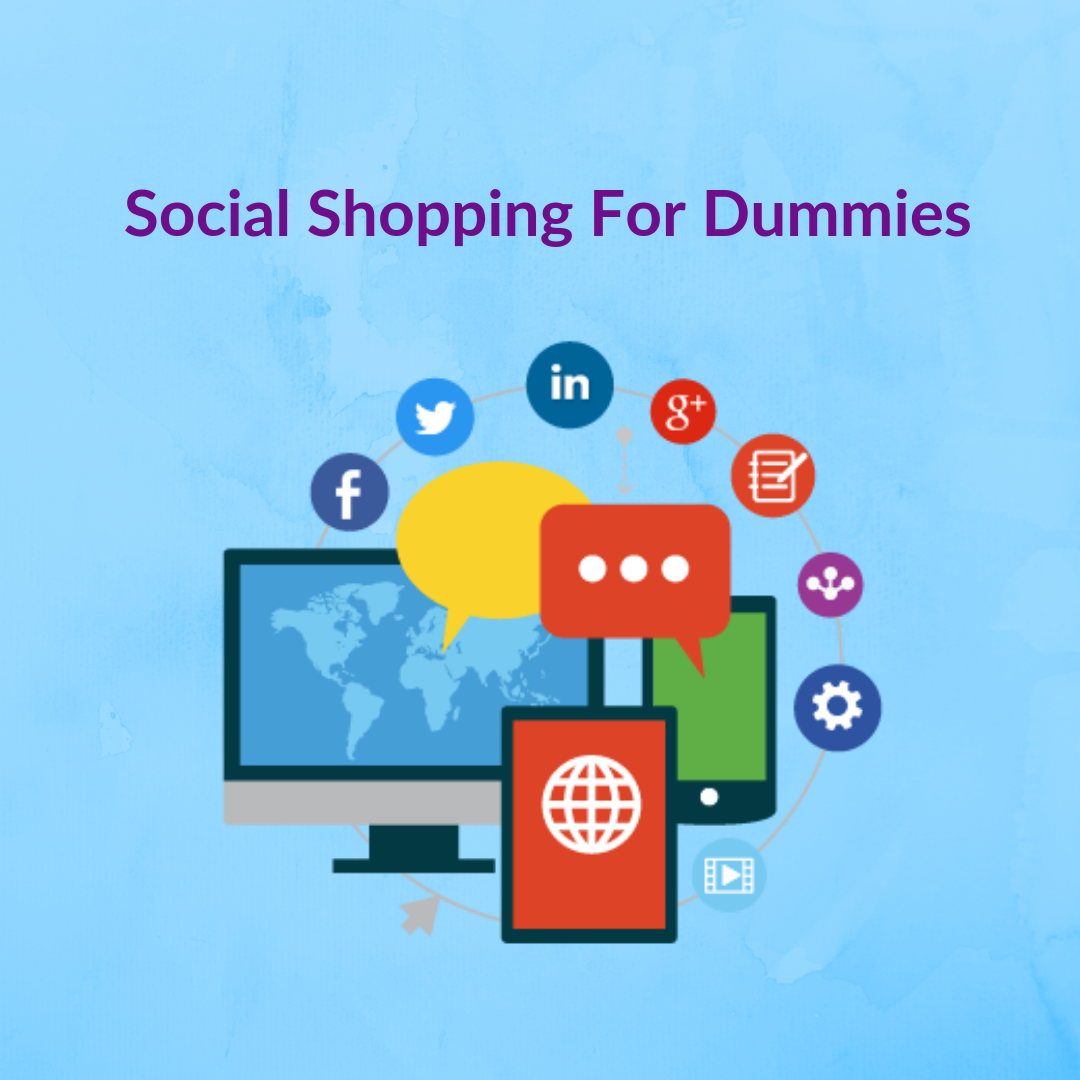 There are no brownie points for guessing what Social Shopping is. Simply put, it is a place where social networking meets shopping. It is where people interact with each other online to buy, review and recommend products. You could also term it as a dialogue or conversation occurring around a particular brand or product between the existing and prospective customers, finally resulting in sales. Since these conversations happen about electronic commerce, it is also known as Social Commerce. As both online shopping and social networking evolves, so does social commerce, 2022 being no different.
Download your guide and learn about the best times to post on social media.
So, Why Is Social Shopping So Prevalent?
The one-word answer from a marketer's viewpoint would be, because it drives sales. Social commerce influences an individual's buying process greatly. When people share, review and recommend products, other people in their social networks are tempted to try those products. The ability to share and discuss purchases on social media is what retailers and brands are now banking on, because, internet users globally now turn to the social shopping network to connect with brands to find out about their products. eCommerce businesses are now treating social media as a sales platform, with 25% of business owners selling through Facebook alone. Not only does social media influence what people buy just through recommendations, a third of consumers say they would buy through other social media platforms like Instagram, Pinterest, Twitter, or Snapchat. A report from Gartner suggested that 66% of brands had tried out a social commerce feature in 2017. The social commerce market size is expected to grow at a CAGR of 34% by 2021. If you look at these social shopping trends, there is no way you wouldn't want to know more about the entire social commerce landscape and how it can benefit you.
When people share, review and recommend products, other people in their social networks are tempted to try those products. – Tweet This!
Social Shopping Benefits
The evolution of social shopping in the eCommerce landscape is beneficial for online brands because it increases their audience reach manifold. However, there are some other benefits like the ones mentioned below:
With social shopping, a company can experience a consistent audience growth. New people join social media every day. Hence, it becomes easier for brands to reach and sell to this constantly growing target audience.
Engagement on social media influences a business's search engine rankings. Social commerce increases an online store's digital footprint that will eventually result in sales. When you share links on social media that leads to content on your website, it drives traffic from social media users. It also allows your target audience to engage with a comment, like, or share and enables you to reach an even larger audience.
Social commerce is a powerful branding opportunity and the one which increases your online visibility. When you consistently show up in your followers' updates and social media feeds, you're helping your business with the much required branding. People who are in regular contact with a company are more likely to recommend that company.
It is a powerful customer service tool. In a two-way communication like social commerce, you are not only introducing your products to your target audience, but are also replying to their queries and addressing their concerns. This way, it becomes an effective customer service channel.
Social Commerce increases customer loyalty and builds long term relationships. By engaging with your existing and prospective customers on social media, you will be able to build and maintain long-term relationships with them, resulting in customer loyalty.
Social media commerce makes it easy for you to measure and evaluate performances in terms of providing you an ROI on your different online marketing campaigns. All major social shopping websites and social media platforms like Facebook, Instagram and Twitter have built-in metrics to measure impressions, engagements and reach.
Best Social Shopping Sites In 2022
There are a bunch of social networking platforms out there, and one grows every other day. Almost all of these platforms allow businesses to grow a sizeable follower base which translates into web traffic. However, there are only a few which provide an opportunity to engage in direct in-app selling. Hence, there are a few platforms I believe are worth paying a tad bit more attention to for success with social commerce in 2022. The following is the social shopping network site list to grow your business this year.
Facebook Shop.
Shoppable Instagram.
Pinterest Buyable Pins.
Snapchat.
Facebook Messenger.
Facebook Shop
As a social shopping market, Facebook came up with the Facebook Shop which is a way to push your product catalog up to Facebook and showcase products within the "Shop" tab on your Facebook business page.


Setting up your Facebook Shop is pretty simple. You can either:
Set it up manually inside your Page.
Integrate your WooCommerce, Shopify or Magento ecommerce store directly in to Facebook in order to automatically push products to Facebook.
Some people may browse your Page and click on this 'Shop' tab to show all the products.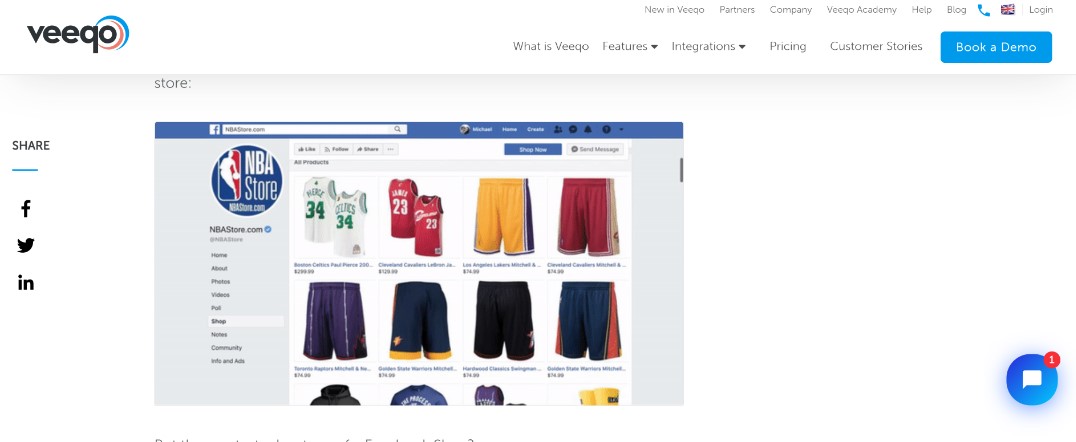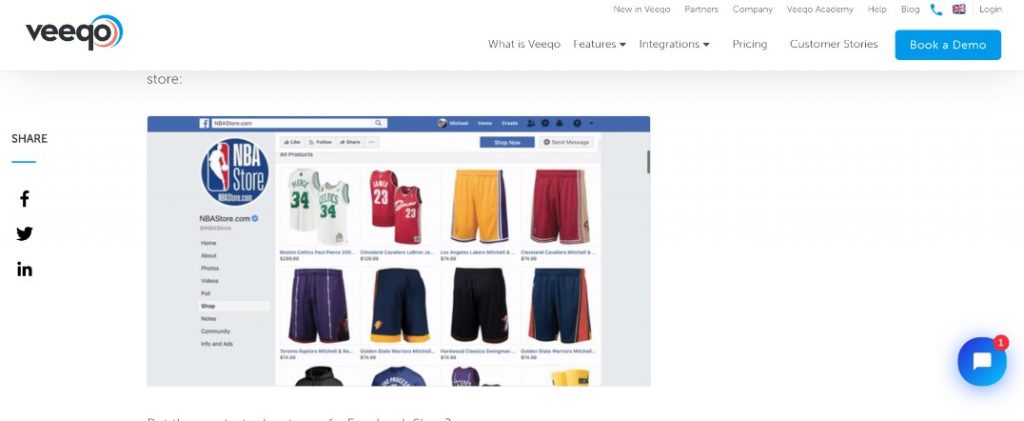 Facebook's biggest advantage is; you are able to share products within the platform itself. Your posts and Ads no longer need to be mere images and embedded links to your site. With the Shop feature, you can showcase a range of products to a specific audience. You can tag all your products in a particular range in one single post, like the one below: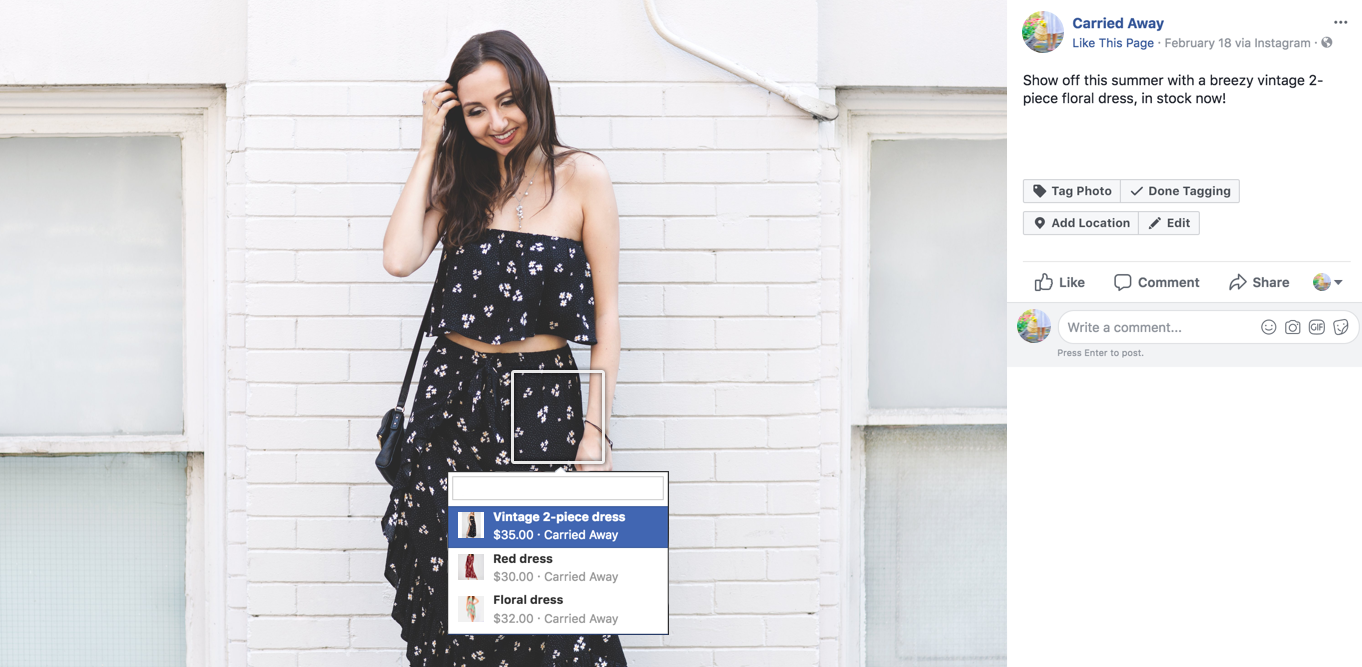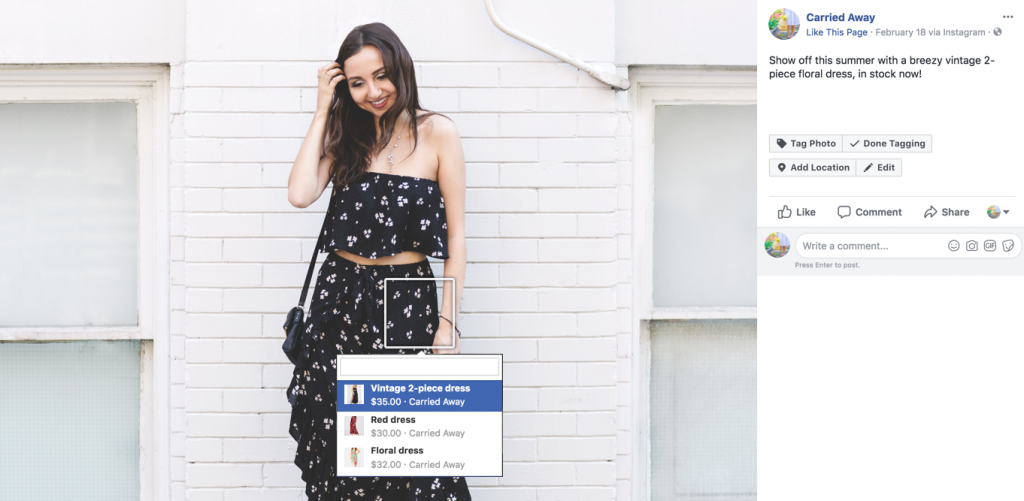 Or build a carousel featuring a range of different products like how NBA store does it.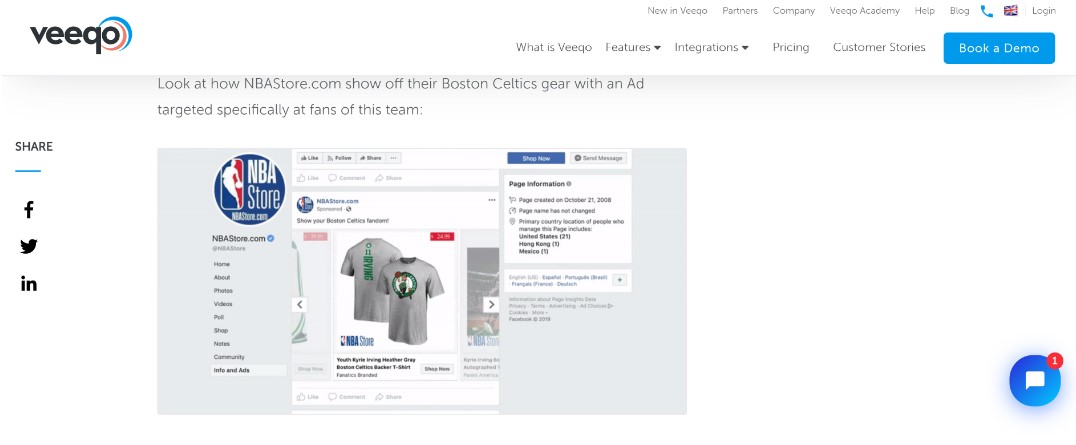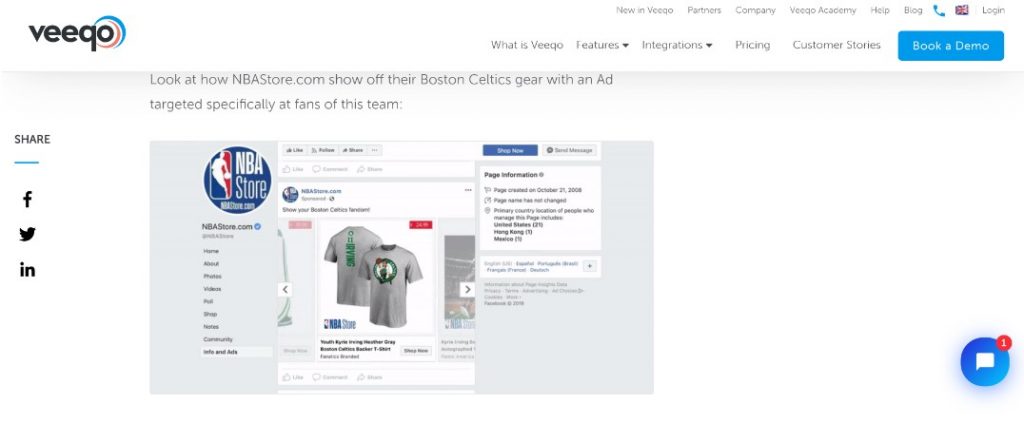 Shoppable Instagram
Instagram has rapidly enhanced their social commerce offering, luring more and more brands to join the bandwagon. In less than a year the platform has introduced shoppable stories, videos and if rumours have it, they are also going to circulate a standalone shopping app soon.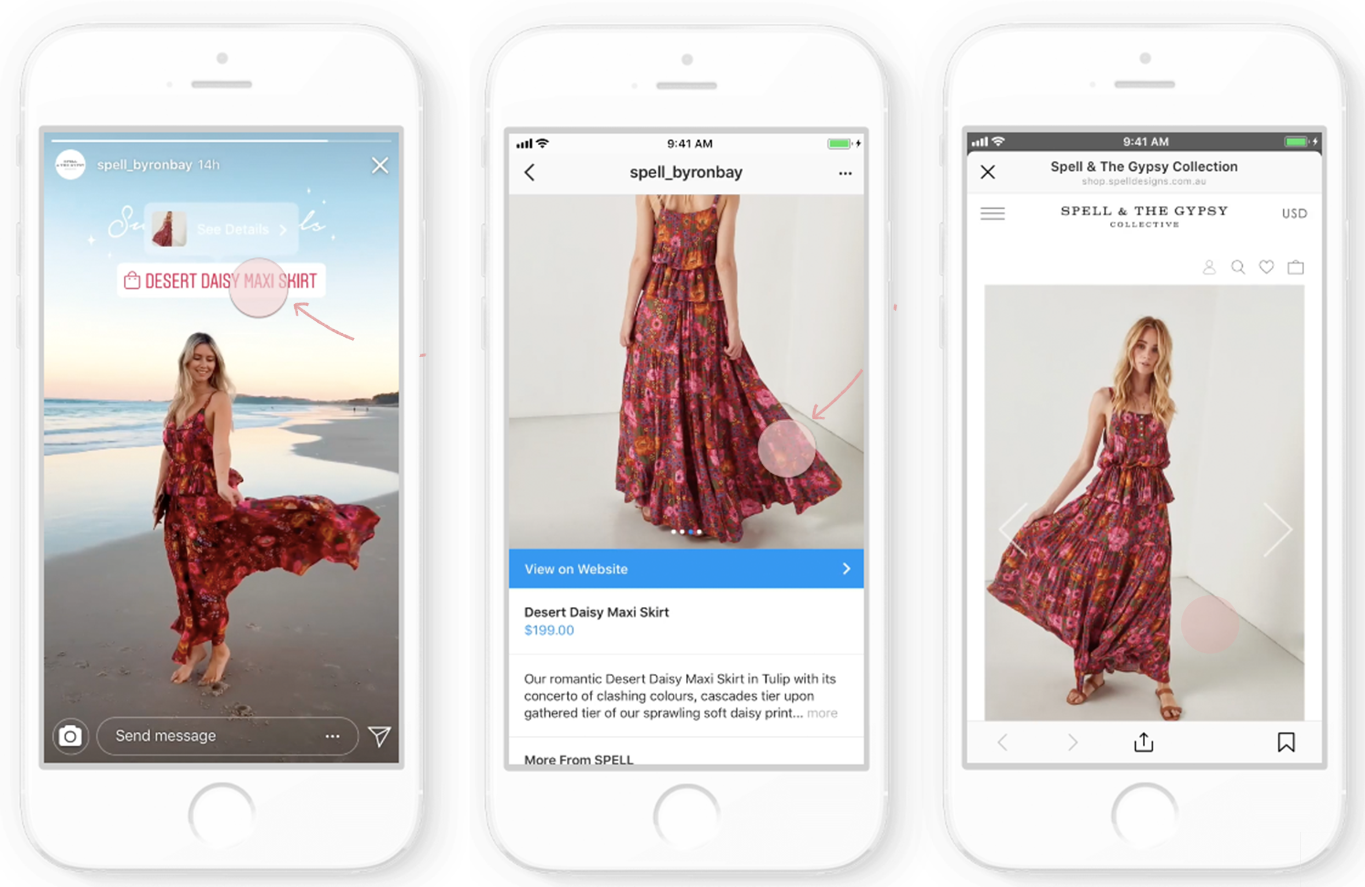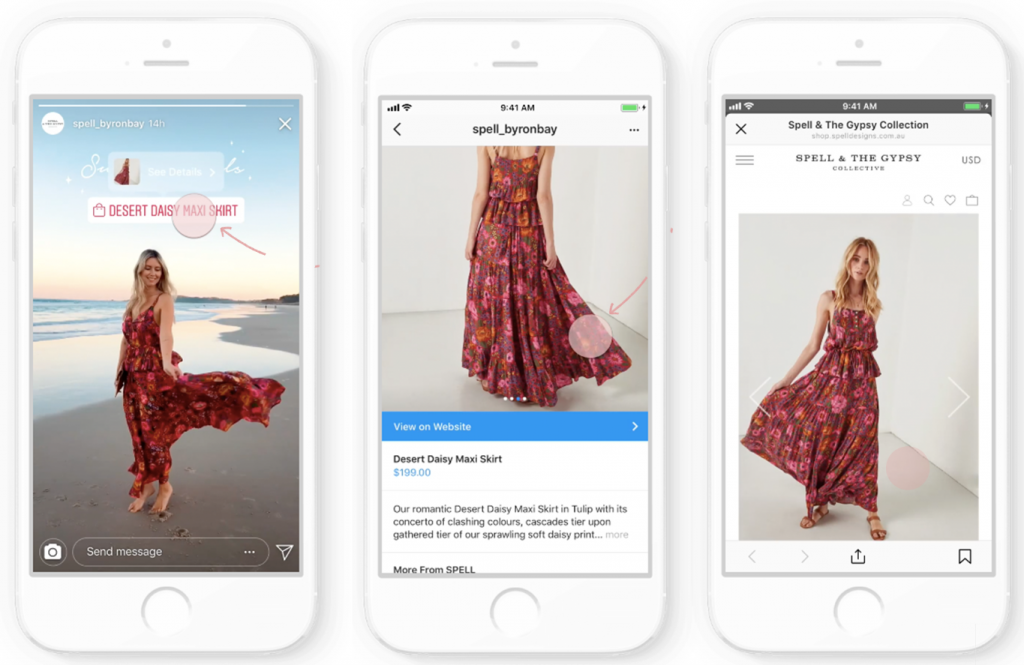 The new Instagram shopping feature, which was launched in March 2018, allows brands to tag up to 5 products in a single post. When users click on the tags, they are able to see additional information about the product like the product description and price information. Shoppers are also given a direct link to the eCommerce site where they can then make the purchase.
Instagram Shoppable Stories are very similar to Shoppable posts, allowing product tagging within the platform's 'Story' feature. Look at how this retailer has used the following Story to showcase the dress.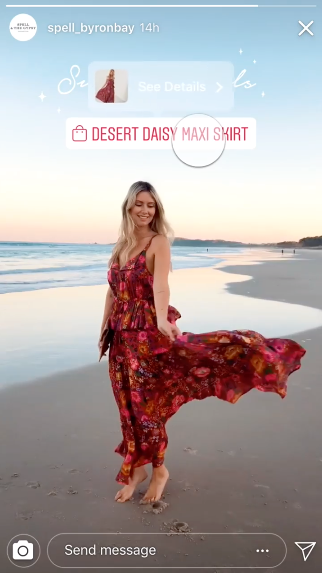 On top of these two features, Instagram also has a dedicated Shopping channel in its Explore section: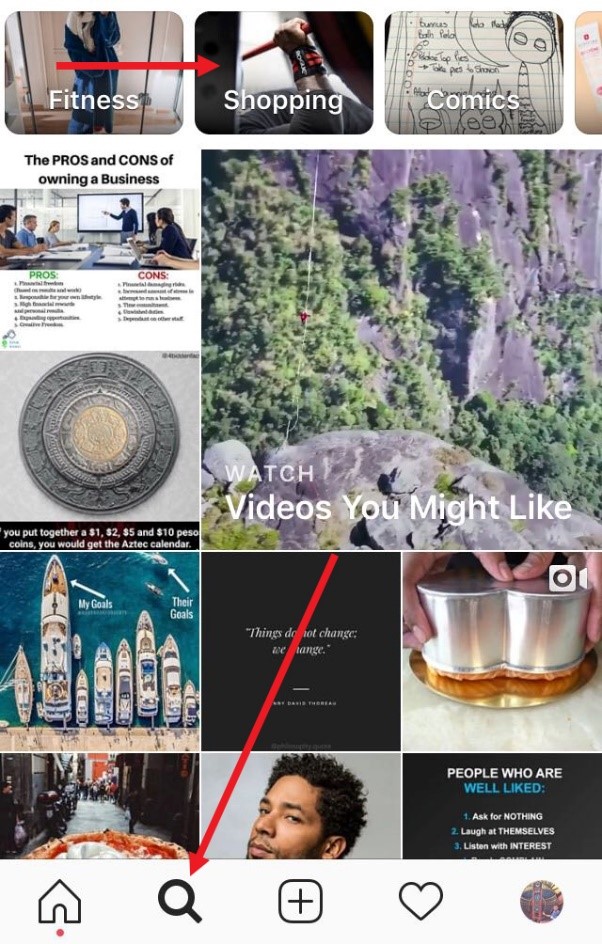 Users can now go to the 'Shopping' tab and see a personalised marketplace and view a feed of Shoppable Posts from a wide range of retailers – all based on what they've previously looked at. And the best part is, users don't even need to follow you to be included in this feed. If Instagram thinks your product is relevant, they'll display it.
Pinterest Buyable Posts
Selling on Pinterest has become a different ball game after they rolled out buyable pins. People can now browse Pinterest for the latest products and trends across different niches, come across a Pin of one of the products they like, and then buy it right there in the app. And then there is Pinterest's "Shop the Look". The latter allows users to tap on different parts of a Pin in order to explore other products from that retailer.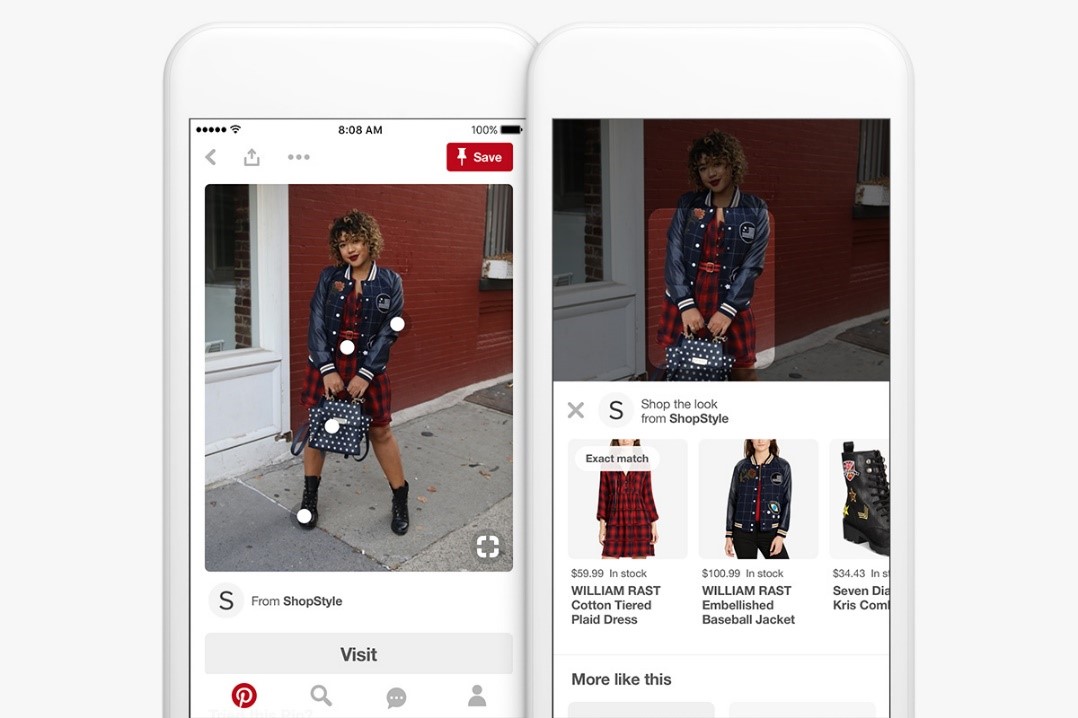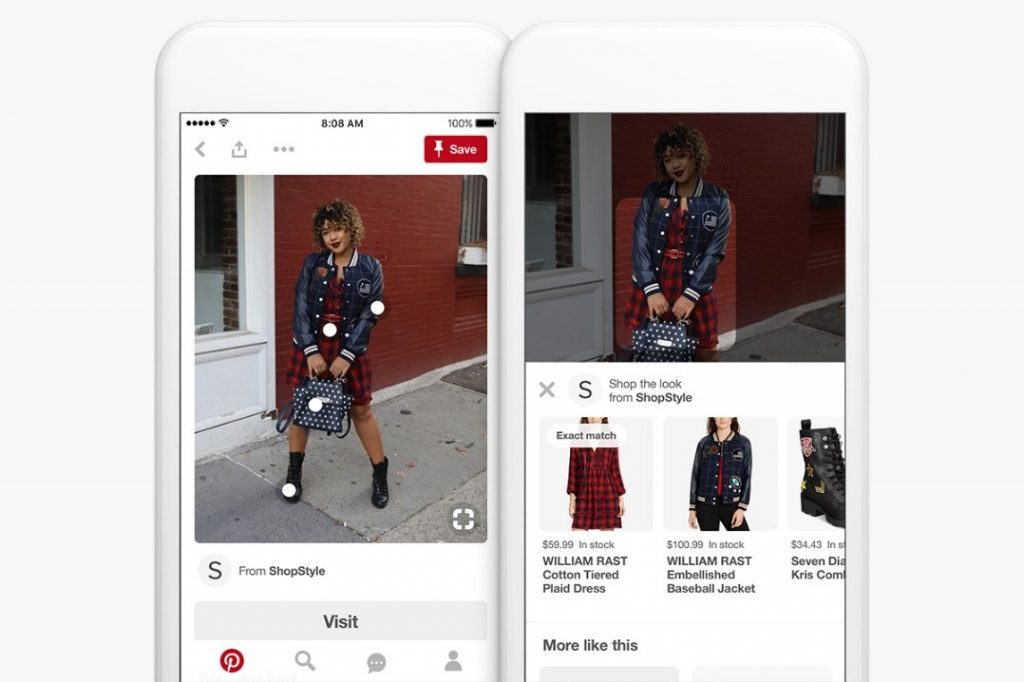 All these attributes give Pinterest a huge potential for sales, especially for retailers of home decor, fashion, or any product which is remotely visual in nature. You can either add Rich Pins which show up on your followers' feed or Buyable Pins which allow users to purchase from retailers directly on Pinterest. And then there are Promoted Pins which is a great way to use paid advertising to get your Pins out to a wider audience. Allowing you to build a following and generate sales quicker. The platform has more than 250 million active users, and if you are not on Pinterest, you are definitely missing out.
To help you a bit on this, given below are some of the things you could post on Pinterest:
Product collections.
Top-selling products.
Events or activities.
Trending now.
Seasonal (summer, winter, autumn, and spring).
Promotions.
Special offers.
Discounts.
Departments.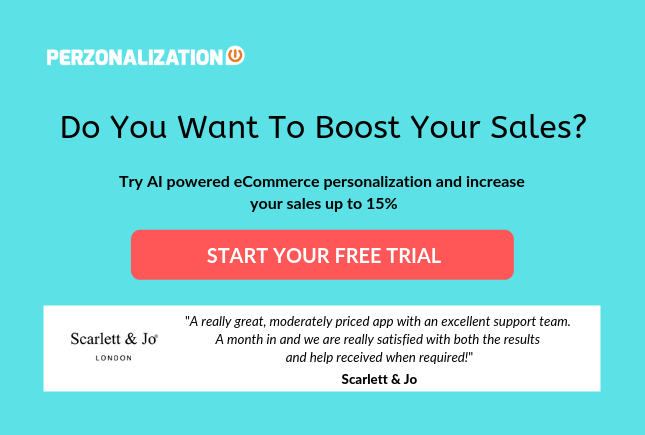 Facebook Messenger
Facebook Messenger stands tall among all its competing social media platforms when it comes to conversational commerce and social shopping. Facebook Messenger is great for:
A live customer service chat on both your Facebook Store and website.
A chatbot option to solve common concerns and address customer issues 24/7.
The same chatbot feature guiding customers through product catalogues to help them find what they want.
And with the recent in-app purchasing feature, it's definitely worth paying some attention to as a part of your social commerce strategy in 2022.
As a part of the paid advertising potential, online retailers can run both Facebook and Instagram Ads that have a specific CTA opening up in Messenger: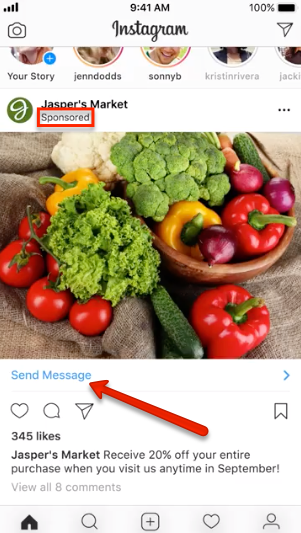 You can also retarget specific people with an Ad directly inside the Messenger platform.
And you can get your customers checkout right from the Messenger with pre-saved payment details in the app.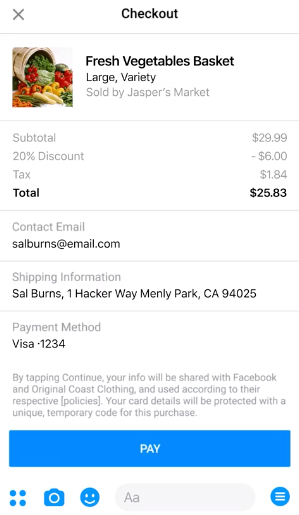 Examples of Social Shopping Campaigns To Get Inspiration in 2022
Lego has been brilliant in automating the majority of their conversations with customers by using their chatbot Ralph. Ralph asks the user a series of questions and then churns out product recommendations based on the answers:
One of the best social shopping examples in recent times has been the one by Allbirds. On their 30th birthday, Allbirds created a special edition birthday collection available only on Instagram. This way they were able to reach out to Instagram's huge audience base without even having to put their entire product catalogue on the site. Their followers on Instagram also felt a sense of exclusivity because the collection never appeared on their website.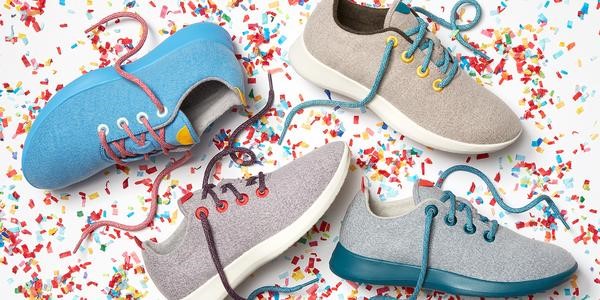 Jenny Boston Boutique, Boston-based women's clothing retailer promotes a handful of products every Wednesday with sale prices exclusive to Facebook. They post photos and descriptions of the apparel, and Facebook users have to comment "sold" to buy them at the sale price. The company reported an increase of 617% in sales in a single month just by using the Comment feature and the Facebook Ads.
Facebook Messenger stands tall among all its competing social media platforms when it comes to conversational commerce and social shopping. – Tweet This!
Let's look at this case study by Levi's. Levi's took social shopping to a whole new level by integrating social media with their store. They incorporated something known as a "friend store", which is a specific section of their website where you could only see what your friends liked or purchased through Facebook.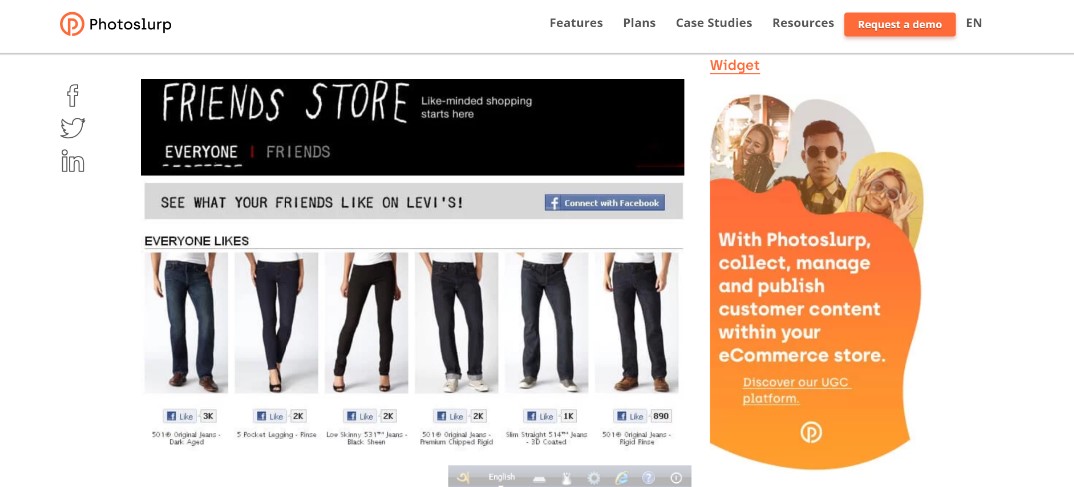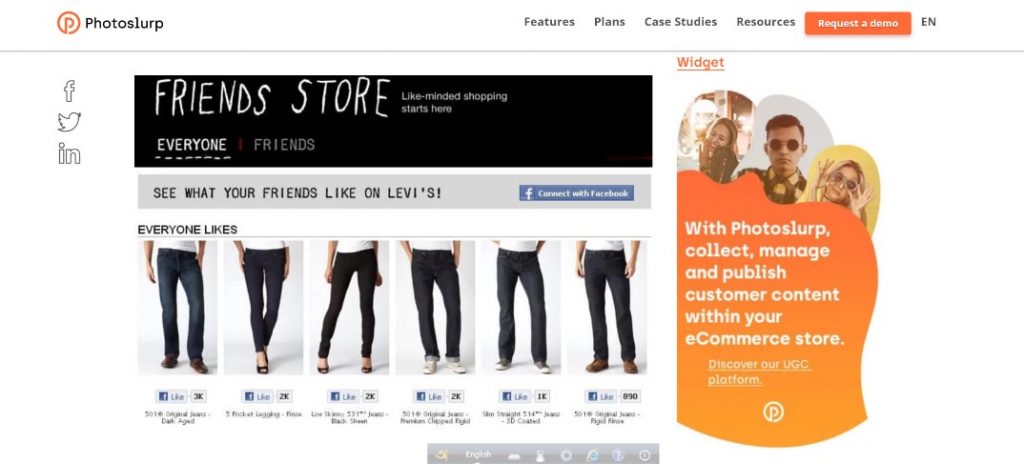 This partnership with social media led to the company's 30% increase in web traffic which came from just Facebook. From 180,000 fans in 2009, they went up to 17 million.
Top Social Shopping Apps and Plugins
While social media platforms are constantly improvising, trying to come up with something better to implement social commerce, there are some third-party apps which makes your life easy in the meantime, like the ones mentioned below:
Beetailer's quick catalog import feature allows you to see all your products on Facebook without needing to key in any additional information. Campaigns and promotions are already provided, and you can access different reports to view trends and predict what you can expect in the future.
Soldsie works both with Instagram and Facebook, and allows your followers to buy just by commenting on a post with the word "Sold." After the comment is posted, the app takes care of the rest, emailing them an invoice to complete payment and confirm the order.
Shop Social is a tool which allows you to make your Instagram photos shoppable on your ecommerce site. Instead of giving a single link from a photo, you can tag multiple products to your posts with this app.
A Final Word on Social Shopping in 2022
So, there you have it!
People listen to their peers, friends and family before buying anything, and the likelihood of that happening more is only going to increase. Social shopping puts the control in the hands of the customer, and it's their choice whether or not they want to make that purchase. What social media does is it helps people avoid a bad purchase decision allowing them to talk to people who have already used that product. And this creates the perfect opportunity for online retailers to dive in, experiment with social shopping, and rise ahead of the curve. If you are an online retailer, the time has come for you to try social shopping!
Do You Want To Boost Your Sales?
We are Perzonalization and we'd like to help you.
Try AI powered eCommerce personalization and increase your sales up to 15%.