What is Predictive Personalization for eCommerce?
Predictive personalization for eCommerce is the art and science of personalizing a user's experience on a webstore using predictive technologies. It analyzes current and historical data via statistical techniques and machine learning. The aim of all these analysis is to define the patterns and predict the likelihood of a possible action on a website. The result of this analysis is then translated into pieces of personalized content on a website, emails, mobile app or on display/social media ads.
Predictive personalization for eCommerce has been a shining marketing technology effectively used by eCommerce businesses and content websites/applications. Amazon.com, Netflix and Pandora are giant companies that have been experimenting with innovative personalization methods for more than a decade and presenting inspirational use cases on predictive personalization.
Download our free guide and learn how predictive personalization for eCommerce can boost your sales.
For eCommerce, predictive personalization has been acting like the Uncle Bob of the neighborhood grocery store. As there is no sales person working on online retailers, it is hard to guess what a visitor is likely to buy when she enters a store. This is where predictive personalization comes in!
Everyday, billions of web pages are viewed by online shoppers. These visitors are usually anonymously browsing through the sites. The only trace they leave is the clickstream data. Predictive personalization engines are experts in profiling anonymous users with the help of the browsing behavior data accumulated on an eCommerce website. Data is processed and by this, the engine learns the behavioral patterns on which to build statistical models. The algorithm uses these models to make meaningful predictions.
It is quite obvious that a shopper would not appreciate the online merchant if she keeps on getting the same experience every time she interacts with that online store. Luckily, the personalization engine is able to guess which type of a jean Visitor1 is likely to buy, what color Visitor2 prefers or which skirt Visitor3 is likely to purchase after she has bought a shirt.
Examples of Personalized Content for eCommerce
Product recommendations on several pages of an online store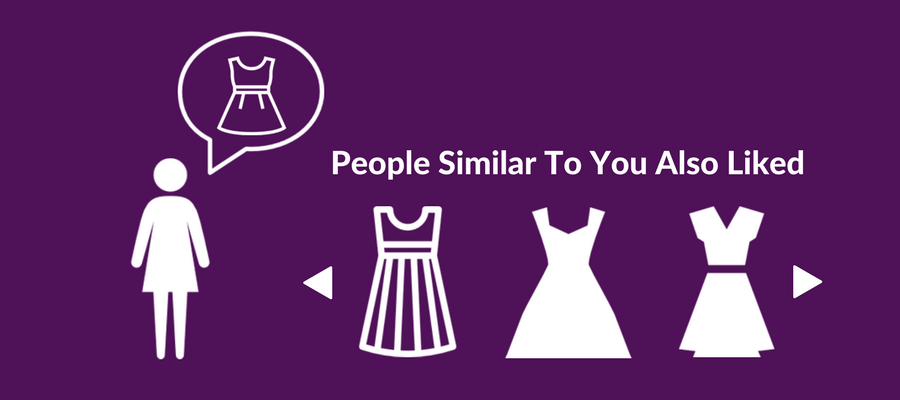 It is possible to predictively personalize the experience nearly on all types of pages on an eCommerce website. Product pages, basket page, filter page, homepage, search page and successful sales page are all areas where personalized product recommendations can be displayed. Showcasing popular products, products viewed by similar shoppers, products from a specific category, upsell or cross-sell products are all possible.
Personalized banners on homepage 
eCommerce websites tend to display several banners on their homepages. These banners are usually placed in sliders and the visitor has to click on the slider or scroll to the bottom of the page in order to see the next banner in the line. Predictive personalization makes it possible to choose the most relevant banners according to that visitor's taste profile.
Pop-ups triggered by visitor's actions 
Displaying pop-ups is a widely used sales technique in online retail. Predictive personalization adds value on pop-ups by analyzing the visitor's clickstream history, making an intelligent guess as to which action this person is about to make and showcasing the pop-up according to this prediction. If a person has viewed a few pages from the same category then the pop-up is likely to recommend similar products from the same category chosen according to that user's taste profile.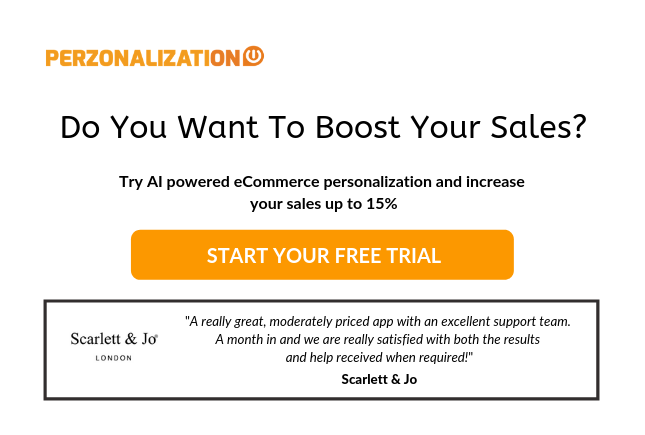 Personalized product recommendations on emails 
Email is still a great tool in ensuring repeat purchases and increasing loyalty. With the help of predictive personalization, it's possible to seamlessly deliver personalized recommendations on emails by integrating to existing email templates with a simple copy & paste. Email can then be sent via any provider and the products can be delivered automatically when the emails are opened. This ensures that the real-time activities on an eCommerce site – stock levels, popular products – are taken into consideration. 
Personalized marketing content on emails like banners and videos
If the online retailer is creating several types of marketing content on a regular basis and then sharing it with its current users via emails, the users may get tired of receiving content not related to their interests. Predictive personalization empowers emails in such a way that the content featured is targeted towards that specific user and chosen by analyzing the behaviors on that online store.
Personalized ads featuring personalized product recommendations
Matching retargeting with predictive personalization brings content-rich ads on web and on social media. The products viewed/bought on an eCommerce website are tracked, analyzed with statistical modeling techniques and then presented to that user when he/she is on a totally different environment like Facebook or a blog.
Predictive autoresponders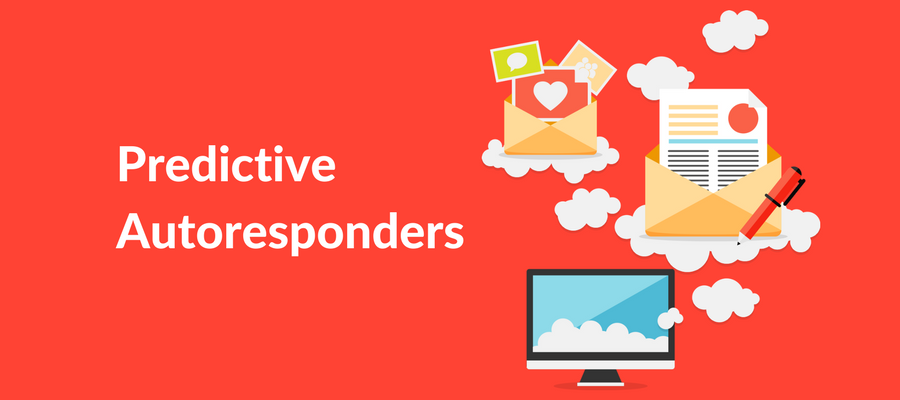 Autoresponders are often used as email marketing tools to immediately provide information to prospective customers and then follow-up with them at preset time intervals. A predictive autoresponder for eCommerce is a special type of an autoresponder that not only includes content but also predicts the content that is more likely to convert. A predictive responder needs to typically address:
The receiver: Name, e-mail address, phone number etc.
The receiver's taste profile: The products viewed, the purchases made, the items favorited etc.
What the receiver is searching for at that particular moment: The exact category, color, specs, price range that the user is looking for
The receiver's previous interaction with the company: Call center conversations, support requests, returned items etc.
What value has this person delivered before: Is this a repeat purchaser; what is the customer lifetime value, has the user responded to similar messages before
The algorithm empowering predictive autoresponders processes a set of historical and real-time user data and applies business rules to produce a message that is likely to convert. This autoresponder message could be an email, an SMS, a mobile notification or a pop-up on an eCommerce website.
Predictive Personalization for eCommerce: Tips and Tricks
In the early days of eCommerce, only massive online retailers could afford to fund predictive personalization practices. In today's online shopping world, even the smallest eCommerce websites has the chance to benefit from predictive technologies.
A SaaS predictive personalization engine like Perzonalization is able to help even smallest online retailers to understand patterns in their data. This is in return translated into higher sales, higher conversion rates and higher retention rates.
One of the best things about today's SaaS personalization engines is their ability to serve over the cloud. By this, the SMB eCommerce websites are able to use these tools without worrying about upfront costs. This is a manageable process for the SMB marketer as the software is not bought but rather rented. Most solutions also offer a free trial and revenue share based pricing options after the trial period.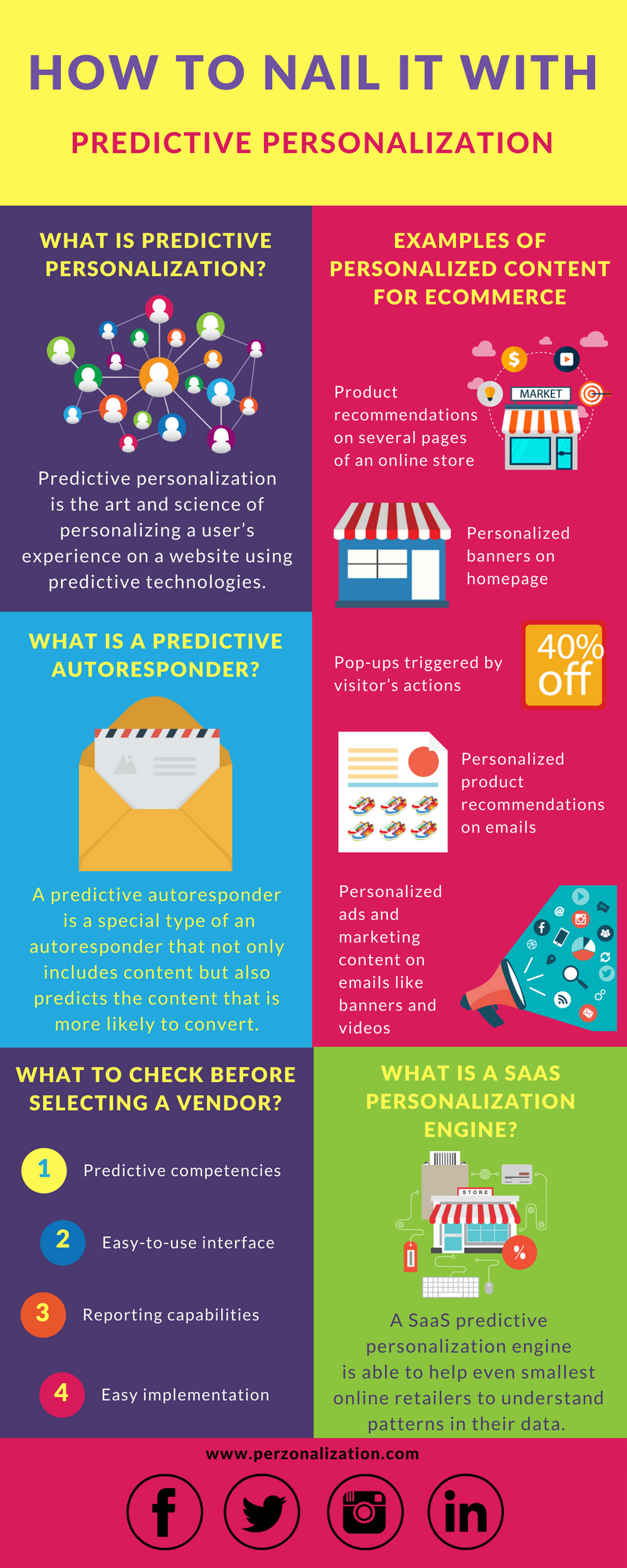 How To Select A Vendor For Predictive Personalization Activities
The vendor selection in personalization space has always been tough however a few tips may be helpful;
Predictive competencies
Developing a predictive technology is hard and takes years. While talking to a vendor, make sure that the company has a proven track record of success.
Easy-to-use interface
For setting business rules, triggering emails, designing custom recommendations, you will need a customer interface. You'll need to play with some features, daily. Look for vendors that are able to provide sleek interfaces.
Reporting capabilities 
In terms of making optimization, you need to keep track of the performance of your personalization activities. The vendor has to be able to report the performance in an accurate and transparent way.
Easy implementation
The implementation needs to be effortless for your IT guys. Look for vendors that have a sound integration practice and a state-of-the-art platform.
Predictive Personalization for eCommerce: The Wrap-Up
Predictive personalization for eCommerce is a great marketing technology tool that could help small and medium sized online retailers to increase their sales, conversion rates, pageviews and retention. If you are running an SMB eCommerce website, today is the right time to choose your vendor and get started with personalization.
This article was originally published on MonsterPost, Template Monster's blog that covers topics like web design, small business and eCommerce. Template Monster lets website owners build a site or web project with their templates in a few hours and offers thousands of different templates currently being used by millions of websites.
---