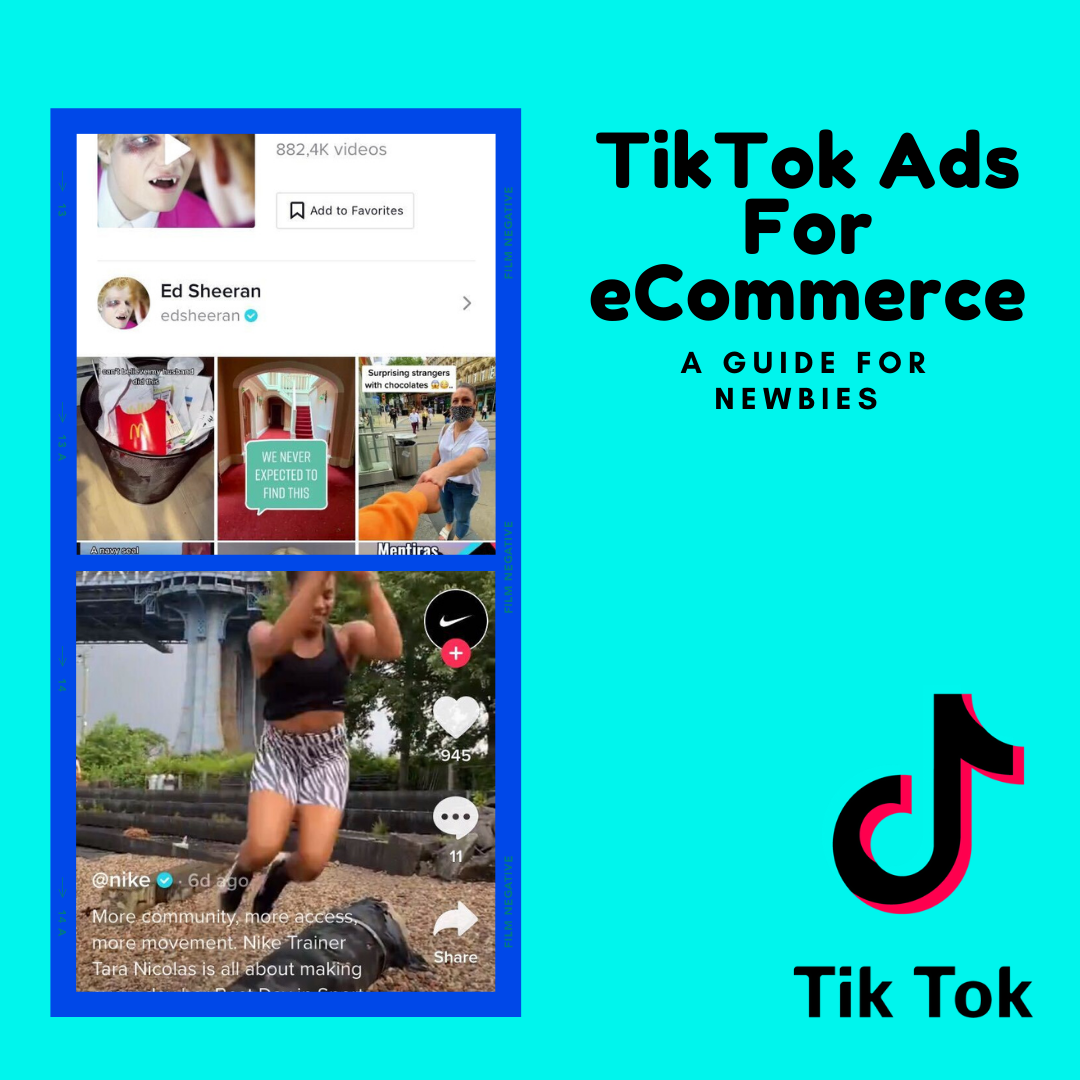 TikTok is a social media platform which gives its users a medium to showcase and watch personalized short videos. Originated from China, TikTok quickly made it to the top of the "social media charts". As of July 1, 2021 the famous social media platform has 689 million monthly active users. Having active users poses many lucrative opportunities for TikTok, monetizing TikTok ads being the biggest of all.
Advertising can come in many different forms in several media channels. The fact that TikTok only displays short videos might seem restricting at a first glance. However, the fact that 47% of TikTok users in the US are under the age of 29 makes video advertising a praised form of advertising for the brands targetting the younger generation. So in summary, TikTok ads are likely to bring entertainment and virality to the advertising industry.
Are you able to showcase AI powered related products, upsell items and frequently bought together products on your Shopify store? To get all of these and more, install Perzonalization for Shopify now and start your 14 day free trial.
Frequently Asked Questions About TikTok and TikTok Ads
As the popularity of TikTok grows, so does the questions and concerns about the famous social media platform. Let's try to answer a few questions and uncover some truths about TikTok.
Is TikTok Free?
Yes, Tiktok is a free to use social media platform.
Is TikTok Good For eCommerce?
eCommerce brands targeting Gen Z and younger generations should be present on TikTok. Besides, the eCommerce capabilities of the popular eCommerce platform is growing day by day. So, jumping on the TikTok bandvagon seems to be a good idea for online retailers. Discover more in Advertising on TikTok: The eCommerce Angle.
Will TikTok Be Banned?
It is unlikely that TikTok will be banned in the USA. However some of the repressive governments could ban TikTok in their countries. 
How Many TikTok Users Are There?
As of mid-2021, TikTok has nearly 700Million active monthly users.
Can You Advertise On TikTok?
Yes, when an advertiser signs-up for a TikTok for Business account, it becomes possible to use TikTok Ads. The ads account is fairly easy to use and gives even the long-tail advertisers the chance to quickly set-up their TikTok Ads.
How Much Does It Cost to Advertise on TikTok?/How Much Do TikTok Ads Cost?
Though TikTok does not reveal or publicly announce the cost of advertising on the platform, we can estimate that TikTok ads cost $50,000 to $120,000 depending on the ad format and duration.
How Do TikTok Ads Work?
There are currently 5 different TikTok ads formats. We have dived into the details of these formats in TikTok Ads Formats.
Why Are TikTok Ads Annoying?
TikTok launched a "high frequency" ad campaign on many social media platforms around the world. Some users found these ads annoying as they appeared on nearly every app they used. TikTok's agressive growth targets may have let its parent company ByteDance increase its ad spend and bombard potential users.
Why Are TikTok Ads So Expensive?
TikTok's advertising leg is quite new and most of the ad formats' goal is to increase brand awareness. Thus the first advertisers of TikTok are multi-national brands with deep pockets. It is likely that TikTok is going to introduce new ads formats to bring in more long-tail users with lower marketing budgets. Find out more in TikTok Ads Pricing.
Can You Shop From Tiktok?
TikTok's partnership with Shopify lets users shop using the product links inside the app. However, this feature is not for use by non-Shopify eCommerce merchants. The company is said to experiment with in-app shopping and introduce new eCommerce features in 2021 or 2022.
TikTok Advertising : A Fun Way To Reach Younger Audiences
Global brands like Universal Pictures, Guess, Clean and Clear have already started using TikTok ads. The popular social media platform now offers 5 different ad solutions:
TopView
Brand Takeover
In-Feed Ads
Branded Hashtag Challenge
Branded Effects
Even the global brands with strict brand guidelines have dived into the amazing world of TikToks hoping to become more relevant for their younger target audience. Before the platform gets too crowded, all brands need to start experimenting with TikTok ads.
TikTok Ads Formats
TikTok's current solutions for brands include 5 different ad formats.
TikTok Ads Formats #1: TopView Ads
This is a video ad format that helps you showcase your brand on the best placement of TikTok. With TopView ads, TikTok aims to capture full user attention with sight, sound and narrative. TikTok is placing the TopView ads on the platform's most premium real estate. Therefore, this TikTok ad's pricing may not be affordable for some advertisers. The TopView ad plays as a full-screen ad and long-form video up to 60 seconds.
TikTok Ads Formats #2: Brand Takeover
This TikTok ad format immediately hooks user attention with its full-screen static or dynamic display. With Brand Takeover, TikTok aims to create a strong visual representation via the 3 second JPG and 3-5 second video formats.
TikTok Ads Formats #3: In-Feed Ads
In-feed ads is a TikTok ad format which pretty much resembles the native ads on the other social media platforms. With In-feed ads, advertisers are able to create 60-second auto play videos with sound and embed this video inside their target users' "For You" feed. Another advantage of this TikTok ads format is that, users can act like the ad is a real TikTok video by liking, commenting, sharing etc.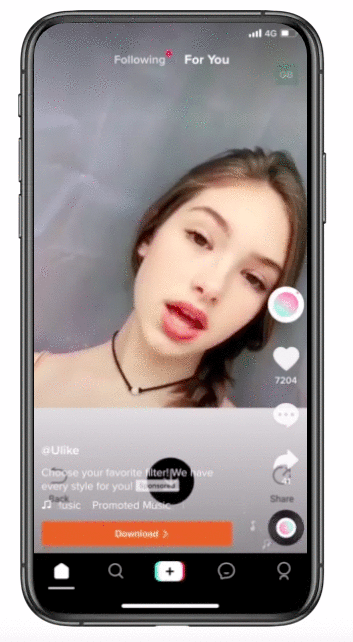 TikTok Ads Formats #4: Branded Hashtag Challenge
Branded hashtag challenge can well be TikTok's unique ad format. The advertiser using branded hashtag challenge invites all users to participate and create content around the company's brand or campaign theme, with all the user created content aggregating in the hashtag challenge page. TikTok is claiming that the average engagement rate for this ad format type has been 8.5%.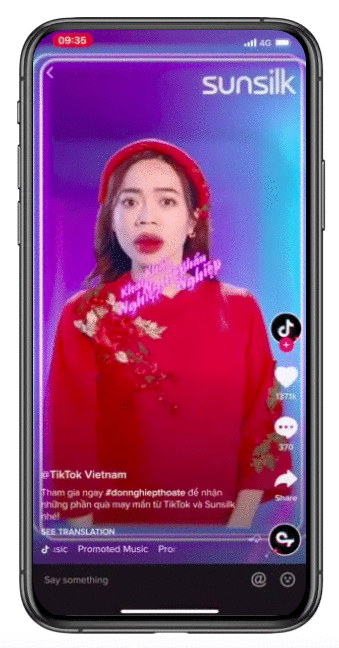 TikTok Ads Formats #5: Branded Effects
TikTok Ads Examples and Brand Partnerships
There are many interesting forms of TikTok advertising. Let's try to list a few here:
TikTok Ads Examples #1: UEFA 2020 TikTok Branded Hashtags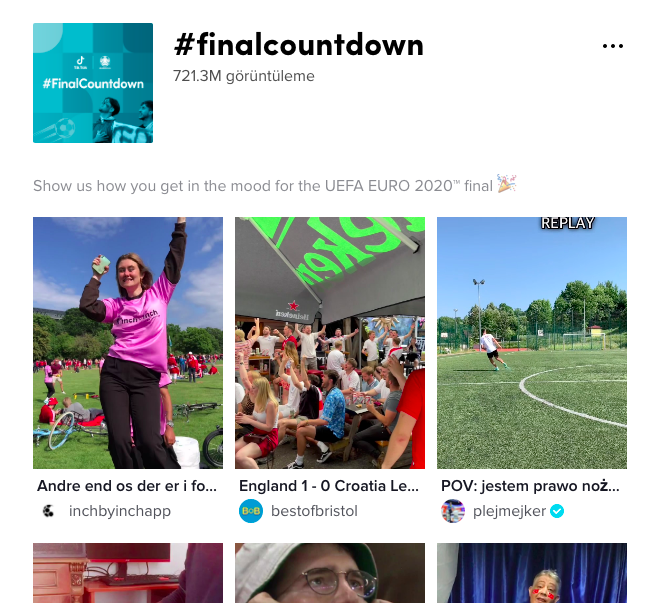 The team at UEFA are successfully using TikTok hashtags to create excitement around the tournament. The 2020 championship which was cancelled due to COVID-19 pandemic was finally held in the summer of 2021. With the #finalcountdown, UEFA is asking fans to share their TikToks featuring their memories of UEFA 2020.
TikTok Ads Examples #2: Avengers TikTok Branded Hashtags
Marvel Studios is one of the global brands that is exploiting TikTok both with the company's official account and via TikTok advertising. #avengers is a great example to what the entertainment brand is executing on TikTok. TikTok users are prompted to use the original soundtrack to create their own TikTok videos.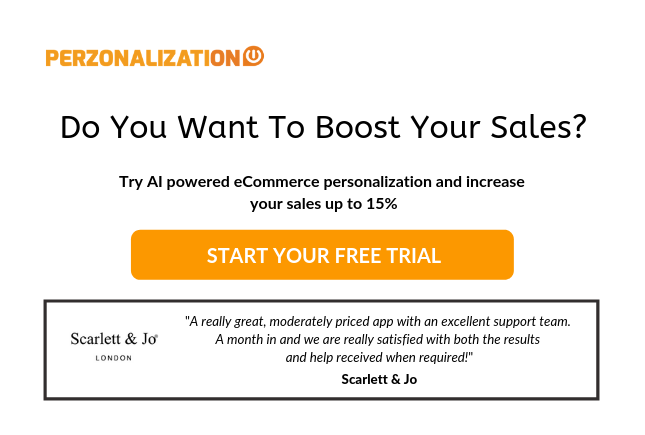 TikTok Ads Examples #3: Ralph Lauren TikTok Ads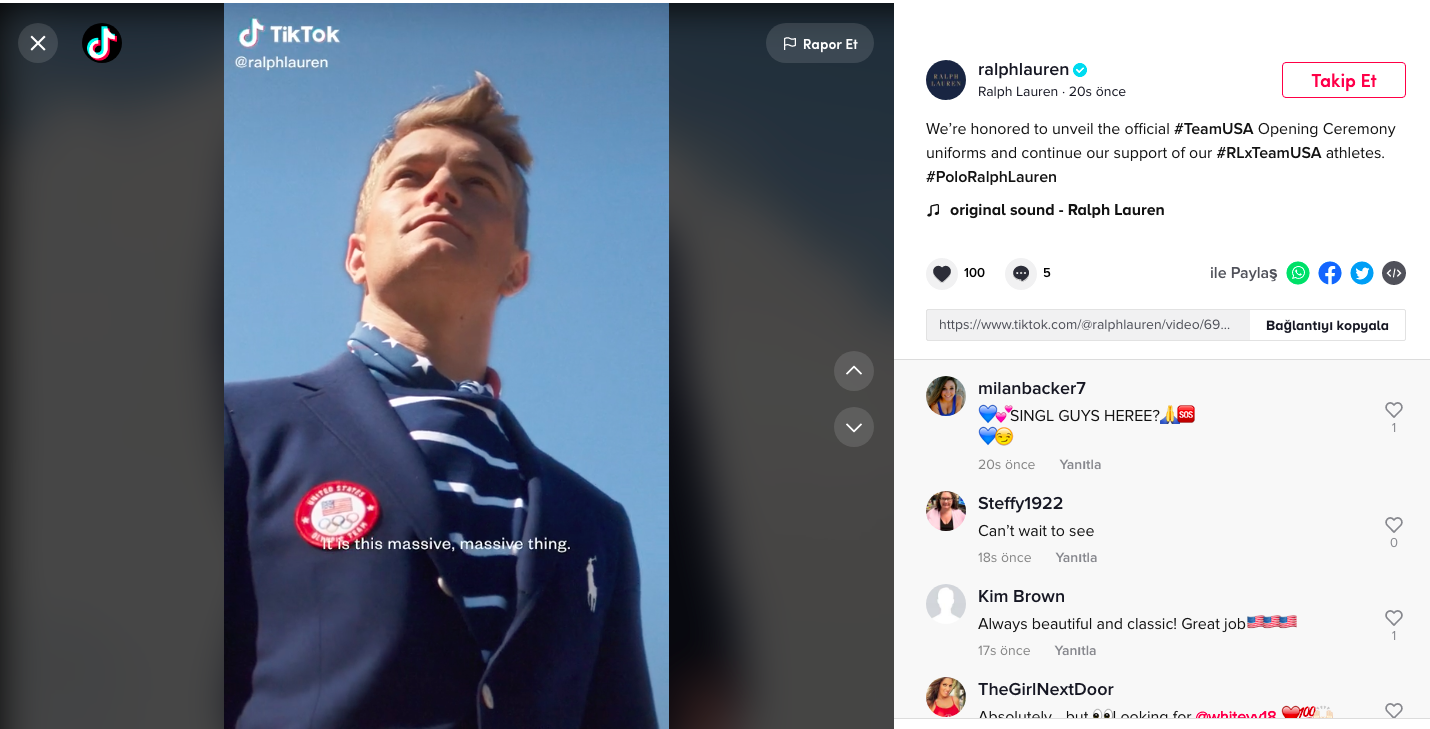 The fashion brand Ralph Lauren has been performing well-executed marketing campaigns on TikTok. The company has unveiled its official USA RLx Team uniforms with a TikTok ad.
Are you able to showcase AI powered related products, upsell items and frequently bought together products on your Shopify store? To get all of these and more, install Perzonalization for Shopify now and start your 14 day free trial.
TikTok Ads Examples #4: RedBull TikTok Ads – Sergio Perez FAQ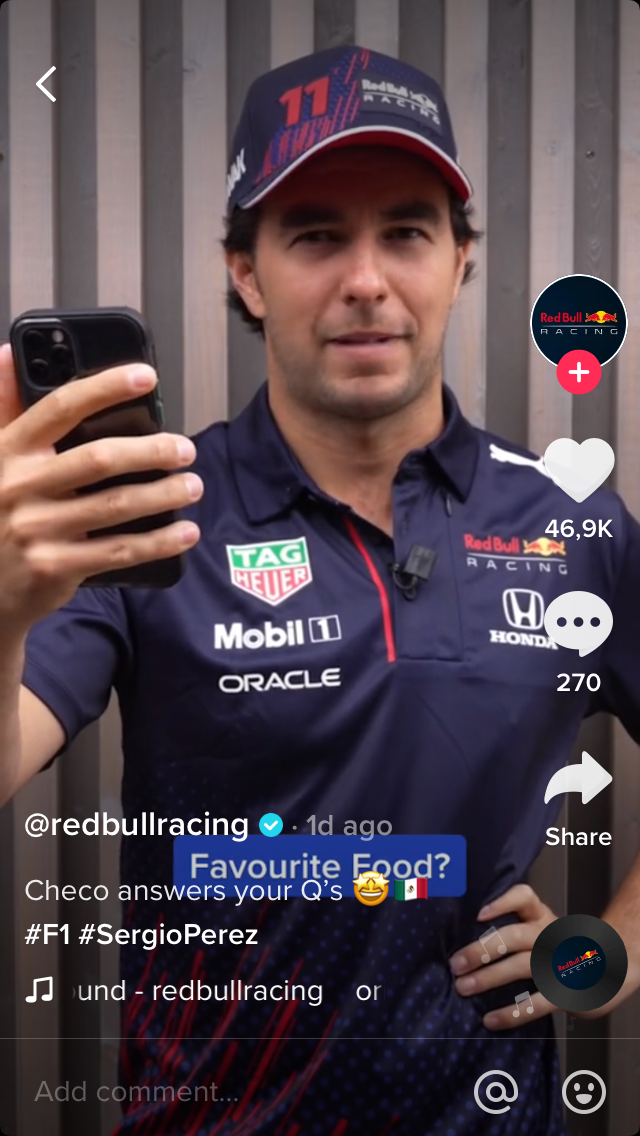 RedBull racing made a partnership with the famous Mexican racing driver Sergio Perez who answered user questions on TikTok.
TikTok Ads Examples #5: Nike TikTok Ads – Partnership with Trainers
Nike showcased TikTok videos created by Nike trainers featuring their best days in sport. To attract users, the videos were published on Nike's official TikTok channel.
TikTok Ads Examples #6: Ed Sheeran TikTok Ads – Bad Habit Launch
The famous singer Ed Sheeran is nailing it with TikTok! His #badhabits song has been used in +880.000 TikTok videos so far. Adding the song to a video creates a viral effect and increases the popularity of the the singer.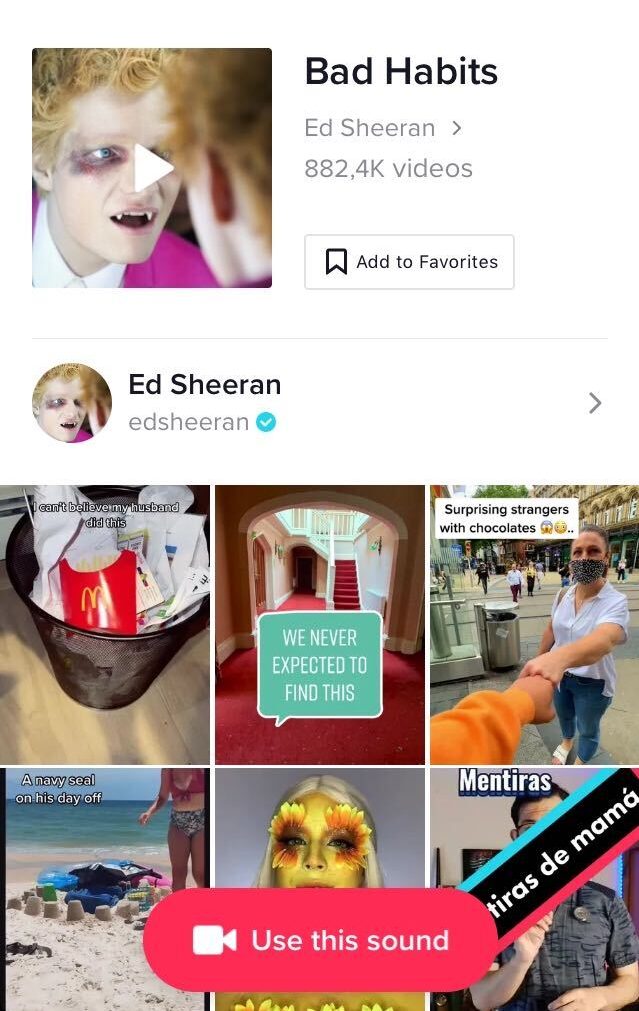 TikTok Ads Examples #7: Lipton TikTok Ads – #HeartMonth Song
Lipton USA made a partnership with the Singing Surgeons and published their song on the brand's official TikTok channel. This was a part of the #heartmonth campaign Lipton USA ran in the US.
TikTok Ads Examples #8: Pepsi TikTok Ads – #PepsiChallenge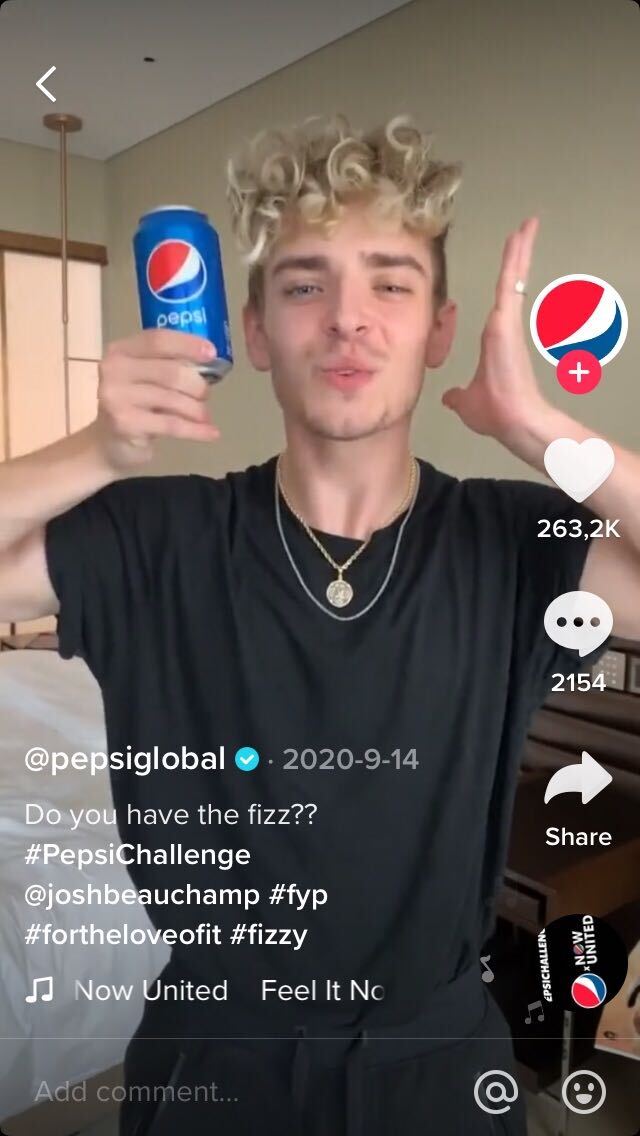 As a part of Pepsi Global's #pepsichallenge campaign, TikTok users recorded short videos that feature Pepsi. Through this TikTok campaign, 3.3Billion views has been attained so far.
Advertising on TikTok: The eCommerce Angle
Online brands of all sizes can successfully use TikTok advertising to drive traffic and increase engagement. Besides, TikTok can be attractive especially for the SMB eCommerce businesses in the sense that creating TikToks does not involve a high cost but requires creativity.
TikTok's parent company ByteDance has recently discovered the need for new eCommerce focused ad formats in TikTok. To make TikTok a more convenient platform for product-oriented online shopping ads, TikTok has started working on new ad formats according to a leaked pitch deck reported by Business Insider.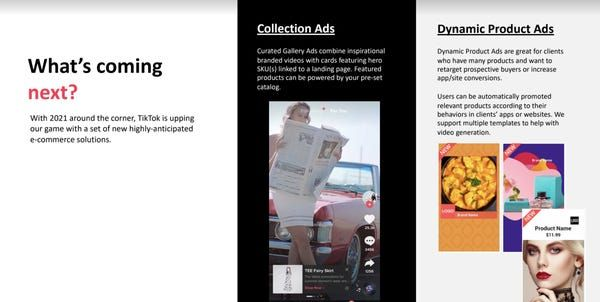 The new TikTok ads formats will include collection ads, dynamic product ads, promo tiles and showcase tiles.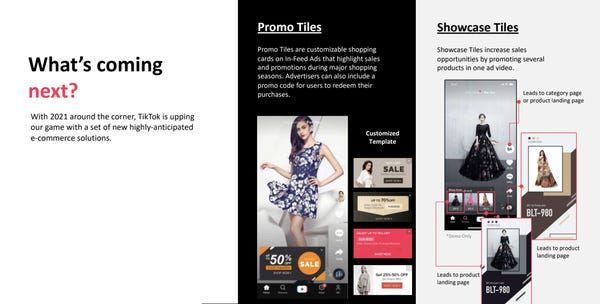 With these new forms of TikTok ads for eCommerce, the platform is likely to become a playground for online brands seeking to gain competitive advantage. With Instagram and Facebook cluttered heavily in terms of advertising, it is for certain that TikTok's new strategy will open a fresh new door for the eCommerce marketers seeking to display their brands online.
TikTok Ads Pricing
It is hard to estimate the cost of a TikTok ad campaign as the company does not officially announce their pricing model. However a report from AdAge in late 2019 reveals that advertising on TikTok costs between $50,000 to $120,000 depending on the ad format and duration. If your question is "How much do TikTok ads cost?", you must be prepared to pay a price premium for TikTok's creative ad formats.
TikTok eCommerce
TikTok began testing in-app shopping features to be able to compete with its rival Facebook. Not surprisingly, TikTok's objective seems to be selling products directly within the app. TikTok's parent company ByteDance is working with brands including streetwear label Hype to test in-app shopping in Europe.
Are you able to showcase AI powered related products, upsell items and frequently bought together products on your Shopify store? To get all of these and more, install Perzonalization for Shopify now and start your 14 day free trial.
TikTok Shopify
In October 2020, Shopify announced a first-of-its-kind commerce partnership with TikTok. As a part of this partnership, a TikTok sales channel is created for Shopify merchants. With the help of TikTok sales channel, Shopify owners are now able to use In-Feed shoppable video ads directly within Shopify.
For Shopify TikTok, Shopify merchants select the products they want to be featured and video ads – that drive to their Shopify websites – are automatically generated. Besides, there are apps on Shopify's app store that ease up the shopping process on TikTok Shopify sales channel i.e. TikShop, TikTok original app, Socialhead.
This Shopify TikTok partnership is bound to grow as the merchants show more interest in using Shopify TikTok ads. Additionally, working with TikTok influencers for Shopify marketing comes up as a great opportunity for merchants. We cannot wait to see inspiring TikTok Shopify marketing case studies that are destined to appear in 2022.
TikTok Ads : The Wrap-up
Marketers have seen that concentrating advertising efforts on video marketing and other visual formats is the way to go. TikTok pops-up as a great solution with its many different video oriented TikTok Ads formats. The social media platform has also included eCommerce ads and in-app shopping in its strategical path. So it may be wise to follow up with the latest trends in TikTok marketing and what this dynamic social media platform has to bring to eCommerce advertising.
Curious to learn more? Take a look at related posts!