Fastest Growing SaaS Company List
At Perzonalization, our aim has always been to help small and medium level eCommerce businesses grow with the help of AI eCommerce personalization. Since 2014, we have proudly bootstrapped our way from a local enterprise software company to an international SaaS solution serving +120 SMB eCommerce businesses from +35 countries.
Every month, over 19 million shoppers make their online purchasing decisions with the help of our AI powered micro-segmentation platform. Many of our customers have been with us for years giving us a very low customer churn rate. Thank you!
As we've grown, our CEO Ilke Karabogali has spent time sharing our growth story with podcast host Nathan Latka. The show has passed 13m downloads and our profile has been viewed over 30,000 times. You can listen to the last podcast here.
In addition to the podcast, each year Latka publishes the Latka 250 – a list of the fastest growing SaaS companies. This year, 5,091 companies applied and just 5% made the list. We are proud to announce that we are on the list!
We're thrilled to share that we grew 30.4% between Dec 2019 and Dec 2020 and look forward to growing another 100%+ this year by helping new eCommerce businesses.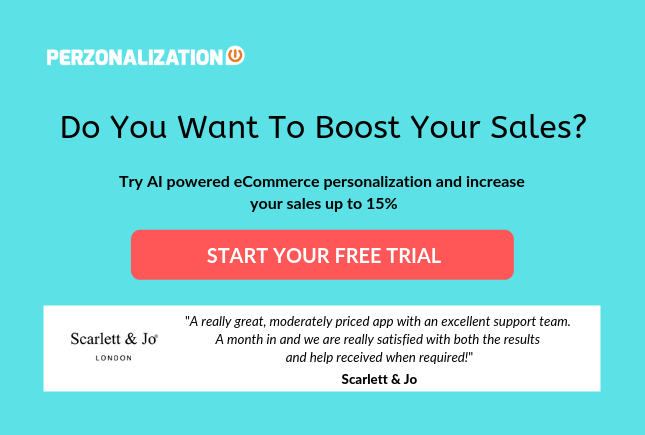 Fastest Growing SaaS Company List: How The Rankings Work
Nathan Latka sold his SaaS company in 2015 before launching his SaaS CEO Podcast and database at GetLatka.com. Each year he gets revenue growth figures from SaaS CEO's and confirms the revenue via email with the CEO. The rankings take December 2019 monthly recurring revenue annualized (multiply by 12) and compare to revenue 1 month ago (December 2020). 
You can see a digital version of the top 250 SaaS companies here and find the deeper story on our growth in the March issue of Latka Magazine. 
Thanks to all of you for helping us land a spot in the Latka 250 Fastest Growing SaaS Company List for 2020. We look forward to another 7 years of helping you grow your businesses!
Want to find out more?
Do You Want To Boost Your Sales?
We are Perzonalization and we'd like to help you.
Try AI powered eCommerce personalization and increase your sales up to 15%.