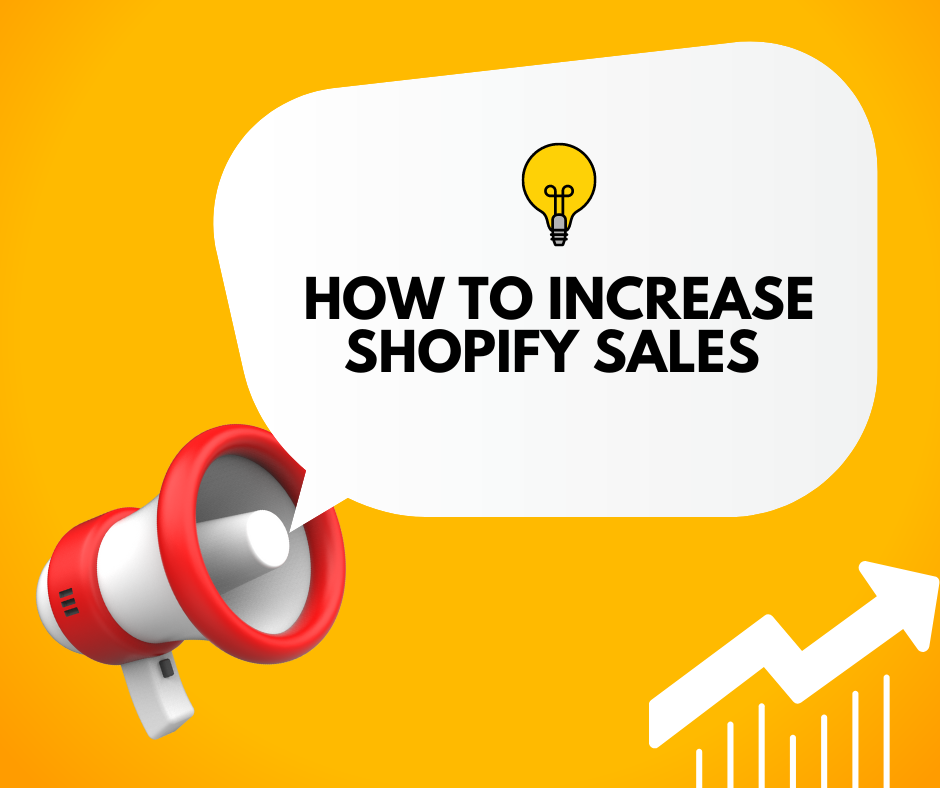 Wondering How to increase Shopify sales? Every eCommerce store faces stagnation in growth at least once in its journey. And Shopify stores are no exception.
Reasons can be varied. They can either result from a lack of traffic, a lack of a strategy, or low conversion ratios. And while it may be highly tempting to go down the rabbit hole of trying every marketing strategy in the book to reverse the situation, it might land you in a more complex situation.
So, how to increase Shopify sales?
Some minor tweaks can help you generate a steady stream of revenue.
This guide will help you attract more online customers, promote your Shopify store, and convert your online visitors into buyers.
So, let's find some answers to how to get more sales on Shopify!
How To Increase Shopify Sales – 12 Strategies
1.     Make Sure Your Store Is Mobile Responsive
Mobile sales have steadily increased as compared to desktop sales since 2014.
So, if your eCommerce store is not mobile-friendly, you could be losing out on a large chunk of revenue at the very outset.
Here are some quick hacks for creating a more immersive user experience on mobile devices.
It is recommended that the shape of your mobile popups is vertical. Horizontal popups often get distorted on mobile phones.

The text on the website should be large enough to be easily legible on a mobile phone – at least 16px.

Visitors should be able to zoom in on images on a mobile phone.
2.     Invest In Product Page Optimization
While Shopify is well-known for having organized checkout pages, the product page and its optimization are down to you.
Optimizing product pages is critical for the success of a Shopify store. Getting it right is vital, as it can make or break a sale.
The five things you should be typically looking at optimizing on your product pages are:
Brand

Product

Content

CTA, and

User experience
Here are a few tips to get the ball rolling on this one:
Use catchy high-resolution product images, preferably with 3600 spins, including a zooming feature.

Write product descriptions that are concise and augment your images. It should communicate the relevant information.

Ensure that the product title gives an idea about the product.

Have a Call To Action (CTA) that stands out.

Include customer reviews and ratings to establish credibility.

Communicate stock availability/low stock/out-of-stock, etc., so that customers know the inventory.

Ensure that the shipping policy is communicated clearly.

Add a Wishlist where customers can bookmark their favorites for later.
3.     Personalize The Shopping Experience
According to Google, 40% of online visitors are more likely to spend than they've planned if your store and the shopping experience are highly personalized.
The goal should be to personalize every interaction with your customer—delight customers with an immersive experience tailored to their interests and preferences.
And personalization starts with gathering data about your customers and their online behavior.
Here are some ways you can use the collected data to personalize shopping experiences for your customers:
Send personalized emails and messages for every interaction and touch point.

Offer discounts and coupons based on their previous purchases.

Send welcome messages to new customers.

Display previous browsing history in a "recently viewed items" section.

Use geolocation targeting based on the IP Address of the visitor.
The Perzonalization app can help in boosting revenue for your Shopify store. Powered by AI, this Perzonalization Shopify app can add many functionalities to your Shopify store, including upsells, product recommendations, and more.
4.     Reduce Shopping Cart Abandonment
Cart abandonment typically occurs when a visitor adds a product to the cart but doesn't complete the buying process.
You can optimize your Shopify store to revive abandoned carts and get the sales back.

Offer your visitors discounts on the product added to their cart by leveraging exit-intent popups.

Interact with these customers through emails or social media and encourage them to complete the purchase. 

Offer free shipping.

Offer different payment options so customers can choose a preferred way to checkout.

Create a sense of urgency.
5.     Offer Free Shipping
Following the previous point, free shipping is a massive motivator in increasing sales in Shopify stores.
And while we appreciate the fact that it may not be possible for all online shops to offer free shipping, there are two ways of achieving this:
Offer free shipping on a minimum order value.

Include the shipping cost into your product price and then provide free shipping.
Note: [The second solution is recommended only if your products are unique and have no other major competitors in your area of operation.]
You can also create a Free Shipping Bar, a banner that permanently sits on top of your Shopify store. This is an excellent way to attract attention and incentivize purchases.
You could also make this Free Shipping Bar dynamic, which means that every time a shopper updates their cart, the Shipping Bar allows them to see how close they are to earning free shipping at checkout.
For instance, if your free shipping threshold is $50 and a customer puts $40 worth of items in their cart, the free shipping bar will automatically update to read, "You're $10 away from free shipping!"
As a customer, I would be tempted to spend $10 more to avail myself of the free shipping.
6.     Start Email Marketing
Earlier in this article, we discussed collecting data from online visitors. When you use the exact data for email marketing, your ROI can be as high as 4200%.
You can send newsletters, product updates, cart abandonment notifications, offers, etc. The list is endless.
Email marketing campaigns can be a significant driving force in increasing sales. Here are some tips for doing it right:
Use a signup form so your visitors see it as soon as they land on the Shopify store.

Give your online visitors a signing-up discount code.

Include your signup form in social media ads and pages.

Invest in giveaways to build an email list.

And finally, to boost conversion, use segmentation to help you speak more directly to customers with varied needs.
7.     Create a Facebook and Instagram Store
Facebook and Instagram are excellent platforms for generating Shopify sales. Both these platforms are popular, particularly among millennials and Gen Z, and you can integrate your products directly on your profile and posts.
Another advantage of having your Shopify store on these platforms is you can grow your audience organically without spending a dime.
Due to the platform's more visual nature, Instagram is beneficial for marketing eCommerce products.
Some of the ways you can get sales on Instagram and grow your brand are:
By using relevant hashtags on all your posts

By interacting and engaging with your audience through comments.

By engaging with followers of competitor brands.

By running contests and creating more incentives for new followers.
8.     Personalize Up-sells and Cross-Sells
Although this is a kind of personalization, it deserves special mention because a well-executed and personalized upselling and cross-selling strategy can boost revenues by selling more to the same customer.
When personalizing upselling and cross-selling experiences, always ensure that you factor in the customer's preferences.
For instance, you could engage with your customers before or after checkout by showing a message which says – "people who bought this also bought this."
9.     Leverage SEO
SEO is the perfect way to start when it comes to generating traffic for your Shopify store.
And it's free!
According to a study, more than 37% of eCommerce traffic is generated through SEO.
Here are some tips for doing Shopify SEO right:
Ensure that your Shopify store is easily navigable, organized, and systematic.

Insert high-quality product images and optimize these for search.

Write a unique page and product title, and create a meta description for each.

Carry out an extensive technical SEO check for your Shopify store.

Consider adding a sitemap to Google Search Console.

Create high authority backlinks for excellent traffic coupled with quality content.

Leverage Google Analytics where possible.

Avoid duplicate content.

Optimize site speed
10. Build Trust With Social Proof, Word Of Mouth, And Referrals
Shoppers often trust other fellow shoppers.
Including the feedback of your satisfied customers on your social media business pages can go a long way in bringing in more customers.
Display positive reviews and feedback as social proof on your store pages prominently.
Another important way to 'spread the word' is through Word-of-mouth (WOM) marketing. This type of marketing is propelled by loyalty and referral programs.
You could also reward your most loyal customers. This is more likely to keep them committed to a brand.
All these increase customer retention and convert loyal consumers into brand ambassadors.
Here are a few tips you can use to improve trust and credibility through social proof:
Publish user-generated content.

Show the total number of products sold.

Show expert reviews for your product endorsements.

Mark your best-selling products as "Popular."

Display the location and age of the reviewer to allow users to identify with them.
Remember, no one can market your brand better than your customers.
11. Attract Traffic With Content Marketing
Content Marketing is the simplest and most cost-effective way to drive traffic to your Shopify store.
You are one step closer to attracting organic traffic when you represent your brand by creating and publishing engaging, interesting, and relevant content.
These could be blogs, videos, podcasts, guides, eBooks, etc. Opportunities are endless if you want to branch out with content marketing.
Original and informative content positions your business as an industry thought leader and paves the way for growth.
It's not necessary to restrict yourself to content that focuses on your products alone. Instead, you could consider anything related to your business that your customers would find helpful.
And what more? Content marketing also allows your Shopify store to optimize search results beyond keywords.
12. Leverage Chat Bots, Whatsapp, And Sms Marketing
Chatbots help in interacting and engaging with your customers and prospects in real-time. They are fast, user-friendly, and difficult to ignore.
WhatsApp has emerged as one of the most popular marketing channels. Promoting your products to new/existing customers through WhatsApp Business can not only bring traffic but can act as add-ons to boost it.
Here are a few reasons why WhatsApp/SMS can get you more revenue from your Shopify store.
WhatsApp and SMS have high open-rate and click-through rates.

It's cost-effective.

You can use these to target cart abandoners and skyrocket your revenue in no time.

Through these channels, you can send reminders to those who haven't bought anything in a while.

You can integrate shipment tracking details into these channels to provide shipping updates to your customers.
Conclusion: how to get more sales on Shopify
You have numerous chances to increase sales on your Shopify store. This article gives you twelve tips that you can use to boost sales on Shopify.
However, you don't need to do everything together. You can start with the simplest and work your way up.
Every business is unique, so the outcomes for every marketing strategy will be different too.
The most important thing is to listen to your consumers and understand what works for them.