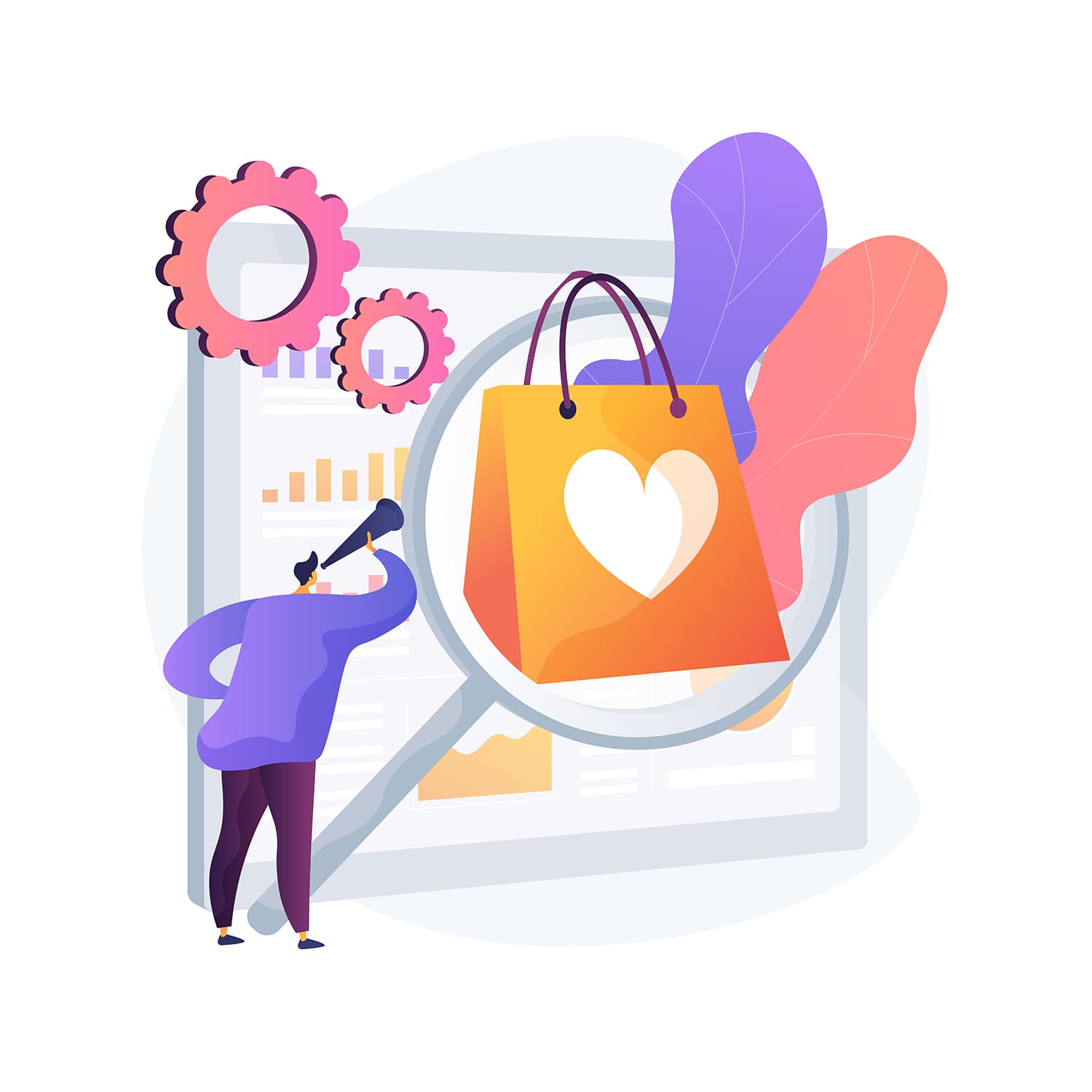 If eCommerce is your calling, then dropshipping is a great way to start. Many people start with Dropshipping as the main source of products for their stores, and here we have compile a list of the best product research tools for Shopify.
Whether you're new to dropshipping business or already have a fair idea, you know one thing for sure: knowing what to sell is critical to building a successful dropshipping business.
With millions of products and hundreds of thousands of suppliers to choose from, finding a product that is profitable for dropshipping can be daunting.
Remember, the competition is fierce, and staying relevant will ensure that you are on the top. Hence, finding products to sell online can take hours.
Thankfully, there are eCommerce product research tools that make the job easier for you. These product research tools can help you locate profitable products without investing much time and effort.
This article will list the 15 best dropshipping research tools for finding the right dropshipping products.
But first, let's find out why you need a product research tool for dropshipping.
Why Do You Need Product Research Tools For Dropshipping?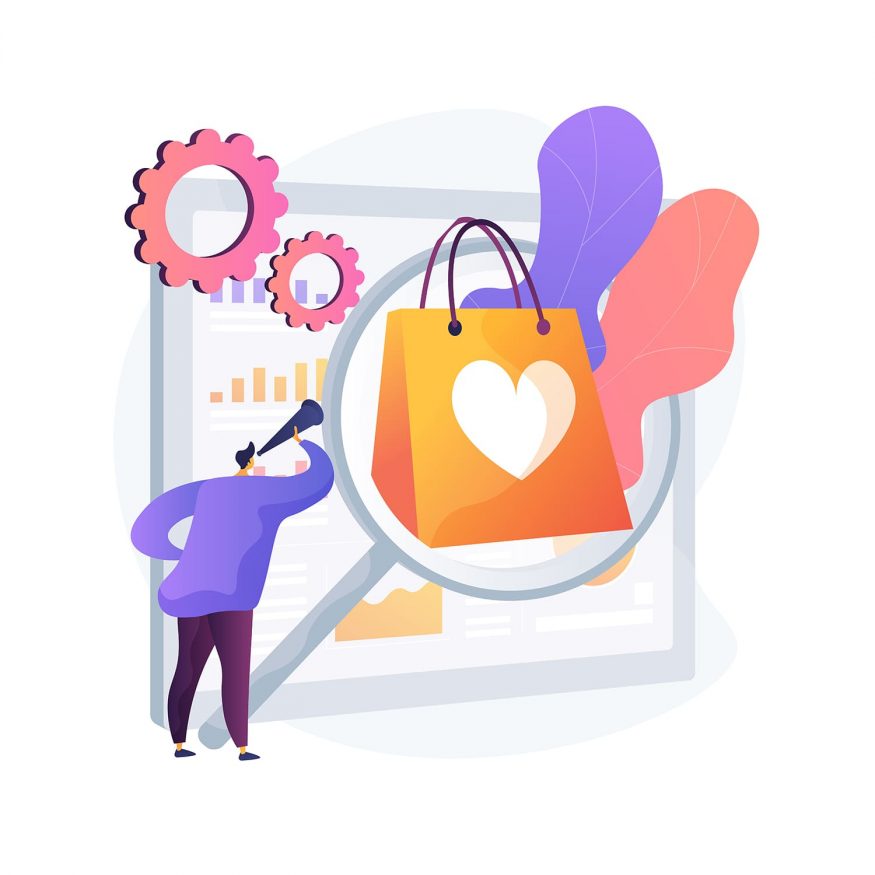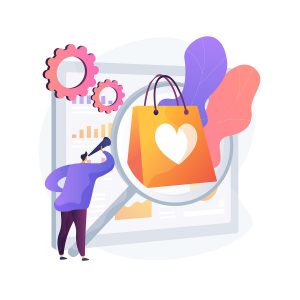 Of course, you can do manual research about winning products for dropshipping. But the process is often time and effort intensive.
When you are building a business ground up, you need to focus on a lot of things. There is no harm in finding good tools to take some of that workload off.
A product research tool is made to find the best products and provide you with the relevant information to decide whether you can sell them or not.
Let's look at some of the reasons why you should use a product research tool for dropshipping:
You can use search terms to look for products on other websites.
The tool displays prices on different eCommerce platforms and supplier websites.
It shows popular products based on order rate.
The data includes engagements, videos, Facebook ads, targeting, and competition.
It can easily import products since it is integrated with your eCommerce platform.
So, let's get started!
15  Best product research tools for Shopify & Dropshipping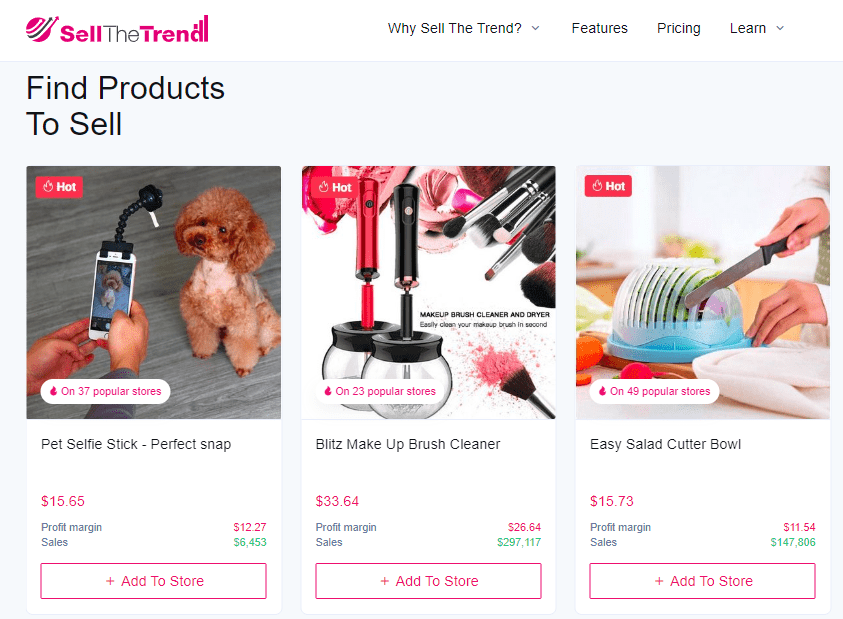 Sell The Trend is a product research tool that helps you find profitable products for your Shopify stores with data from Amazon, AliExpress, and others. The tool uses Data Based Predictive Dropshipping AI Technology to provide you with the right products for your dropshipping store.
It caters to multiple niches, and you don't need to know how to research products to choose them. Sell The Trend is considered the Holy Grail of product discovery.
Sell The Trend just recently released their very own dropshipping e-commerce platform, which they have dubbed "SHOPS," and it is available to early adopters completely free of charge.
In addition, Sell The Trend provides you with the following additional exceptional features to promote your dropshipping Shopify store:
Engagement rating calculator: This function analyzes various influencers to determine whether or not they would be a suitable choice to promote your products. It will take a look at the metrics for both Twitter and Instagram.
Explorer: This feature is comparable to what you receive when you purchase The Nexus (One of the tools Sell The Trend offers). You will receive a list of the products that are currently the most popular across Facebook, Shopify, Amazon, and AliExpress stores.
Facebook audience builder: With the help of this tool, you'll get some new ideas for constructing audiences for your marketing campaigns. Select one of the pre-selected categories to begin your exploration.
Video ad creator: This easy-to-use video creator of Sell The Trend lets you turn AliExpress product images into Facebook ad videos.
Price: $39/month.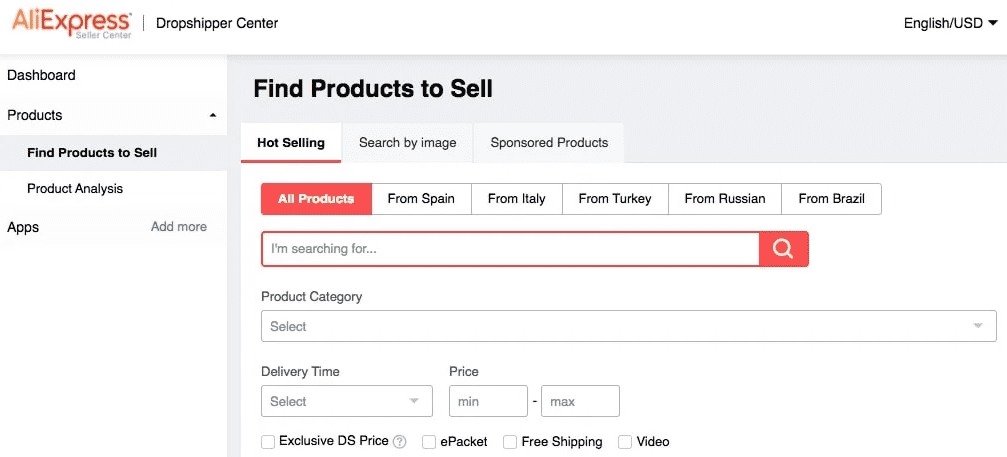 AliExpress launched a tool called the AliExpress Dropshipping Center, which helps you find unique new products for your dropshipping store. The tool helps you analyze products and also helps you find new AliExpress suppliers.
The tool is free to use for everyone. Even if you don't dropship with AliExpress, you can still use it to research competitive products.
AliExpress Dropshipping Center is a two-in-one tool. Let's find out the best features of these tools.
Tool 1: Find Aliexpress products to sell
Using this first one, you can find items to sell in your Shopify dropshipping store by conducting product research. It comes with three smaller tools that will help you along the way.
Search by Image
You can search for the item you want to sell on AliExpress using the tab labeled "Search by image" if you have an image of the item you want to sell.
You simply need to upload the image, and the tool will conduct a search across AliExpress to locate products that are similar in appearance to the one you provided.
Hot selling products: You can use this tool to see which products are most popular at any given time.
Sponsored products: This tool displays products from sellers who have likely paid AliExpress to be included in this list of available sellers.
If you're looking to sell anything, you'll be able to find a supplier in this section. If a vendor is willing to spend money to be present on the list, you can assume that they are serious about doing business with you.
Tool 2: AliExpress product analysis
Use this tool when you come across something intriguing but are unsure of its performance.
When you enter the URL of an AliExpress product you'd like to research and click "Search," a graph with extensive data analysis will appear. If you hover your mouse pointer over any point on the line, you'll be able to see the current sales volume for the product.
Price: FREE.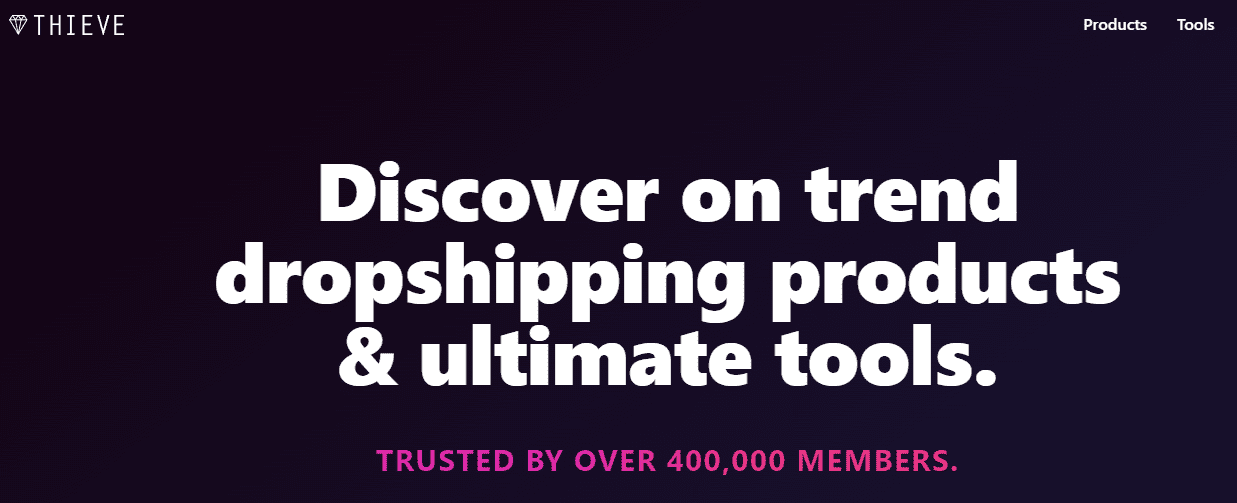 Thieve.Co will show you trending products on AliExpress and give you a ton of inspiration to help with your product research. You will need to sign up for a free account and Thieve. co will show you some fantastic winning products from AliExpress. You can even filter products by category and look for products in your niche.
Although Thieve.Co started with a free version which is still available; now, it has a dropshipping version called Thieve Supply.
Price: $49 per month.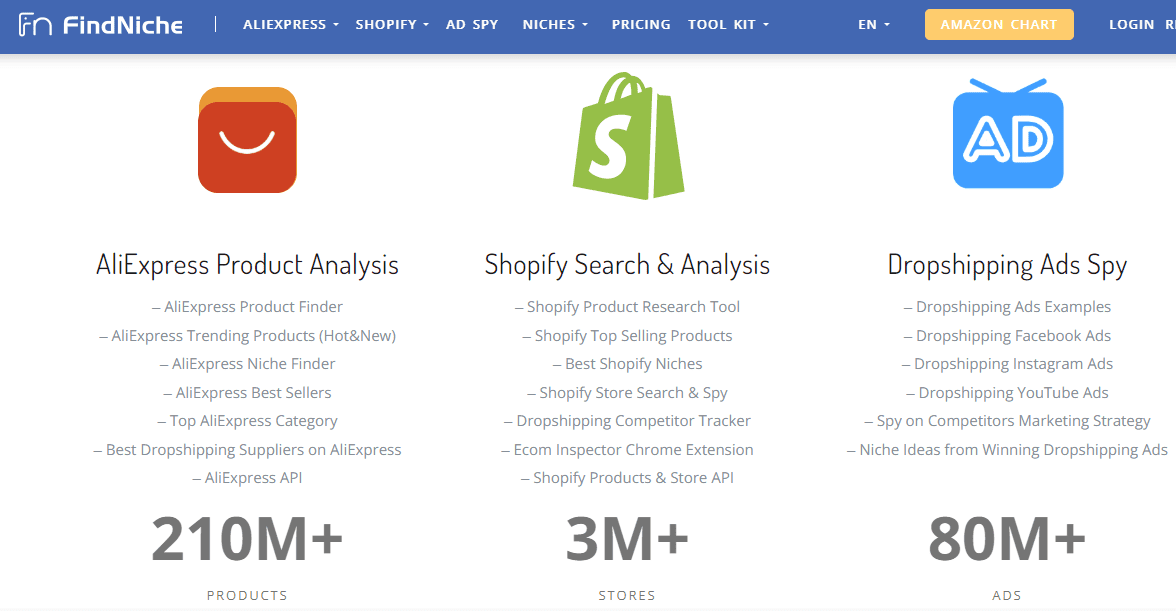 FindNiche is a niche analytics tool for Shopify and AliExpress, which gathers information on more than 1,000,000 products, 700,000 Shopify stores, and 11,000 niches. This tool can help you with:
Smart picking: Choose trending, high profit-margin, and winning products.
Regular Updates: Hourly track orders, prices, profits, etc.
Big data enabled: Collect insightful and meaningful data from big data.
Smart filtering: Filtering, sorting, and searching capabilities.
Price: $99 per month.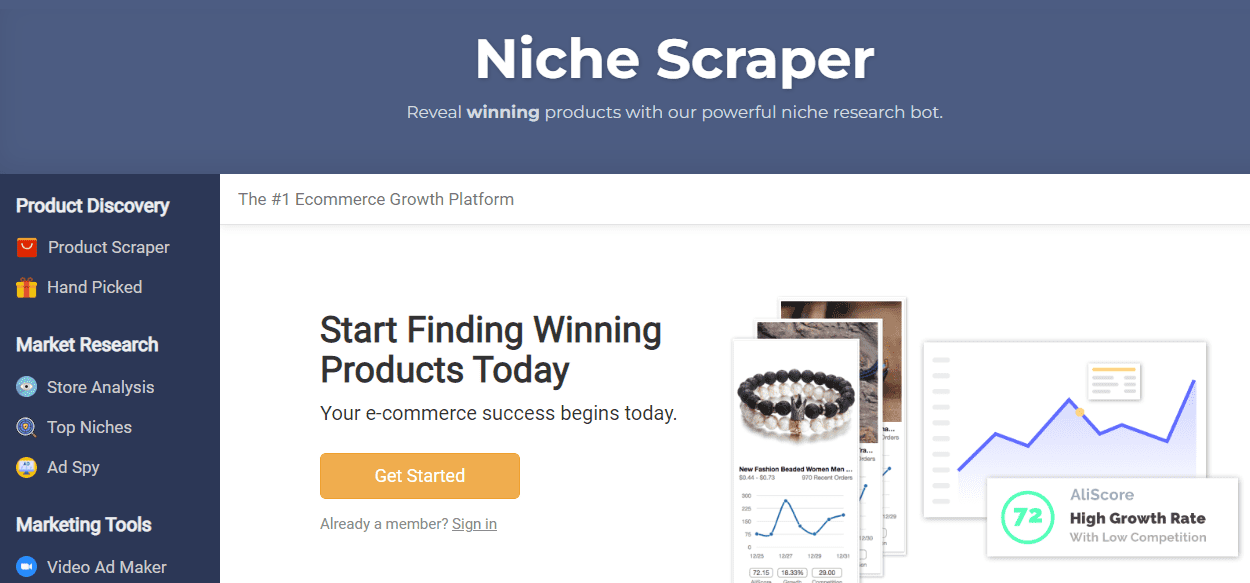 Whether you're using Shopify, WooCommerce, or other e-commerce platforms, Niche Scraper is an effective SaaS (Software as a Service) tool for finding the best products to sell on your site.
Some of the critical attributes of Niche Scraper:
Every day, Niche Scraper updates Aliexpress's best-selling product data with new suppliers, ad examples, and other information.
Find out the best-performing products, traffic, sales projections, and other aspects of your competitors.
This tool analyzes thousands of different products on a daily basis in order to show you which ones have the greatest potential for sales. You will receive assistance in conducting market research on successful products and launching a dropshipping enterprise.
With just a few clicks, you can create product video ads for your products.
You can search for products, analyze stores, discover Facebook video ads, create product video ads, and more all in one place, saving time.
Price: $13 per month.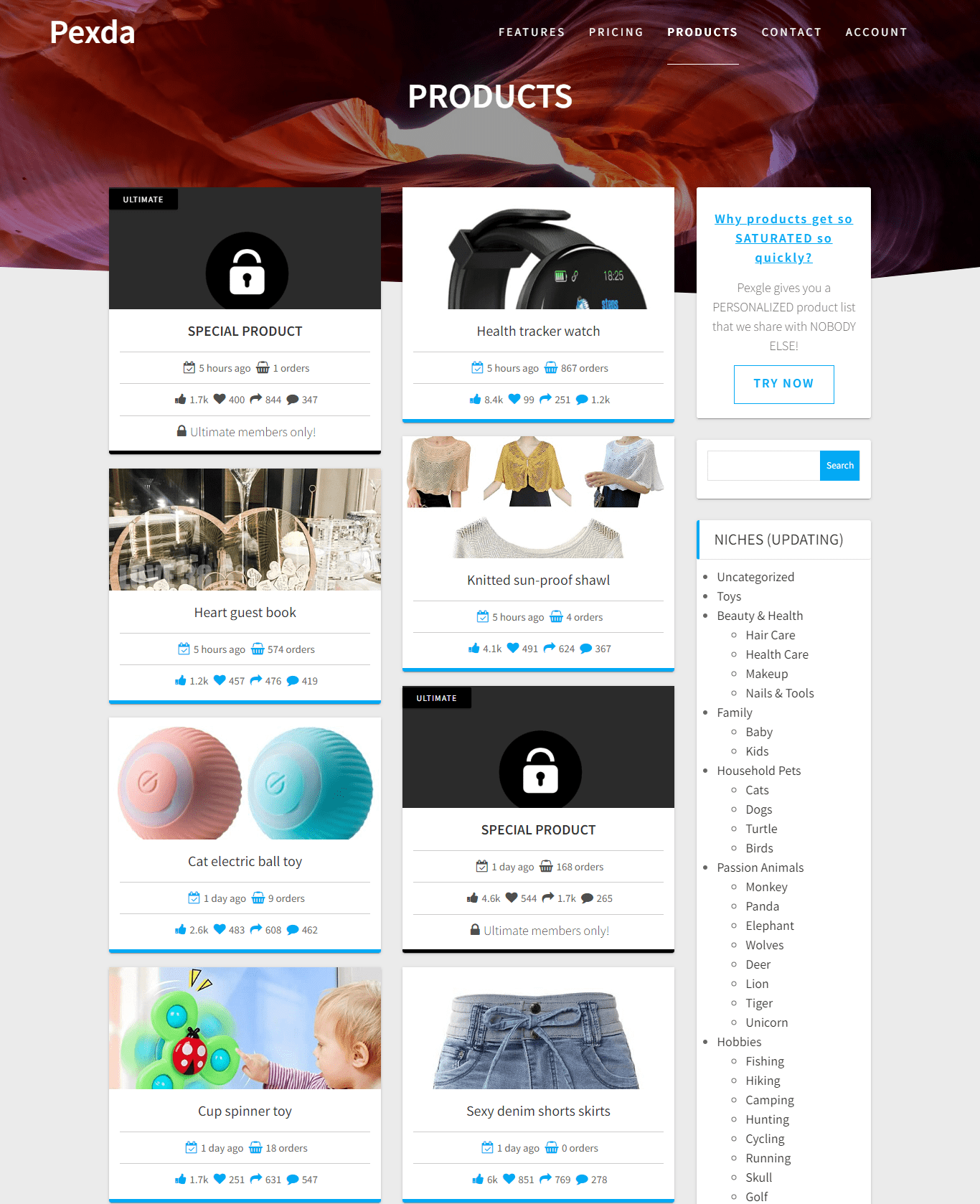 Pexda is a dropshipping product curator that allows you to test six new products on your store daily. Its diverse selection of tools makes finding profitable and winning products more accessible and effective.
Some of its features include:
24/7 support
Access to unlimited products every day
Success stories from AliExpress/ Amazon/ Facebook Ad
Suggestions for targeting
Ad copy & video ads
Geography along with the device used
Auto hunt tool
Price: $25 / $100 per month.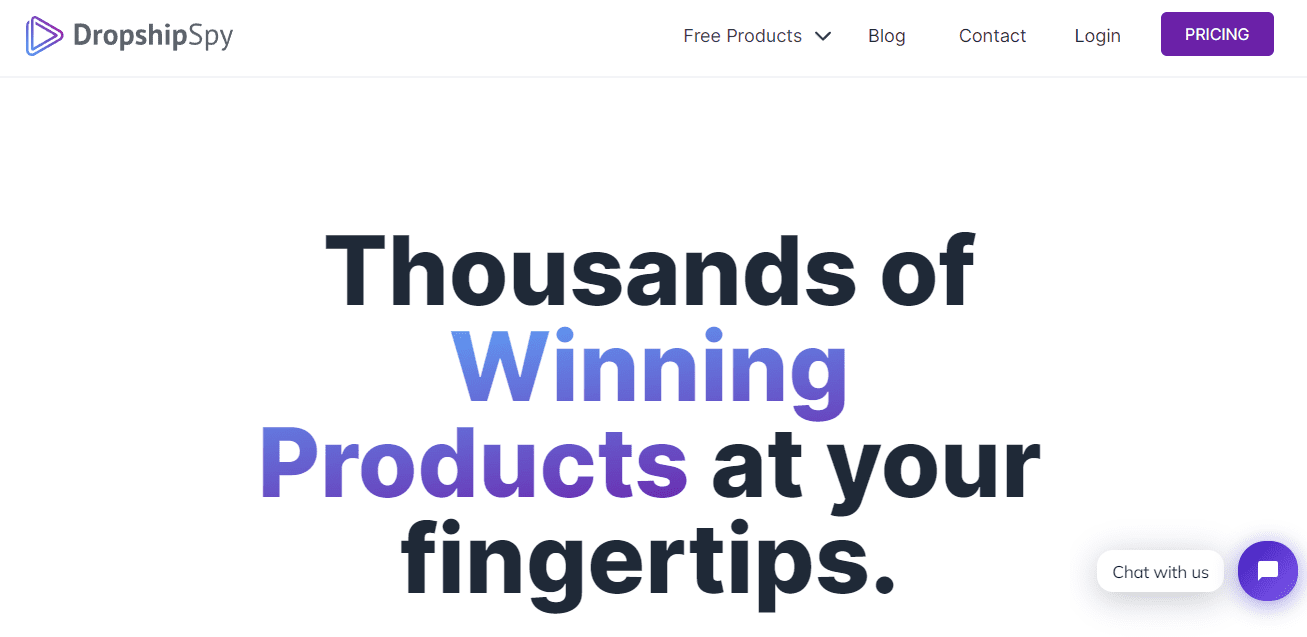 Dropship Spy is a useful software that analyzes social media platforms and online stores to track products that sell and their performance. With this tool, eCommerce store owners can save time and effort researching products and analytics. This tool is an excellent addition for dropshipping beginners with less or no experience.
Dropship Spy shows you:
Winning products and the products that perform well across various niches.
Promising products that have the potential to be hot sellers.
Product information and analytics to help you determine which products are worth selling or buying, thus eliminating guesswork.
Supplier information on all current suppliers for each product.
Engagement rating which is data about the product's performance across social media channels, i.e., likes, comments, and shares.
Free advertising information through free copies and videos to use on websites and social media platforms, helping you to save time writing a copy, product descriptions, etc.
Facebook audience builder is unique to Dropship Spy and comes in handy for anyone making their first Facebook ad campaign.
Sales reports on Amazon and eBay can help you further with market research.
Instagram influencer database gives you all the relevant information on influencers on Instagram.
Product reviews that can download from AliExpress, Amazon, and Walmart and embed them onto your online store.
Price: $19 per month.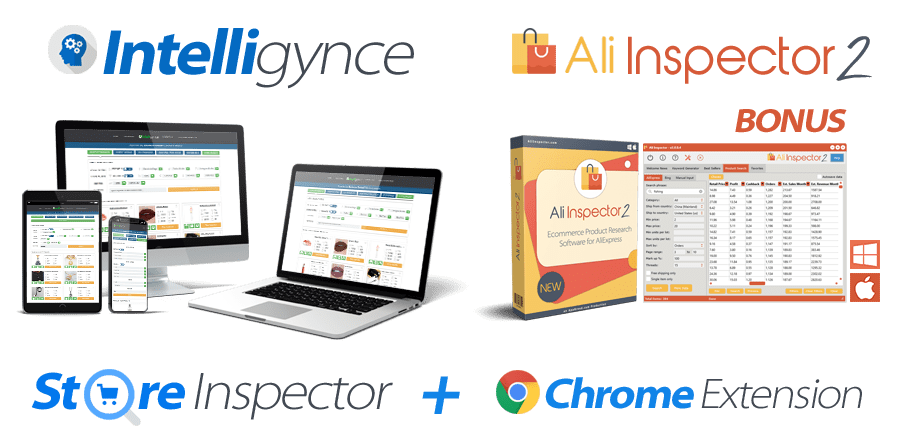 Intelligynce is a bundle of tools and software that helps Dropshippers conduct in-depth research, analyze, and derive the best and most profitable products. This tool looks at more than 2.5 million products across 500,000 Shopify stores (or more). The tool also enables you to search for products on Amazon and eBay. It also has a Chrome extension that allows easy search of Shopify stores while browsing on Chrome.
Price: $39 (monthly) / $79 (yearly) / $ 99 (lifetime).
SaleSource is powered by AI and other advanced machine learning technologies and is a one-stop-shop dropshipping product research software. It helps you find winning products and is packed with a range of powerful features, most of which are unique to the platform.
It has a curated list of more than 150,000 best-selling dropshipping products and an innovative Shopify store analyzer. Some additional features include a Chrome extension allowing you to analyze AliExpress instantly.
Price: $49/month.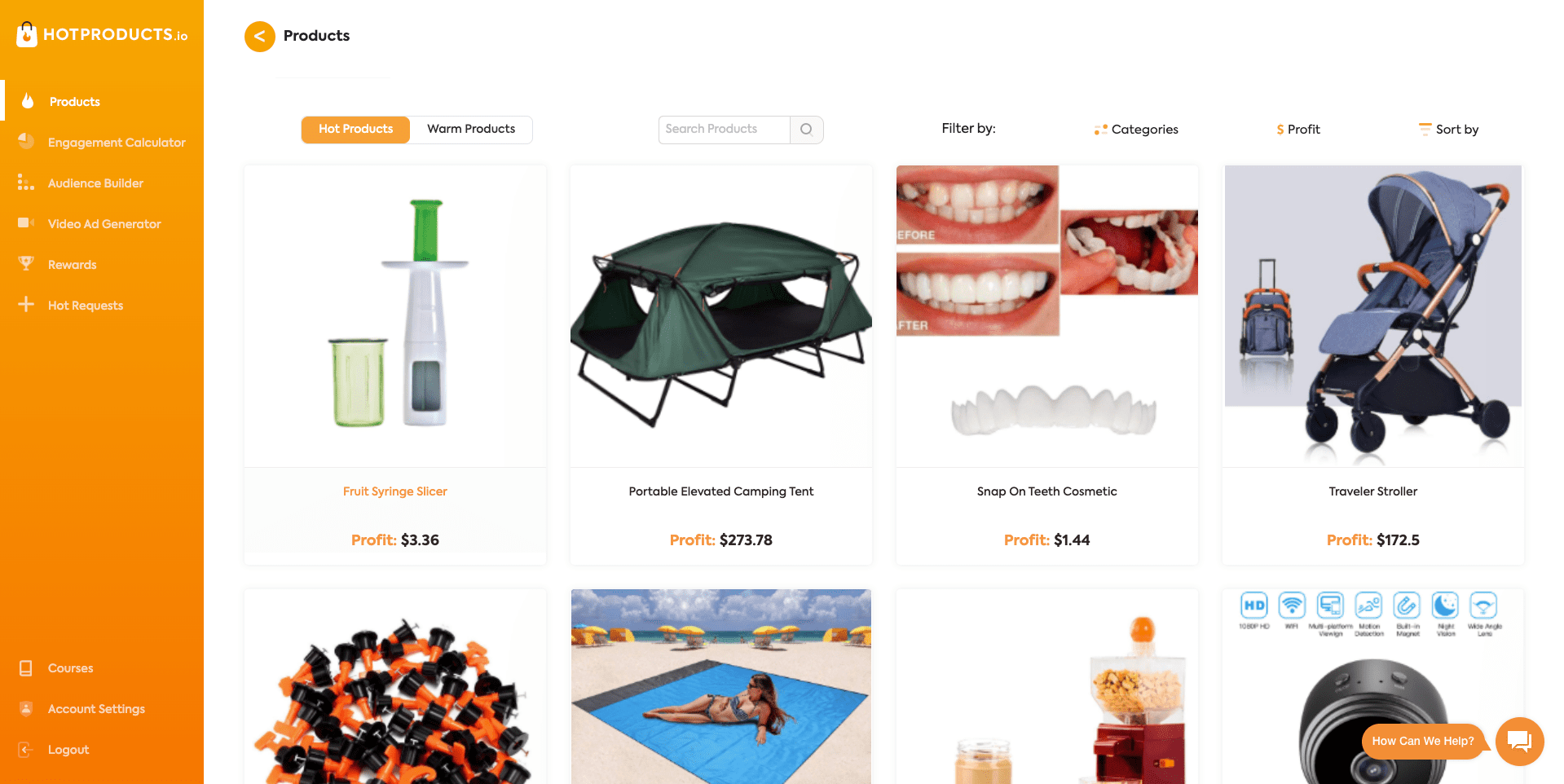 HotProducts is a popular dropshipping research tool and product finder having access to a database of over 5000 trending products across categories and niches. The tool also makes your life a lot easier, simplifying your product research by providing you with access to reliable performance analytics of the products, including sales volume, social engagement, and competition stats.
The tool also receives Facebook ad copy, campaign targeting suggestions, and an innovative product video generator.
Some other features include:
New and trending hot products are updated daily.
With a single click, you can push products and descriptions to Shopify.
You can generate high-converting Facebook video ads in minutes.
Access to over 1000 leading dropshipping suppliers.
Price: $97/lifetime.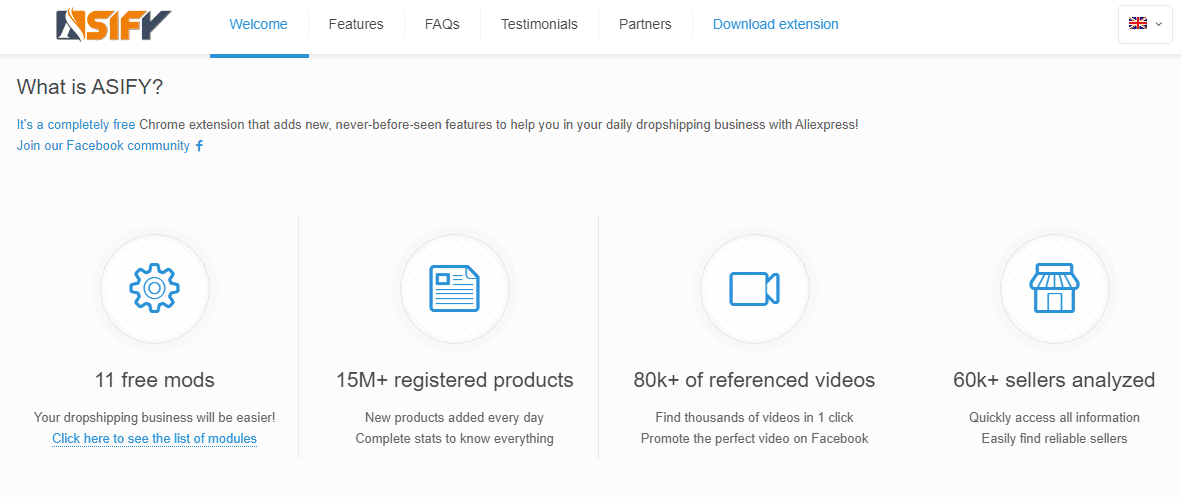 Asify is a popular FREE Chrome extension for product research with more than 4000 daily users.
Once installed, you need to visit AliExpress, search for a product, or browse the different categories. Asify instantly provides you with all the relevant information on each product, including daily sales, detailed seller ratings, and top-selling countries.
With Asify, you can also download product images and list them in your store. The tool also provides you with a breakdown of shipping costs and times.
Price: FREE.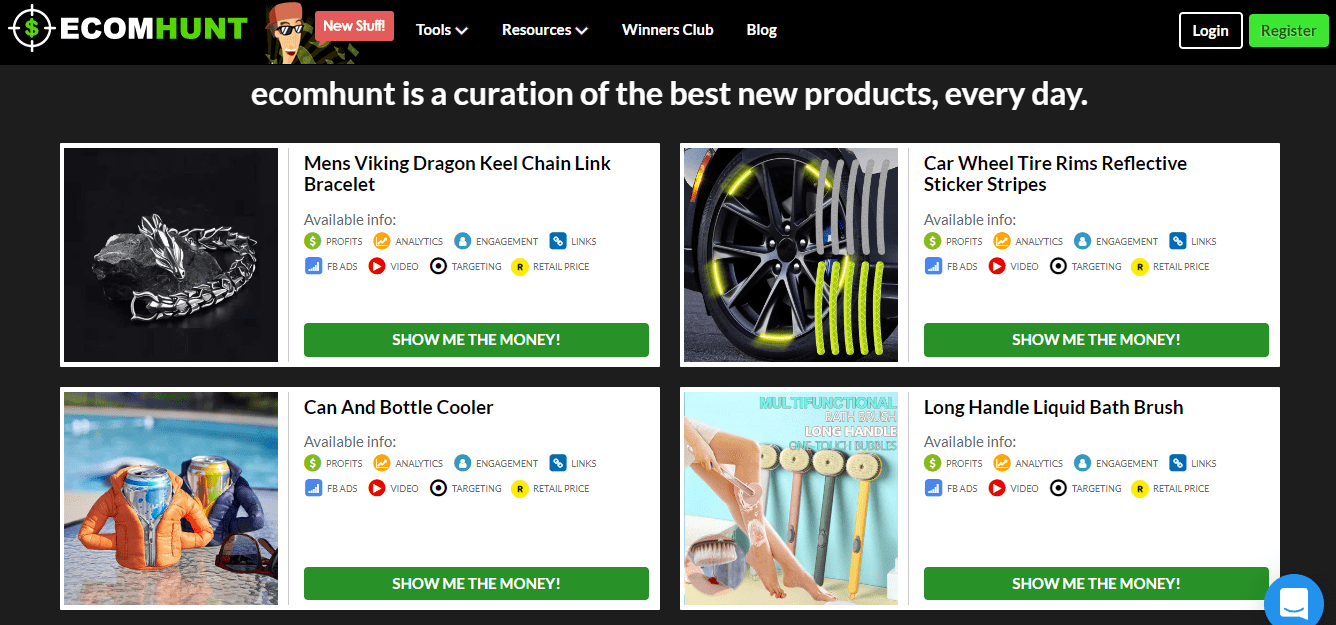 Ecomhunt is a curated database of dropshipping products handpicked by eCommerce experts and market research pros.
The tool also gives you access to detailed performance analytics like total sales, recommended selling prices, engagement scores, and estimated profit margins. It's important to remember that free membership only unlocks limited data for up to 2 products a day. There is also a three-day lag to view newly listed products.
The premium version provides unlimited access to all products and advanced data, including suggested ad copies, live Facebook ads, and competitors' links. The tool updates new products every day and has a Chrome browser extension.
Price: FREE/ $39 / $59 / $89 per month.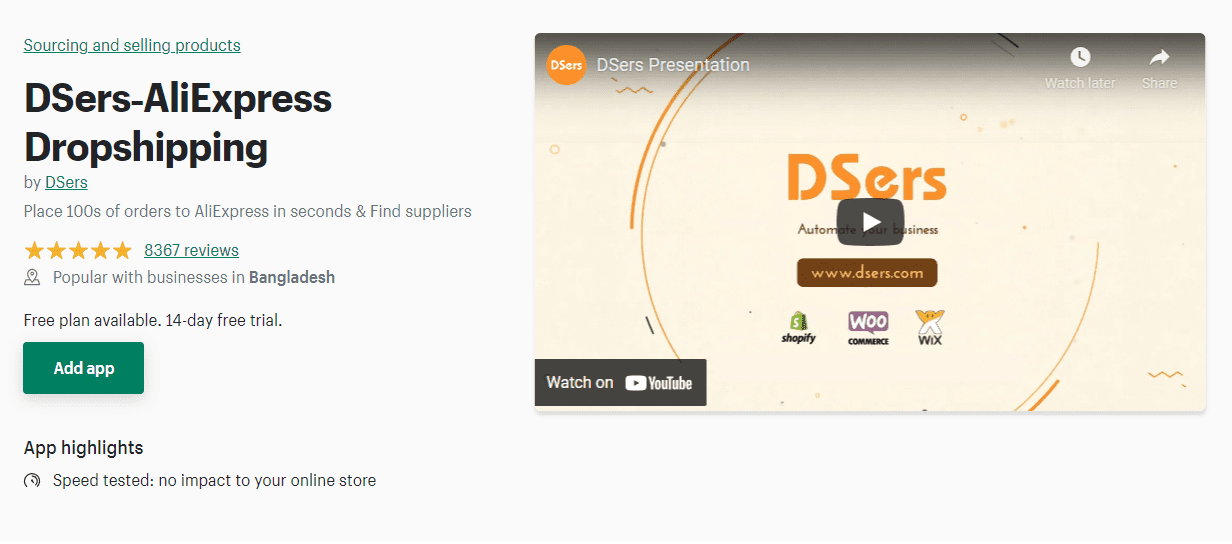 DSers is a Shopify app that allows you to find AliExpress products for dropshipping and lets you import them to your eCommerce store with just a few clicks. The app has over 3400 reviews, with an average 5-star rating.
It's Cost-effective, and you can select from 4 different plans, from a free to a Pro edition. All plans have a range of valuable features at competitive prices.
Key Features include:
You will find products with low prices that can be shipped quickly to the USA.
You will be able to compare prices of the same product sold by other suppliers.
You are able to directly import products from AliExpress into your shop.
You can edit the product title, description, etc.
It allows you to manage multiple AliExpress Shopify dropshipping stores.
You can fulfill multiple orders in bulk at once.
You can earn cash back when fulfilling orders from AliExpress.
Price: FREE/ $49.9 per month.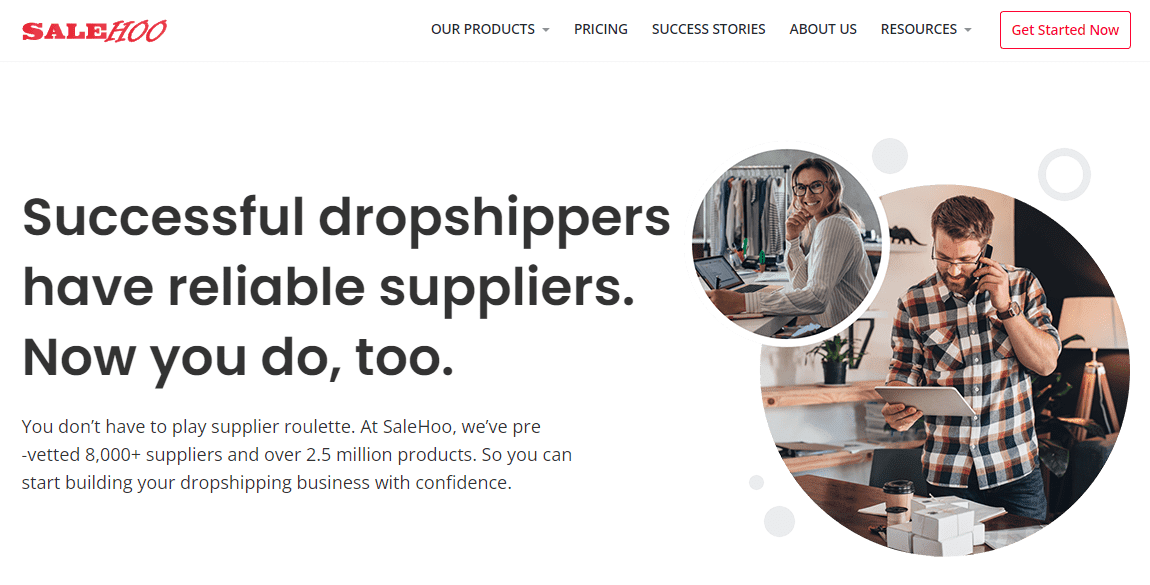 SaleHoo claims to list more than 2.5 million products and over 8,000 suppliers. It is one of the most popular product research tools for dropshipping.
With SaleHoo, you can discover profitable products and contact verified suppliers for those products, and all the suppliers listed on SaleHoo have dropshipping capabilities. The tool also lists products from renowned brands like Nike, HP, Levis, etc.
Price: $67 per year.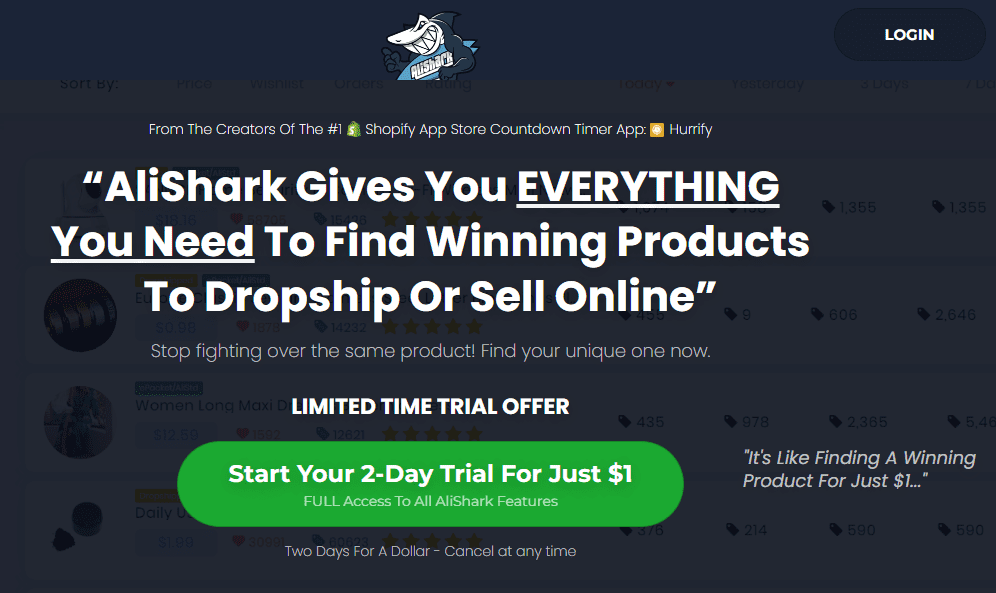 AliShark was developed by the same team behind the wildly successful countdown timer app for Shopify called Hurrify!
AliExpress and Banggood, two well-known Chinese e-commerce platforms, supply AliShark with product information. You'll be able to find the most popular items and learn more about them by using the filtering options.
AliShark has a large database and a wide range of filtering options. And its data is updated every hour.
Price: $20 per month.
Wrap up
There you go!
We hope our list of the 15 best product research tools for Shopify dropshipping will help you decide which one is best suited to your business.
All these tools listed above will do a fair share of product research for your dropshipping store and get you a decent return on your investment. These product research tools will take much of your headache and pain out of product research.
If you know of any other excellent dropshipping product research tool or have any questions, please let us know. We'll be happy to hear from you!