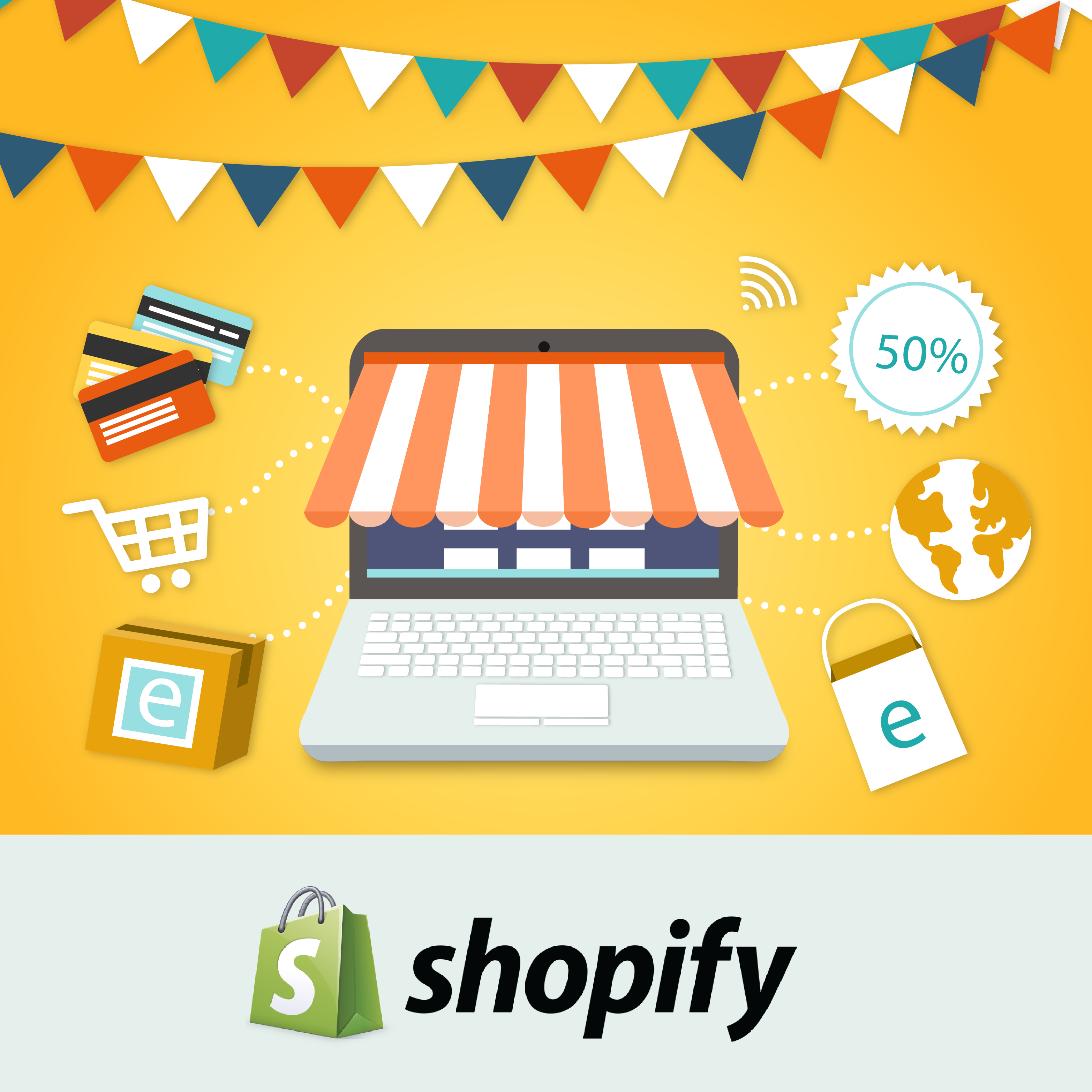 Online shopping is preferred for its convenience ie. chance to reach millions of products with a few clicks, several payment options and fast delivery. What is lacking in eCommerce is the 'human touch'. In brick and mortar stores, there surely is a sales person who profiles the shopper's tastes and purchase intentions at a glance and recommends her products that she may like. Marketing technology has evolved in such a way that helping an online shopper by predicting her next purchase is now possible. Let's imagine that you are running a Shopify store. You'd like to provide the best service to your visitors in order to convert them into shoppers. You have played with the site's design, picked up a great assortment and you are ready to give the best after sales service. Google Analytics shows that you are attracting a considerable number of visitors to your site. Still the conversion rate is low. What should you do to help your visitors make more purchases? How will you display recommended products on Shopify? A Shopify personalization app may be your solution!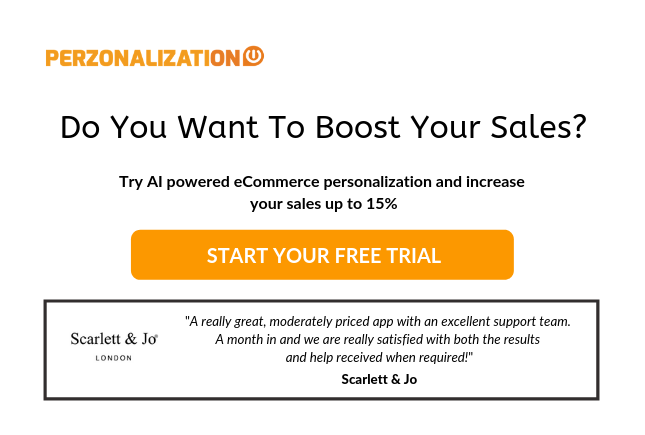 What to look for in Shopify App Store?
Sales conversion is a dynamic rate and is influenced by many factors. Even though you believe that your Shopify store rocks, you may not be placing enough emphasis on the features that affect conversion. Your social media presence may be low, you may not be applying real time product discounts, your visitors may want to see product reviews before making purchase and the list goes on. Shopify app marketplace has got great sales and marketing apps which could help you achieve higher conversion rates. If you are a Shopify store owner, you also have the chance to download and use a predictive personalization app which is also a part of sales and marketing apps in Shopify app marketplace.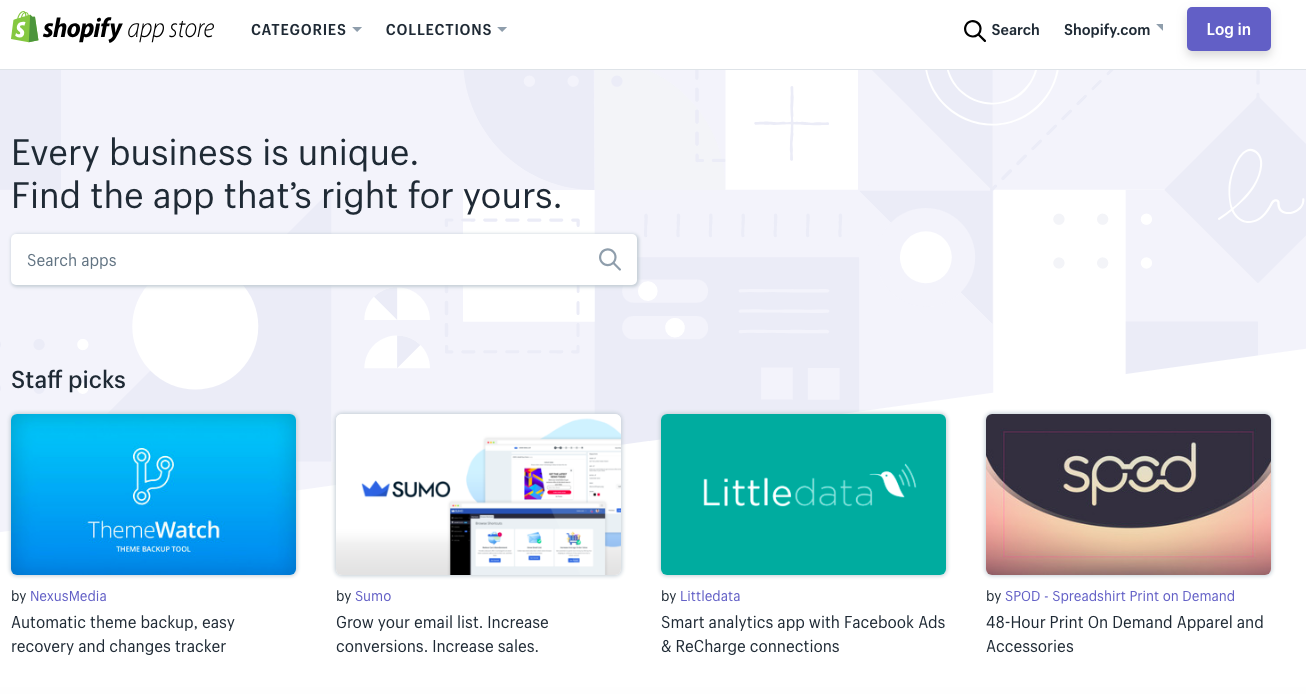 The Art of Recommending Products on Shopify
Most Shopify stores are boutique online stores with 10 – 50 products at most. So a Shopify recommended products app should be able to perform well even when the product portfolio is considerably low. There should be no "cold-start" issue meaning that even when a product or a visitor is totally new to that Shopify store, he/she will be able to see product recommendations. This can only be possible by using hybrid algorithms and eliminating the cold-start issue. Luckily, we have developed our platform to serve even the smallest Shopify store's needs and we came up with a high-performing Shopify personalization app.
Are you able to showcase AI powered related products, upsell items and frequently bought together products on your Shopify store? To get all of these and more, install Perzonalization for Shopify now and start your 14 day free trial.
Introducing Perzonalization's Shopify Personalization App
Perzonalization's personalized product recommendations app on Shopify app marketplace personalizes this experience in a smart way. Just like a good friend or a talented retail sales person, Perzonalization's Shopify app helps you display personalized product recommendations in the form of related products, popular products, upsells, cross-sells, frequently bought together items, new arrivals and discounted items on your Shopify store. Our Shopify recommended products app helps you boost your store's revenues up to 25%. Each visitor sees the right set of recommended products on Shopify and at the right moment. The experience is consistent across web and mobile. You may freely try Perzonalization's Shopify personalization app for 14 days and see the results for yourself via the app's real time performance tracking interface.

---
How to track performance on Perzonalization's Shopify Personalization App?
Our Shopify recommended products app tracks each and every visitor's journey on your Shopify store and then analyses these behaviours on an individual basis. Once a shopper lands on your website, Perzonalization starts displaying personalized product recommendations to that specific online shopper. If the shopper clicks a product and purchases that same product, then this is considered as a contribution of Perzonalization and reported in real time on Perzonalization Shopify App's customer panel.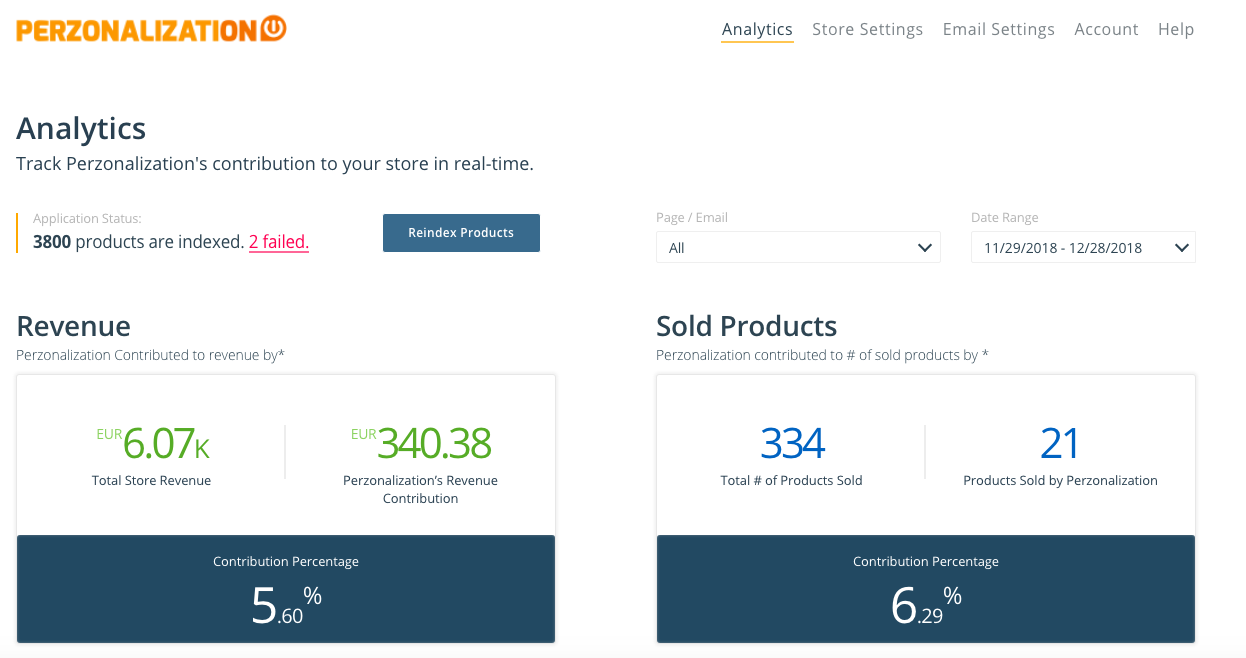 The importance of page types and product recommendation rules
Contrary to what is seen on most eCommerce websites, product recommendations are not only for product detail pages. Instead, every page type on your Shopify store shall ideally include at least one product recommendation block. Thus, some rules/algorithms work well on some pages and some don't. If you want to get the most out of a Shopify recommended products app, you need to choose the right rule-page combinations. In Perzonalization's Shopify personalization app, it is possible to display automated product recommendation blocks on index page, collection page, product page, no search results page and cart page. The accompanying product recommendation rules are:
• Related products viewed by like-minded shoppers
• Popular products
• Recently viewed products
• Discounted products
• New arrivals
• Frequently bought together products
• Cross-sell
• Upsell
• Product reminder
• Category reminder
So let's talk about the optimum rule-page combinations that'll help you get the most out of Perzonalization's Shopify recommended products app.
Home page (or Index page): This page usually serves as a storefront for your online shoppers. The shopper may or may not have a purchase intention while she lands on your homepage thus being too specific while recommending products may be somewhat risky. Instead, general product recommendation rules such as "popular products" or "new arrivals" might be chosen.
Collection page (or category page): By visiting the collection page, the online shopper conveys a message that he/she is interested in a particular category. So, it may be more relevant to use "collection reminder" or "viewed by like-minded shoppers" rules in the product recommendation blocks on the collection page. Both of these rules helps you display product recommendations from that specific category. It may also be good to use the "recently viewed" rule here as people want to be reminded of their last visits.
Product page: The product detail page is of utmost importance in the eCommerce purchase funnel as the conversion usually happens on this page. Therefore, displaying multiple product recommendation blocks on this page will increase the likelihood of conversion. The number 1 rule here is "viewed by like-minded shoppers" as it will help you display Shopify related products – a different set of recommended products for each customer. "Cross-sell" and "frequently bought together" rules shall also be used in two other separate product recommendation blocks on the homepage.
Cart page: On this page it is important not to distract the user from the products in the cart but also motivate him/her to add a new item on top of the existing ones in the basket. Therefore, "cross-sell", "frequently bought together" and "upsell" rules will be perfect for this page.
No search results page: This is an often over-looked page but you can conveniently use it for conversion. "viewed by like-minded shoppers" rule will be perfect for this page type as it analyses the shopper's recent clickstream behaviour before coming up with a personalized product recommendation.
Why do you need a Shopify personalization app?
As a Shopify merchant, you need to jump into the personalization bandvagon now or you'll miss the trend! A Shopify recommended products app like Perzonalization may work like your automated and AI powered sales rep who works in the backend without leaving any extra burden on your shoulders. Try it free for 14 days and let us know what you think!
Curious to learn more? Take a look at related posts!