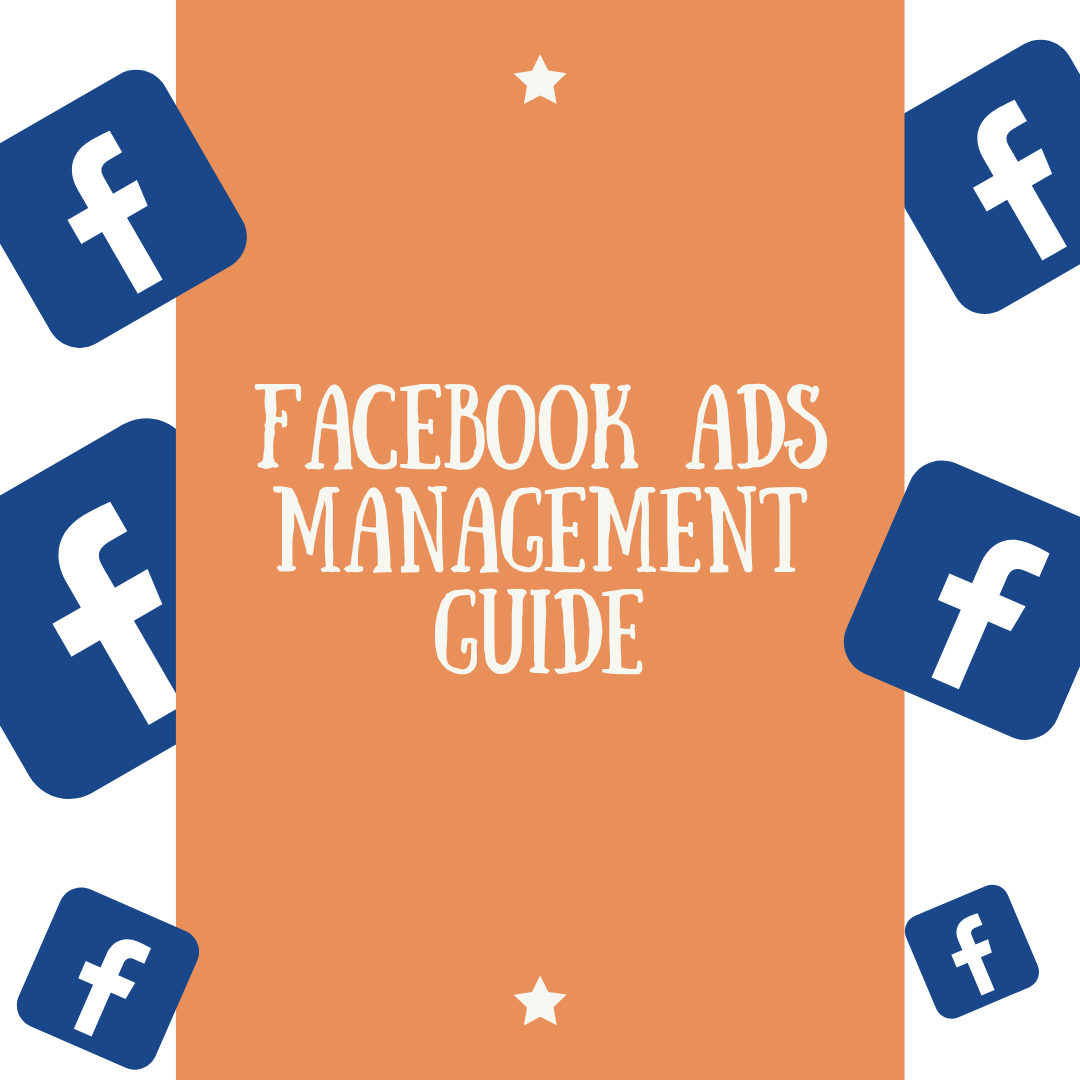 Nowadays, there are many rumours around Facebook Ads management thus, it is very easy to be confused and get lost. From behavioural targeting to pixel tracking, Facebook offers a mysterious number of targeting options, best practices and formats.
As a savvy internet user and an online retailer, you might be thinking that no one clicks on your ads but you are probably wrong.
Did you know that Facebook was expecting to gain approximately $5 billion in revenues just from the ads? There is no doubt that there are many people out there clicking on ads.
After this little shock, you would probably be thinking on how to get people to click on your ads, or most importantly how to make them buy your products.
When you are starting out with Facebook Advertising, there are certain actions you need to take in order to be successful. We have included the most important ones in this Facebook Ads Management guide.
Download our ultimate guide and start rocking on Facebook Messenger Ads.
For example, you need to figure out who your target audience is, which image sizes you shall use and which ad placements you shall prefer.
In this guide to Facebook Ads, we are going to cover many topics to help you get started in the most easier way!
How do Facebook Ads work
Facebook Ads offer several advertisement types. You can promote your page, the posts on your Facebook page or even your website. It is known that Facebook focuses on native ads as it tends to keep the traffic on its own platform but you still have a chance to drive traffic to your own website and achieve an enormous lead generation with Facebook Ads.
The ads are targeting people based on their profile information, their demographics and of course their location. Many of this information is only available on Facebook.
FacebookAds are targeting people based on their profile information, their demographics and of course their location. Many of this information is only available on Facebook.– Tweet This!
The location, age range, gender, precise interests and broad categories are the most important ad targeting options that you need to know about if you'd like to excel in Facebook Ads Management.
How to get started
To get on your Facebook Ads Management panel, click on the drop down menu on the upper right and choose "Manage Ads".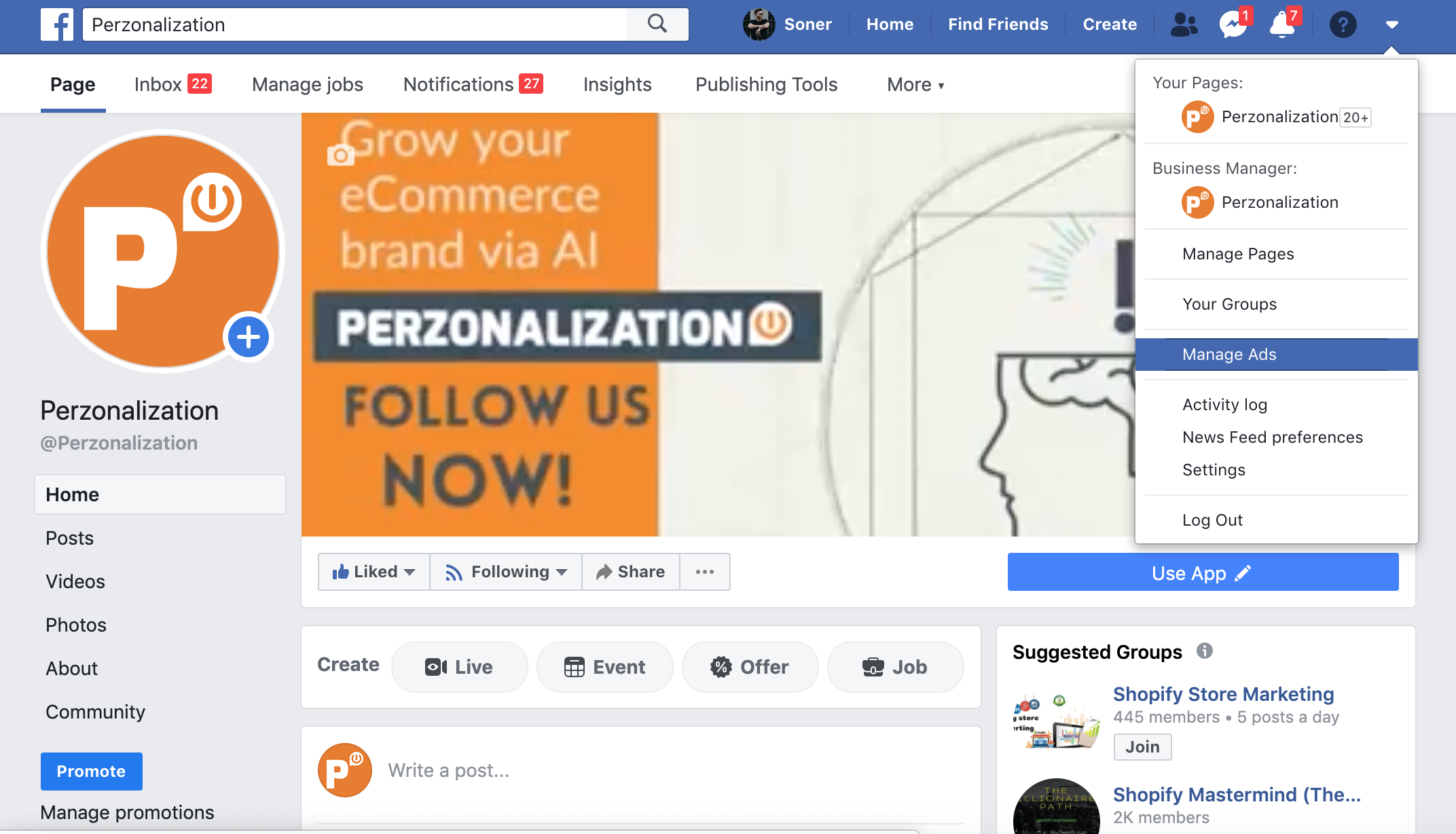 You will be brought to your Facebook Ads accounts where there will be a quick overview of your account.

After selecting your account, you will be navigated straight to your advertisement panel.

Do you wonder how to get into Facebook Ads management and set up your ads?
Creating Facebook Ads is probably a nightmare for many online retailers. But Facebook offers a wide range of paid ad options and placements. But all the ads are separated into three different elements. You can find them below:
-Campaigns: Sorts all of your assets.
-Ad Sets: Displays your different targeting options. For example, audiences with different characteristics. There is an individual ad set for each of your audiences.
-Ads: Shows the variety of your ad sets. An ad set can hold many ads that differentiate in terms of colors, images and some other options.
Bonus: Facebook Ads on Messenger keep rising every single day. Get your guide and learn everything to target your audience from messenger too.
Now, let's get deeper and figure out how to set up your own advertisements on Facebook.
Once you log in to your Ads Manager, you will see a dashboard with all your campaigns, your ad sets and your ads including their results.

This dashboard will be empty if you haven't created ads before.
To create a new campaign from the Ads Manager, click on the green "Create" button on the top left.

Because Ads Manager is designed with the campaign objectives in mind, you need to select one for your ads. Before getting started, the below menu will pop-up on your screen.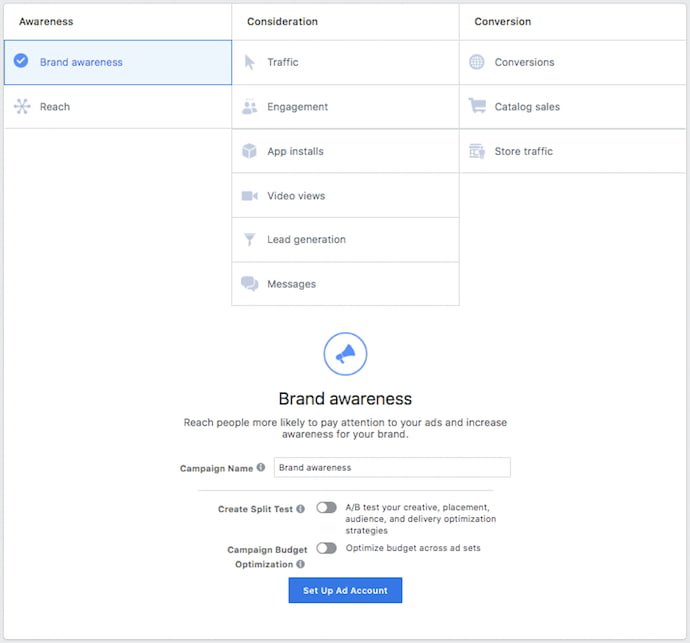 There is a wide range of objectives that you can select from. The list includes everything from general brand awareness to store traffic. The main point here is to get your app installed and to increase the traffic of your online store.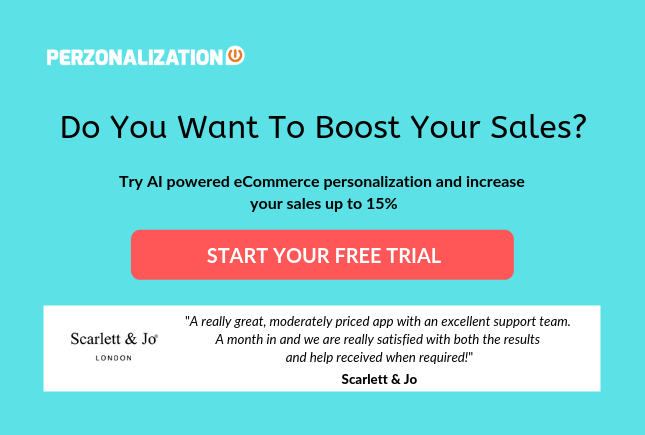 By choosing one of these objectives, you give Facebook a better idea of the things that you want to achieve with your advertisements. By using the information on your objectives, Facebook can present you with the best suited ad options. As shown on the picture above, the ad options are:
Brand Awareness
Research
Website Traffic
Engagement
App Installs
Video Views
Lead Generation
Messages
Conversions
Catalog Sales
Store Traffic
If you are looking to drive more traffic to your website, Facebook will ask you to enter a URL that you want to promote. It is very crucial to track this URL with UTMs to ensure that you are keeping track of the traffic and conversions of your ad.
Afterwards, Facebook will display an ad option which will make the most sense in terms of achieving your objective.
Everything is perfect up until now, congratulations!
But the most important point in Facebook Ads Management is picking the right audience.
After you enter your URL, Facebook will ask you to choose an audience. You can do this for each ad set that belongs to the same campaign.
We recommend you to experiment with different targeting Facebook Ads options until you find your perfect match.
If you are between choosing a specific audience or a broader one, you need to consider your objective. For example, if you are looking to drive traffic, you need to focus on people that would be interested in your offer. But if you want to create general awareness, feel free to focus on a larger audience.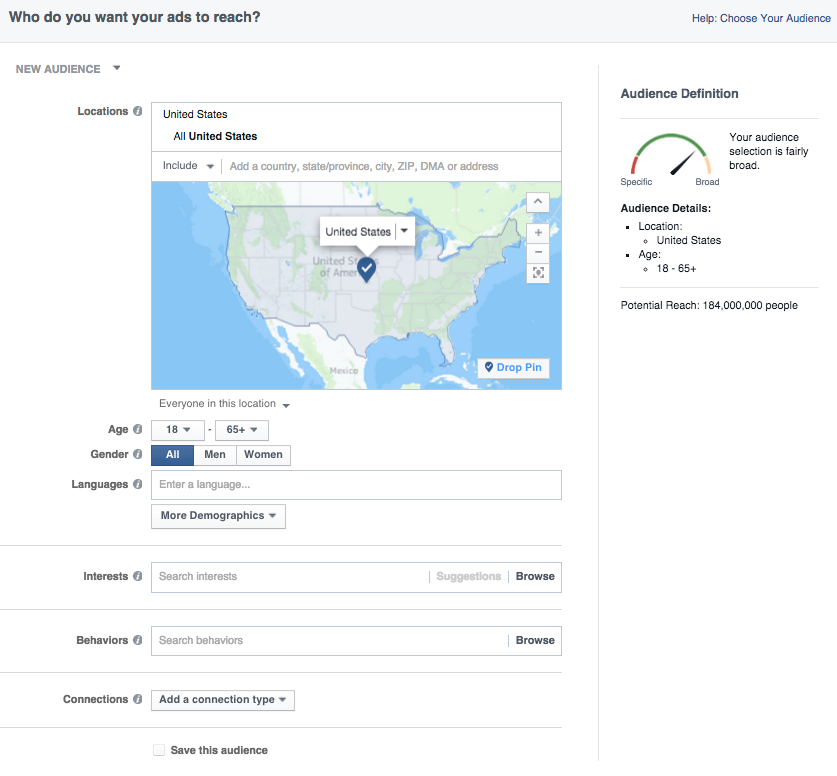 Facebook's built-in targeting options are just great as they cover a major number of users but you are also free to set up your own targeting option by building a Custom Audience. This option allows you to target people on Facebook that are already on your contact database or have visited your website, or even used your product. After setting up your audience, Facebook lets you save this data to use them in your future ads.
There are many business owners asking about the costs for Facebook ads. There is no doubt that this is a very important step for every advertiser. The next step after choosing your objective and your audience is to decide on the budget of your campaign. Here, Facebook allows you to set a daily or lifetime budget for your campaign. What is the difference between those? Let's get into it!
Daily Budget: If you are planning to run your ad throughout the day, this is the best option for you. By this, Facebook will adjust your budget daily.
Lifetime Budget: If you are planning to run your ad for a specific time period, this option best fits your needs. Which means that your budget will be adjusted to better perform your ad during this period.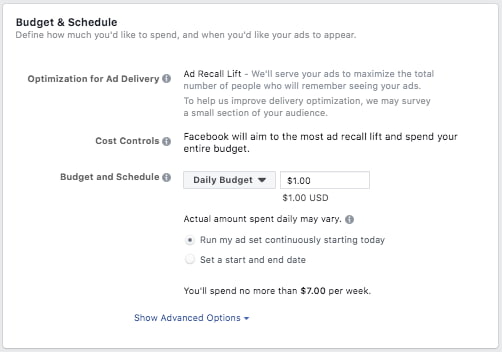 All is well up until now.
The point that needs to be taken into consideration is optimizing your ad for clicks, impression etc. By doing this, your ad will be shown to people of your audience who are more likely to engage with it. Facebook will control your limits and display your ad according to this objective. Also you are free to control your limits manually. This way gives you a full control over how much you like to pay for each of your ads.
There are two ad delivery types:
The standard delivery will display your ad through the day.
The accelerated delivery helps you to reach your audience in the quickest way possible if your ad is time sensitive.
How to create Facebook Ads
Creating Facebook Ads will probably be the bandwagon for your marketing campaign. You need to know that the steps in Facebook Ads interface will depend on your selected objective. For example, if your objective is to increase the traffic to your website, Facebook will suggest the "Click to Website" ad option and under this, there will be two available formats:
Links
Carousels
A Link ad will look like this: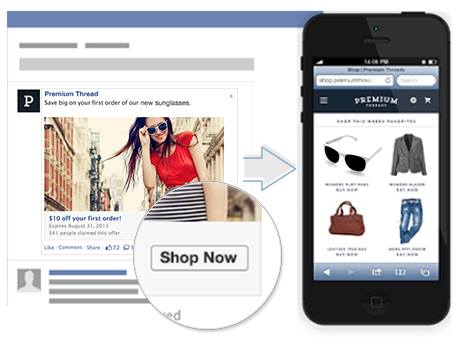 And the carousel ad will look like this: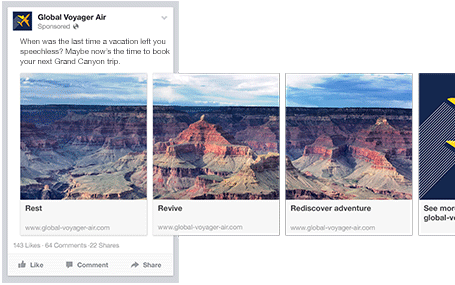 After deciding on your ad option, you need to upload your creative designs. If you don't have any idea, there is a guide with the most creative social media post.
The below ad options were just for the traffic objective. Remember that every objective has its own design criteria that you need to follow.
How to track your ads
Facebook Ads Manager's dashboard provides a great overview of your ads. You can manually customize the columns to have a better overview of your ads. Key metrics like reach, CTR, cost and frequency are already available on Facebook your panel.
If you also want to track conversions, you may prefer to use Google Analytics or a similar tool. It'll also be wise to separate your ads by using different UTM parameters. Here is a link to it.
Also, do not forget the most important metrics that you need to track for your online store.
Some great Facebook Ads examples to inspire you
Undoubtedly Facebook offers a great freedom when it comes to creativity. But don't worry. You don't need to be creative to come up with perfect ads. We really believe that the examples mentioned below will give you a great idea for your future Facebook Ads management plans.
So let's start 🙂
It's underestimated most of the time but Facebook wants brands to create video content as they have the highest engagement rate. Video ads are booming right now, the example below from Sephora speaks for itself.
The team at Sephora has mentioned that this ad had a 41% higher CTR than the previous ones. Here it is: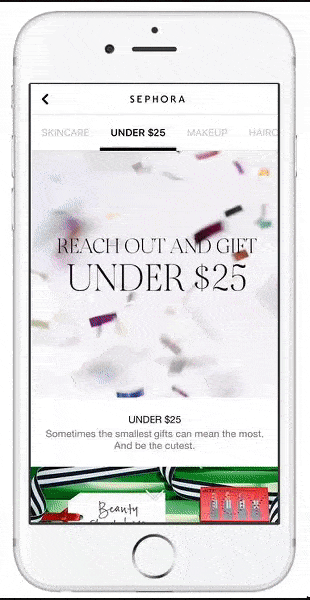 Really attractive, isn't it?
This ad absolutely erases the rumours that carousel ads are boring. This ad has a very creative and interactive carousel which resulted in selling 20 times more bracelets.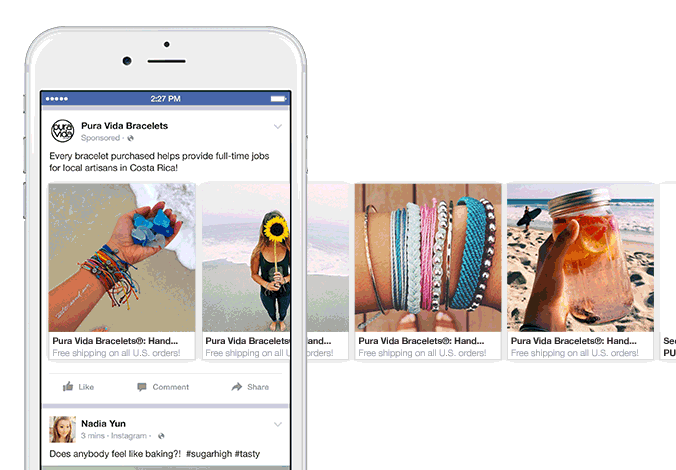 Can you notice the combination of the great product photography, the user generated content and the message that creates a sense of social responsibility? Of course you can.
This combination makes this ad stand out in this very competitive environment.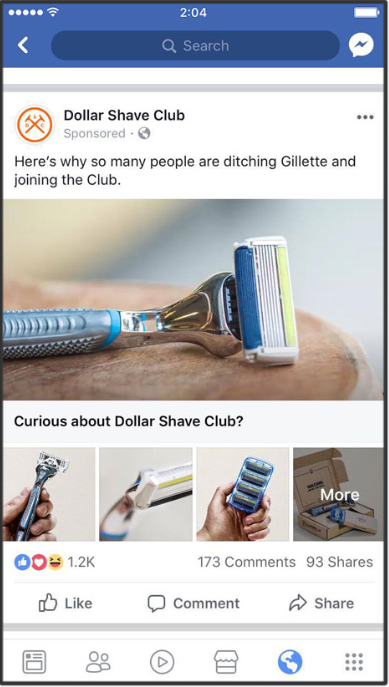 This straightforward promotion of Dollar Shave Club performed really well. Resulting in 1,5 times subscription increases. This ad jumps directly to the point. The curious copy and the mention of their major competitor were enough to attract the attention of the users.
Final Words
Facebook ads can be a great channel to promote your business and of course your products. Hopefully our Facebook Ads management guide here will light your way and help you to craft outstanding ads that will attract the full attention of your target audience.
Have this Facebook Ads Management guide in an easy to find spot, you will need it every time you have questions while setting up your ads 🙂
Curious to learn more? Take a look at related posts!
Do You Want To Boost Your Sales?
We are Perzonalization and we'd like to help you.
Try AI powered eCommerce personalization and increase your sales up to 15%.